Perfect for serving at nearly any occasion, a charcuterie board doubles as decoration with a colorful presentation as well as a tasty spread of ingredients. The best part is that it's also fun and full of delicious tastes, which makes it perfect for serving at a meal or event.
At Success® Rice, we know a thing or two about creating flavorful meals that are worth sharing, and one of our favorites are customizable rice bowls! So, we're going to show you how to put together complementing items that look stunning and taste amazing to build your own rice bowl. We'll start with ingredient choices, selecting a rice or quinoa base and then offer up recipe inspiration using all kinds of flavors. Let's dig in!
What Goes on Your Charcuterie Board
While they are often associated with cured meats, cheeses, fruits and other finger foods, the ingredient options don't have to stop there. There is a world of possibilities that is as vast as your imagination.
To start, you might be wondering what you can use at home for a charcuterie board if you're new to preparing them. No problem, you can use a:
Specific charcuterie board
Large serving platter or tray
Baking sheet with parchment paper
Large cutting board (wood or plastic)
Choose Your Rice or Quinoa Base
For our rice bowls, the most important part is choosing the grain base. And, the best part is there are plenty of options to choose from whether it be a whole grain variety like Brown Rice, a classic like White Rice, a fragrant option like Jasmine or Basmati, or even protein packed Tri-Color Quinoa. If you want to learn more about each variety, start by getting to your grains.
Using Success® Rice, you don't have to choose just one variety for a crowd. With their Boil-in-Bag cooking method, it just takes 10 minutes with no measuring and no mess afterward. Simply prepare your rice or quinoa and leave in a bowl to the side for everyone to serve up onto their plate or into their personal bowl.
Once you've decided on your variety or varieties you're going to serve, it's time to get into what toppings you'll add to your spread.
Elements on a Charcuterie Board
To build a rice bowl charcuterie board, we'll first need to start with the elements to top your grain base:
Proteins: Feel free to use anything from shredded chicken, beef or pork to salmon and tuna. You can also have sliced hard-boiled eggs and vegetarian options like beans, tofu, tempeh and seitan.
Fruits and Vegetables: It's always tastiest to use freshly sliced vegetables or fruits, however you can use a mix of thawed options from frozen if that works best. Choose a variety of options or pick a flavor theme (don't worry we've got examples below).
Sauces: Use homemade or store-bought options in small bowls on your board or on the side of your board.
Other garnishes and mix-ins: These are other mix-ins that might add a special touch to your bowl like nuts, dried fruits, seeds, french-fried onions, etc.
If you want to really take your dish to the next level, make sure to take a look at our tips to elevate meals in a bowl.
Epic Rice Bowl Tastes
Now comes the fun part— choosing a flavor theme for your ingredients! We've got plenty of tasty options ranging from southwest flavors, to Middle Eastern, Asian and even a bonus sweet option for inspiration. We've also included what rice or quinoa pairs best with them. Choose one or more of the recipe ideas below, build your board and let your guests dig in.
Southwest Flair
Perfect for a Taco Tuesday event, or if you're craving a meal with a kick, we've got southwest options that are packed with flavor. We've included some of our favorite Southwest style ingredients to build your board with:
Proteins: chicken, ground beef, shredded pork, black beans, kidney beans, chickpeas (any canned and drained, or freshly cooked variety of your choice)
Fruits and Veggies: avocado, red, green and yellow pepper, jalapeño, poblano, sliced red onion, corn, tomatoes, shredded lettuce, mango, lime
Cheese: cheddar, pepper jack, cotija, queso fresco, panela, feta
Sauce and extras: salsa, guacamole, sour cream, green onion, cilantro, corn chips, tortilla chips (for a fun crunch)
Black Bean, Corn and Mango Salad: Fill your board with mango, cilantro, and onions, alongside shredded chicken and sliced avocado. What really steals the show is the base of Success Garden & Grains™ White Rice, Black Beans, Corn & Bell Peppers coated with oil, lime juice, garlic, chili powder, cumin and jalapeno.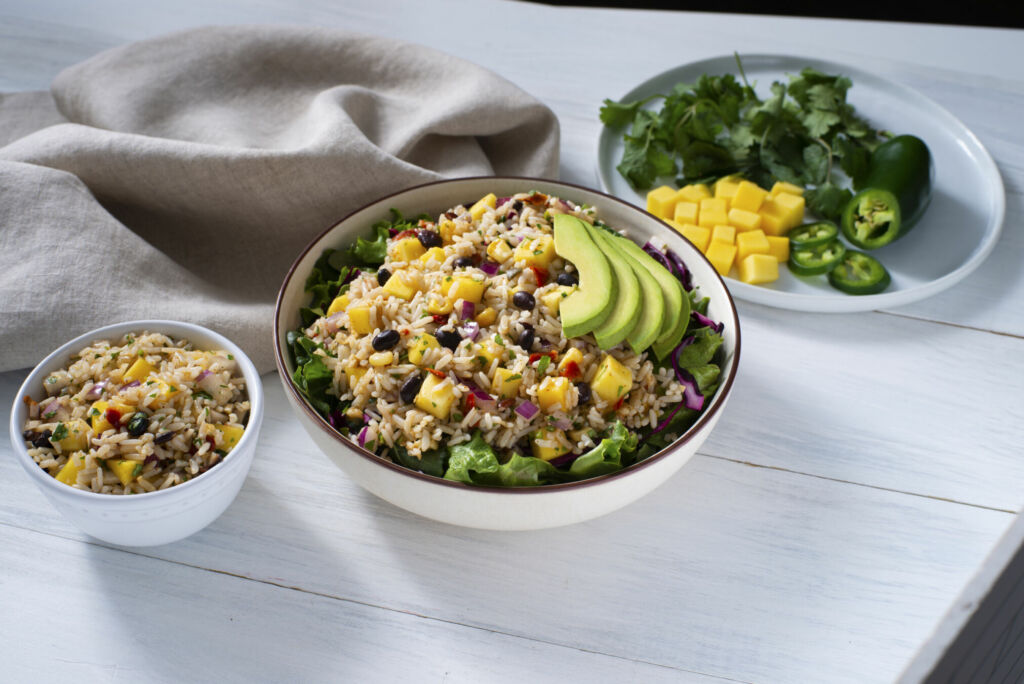 Cooking Note: If you don't have Success Garden & Grains™, we suggest using our white rice with canned or fresh black beans and corn off the cob!
Jackfruit Burrito Bowl: This meat-free option uses canned jackfruit and barbecue sauce in place of pulled pork! Build your board with black beans, avocado, corn, tomatoes and sour cream on the side!
Quinoa Burrito Salad Bowl: Using a base of quinoa, this colorful bowl can include all of your burrito favorites like crisp lettuce, red cabbage, black beans, sweet corn, pico de gallo, guacamole and cheese.
Baja Fish Taco Bowl: For something with a bit of a kick, give your board a Baja taste with this cajun flavored rice bowl. Drizzle over fried fish, quinoa, avocado, leafy greens and more!
Middle Eastern Inspiration
For something that is sure to please, give your board a bit of Middle Eastern or Mediterranean inspiration:
Proteins: chicken, chickpeas, lamb, hard-boiled eggs, salmon
Fruits and Veggies: cucumber, carrots, tomato, cooked zucchini and eggplant, pomegranate, figs, dates
Sauce and extras: feta cheese, greek yogurt, tzatziki sauce, hummus, pita chips, pistachios, extra virgin olive oil, mint, parsley
Middle Eastern Rice and Smashed Chickpea Bowl: With a base of fragrant basmati rice, this bowl is made with smashed chickpeas, tomatoes, cucumbers, fresh mint and a Greek yogurt and za'atar seasoning dressing.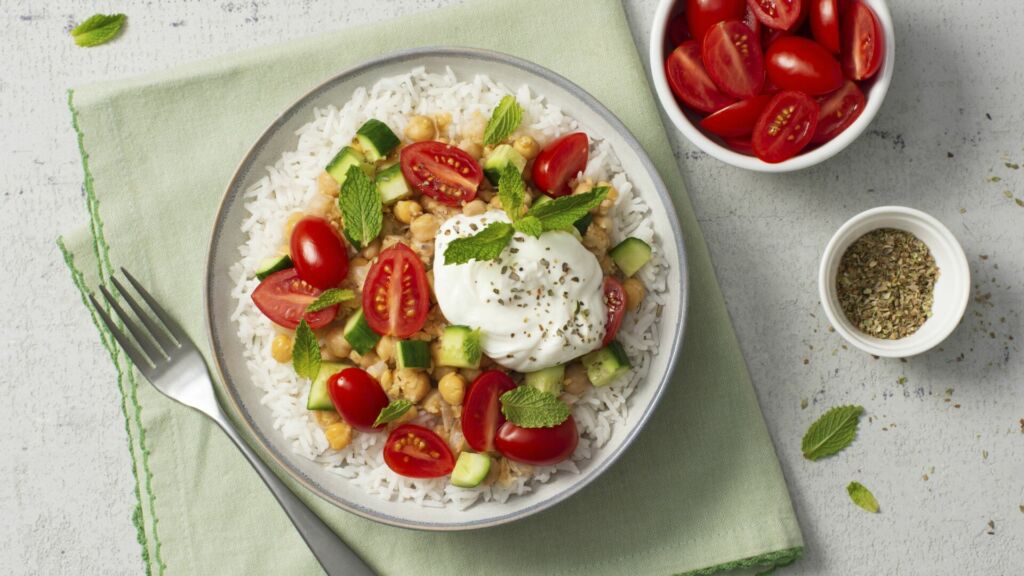 Salmon Rice Bowl with Turmeric Yogurt Drizzle:This rice bowl recipe is made with salmon rubbed with Middle Eastern spices for a flavorful meal that the whole family will enjoy! Accompany with cucumber, carrot and a host of other delicious ingredients.
Asian Flavors At Home
While there are many different flavors found within the vast area of Asian cuisine, here are a few simple ideas you can add to your board with a couple of Asian-inspired recipes below.
Proteins: tuna, sushi-grade fish, chicken, pork, tofu, seitan (serve marinated skewers if desired)
Fruits and Veggies: avocado, tomato, pineapple, garlic, broccoli, carrots, cabbage, mandarin oranges
Sauce and extras: sriracha, soy sauce, sweet chili sauce, sesame oil
Spicy Tuna Bowl: Taking inspiration from Japanese spicy tuna sushi rolls, this bowl is made with tomato, avocado, purple cabbage, green onions, a homemade mayo sauce and quinoa. Give it your own personal spin however you choose.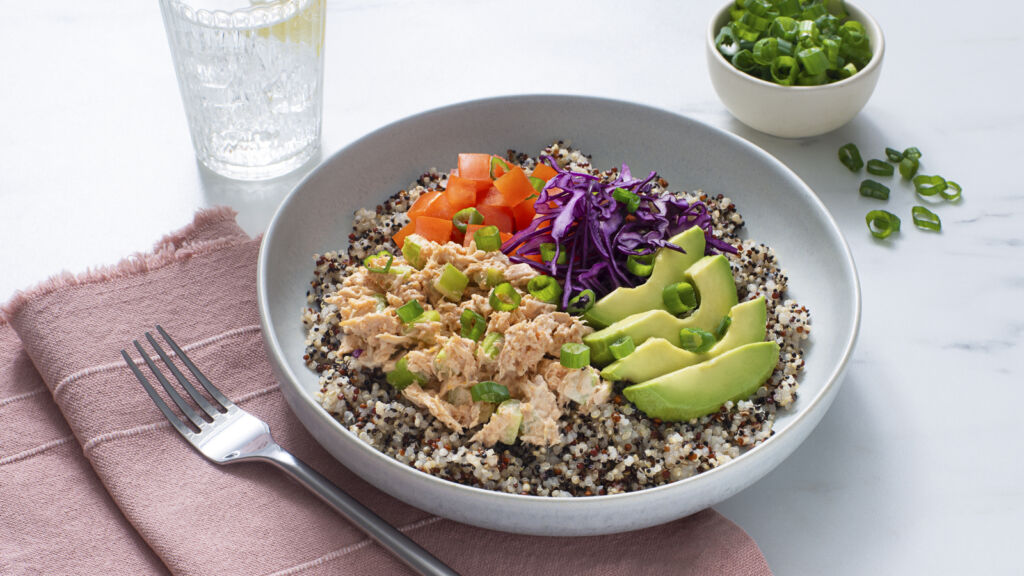 Eggroll in a Bowl: For a deconstructed egg roll, this bowl includes cabbage, ground pork, crispy wonton strips and a delicious sauce!
Sweet Options
Much to the delight of your guests, you can even make a sweet dessert or snack board. This recipe for Sweet and Savory Chocolate Bar Brown Rice Pudding Cups is an ideal option. Start by preparing your own chocolate rice pudding and let your guests top on their favorites: chocolate chips, dulce de leche, pretzels, peanuts, marshmallows, and more.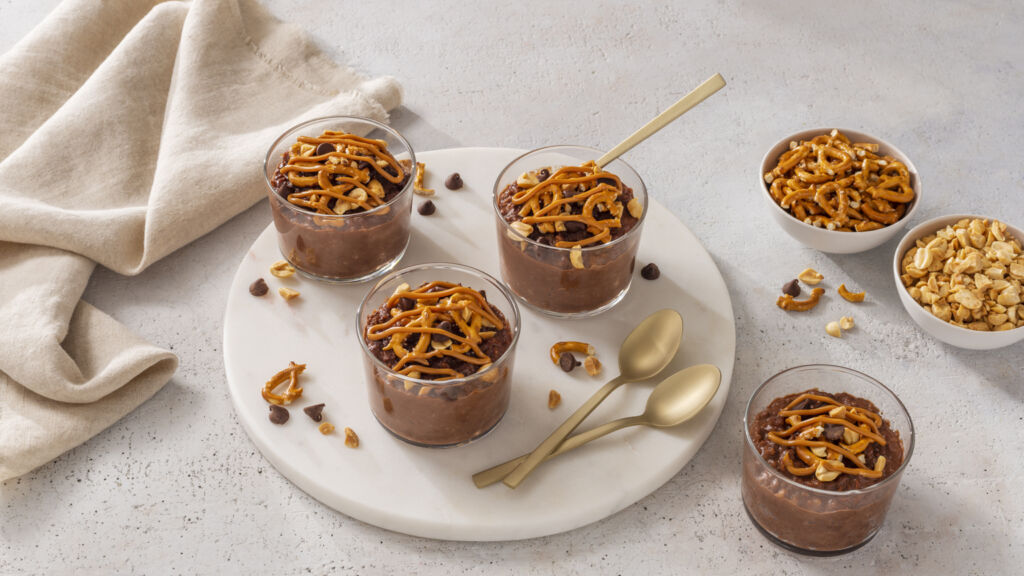 Tip: If you're not a fan of chocolate, prepare one of our other rice pudding recipes!
Using Success® Rice and Quinoa, there is always something delicious to explore and enjoy like this easy Spanish rice recipe. Find more inspiration on our website, and if you've made one of these bowls and got creative with it, let us know by tagging us on social media @successrice.