Have you ever felt that your meal is so perfect, it's just asking for you to snap a photo of it? Or, the bright colorful veggies you saw at the local market were shining just right in the light and caught your attention? If so, you're most likely one of the many foodies out there that knows there's something about food that makes it the perfect start to a stunning (and shareable) photo. Scroll down your Instagram feed and you'll know exactly what we're talking about.
From choosing the ingredients, to carefully chopping and cooking to the right texture, or plating, every step counts when you want to make an "Instagram-Worthy" dish. We're not saying some food deserves a spot on your feed over others, but there certainly are a few ingredients to use and tricks to follow in order to make your shot and dish truly stand out!
If you're passionate about food and photographing it, we've put together 6 useful tips on food photography and styling for you to try at home. Because who doesn't love sharing their Success and doing it in the best possible way?
Food Photography Tips
It's all about the details! Choosing the perfect angle, cleaning those unwitting splashes of sauce on your plate, or moving your creation towards the closest source of sunlight, shooting the perfect photo takes time and dedication. Of course, you won't always have that much time on your hands to take several shots until getting THE one, but with a little practice and these tips, you'll be nailing food photography in no time!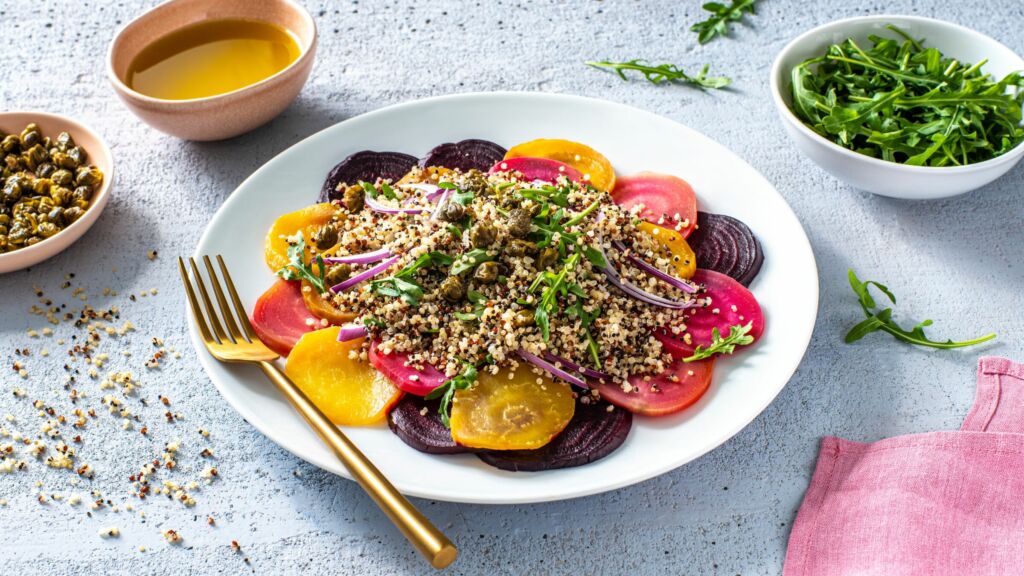 1. Place Props and Utensils Purposefully in Your Shot
Sometimes, you might find that the dish on its own doesn't make for that perfect composition you're looking for. Luckily, there are several elements you can play with to bring an extra hint of color, intriguing textures, or other eye-catching elements into your shots – and this is where props and kitchen utensils come in handy!
When styling, linen napkins, ramekins, cutting boards, spatulas, tongs, and even extra recipe ingredients are great props to decorate your canvas. Make sure to choose those elements that have colors to compliment the dish, or that won't steal the spotlight from your food.
If your dish is prepared with a sauce, why not drizzle some on top and capture the moment? Ask for some help or invest in a camera phone extension that attaches simply to the table. Put this tip into practice when whipping up our Roasted Asparagus and Mushroom Rice Bowl. Once served, get your camera ready and set or ask a helper to finish up by drizzling the balsamic reduction for an impressive and unique photo of your dish. See below for an example! It also adds a dynamic element to your feed that will make anyone stop and take a second look.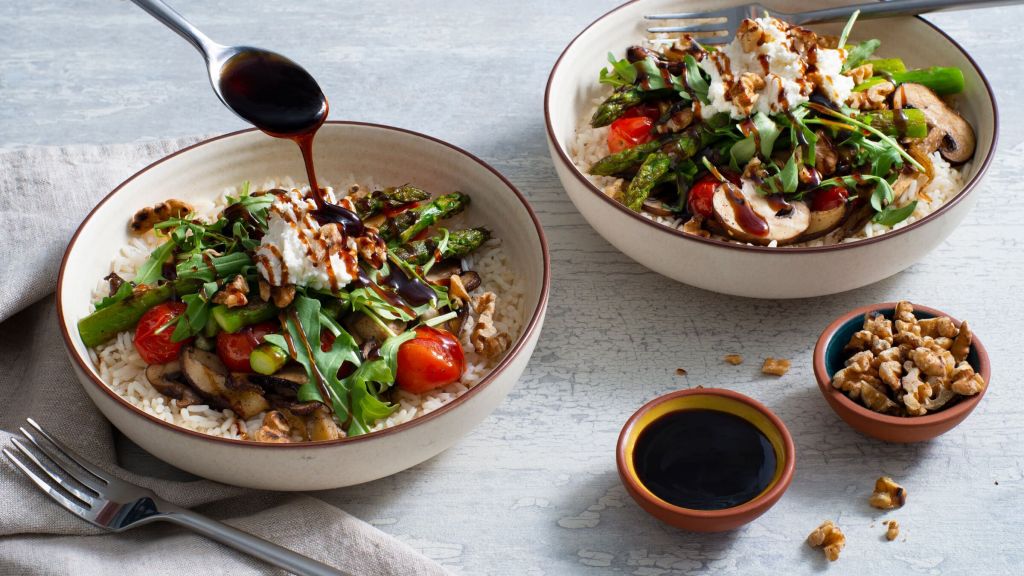 2. Create a Sensory Connection
After looking for inspiration on Instagram and Pinterest, you might be wondering how you can communicate the whole experience of making and tasting your food creation in a photo. Some foods have the ability to evoke memories or activate certain emotions like happiness or nostalgia – not to mention, the fun experience of combining unlikely savory and sweet ingredients, or foods with contrasting textures, etc. So why not take that multi-sensory experience to your photography too?
For this to happen, the dish should speak for itself. Before snapping any photos, take a second to examine your dish and think about why you love it or what makes it special. Find small ways to highlight those aspects in order to communicate that more easily.
Take these stunning Strawberry Shortcake Parfaits for example. Made with a creamy base of rice pudding, this dessert is presented in perfect layers that look appetizing and attractive to the eye. This helps the viewer to understand each delicious component clearly with a delightfully beautiful shot of your dish. You'll have them craving those fresh and delicately sliced strawberries, or that fluffy and creamy rice layers, that will probably remind them of a childhood favorite.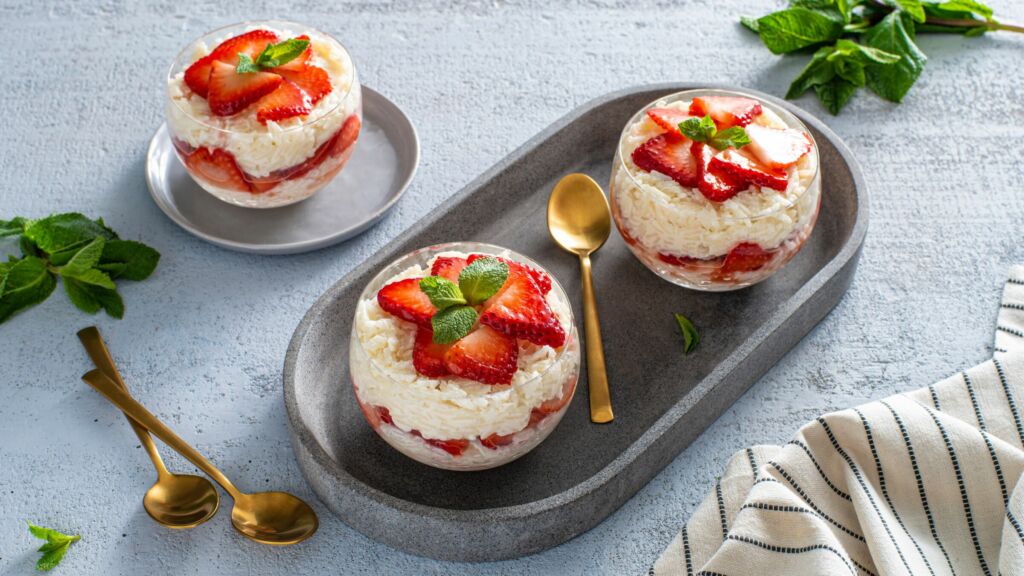 3. Choose Ingredients Wisely
While each recipe may have its own amazing benefits or unbeatable flavor, not every plate of food is suited for the camera. There are just some creations that don't look as good to the lens – looking at you brown ingredients – so it might be a little frustrating when you can't get that food blogger-looking photo you've been dreaming of. Sometimes, it's not because of your photographer skills but the ingredients you choose.
Choosing ingredients is also important when they are sensitive to outside conditions – like ice cream. If you have time sensitive ingredients, make sure to set the scene and have everything ready before you take your ingredients out of the freezer and start shooting.
We'll show you an example of what makes a dish the perfect fit for an amazing photograph: our Crispy Eggplant and Tomato Rice Bowl. This recipe has contrasting ingredient colors and uses different textures, perfect for turning this vegetarian delicacy into an editorial dish from your favorite culinary magazine. Naturally tinted with different sauces, choosing a neutral canvas, rice can also be a wonderful central component of your dish – and if paired with crispy eggplants perfectly coated in flour and ground almonds, you'll get an impressive photograph like the one below.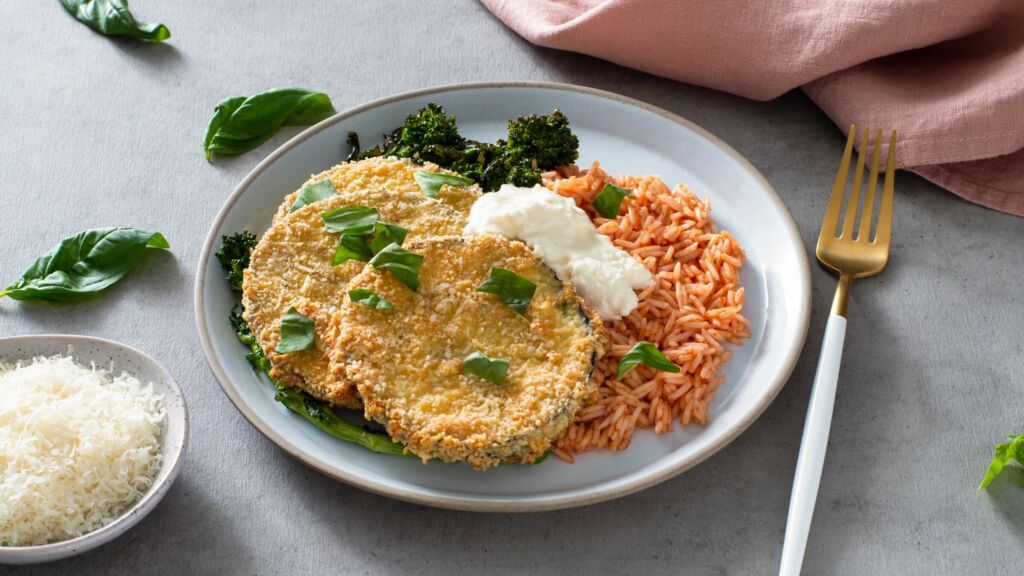 Plating Tips
Having a few plating skills under your belt is just as useful as knowing how to set up your camera. By properly arranging the ingredients on the plate, making your dish look amazing in the shot will be a lot easier. These techniques will help you present your food in a way that will make it stand out and look scrumptious and stylish – some people say that your dish will even taste better if presented in the right way.
4. Play with Textures
Using ingredients or elements with contrasting textures will make your meal look more interesting. Different textures can be found in raw or cooked ingredients, or even emulated by using certain cooking techniques. Choose your desired cooking method like broiling or frying to get that crunchy finish, like in these Tex Mex Zucchini Rice Latkes. More textures are incorporated onto the plate with the addition of the creamy sauce, used for decoration and enhanced flavors.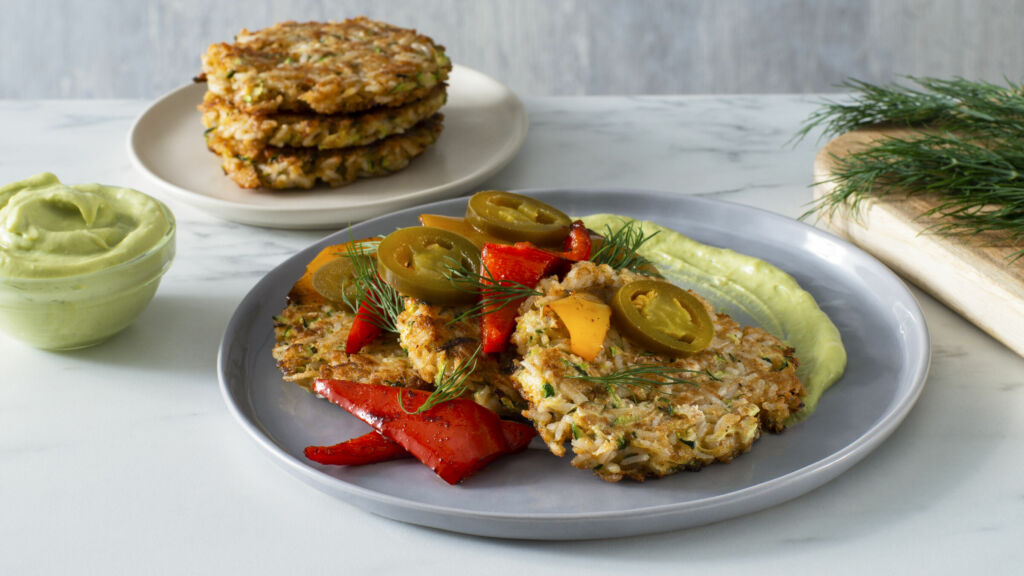 5. Choose Ingredients with Contrasting Colors
Thinking back to an article you've read or maybe a distant art class from school, you're likely familiar with the color wheel. Complimentary colors are those that when put together, create a strong and eye-catching effect.
In the kitchen, the best colors come from vibrant fruits and vegetables, as well as food colorings and sauces. Even the same vegetable can come in two different stunning colors, as it happens with beets. Use both beet varieties to create this exquisite Carpaccio topped with quinoa and greens. Or tint light-colored cauliflower with Nashville-style hot sauce to create contrast with fresh green ingredients like cucumber, served over a bed of fluffy white rice.
6. Use Edible Garnishes and Decorations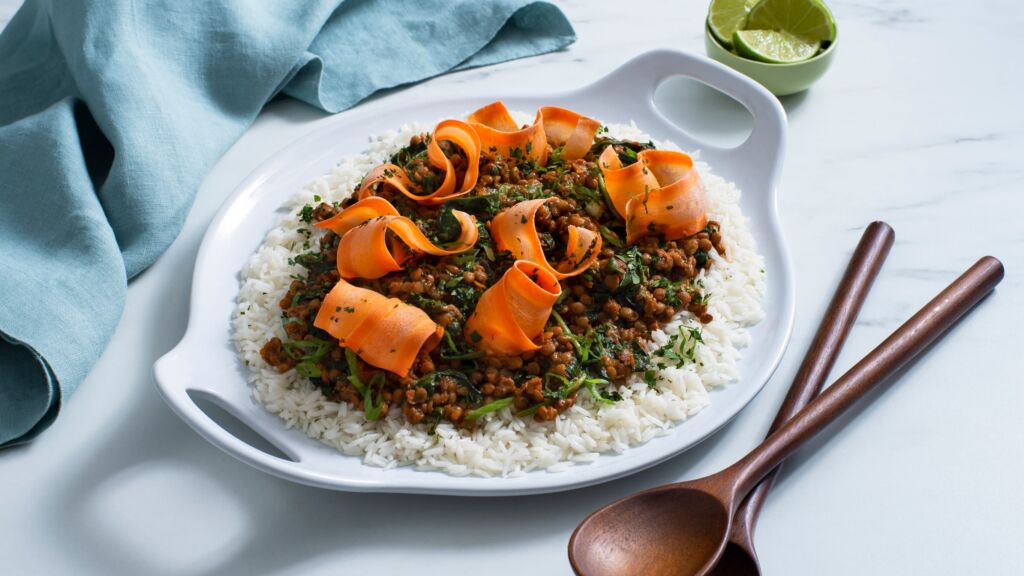 Within the photography tips, we mentioned how the use of props could make or break the composition of your photography. Note that from a plating standpoint, edible garnishes are game-changers for achieving the most stylish and flavorful plates yet! Don't know where to start with these? Start off by making marvelous decorations from simple ingredients like carrots or zucchini. Use your veggie peeler to create delicate and colorful spirals from vegetables and use them to elevate this Thai Lentil and Rice Salad.
Now that you have some insight and recipe inspiration to make delicious and visually appealing meals, the next step is stocking up on your favorite Success® Rice and Quinoa varieties and colorful veggies to start cooking and spending some time snapping your creations. Help your followers with your newly acquired food styling and photography skills by sharing your Success across social media channels – don't forget to tag us, we would love to see the results! You can find even more great tasting recipes on our website like this vegan meatloaf.