The beginning of a new season, a new year or even a new month, is always a great opportunity to challenge yourself with different activities, habits, or foods. If you're a curious foodie, this fun guide on unique ways to use quinoa in recipes will definitely serve as inspiration to cook outside the box – or the bag!
Discover all the ins and outs of these whole grain seeds by first visiting our Quinoa 101 Guide and keep on reading to find creative and delicious meal ideas. From sweet treats to smoky burger patties, there's so much more to quinoa than a simple side dish.
Recipes with Quinoa
With a soft bite yet slightly chewy texture, these pseudo-grains are packed with fiber and have a subtle nutty taste. Due to these features, it's perfect for mixing and matching with both savory and sweet foods for an incredible meal anytime of day. Let's dig into a few of our favorites including some surprising ways to use it:
1. Breakfast Porridge
Add quinoa to your morning routine whenever you are craving a hearty, flavorful meal that you can throw together in minutes. Porridges, or oatmeal-style recipes are great to start your day off on the right foot, and are easy to switch up and customize with different flavors every morning.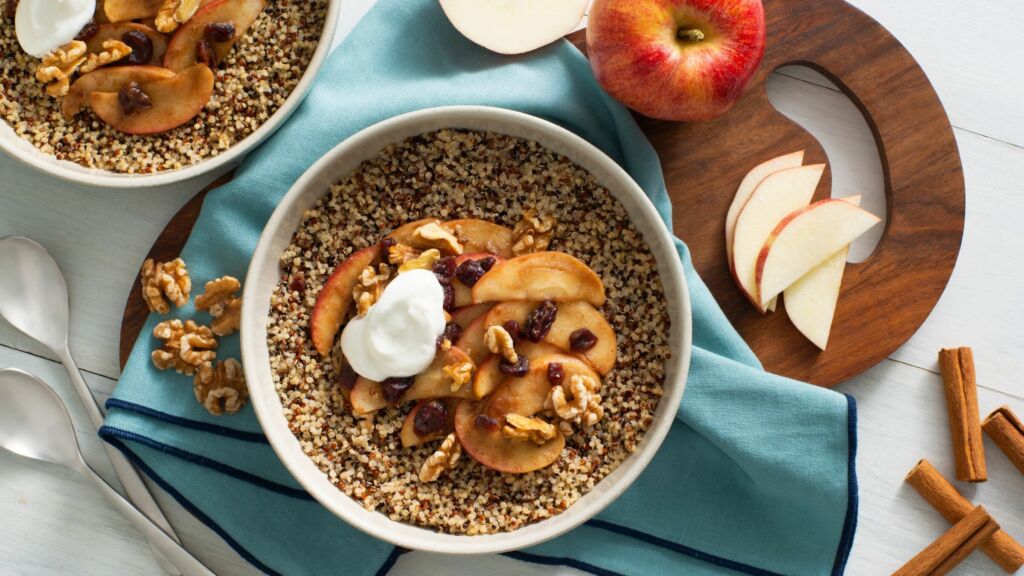 For an elevated breakfast bowl that's not short on flavor, cook Success® Tri-Color Quinoa in a mix of water and apple juice. This will add an extra layer of goodness to the foundation of your meal. Top it off with warm apples sautéed in butter, maple syrup and cinnamon, and stir in fun toppings as desired. Try nuts, dried fruit and yogurt or kefir.
If your mornings run a little hectic, try these Quinoa Overnight Oats and have breakfast ready to grab and go. Combine all ingredients together before going to bed, seal and refrigerate. Sweeten with coconut sugar, dates, agave syrup or honey for a sweet touch.
2. Burger Patties
To make any BBQ or cookout even more delicious, head to your pantry for a bag of quinoa. Not only does it make a nutrient-dense foundation for a vegetarian burger option combined with other grains and pulses, it also pairs well with poultry, beef or seafood. See some flavorful options below: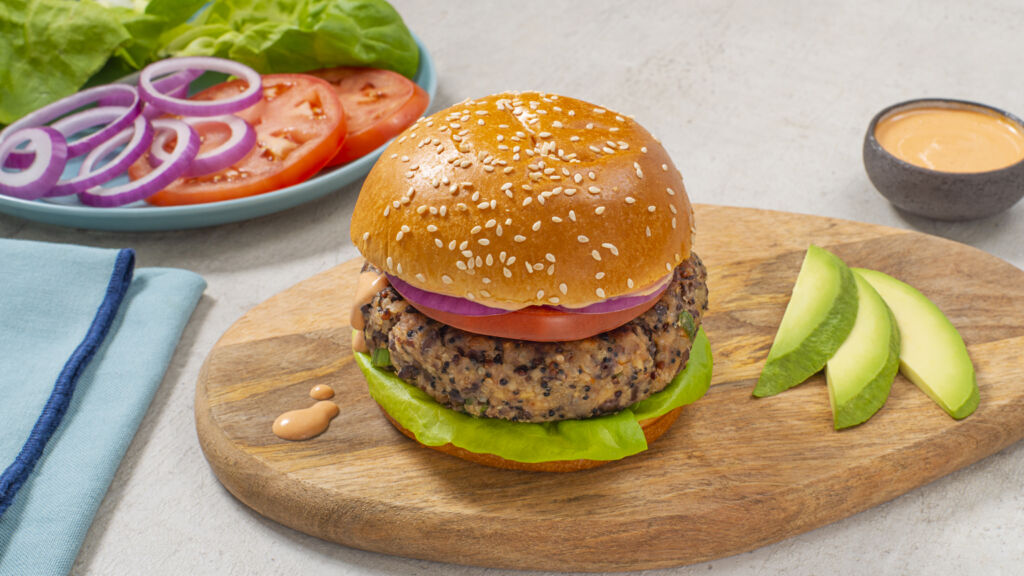 3. Pizza Crust
Traditional pizza is ideal for home chefs who want to take adventurous cooking to the next level. But, unexpected foods aren't just for toppings, you can also add them into the pizza crust. Some of those options include cauliflower, cassava flour, zucchini or mushroom caps – but did you know quinoa also makes a wholesome ingredient for a crunchy pizza base?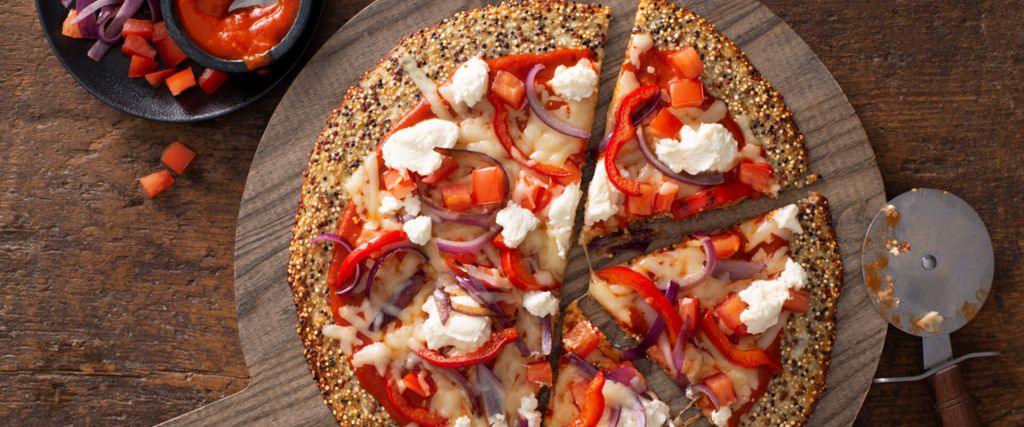 Combined with riced cauliflower, egg whites and parmesan cheese, quinoa is a lavish addition for a Gluten Free pizza dough that will bake to golden perfection in just 25 minutes. Bake several crusts for pizza night and let everyone customize with their favorite add-ins.
4. Crunchy Topping
Toppings and garnishes are great to add a pop of color, texture and flavor to any dish! When baked, the cooked quinoa turns crispy so it's our go-to ingredient to add a crunch to anything from a comforting soup or a creamy hummus spread.
For a softer bite, try tossing quinoa with olive oil, lime juice, salt and pepper and serve on top of a vegetarian beet carpaccio, or a kale and chicken salad. Using these seeds as a topping adds a protein punch to any meal.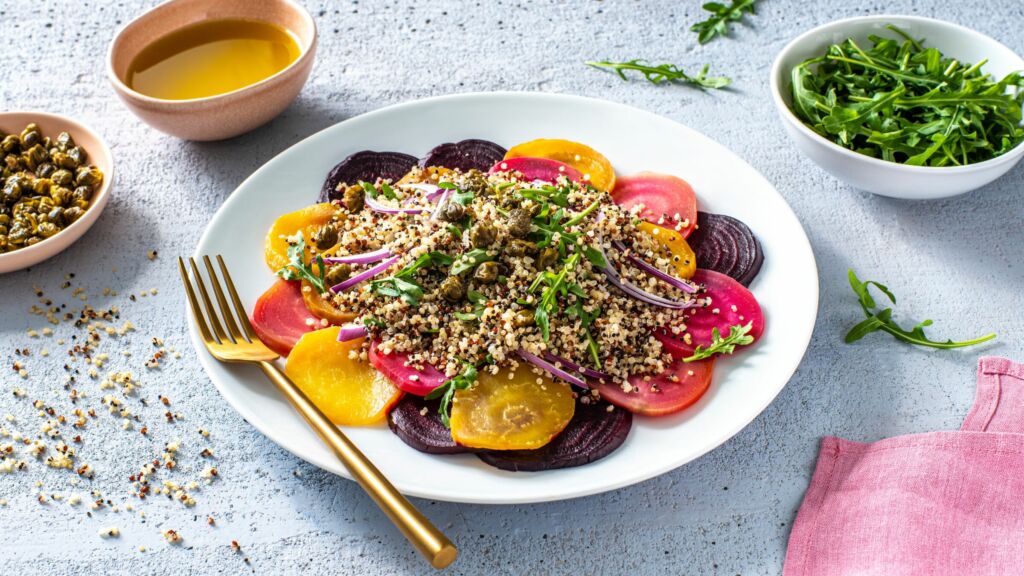 5. Sweet Treats
If you're a dessert lover, you'll be glad to hear that even for classic sweet treat recipes like rice pudding, these pseudo-grains have a lot to offer! Quinoa's natural flavor profile has light nutty, earthy notes that pair deliciously with chocolate, nuts, fruits, vanilla and more. Plus, you will be adding more protein, all 9 essential amino acids and fiber to your dessert.
Baked into muffins for on-the-go convenience, these Carrot Cake Muffins are proof that cake can also be made with quinoa. Top with your favorite cream cheese frosting and indulge in this whole grain treat.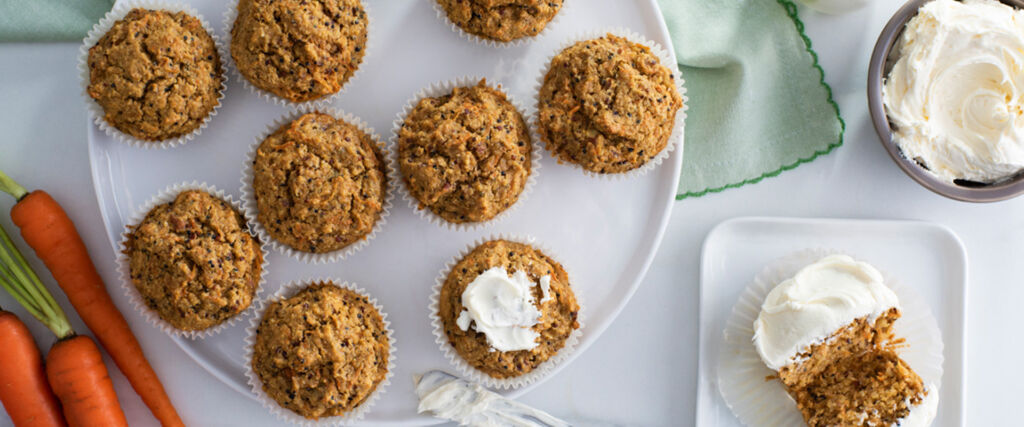 For another grab and go snack with quinoa these bite-sized Power Balls are flavored with shredded coconut, dried pineapple and dates fueled with vanilla protein powder. Prepare a large batch and keep in the freezer to satisfy your sweet tooth and an energy boost anytime of day!
6. Binding Agent
Another cooking trick is to use quinoa as a binder to help hold other foods together. In fact, quinoa can be used anywhere you would use breadcrumbs or panko, a common ingredient in meatloaf, burgers and meatballs. Plus, it is a Gluten Free alternative!
Try it in these fun and party-friendly Pizza Appetizers, or in this make-ahead Crustless Quinoa and Kale Quiche for breakfast or Sunday brunch.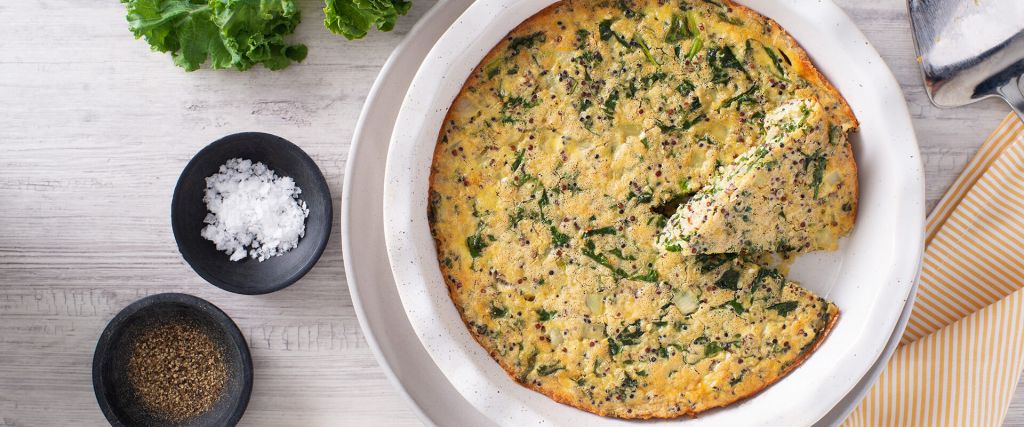 7. Rice Substitute
Even though they may differ in texture and flavor, quinoa can be used as an alternative to rice. Whenever you are looking to surprise your family with something different, try using these seeds in any classic rice recipe like paella or risotto. It is also great for recipes where you would use orzo or couscous.
Bonus: How to Cook + How to Season Quinoa
Cooking quinoa is actually quite simple. Similar to rice, it only requires simmering in water, and with Success® BPA-Free and perfectly portioned Boil-in-Bags you won't even have to worry about measuring the water! Take a look at the video directions below to see how easy it is to get perfectly cooked quinoa.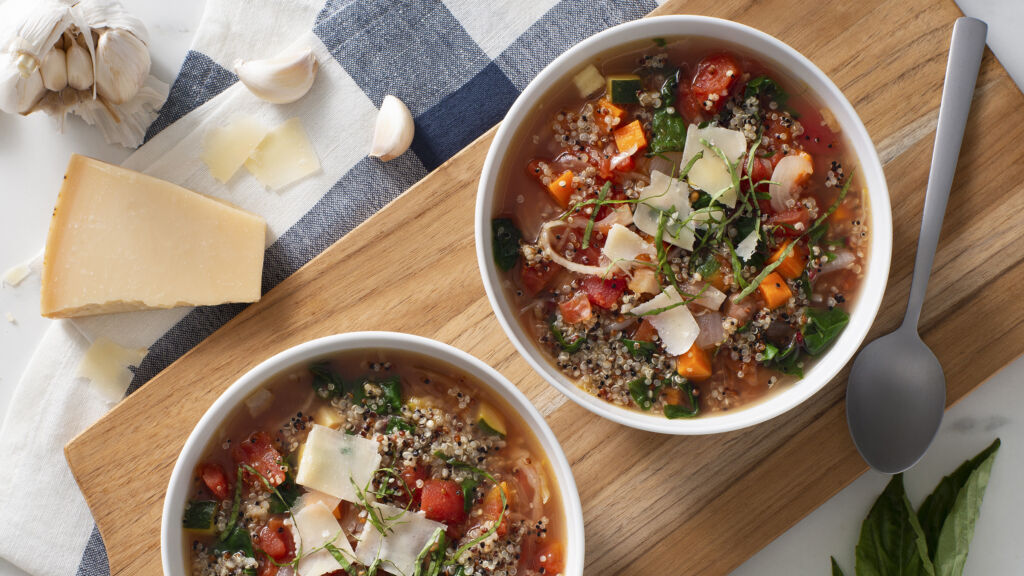 Now, in the flavor department, you'll be happy to know that there's a plethora of ways to spice things up and turn this pseudo-cereal into something new every time. When quinoa is served on the side, turn to your pantry and spice rack and get creative! Here are some flavor combos to inspire your inner chef:
Jeweled Quinoa: turmeric + curry + dried fruit (apricots, raisins, cranberries…) + nuts (almonds, pistachios, cashews…)
Honey Nut Quinoa: honey + butter + walnuts + raisins
Herbed Quinoa: lemon juice + oregano + thyme + parsley + rosemary
Cajun Quinoa: butter + Cajun seasoning or blackening seasoning
Greek Quinoa: olive oil + herbs + crumbled feta cheese
Tropical Quinoa: coconut oil + coconut flakes + lime juice
The combination possibilities are as endless as your imagination! For extra flavor, try cooking quinoa in different liquids such as broth, water seasoned with bouillon cubes and spices, or juice.
Pro Tip: Add leftover quinoa to soup or smoothies to boost the nutrient content and thicken them up or for an extra layer of texture like in this Quinoa Minestrone Soup. If you are craving seafood then try our: how to make shrimp fried rice.