We all know the importance of eating fruits and vegetables for meals and snacks. But, if you stick to only produce, you're missing out on a whole world of plant-based protein, fiber and nutty taste from our Success® Brown Rice and Tri-Color Quinoa!
To make sure you're eating a wide variety of foods, we suggest you start mixing in some of our delicious snack recipe ideas that are packed with whole grains to keep you feeling energized and satisfied. Skip the vending machine and stop waiting in line at the coffee shop, you can also prep these snacks ahead of time to have throughout the week.
Fueling On-The-Go Snacks
Most often, when we think of a snack, you imagine something quick and easy that you can take with you or that doesn't require much preparation. Start your homemade journey with these two energy ball options made with all kinds of fueling ingredients. Shape them into the size you prefer and take them with you wherever you need to go.
Brown Rice Energy Balls: To prepare, pulse rice with prunes, almond butter, almonds, flax seeds and honey. Then, mix these energy balls with dark chocolate chips for a finishing touch.
Aloha Quinoa Power Balls: These tropical inspired power balls are made by combining dates, cashews, protein powder, coconut oil, honey, quinoa, shredded coconut and pineapple. See how simple it is in this video:
Protein Fact: Our Tri-Color Quinoa is a blend of red, white and black quinoa in one, and when cooked, 1 cup has 8 grams of protein, plus half the daily recommended amount of fiber intake. Curious to learn more? Make sure to take a look at our Quinoa 101 guide.
Sweet Fruit-Filled Snacks
If you find yourself searching for something sweet during the day, we suggest planning ahead with something including fruit and hearty grains or seeds!
Start with a Fruit and Granola Yogurt Parfait combining cooked brown rice, your favorite yogurt and bananas, blueberries or other fruit. Meal Prep Tip: Divide them up into 4 different containers, such as mason jars, and top with Gluten Free granola when you're ready to enjoy.
For another option you can prepare in advance, try our Strawberry and Nut Rice Bars. Bake them to perfection and slice into as many bars as needed. Make more room in the oven for another baked option like these Cranberry Quinoa Muffins that have an added fluffy texture on account of the quinoa.
Tip: Use these three options for a snack or for a hearty breakfast idea with brown rice and quinoa!
Savory Afternoon Snack Ideas
When you're craving something savory, put down the chip bag and pick up something a bit more satisfying, not to mention delicious! These savory ideas work perfectly for snacks you can serve at a party or that you can enjoy all to yourself.
These Quinoa Salmon Cakes are an elevated snack that will surely fill you up and tantalize your taste buds. Made by mixing cooked and flaked salmon with tri-color quinoa, mayonnaise, eggs, parsley, fry them up in a skillet until golden brown. Serve with a side of your favorite store-bought or homemade mango salsa. To switch things up, add in 1 tbsp of seasoning like jerk, Cajun or a taco seasoning blend.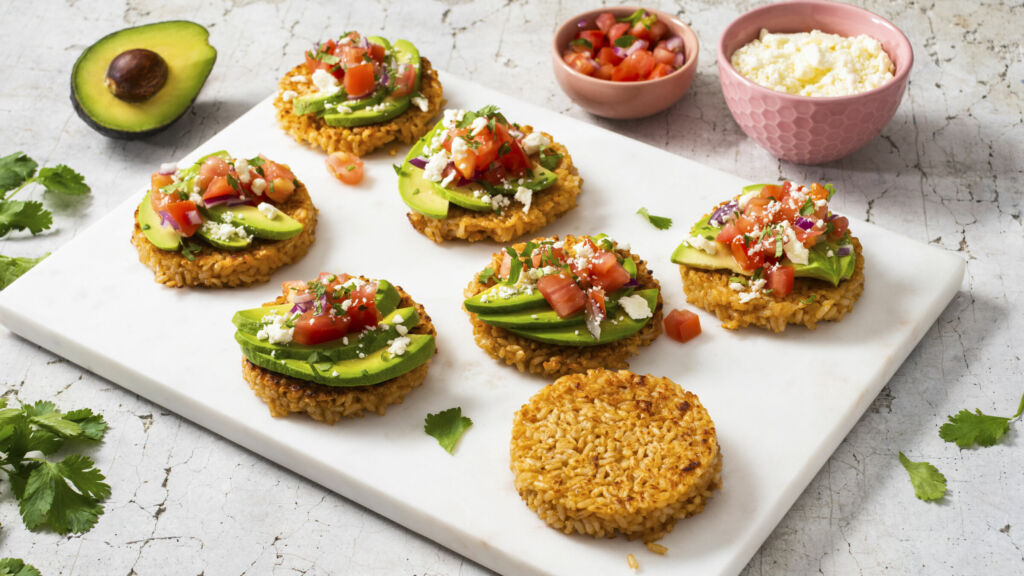 Similarly made, if you'd like a vegetarian version, these 'Avocado Toast' Rice Cakes are a fun and crispy take on the classic breakfast. Top with mashed avocados, prepared pico de gallo salsa, crumbled feta cheese and chopped cilantro or any number of other things.
Enjoy traditional mozzarella and pepperoni pizza flavor any time with these Quinoa Pizza Bites served with a side of marinara for dipping.
If you're a fan of veggies and hummus, try this protein-packed Creamy Golden Beet Hummus with toasted quinoa on top! Serve with a side of veggie sticks, pita chips or pretzels.
Versatile, filling and flavorful, Success® Rice and Quinoa are ideal for any meal of the day from breakfast all the way to snacks and dessert. Take a look at our Recipe page for even more ideas like this Spanish rice recipe and make sure to share your success on social media by tagging #Shareyoursuccess so we can see your delicious dishes!