We like to think of happiness as a ready made meal when you need it most! If you're on the go, work, or simply have a full schedule, preparing your meals beforehand can be a game changer for getting organized and saving both time and money each day.
Although meal-prep may often seem challenging, there are ways to make it easier down the line and even enjoyable! If you're worried about time management, imagine it like a short term investment, the time you'll spend on the weekend between running to the store and prep is the time you'll be saving throughout the week as cooking won't be part of your to-do-list.
That being said, there's no secret to successful meal-prep but a bit of time, organization and a few useful tips to cut the corners just might do the trick.
Shop and Prep your Pantry
The key to any great meal prep plan is to choose ingredients that will keep you full and energized like hearty grains alongside proteins, fruits and vegetables. Ideally, the meal components you choose should be good to mix-and-match and suitable for any menu.
Grains: white rice, brown rice, oats and quinoa.
Oils & sauces: extra virgin olive, sunflower or coconut oil, soy sauce, sriracha and ranch dressing.
Legumes: chickpeas, pinto beans or black beans (canned or dried) .
Canned goods: tuna, salmon, tomatoes, tomato sauce, artichokes, olives, corn kernels and fruit (with no added sugar).
Baking essentials: flour (all-purpose, whole wheat, almond flour rice flour) and baking powder.
Herbs, spices and seasonings.
Extras: peanut or almond butter, mixed nuts and dried fruit.
Pro tip: Did you know you can use quinoa to beef up any meal with a bit of fiber and protein? Check out our guide to learn more about quinoa.
From Produce to a Balanced Meal
With a well-stocked pantry, now we can focus on the fresh ingredients that will brighten up your food containers. After you're back from your local grocery store, you might be thinking, what should I do with all those vegetables and poultry? You can either keep it fresh or freeze for later.
We recommend you start your meal prep session by prepping the produce. Cut down on cook time by putting some of our convenient Success® Boil-in-Bags on the stove while you chop the veggies and portion the meat or protein.
Ideally, you should prep with a plan for what you will be making, but if you decided to batch cook a lot of ingredients or you find you chopped a few extra vegetables, here are some convenient recipes ideas:
Looking for a short-cut? Stop by your local grocery store salad bar and choose a selection of your favorites or buy pre-chopped and washed vegetables and some rotisserie chicken.
Bake now, freeze for later
The Sheet Pan
Your oven can be a great ally when preparing meals. Baking is the perfect cooking method to set and forget. By organizing the ingredients on a sheet pan and popping in the oven, you can focus your attention elsewhere or start with the clean-up.
If you're looking to cook more than one ingredient together, make sure to pair items that have similar cooking times, or chop to appropriate sizes in order to bake evenly. The result? More than two portions of food ready to store in your containers.
Pro-tip: Instead of sautéing Tofu, bake it along with the vegetables.
Baked Breakfast and Snacks
Certain recipes can be prepared in large batches and then frozen for later, which is perfect for saving time on busy mornings or watching your budget. With homemade snacks on hand, you won't be as tempted by the vending machine or the café on the corner.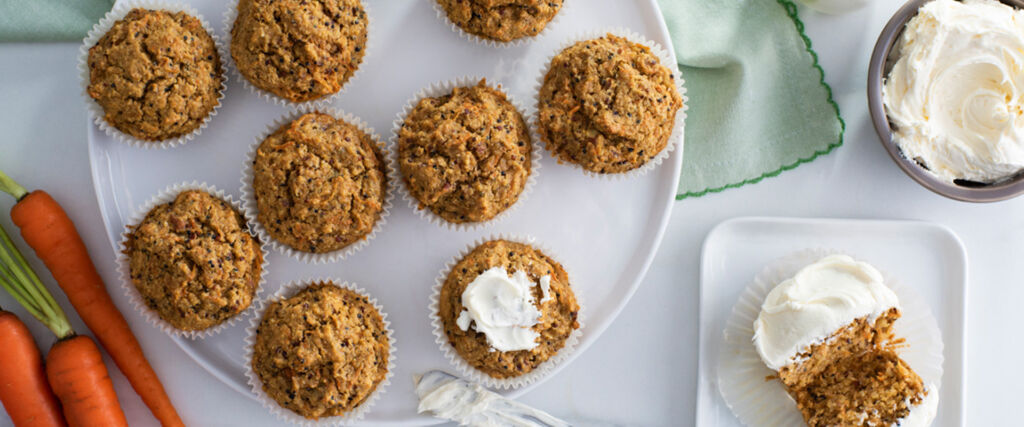 Muffins are great for breakfast or a snack, easy to make and perfect to prepare in advance and take with you throughout the week or freeze and take out as needed. Give your muffins a hearty touch by making them with grains like rice and quinoa to keep you feeling full longer throughout the day! If you've never tried it before, we've got a few scrumptious recipes to try:
Prep for the Eyes
Aesthetics matter! Did you know that we all eat with our eyes first before our stomach? Get excited about your container meals by making them look appealing!
Some food containers already have pre-divided sections to help organize the ingredients. Nonetheless, there is always a way to make your food look appealing even if you're using common containers.
Heads up: no matter what organization style you choose, remember to always keep dressings on the side, in a separate container.
Mixing everything together is the easiest style. For a less messy look, coat with some sauce before eating and garnish with fresh herbs or chopped nuts. Ideal for stir fries.
Tossing your meal in a jar is perfect for salads. Simply place the grain base on the bottom, and layer your salad ingredients until you reach the top of your jar.
For meals with distinct components, a bed of grains is the go-to. Fill your container base with Success® Rice or Quinoa and organize veggies and protein on top. To keep the aesthetics, make invisible sections with each ingredient until the grains are fully covered.
We're sure that by applying a few of these tips meal-prepping will seem as less of a challenge and more of a solution to your busy schedule. Prepped meals can also be sophisticated, appetizing and delicious like this vegan meatloaf. So, unleash the inner foodie inside of you, put these hacks into practice and make life easier by cooking your food in advance.