Stuffed vegetable recipes are a creative way to incorporate more veggies into your diet! If you're imagining savory stuffed bell peppers you're on the right track– they're an all-time classic for a reason – but there are a lot more perfect-for-filling vegetable options out there!
From A-list apps to complete meals – we'll guide you through the key steps to successfully prepare delicious filled vegetables. What to stuff, how to stuff it, recipe inspiration. Everything you need to know in easy to digest sections that will help you break free from the stuffed peppers' comfort zone.
Master Stuffed Vegetable Prep
Whether you decide to explore juicy stuffed tomatoes or zucchini boats, there are a few steps you should always follow when it comes to stuffing vegetables. Take note, and let the stuffing begin!
Hollow out the veggies and precook if needed (steam in the oven or microwave to soften).
Prepare your filling using your preferred grain base. For zero-waste prep, mix the hollowed out portion of your vegetable back into the filling.
Arrange your veggies on a baking tray and scoop enough filling into the hollowed out section – be careful not to overfill them.
Top with cheese for creaminess and with crunchy ingredients for an added layer of texture – panko breadcrumbs, crackers, nuts or seeds.
In other words, this is a fool-proof prep for an extremely flexible vegetable dish. Not to mention, an excellent way to get even the pickiest eaters to enjoy more vegetables.
Vegetables that set the stage for the filling
Now that you have the roadmap to making the perfect filled vegetable, let's explore a few vessel-like vegetable options to upgrade your skills past the classic bell pepper. Tried and tested: these 4 veggies will add a whole lot of oomph to your average meals!
1. Acorn Squash
Squash is often more commonly thought of as a simple side, but as we're learning to cook outside of the box – try this tasty veggie out for a new take on a classic idea.
This is the perfect scoop-friendly veggie and it can hold heavier fillings because of its solid outer shell. Once you scoop the seeds out, rinse them in water to remove any excess pulp, and while the acorn squash is being baked to soften, sauté seeds with soy sauce for a salty and crunchy snack.
Here's a filling idea that will give you all the seasonal feels: Success® Tri-Color Quinoa, squash pulp, bacon, baby spinach, shiitake mushrooms, and maple syrup. Click here to get the full recipe.
2. Tomatoes
If you're hosting a dinner and want to impress with a vegetarian entree, stuffed tomatoes are a surefire success – and they're a cinch to make!
Tomatoes, in all varieties, make perfect vessels for delicate fillings (even if they're not technically a vegetable but a fruit). Never stuffed tomatoes before? Here are a few tricks:
Wash the fruit in cold water.
Carefully chop the tops off and reserve to decorate later.
Gently carve with a knife to help loosen the pulp.
Scoop with a dessert spoon.
Bake until slightly slumped, before stuffing.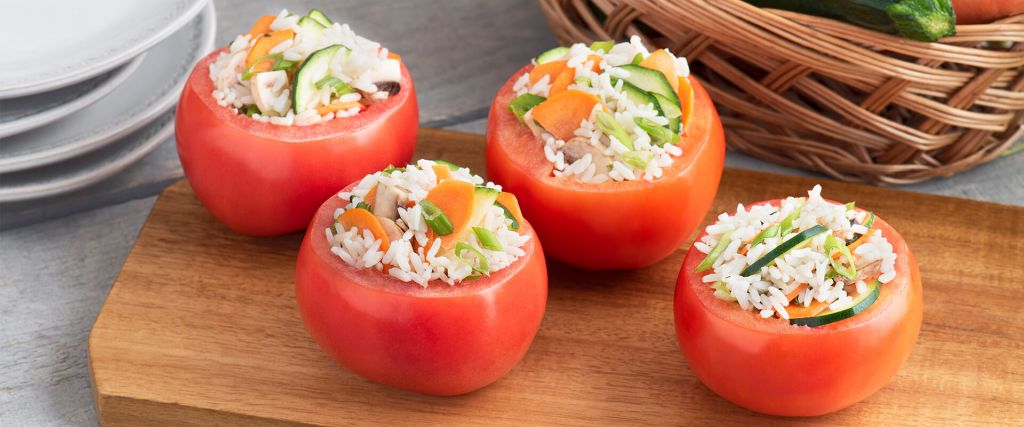 For the filling, try something light and refreshing such as sliced carrots, zucchini, green onions, and mushrooms folded in fluffy White Rice grains. Enjoy your tomatoes uncooked or baked, and for a fancy presentation, serve covered with the tops.
3. Zucchini
Because of their long shape, zucchinis are excellent vegetables to slice lengthwise, stuff and make them a meal on their own. One thing you should always remember when making zucchini boats is that this veggie will require some pre-cooking.
You can steam, bake, microwave, or even grill the zucchini halves to make sure they soften and have a pleasing texture. Prepare some boats for your next summer bbq and take advantage of the already smoking grill to roast your zucchinis a bit.
Its neutral flavor makes it the perfect vegetable to be paired with almost anything. Whip up the perfect filling with our aromatic Success® Basmati Rice and enhance the flavor with Italian sausage, Parmesan cheese, fresh herbs, and chili flakes.
4. Leafy Greens
Lettuce wraps have become a foodie trend that you sure don't want to miss! If you're in a hurry and don't have time to cut, precook and scoop vegetables, leafy greens are also great to be stuffed and get your daily veggie-intake.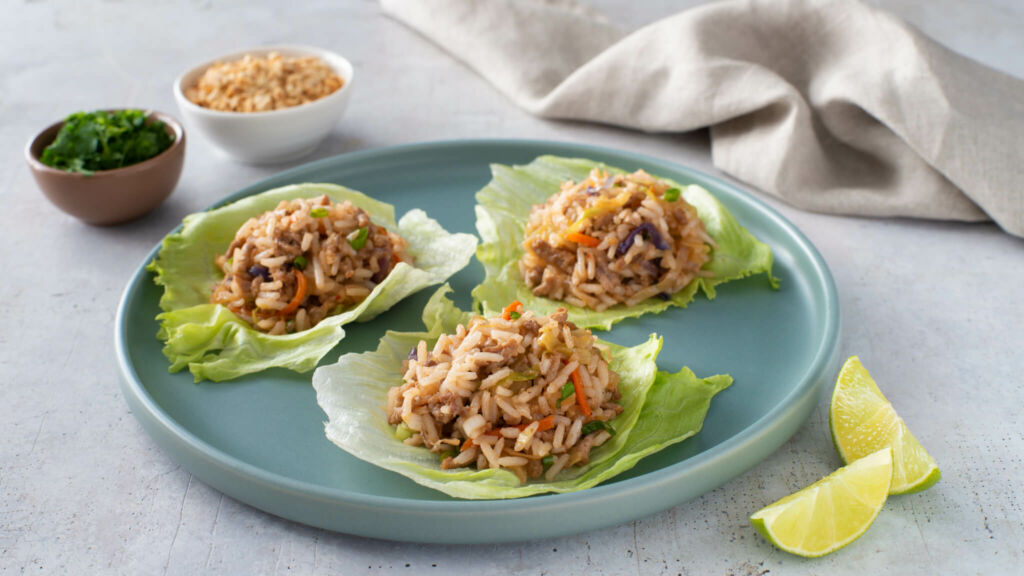 Much like zucchini, leafy greens don't stand out for having a strong or special flavor, so there are a lot of opportunities to make them shine with a delicious grain-based stuffing. If you're craving Thai food and want to include more greens into your meals, try these Thai Chicken and Rice Lettuce Wraps.
The key to choosing the greens for your wraps is to look for pliable, large leaves. Wash them in water or in a water+vinegar mixture, but make sure to dry them thoroughly before stuffing. These are some of the leaves you can use to make Gluten Free and low carb wraps:
Iceberg Lettuce (the most common variety for stuffing)

Radicchio

Romaine Lettuce

Endives

Red Leaf Lettuce

Swiss Chard

Butter Lettuce

Kale
Enjoy these four stuffed vegetable suggestions, but don't let your imagination stop here! Explore other fruits and vegetables like avocados, mushrooms, jalapeños or poblano peppers using a hearty filling made with any variety of our convenient Boil-in-Bag Rice and Quinoa.
Check our website for even more meal inspiration, like this vegan meatloaf dish.