For foodies or busy parents, it's not always easy to find new inspiring recipes that stand out from the crowd. All too often we can fall into the habit of cooking our go-to dishes so often they become like records on repeat. This is where these sushi-inspired recipes can come along and bring something exciting and delicious to the table. 
We often think of sushi as something to have at restaurants or for takeout. But why not venture into the realm of sushi-inspired flavors by bringing these tasty and elegant handheld treats and bowls directly to your own home?
Read on as we guide you through our sushi inspired recipes so you can prepare dishes that'll have your family, friends and guests singing your praise.
Sushi Ingredients
Nowadays, when we talk of sushi, we think of little handheld sticky rice treats. Originally, however, the word "sushi"  referred to just rice with vinegar. But the definition later broadened to include any sticky rice creation that is tossed with vinegar and includes raw fish or vegetables. 
Sushi is typically made from different combinations of the following ingredients: sushi rice, soy sauce, wasabi paste, sushi rice vinegar, ginger, and roasted seaweed also known as sushi nori. 
These ingredients are then shaped into handheld snacks which come in various shapes and styles, with additional ingredients included. This gives you different types of sushi, each with their own unique flavors and textures.
Types of Sushi
Maki: Sushi rolls made by wrapping fillings in seaweed and rice.
Nigiri: Sliced fish or seafood placed on top of a small mound of sushi rice.
Chirashi: A bowl of sushi rice topped with assorted fish, vegetables, and other ingredients.
Temaki: Hand-rolled sushi cones filled with a variety of ingredients.
Onigiri: Rice balls typically filled with savory ingredients and wrapped in seaweed.
This is by no means an exhaustive list — but these varieties will get you started on your sushi journey!
Quick Tips for Sushi Inspired Recipes
Go for quality: When using both seafood and vegetables, high-quality and fresh ingredients will help the overall taste and texture of the meal. Bear this in mind while at the grocery store.
Slice with care: Whether you're cutting meat or vegetables into small chunks, try to keep the measurements small and even. This will improve presentation as well as the eating part.
Think colorful: Not only does a range of different-colored fish and veggies make a more beautiful dish, it's also indicative of a balanced meal consisting of diverse flavors and nutrients.
Get garnishing: You can top your sushi inspired meals with whatever you please, but some of the popular options are sesame seeds, microgreens or even edible flowers.
Handheld Sushi Snacks
Although most of us are more familiar with experiencing sushi at restaurants, when preparing these much-loved Japanese bites at home, they make fantastic handheld snacks to leave on the table at gatherings. Let's take a look at some of the recipes you can prepare by taking inspiration from sushi. 
Sushi Inspired Snacks Made with Jasmine Rice
Fragrant and slightly sticky, our jasmine rice is an ideal option to use in your sushi-inspired recipes. While it's not a true sushi short grain rice, it still makes for an excellent grain for these recipes.
Crispy Rice Canapés: Perhaps you're in the mood for indulging something a little more crispy and crunchy. In @avocado_skillet's Spicy Chickpea "Tuna" Crispy Rice, you can have exactly that while incorporating ingredients such as vegan mayonnaise, sriracha sauce, and rice fried into small blocks together with chickpeas. This unique combination is ideal for a crowd.
Alternatively, there are few handheld snacks that look as elegant as this Salmon Crispy Rice from @noflakeysalt. WIth salmon diced into small cubes with sesame oil on top, this handheld snack gives you fresh sushi flavor atop a firm crispy base of fried rice.
Cups: If the thought of salmon, honey, and sriracha sauce already gets you licking your lips, just wait till those ingredients are put together with even more flavors and transformed into these Baked Asian Salmon Cups. These handheld bites are sure to impress guests in terms of both their flavor and appearance.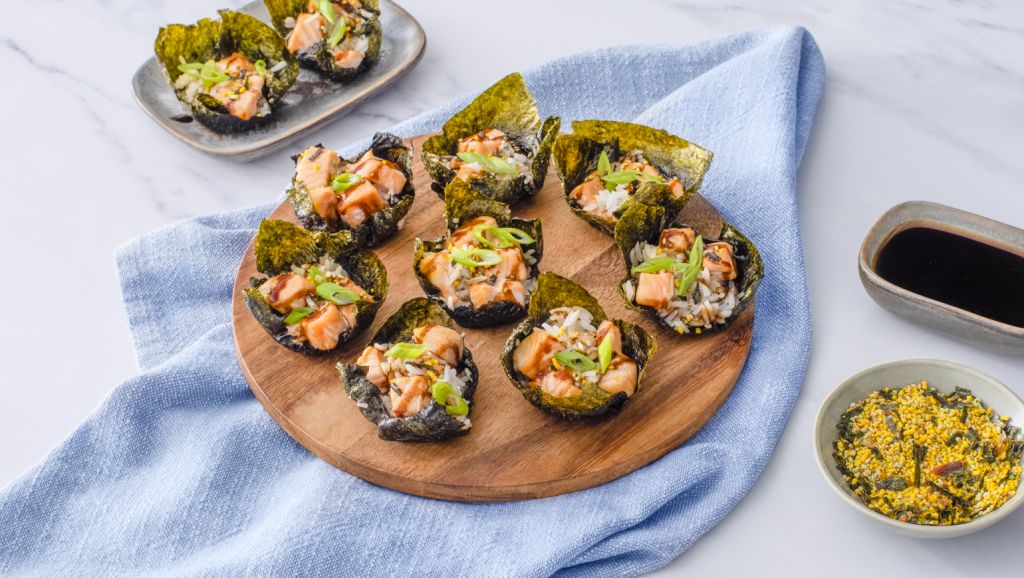 Hand Rolls: You're not alone in thinking that the most beautiful snacks are the most difficult to prepare, but that's certainly not always the case! With these Salmon Hand Rolls from @Sailor Bailey, a surprisingly straightforward and simple set of steps gives you original, flavorful and impressive-looking rolls with the flavors of baked salmon, avocado, sriracha sauce and more.
Burritos: Our signature Crab and Shrimp Sushi Burrito is another way to please the crowd with a handheld snack inspired by sushi.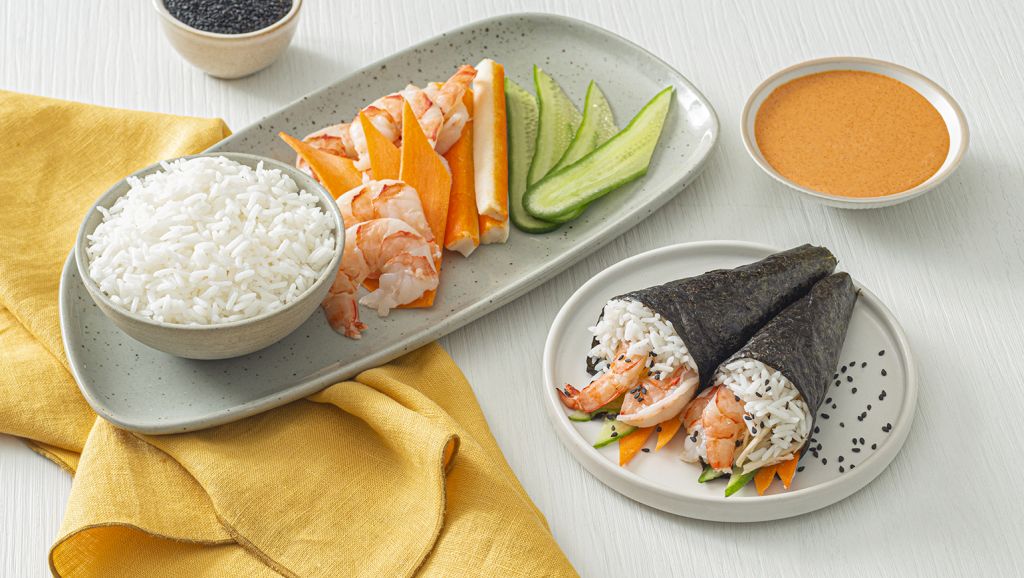 With this dish, you can dip crab sticks, carrots, cucumber into a mouthwatering homemade sauce and enjoy our burrito-style rice wrap with shrimp. For Salmon Burritos, make sure to check out @apaigeofpositivity's recipe that is chock-full of fresh salmon, crisp veggies, and creamy avocado! 
Sushi Inspired Rice Bowls
Now let's go a step further with our sushi inspired recipes and into the world of rice bowls. Such dishes are great options for pleasing a crowd. Here's why:
Presentation: Rich in vibrant colors, a sushi-inspired rice bowl means a guaranteed  visually appealing dish that'll brighten up your latest instagram story.
Customizable: Whatever dietary needs and preferences your guests or family may have, it's easy to take out and add ingredients to rice bowls to keep everyone satisfied.
Balanced: Rice bowls also offer you a chance to add in plenty of nutritious ingredients while still putting together something that tastes delicious.
Convenience: Rice bowls can be eaten cold, stored in the fridge for later, and can be easily prepared by using leftover rice. Simply put, they make life in the kitchen easier!
Tuna Rice Bowls
As a poke bowl, this Hawaiian Ahi Tuna Poke Bowl with Spicy Mayo is a Hawaiian inspired dish although there is a lot of crossover with sushi style ingredients. With sushi grade ahi tuna diced into cubes, cucumber, pineapple, sesame oil and more, this recipe makes a flavorful and refreshing dinner.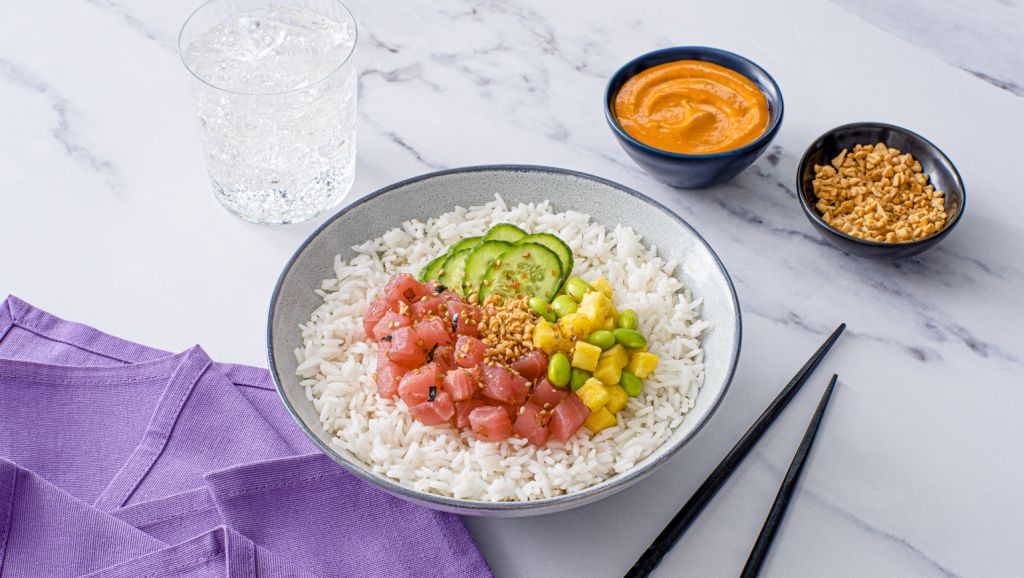 Or how about swapping out rice for quinoa in this Spicy Tuna Bowl? In this dish, you'll experience how Success® Tri-Color Quinoa makes a satisfying accompaniment to avocado, tuna, cabbage, onions and more ingredients for an ideal work-from-home lunch or evening meal.
Salmon Rice Bowls
When a sushi inspired rice bowl meets Middle-eastern spices, the result is unique and tantalyzing as those who have tried this Salmon Rice Bowl with Turmeric Yogurt Drizzle can attest! The bed of Success® White Rice is topped with salmon, cucumber, carrots, greek yoghurt and lemon zest for a vibrant and tasty combo.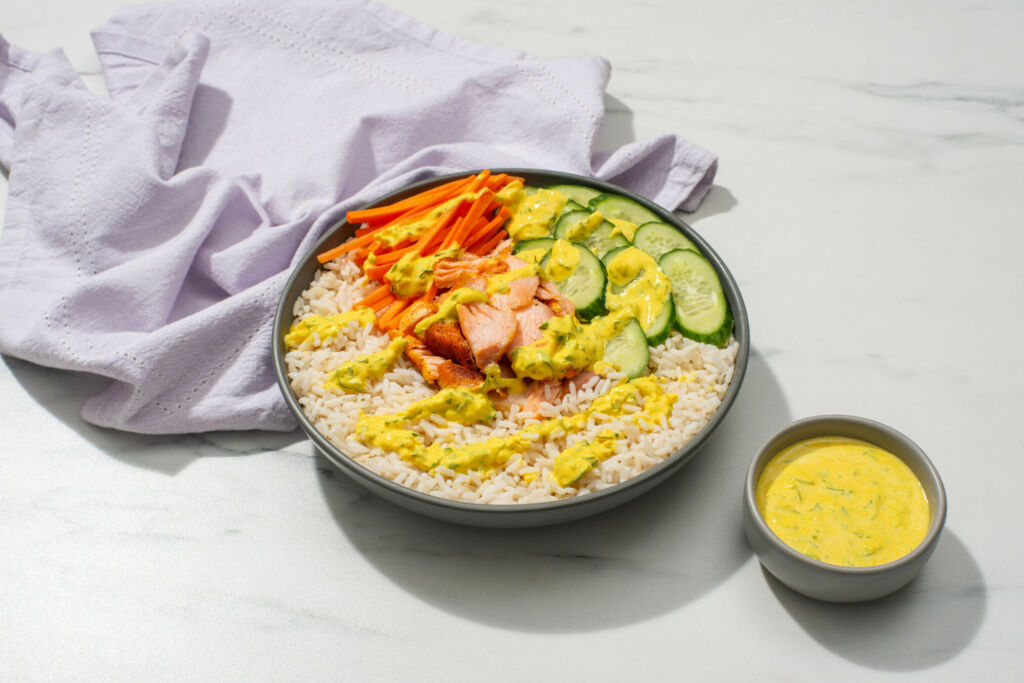 Salmon also pairs well with quinoa as it does in this Quinoa Edamame Power Bowl with Salmon. This hearty and flavourful dish is rich in wholesome greens enhanced by the taste of Asian sesame salad dressing for an impressive and innovative meal.
If you haven't prepared sushi inspired dishes before, now's your chance. By following these tips, tricks and recipe suggestions, you'll have just what you need to please the crowd in style! Fore more inspiration, come and visit our kitchen.