What does your ideal summer plan look like? Maybe you're looking forward to taking a road trip, a camping trip or planning a picnic in the sun, or to the beach. All of these are quintessential summer activities that all have something in common: eating outdoors. And, although it may seem like a challenge, planning out your meals to enjoy on the go or that travel well, can be easier than you think! Jot down these tips and recipe ideas from Success® Rice and Quinoa to make your summer getaways or simple breaks from the routine the most uncomplicated and relaxing yet.
Meals and Snacks for a Road Trip
An all time family or friend favorite, road trips are amazing for bonding and discovering new places. When planning your trip, look for parks, beaches or green places where you can stop and enjoy a lovely meal or snack with a view. Instead of adding extra stops into your route, pack all your food at home using a cooler and have something prepared for when hunger strikes. This will help you save time and money while guaranteeing you are enjoying something delicious, homemade and loaded with all the benefits of using quality ingredients.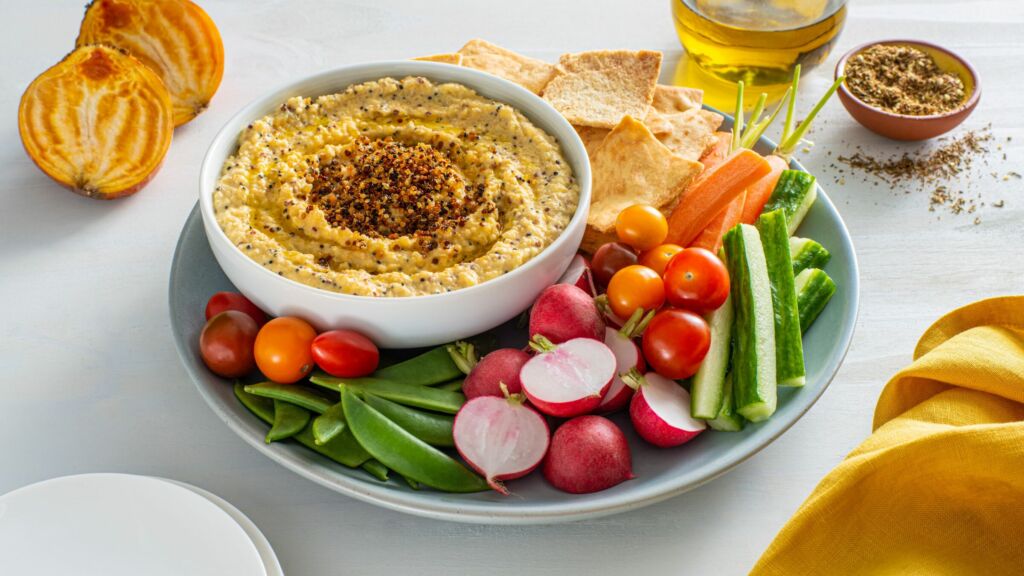 Snack Ideas For the Road
From upstate New York to the Pacific Coast Highway in California, the stunning views of the many scenic drives in the US are even better while feasting on a tasty snack. All of these delicacies are packed with the added goodness of incorporating grains into your meals, like Success® Rice and Quinoa, for convenient snacks that will keep you fueled and satisfied for all the miles ahead of you. Make them before hitting the road and make sure to keep them handy.
Quinoa Power Balls: These bite-sized treats are perfect for satisfying any sugar cravings with the flavor combination of honey, dates, coconut and pineapple. Did we mention these power balls are also packed with protein powder? Just roll them into balls, refrigerate to set and store in an airtight container for the road!
Strawberry and Pine Nut Rice Bars: Made with Success® Brown Rice, these fruit and whole grain bars are great for keeping the driver alert and a kid friendly snack the whole family will love!
Golden Beet Hummus with Toasted Quinoa: Switch up the average hummus spread and blend in more nutrients by adding summer ingredients like golden beets. Pack along with some julienned crudités, or veggie sticks, along with pretzels, pita chips and any other favorites. Use a separated container or two separate containers to hold the hummus and toppings apart so you can enjoy something light and refreshing on the go.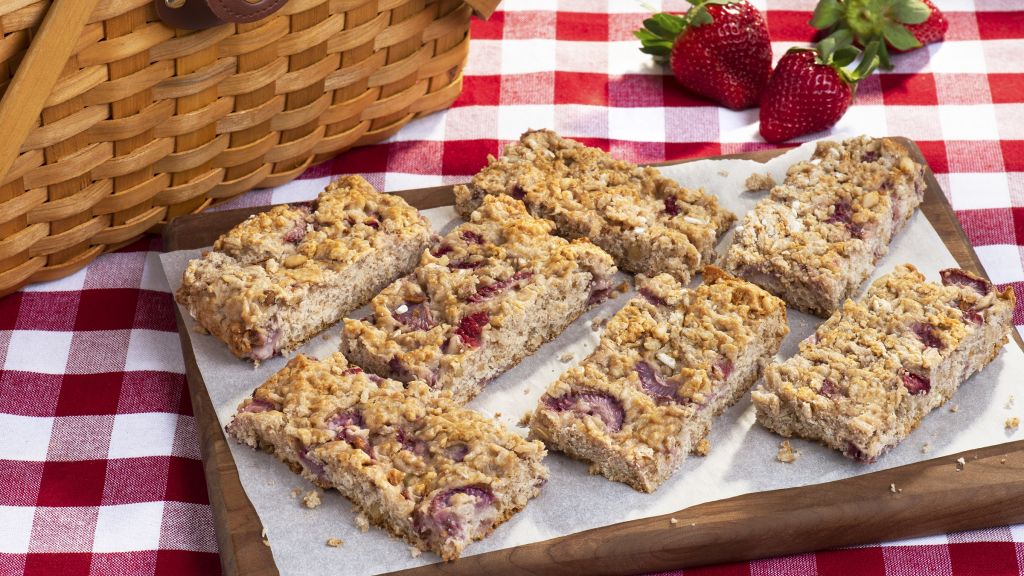 Not sure what julienned means? Check out our chef tips for a more detailed guide to culinary cutting terms.
Packed Lunch Ideas
If your trip is a rather long one and you are planning a pit stop to refuel both you and your car, why not pack a simple and hearty cold meal instead of settling for whatever is available at the gas station or nearby fast food place? Start with a rice or quinoa base and layer chopped vegetables in a wide tall container, or use individual containers like mason jars, for a convenient salad on the go. Pack dressing separately and drizzle on top right before enjoying.
Make sure to leave some space between the salad and the lid so you can shake or mix together all the layers of your salad. Check out our recipe video above for how to layer a fresh Quinoa Salad in a Mason Jar or try some of these Mediterranean Inspired ingredient combinations for your next road trip meal. Find a nice quiet place where parking is allowed, such as a rest stop, to take a break and enjoy! No reheating is necessary for these recipes.
Italian Rice Antipasto Salad with Success® White Rice, baby arugula, grape tomatoes, cheese, black olives, artichoke hearts, salami and Italian vinaigrette.You can even bring a little bit of bread along or toss in croutons for a deconstructed Italian sub sandwich. 
Crunchy Cauliflower Quinoa with Success® Tri-Color Quinoa, riced cauliflower, cherry tomatoes, Kalamata olives, red onion, pine nuts, crumbled feta cheese and a zesty homemade vinaigrette.
Mediterranean Chicken and Rice Pita Bowls. Bring your filling in mason jars and simply pour into your crispy pita pockets, drizzle with tahini dressing and enjoy a hand-held meal.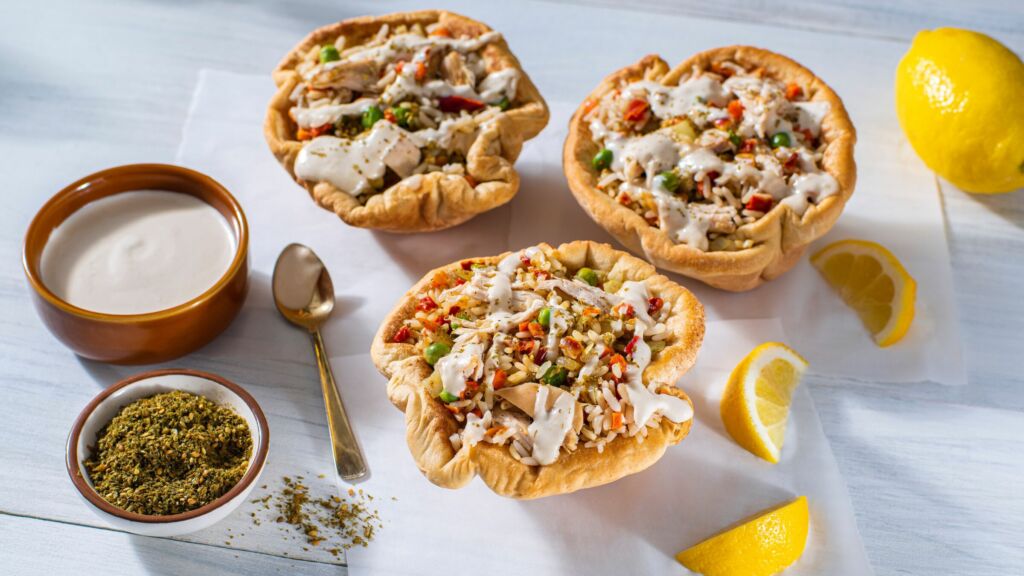 Picnic Food
If you're planning a picnic day out to the park for a holiday, to the beach, or packing a blanket with you on your road trip, we've got a few tasty ideas to bring along with you. Probably the most exciting part about a picnic is planning everything you need to put into your basket. From food suggestions to useful and quick tips, get into a picnic groove with the help of Success® Rice and Quinoa!
Think through the entire plan: Make sure you pack enough eating utensils and other supplies while the picnic lasts – are you staying until sunset or after? Don't forget about the extra snacks! These Brown Rice Energy Balls are the perfect treat to snack on after a relaxing day outdoors.
Pack only essential supplies: Rather than bringing the whole house with you, pack your basket with just the essentials – food, cutlery, napkins, a knife for fruit, water, and a picnic towel. A corkscrew might be needed depending on the drinks you are having.
Level up the classics: Instead of going with staple sandwiches, step up your picnic game and try wraps like these Tex Mex Chicken Burritos or refreshing Vietnamese Spring Rolls. Serve with peanut sauce on the side for boosted flavors. These are especially great if you want to keep things simple and limit foods that require forks and knives.
Eat your veggies: What's fresher than having a salad on a picnic? For a filling and easy to carry meal, try this Asian Rice Salad loaded with fruit and veggies. This recipe is also ideal to refuel if you had to hike a bit before finding your picnic spot.
Remember to clean up: Always have a few plastic grocery bags or garbage bags with you to clean up everything after your picnic.
Relax and slow down: Look for a quiet natural area with enough trees so finding a shady spot is not an issue. Or, if you're at the beach, clean off all of the sand and set the scene.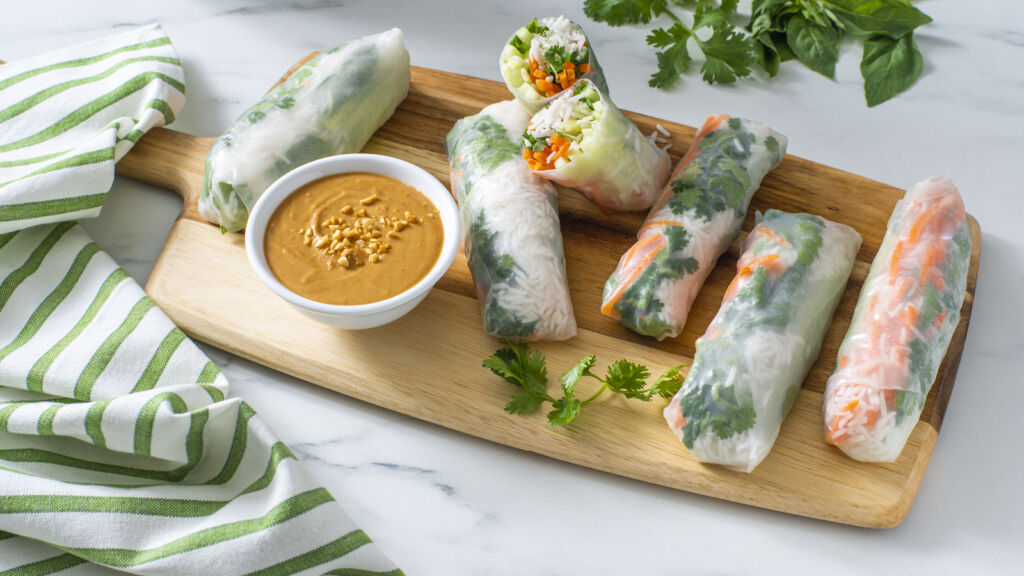 Bonus: Camping Recipes and Cooking
Most camping meals don't even need a recipe – such as roasted vegetables and meat with a side of grains. With just a fire pit or grill, cooking while camping is fairly simple and easy to accomplish, but that doesn't mean you have to put your foodie soul to rest while you are on an outdoor adventure.
Success® Boil-in-Bag Rice or Quinoa is a great camping ally as the grains are portioned into sealed bags that you can carry without an extra container! Plus, you will be enjoying perfectly cooked grains by simply boiling the bag in water. No mess or measuring at your campground. Pack a few varieties of rice or quinoa in your backpack to have on hand for a convenient and filling side dish or try in any of these camping trip friendly recipes.
Aromatic Pesto Rice: Simply prepare your rice and toss with homemade or store-bought pesto sauce! For best results, blend your sauce before traveling or pick up a store-bought version of your preferred sauce. Recipe Variation: Not a fan of pesto? Swap in another favorite like marinara and mix in a few pizza toppings like cheese or pepperoni. Once you have your cooked Success® Boil-in-Bag Rice or Quinoa (any variety), feel free to get creative with mix-ins that keep without needing to be refrigerated.
Cheesy Quinoa Bites: These muffin-style bites are great to make in advance and take with you for an effortless breakfast or snack. Store in an airtight container and eat through the first days of your trip.
Quinoa Overnight Oats: This recipe is amazing to repurpose leftover quinoa from lunch or dinner into a filling morning meal. Simply fill a mason jar or airtight container with quinoa, oats, fruit and your choice of milk, seal and keep in your cooler to enjoy the day after. Use dried fruit or heartier options like bananas or apples, and add some nuts for a crunch.
Now that you know what to cook or pack for some outdoor fun, enjoy the warm weather and sunny days by inviting your family and friends to any of these amazing activities. Snap some pics for the memories and share your picnic, road trip or camping meals with us by using #SuccessRice – we love it when you share your success with us!
If you are looking for some seafood options for dinner tonight, try our shrimp recipes with rice.