A melting pot of cultural influences, Louisiana is known for its Jazz, Mardi Gras festival, biodiverse bayous and delicious food. The city of New Orleans hosts one of the largest Mardi Gras celebrations in the world, complete with parties, costumes, and of course, lot's of eating! This February, discover recipes inspired by the vibrant culture and traditions with Success® Rice. 
What is Mardi Gras?
A religious holiday rooted in pagan tradition that dates back thousands of years, Mardi Gras is truly a celebration of debauchery. The weeklong festival acts as a prelude to Lent, 40 days of fasting that begins on Ash Wednesday. The festivities come to a climax on Mardi Gras, meaning "Fat Tuesday" in French, as a way to indulge the final hours before fasting begins.
Mardi Gras Traditions in New Orleans
Essentially a big weeklong party in the streets, Mardi Gras has many key elements and traditions that its participants look forward to every year. Characterized by colorful parades, decorated floats, bead throwing, costumes, masks, good food, king cake and general chaos, this culture-rich festival is rooted in tradition, making it a special time of the year for locals and visitors alike. You can expect to hear parade drums and jazz, see the typical purple, green and gold colors, and smell delicious dishes being made throughout the whole city. 
Whether you're miles away or are lucky enough to attend the festivities, there are plenty of dishes you can make to bring Mardi-Gras traditions and flavors to the comfort of your home.
What is the difference between Creole and Cajun Cuisine?
Though both were born in Louisiana, these two styles of cuisine each have unique qualities and history that make them different.
Creole is a fusion of French, Spanish, African, Native American, and Caribbean cuisine. These dishes, such as this Chicken Creole, are considered more cosmopolitan, known for their bold and spicy flavors, rich sauces, fresh caught seafood, aromatic herbs, and heavy use of tomatoes.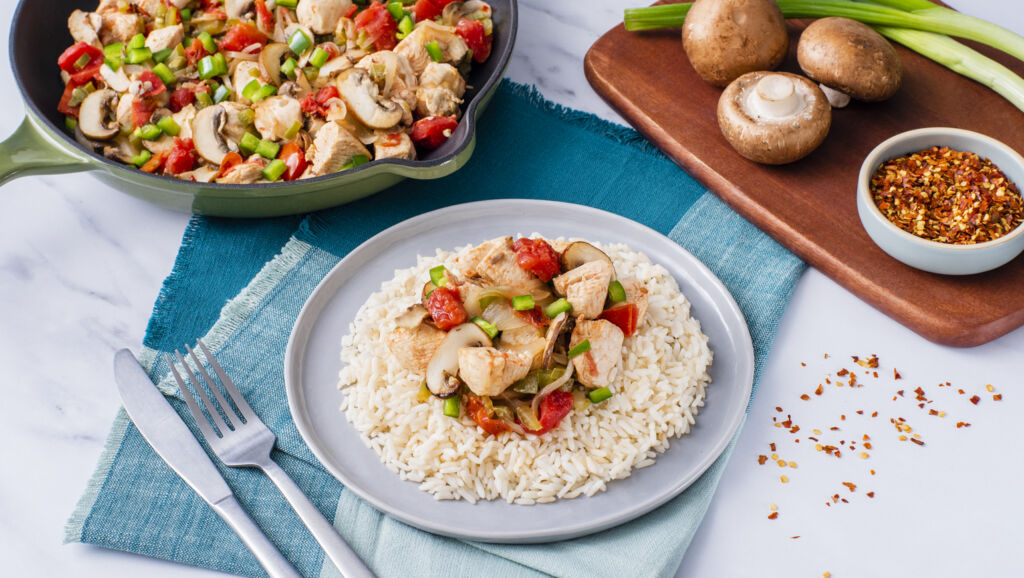 Cajun on the other hand, hails from the rural bayous of Louisiana and is a combination of French and Southern flavors. These dishes are characterized more for their rustic mix of local ingredients like smoked sausage, and simple staples like rice. Try this Quick Cajun Chicken for an easy recipe that brings the flavors of the south into your kitchen!
Though their preparations, ingredients and origins differ, Creole and Cajun cuisine do have many dishes in common. Gumbo is perhaps the greatest common factor between the two. While Creole gumbo has a tomato base, Cajun gumbo, like our New Orleans Gumbo, is typically done with a roux base made with lard and flour, however both incorporate a mix of different proteins, rice and other local ingredients. 
What is the Cajun Holy Trinity?
A nickname given to the three key base ingredients of most Cajun and Creole cuisine, the holy trinity consists of equal parts white onion, celery and green bell pepper. It is an aromatic building block that is often combined with the typical roux, as a base for stews, étouffée, and rich dishes, such as this Bayou Chicken and Sausage Jambalaya. It gives every dish a boost of flavor, making it the perfect start to one-pot meals!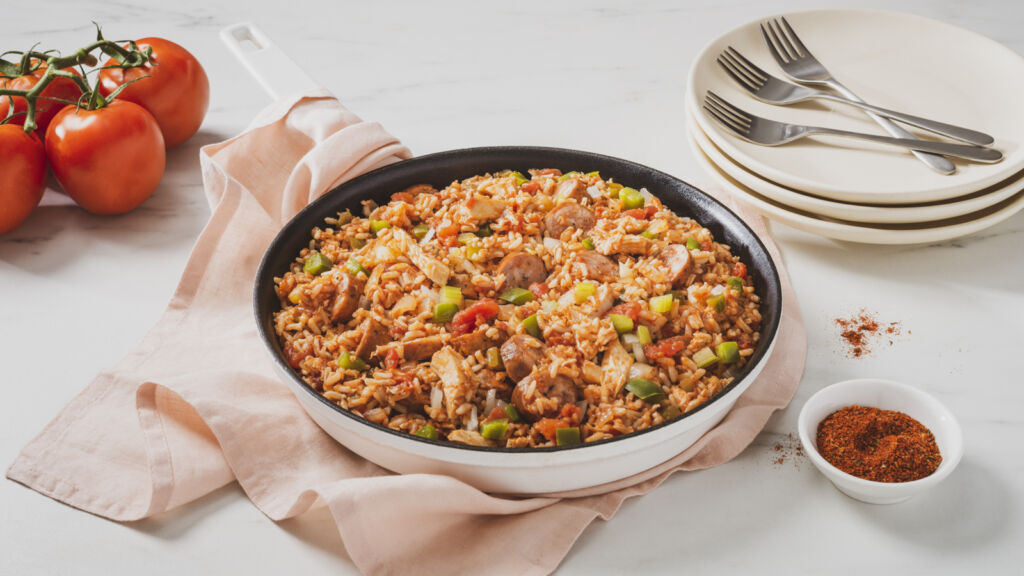 How to use it: There are many uses for the holy trinity when cooking all types of dishes. There is no need for exact measurements, so dice the ingredients into similar sizes, and use your best judgment to determine the equal parts. For extra flavor, it is also optional to add garlic, parsley or shallots, an addition referred to as "the pope". Combine your ingredients into your pan or pot and caramelize down before adding the other layers of your dish. It can be used to braise meat, added to gazpacho, or makes a great base to a spaghetti sauce that will pair nicely with herbs like oregano and basil. 
Typical Louisiana Dishes
With New Orleans being one of the first port cities in the US and a birthplace of the industrial revolution, many dishes were born out of the collaboration of Spanish and French settlers using a combination of techniques from home and local ingredients. With access to a plethora of rich spices, smoked sausage and fresh seafood, a variety of dishes such as jambalaya spread across Louisiana.
A dish with both Creole and Cajun variations, jambalaya combines sausage, seafood and vegetables with a bold mix of spices that kick up the heat to create a robust and filling meal. This Jumpin' Jambalaya is simple, yet packed with southern flavor that will bring the taste of New Orleans right into your home. Or make these Jambalaya Stuffed Peppers, for a simple dish with a beautiful presentation worthy of sharing with friends or family!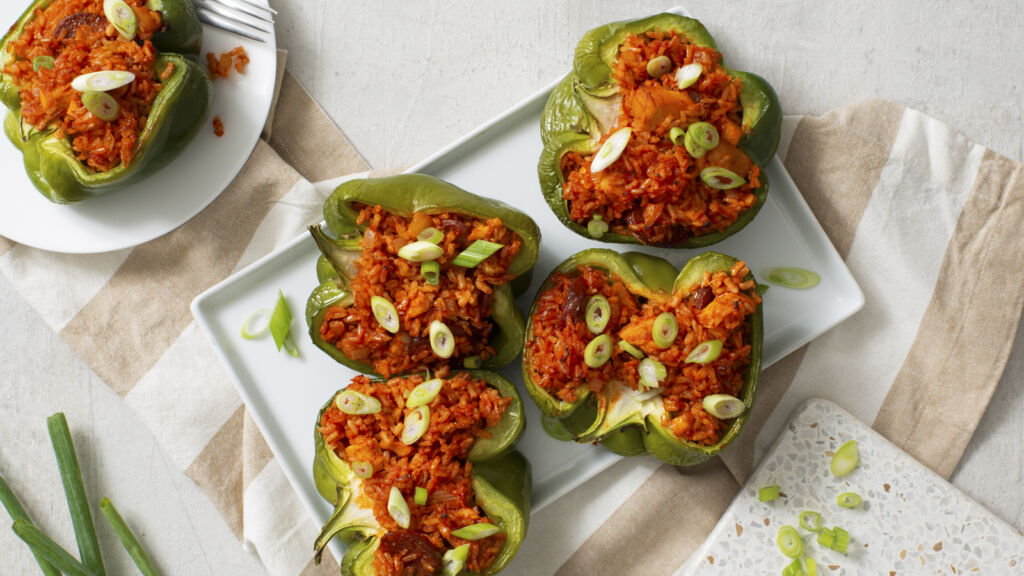 Though many of these dishes are typically full of meats and seafood, there are plenty of options for meatless alternatives. Try out this Vegetarian Jambalaya for a perfect weeknight dish full of a variety of colorful veggies. The black eyed peas add a Carolina flare and some delicious protein. Still need some extra protein? Vegan sausage is a great addition to make this dish more traditional and filling.
More Southern Inspired Dishes
Southern cooking is known for its rich, hearty ingredients and use of traditional cooking techniques that bring you a sense of home with each bite. With culture-rich traditions across the south and different local ingredients, dishes vary from state-to-state, but the comforting feeling of southern food remains the same.
Discover the flavors of South Carolina with Hoppin' Juan, a spicier version of the traditional rice and black eyed pea dish. With hearty turkey sausage, bold spices, and a nice kick from the green chilis, this dish is perfect to share or meal prep for your busy week. Or head West and try this Easy Texan Red Beans and Rice for a simplistic dish with a similar flavor profile.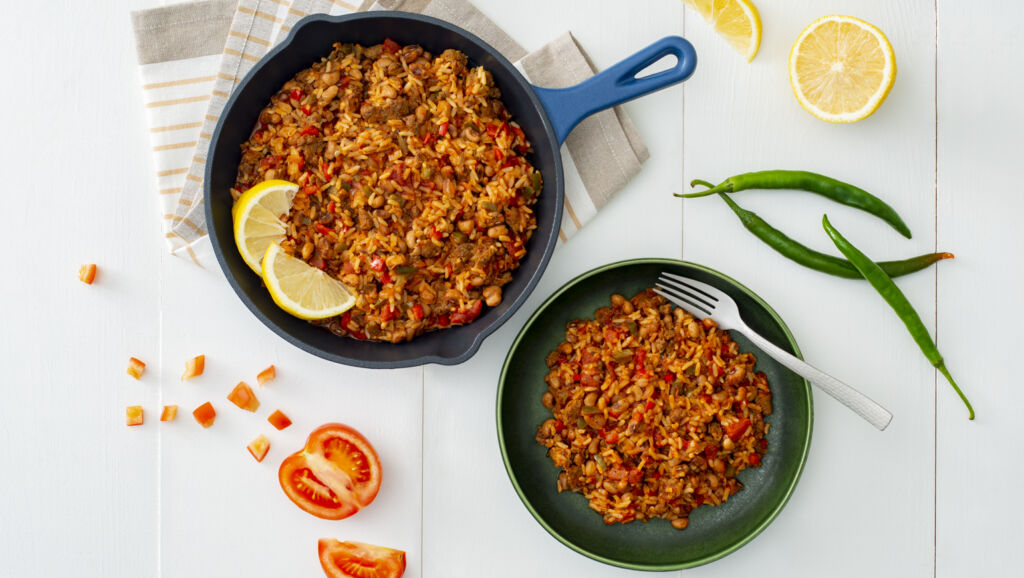 For more recipes no matter the occasion, stay tuned to Success® Rice.