There are certain foods that deserve their own special holiday event and whole grains are one of them! In fact, if you've read our easy guide to whole grains, you'll know that there are plenty of reasons to celebrate them for an entire month.
That's right, September is whole grains month and to enjoy a whole lot of goodness, we're challenging you to add a few tasty recipes into your weekly meal routine. To set you up for success, we're starting simple and have compiled recipes with just two pantry staples that you probably already have on hand – Brown Rice and Quinoa.
Make eating these grains fun and something to look forward to for the entire family with our recipe suggestions for any meal of the day!
Quick Cooking Tip!
If you've ever been discouraged to try whole grains like brown rice because of the long cook time, use convenient Success® Rice and Quinoa! Our rice and quinoa take the hassle out of meal time, with all the same benefits, and it's prepared in just 10 minutes. Using Boil-in-Bag rice and quinoa, there is no measuring involved or messy cleanup afterwards!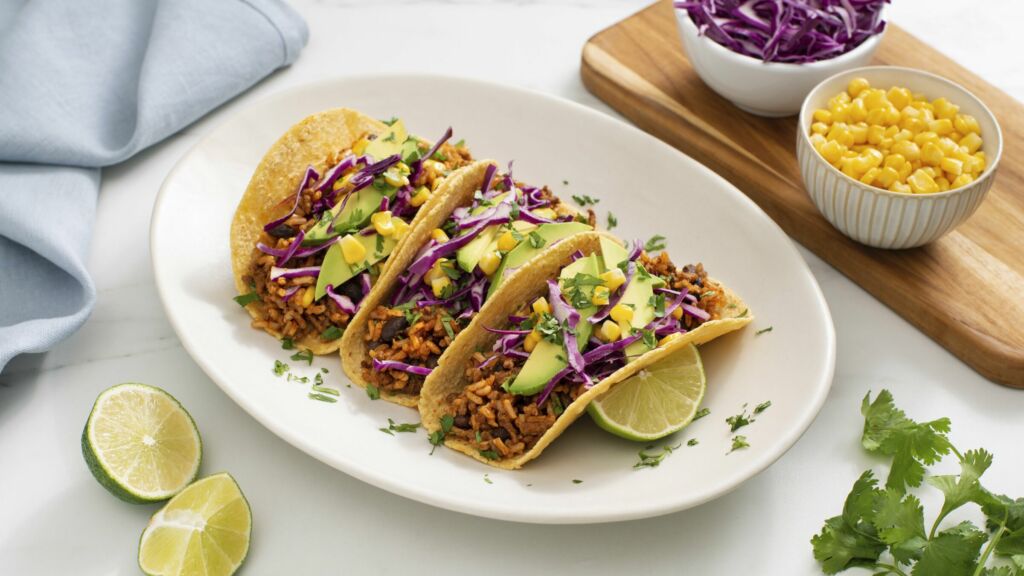 All of these recipe options include how to cook our whole grain varieties, so you're guaranteed a delicious, simple, and best of all, a quality meal.
Recipes with Whole Grains
No matter how you enjoy your meals, we've got lots of recipe inspiration to get you going. Start with your favorite meal idea and try them all during whole grains month, or any month for that matter.
Taco Tuesday Recipes
With something fun for everyone, a taco Tuesday recipe is always welcome at the table for lunch or dinner! Filled with taco seasoned ground beef, tomatoes, black beans, Success® Brown Rice and much more, these Flexitarian Tacos are simple yet flavorful.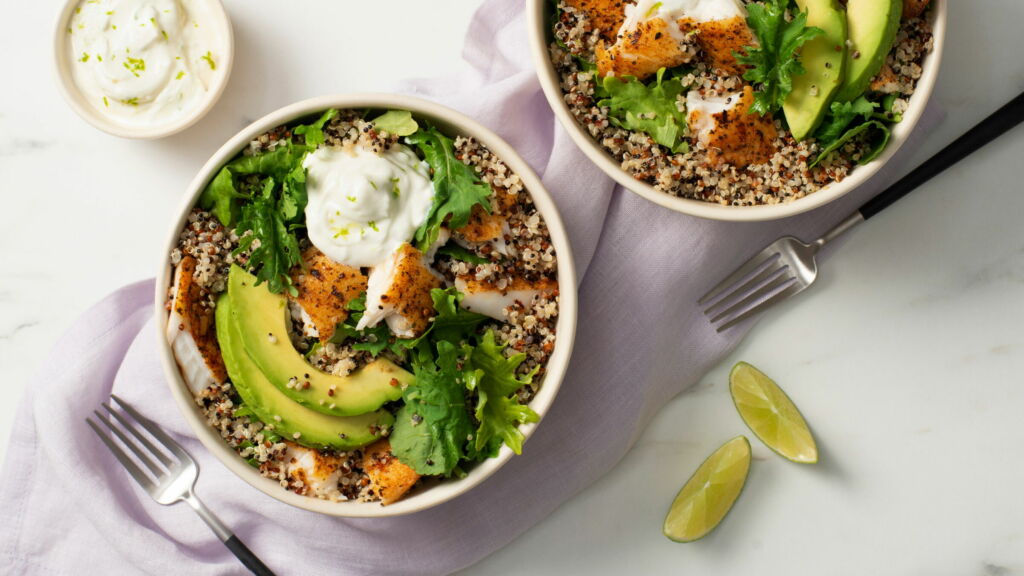 If you haven't got tortillas on hand, make your taco filling into a bowl like these Baja Fish Taco Bowls or a larger Quinoa Burrito Bowl. Customize your bowl with all of your favorite toppings like sour cream, veggies, cheese, guacamole, a favorite salsa, or maybe even some crushed tortilla chips. If you enjoy seafood try our: How to make shrimp fried rice.
Breakfast Ideas
Did you know that quinoa and brown rice are both plant-based sources of protein and fiber? Start your morning on the right foot with a breakfast made with whole grains!
Try a Brown Rice Fruit and Granola Parfait layered with fresh fruit, yogurt and granola for something you can layer ahead of time and take with you on-the-go.
If you enjoy a bowl of something hearty in the morning, a quinoa bowl is exactly what you need. Our tip to add loads of flavor is to cook your whole grains in a tasty cooking liquid like apple juice in this Apple Cinnamon Breakfast Quinoa Bowl with maple syrup and yogurt on top. Or, try coconut milk for a touch in this Creamy Coconut Tropical Quinoa Bowl.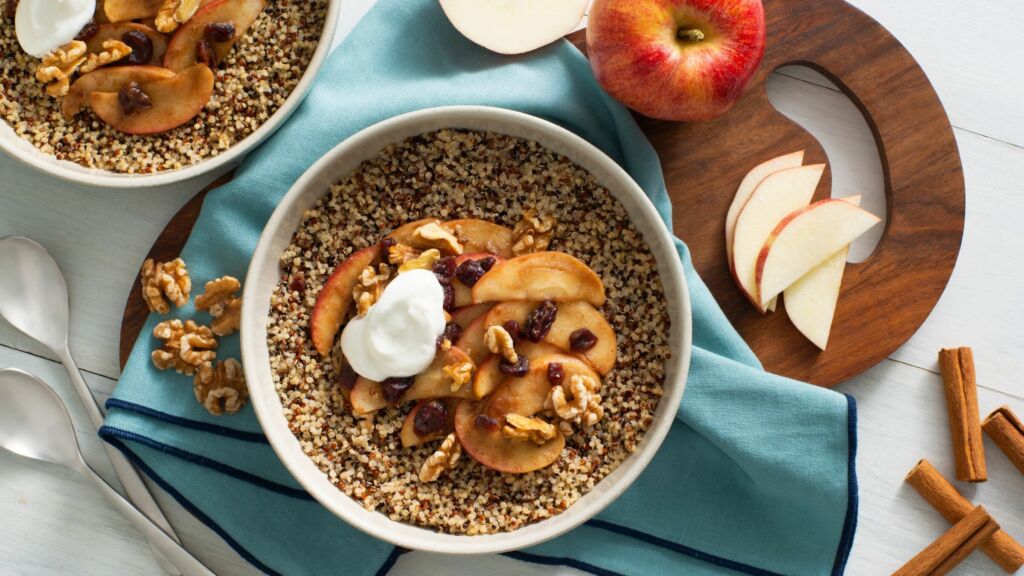 Filling and Satisfying Comfort Food Recipes
Possibly one of the main reasons that make whole grains so popular is their ability to keep you feeling full and satisfied. That always tends to go hand in hand with comfort food! So, try out this Vegetarian Pumpkin Brown Rice Chili for something to warm you up from the inside out.
Or, cozy up on the couch with a bowl full of this Butternut Squash Soup with Brown Rice. The best part is that you can also use some seasonal produce like squash and fresh sage.
Meatless Recipes
Whether you eat a meat free weekly menu or try to incorporate a Meatless Monday Meal each week, we've got you covered too. Make it a whole grain morning meal with these dairy-free and fruit filled Quinoa Overnight Oats.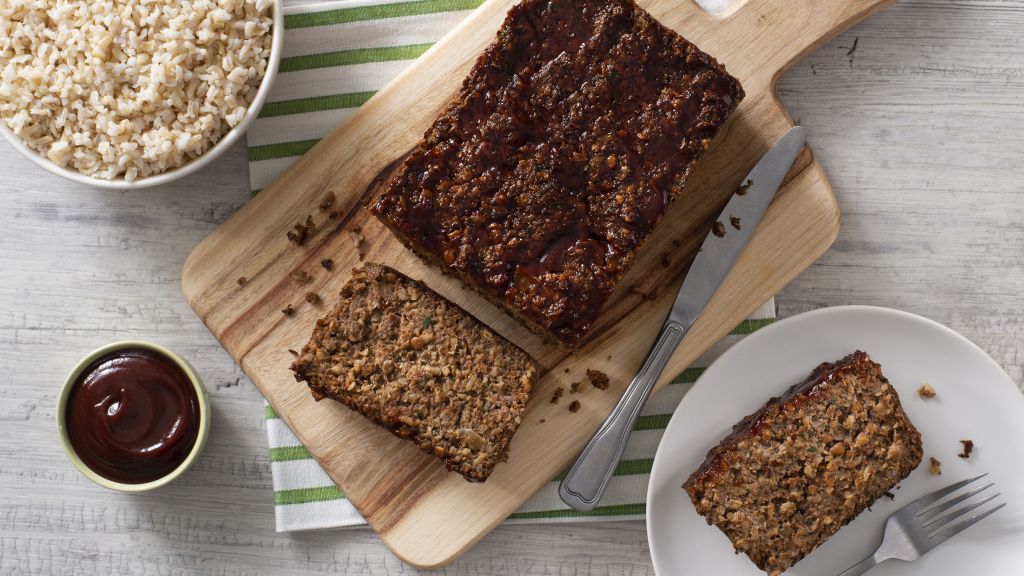 Treat yourself to a vegan lunch like this Mushroom and Quinoa Chili and finish your day off with an oven-baked meal like this Vegan Brown Rice BBQ Meatloaf.
Flavorful Snack Recipes
Filling whole grains are the perfect addition to energizing snacks in order to add a touch of subtle nutty flavor and extra texture.
Try using them in these tasty bite-sized snack ideas:
Make them ahead of time to take with you on-the-go or for a snack to keep you fueled throughout the day. They even make wonderful kid-friendly snacks.
Refreshing Salad Recipes
Finally, brown rice and quinoa make wonderful additions to fresh salads as they naturally contain protein and fiber.
Prepare a delicious Southern Brown Rice Salad loaded with all kinds of fresh vegetables, black-eyed peas and a store-bought or homemade Italian dressing. If you prefer more leafy greens, try this Kale and Quinoa Power Salad with Chicken that you can toss together in just 3 steps and under 30 minutes.
Starting with Success® Rice and Quinoa, any meal is possible with a bit of creativity and recipe inspiration. Did you make a meal using our whole grains? Show us by tagging @successrice or using #SuccessRice in your Social Media posts.