A bright and powerful spice, turmeric has become a must-have for any aspiring home chef in recent years. Its smell is unique and makes any meal an experience of sensations.
Originating from a root, ground turmeric has a peppery, slightly bitter flavor that closely resembles ginger. It's such a versatile ingredient that can be used in cuisines from India all the way to South America. To offer you a bit of kitchen inspiration to use this incredible spice, at Success® Rice, we've got plenty of ways that you can cook with turmeric. We've also got recipe inspiration using another widely versatile ingredient used in kitchens worldwide — rice.
Turmeric 101
Turmeric is used on a daily basis throughout India, Southeast Asia, the Middle East, and even some African countries. In fact, its taste and bright color are what give many traditional cuisines their distinctive essence.
Originating from the Curcuma longa plant within the ginger family, this spice can be found in many different forms, whether it be in its root form or ground into a powder, or even capsules, drink mixes, and chewable tablets. But from all of those different varieties, it is most commonly found as a powder that can be conveniently placed on your spice shelf. Many use it in an infinite amount of different recipes and meals: tea, curry, smoothies, seasoning blends and much more!
While it may be used around the globe, there is still a lot to be discovered for foodies at home surrounding its benefits, diverse uses, cooking possibilities and flavorful combinations! We'll give you a bit of help in order to start innovating and creating in your kitchen at home.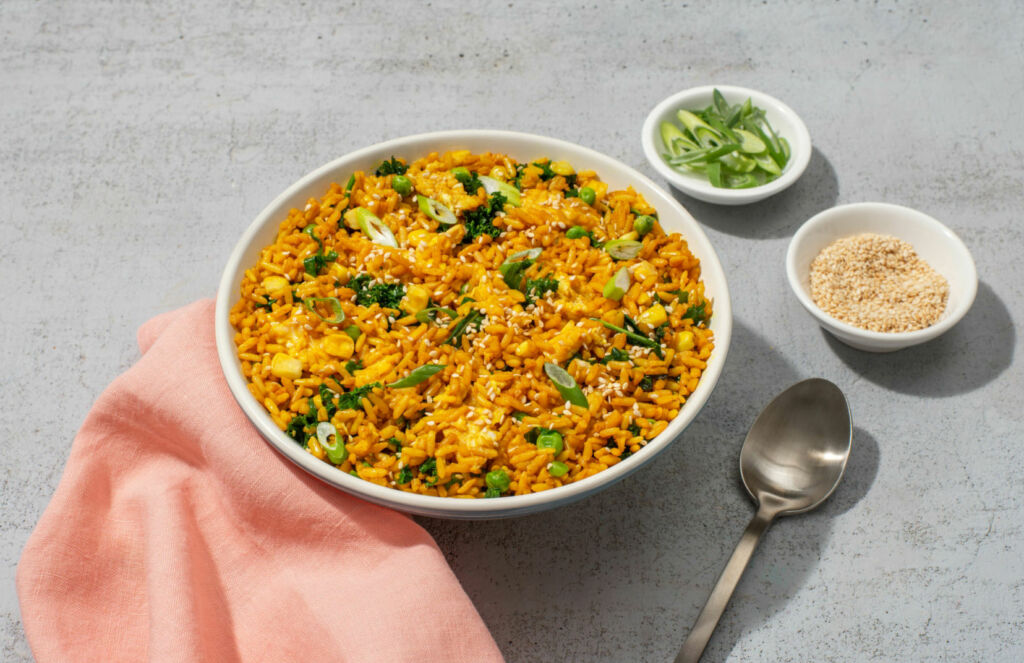 Recipe Ideas to Use Turmeric
​​There's nothing better than an evening in the kitchen creating new recipes or following one's inspiration. We've got a few comforting and delightful soups infused with turmeric, a few skillet dishes sautéed with turmeric, and some meals where it is a key complement. Learn how to use it in all kinds of ways from sautéeing with eggs to mixing with yogurt.
Turmeric Soups
As an ingredient ideal for creamy rice soups, turmeric's flavor can be an enhancer for seafood, offer a taste of fall, and is a perfect match with lentils and other legumes. It pairs with both fish and meat based dishes. And, If that wasn't enough, it is also a great seasoning for any greens and vegetables, allowing you to create a vegetarian recipe full of flavor.
It can be cooked using a variety of techniques, added at different preparation points and help create different results depending on the moment and the way in which it is used.
In this Coconut Cod and Rice Chowder recipe, turmeric is sautéed with onions and other ingredients first to create an aromatic base. Then, it's mixed with creamy coconut milk to create a delicious broth in which jasmine rice will be cooked so that it will absorb all the flavors.
Another option is to cook it in a Red Lentil Sweet Potato Soup. This hearty vegetarian recipe is full of exquisite taste that when combined with a pinch of zingy ginger results in an unforgettable texture and taste. Turmeric here is added to the broth and simmered with all the ingredients.
There are infinite possible combinations and a Carrot Ginger Turmeric Soup With Chicken and Rice is a must try. With a creamy and a spicy touch, in this case, turmeric is cooked with all the ingredients before being blended into a pureé.
Skillet Dishes
As it's been said, turmeric is extremely versatile, and adding it to skillet dishes by sautéeing in a pan is a great option.
There are plenty of ways to cook turmeric in skillet recipes. The first option is to cook the spices by creating a base sauce for your dish. This Curry Cauliflower Buddha Rice Bowl is a wonderful example of how a delicious sauce base can be created with coconut oil, garlic, shallot, garam masala, ginger, paprika, turmeric, salt, pepper and cayenne pepper.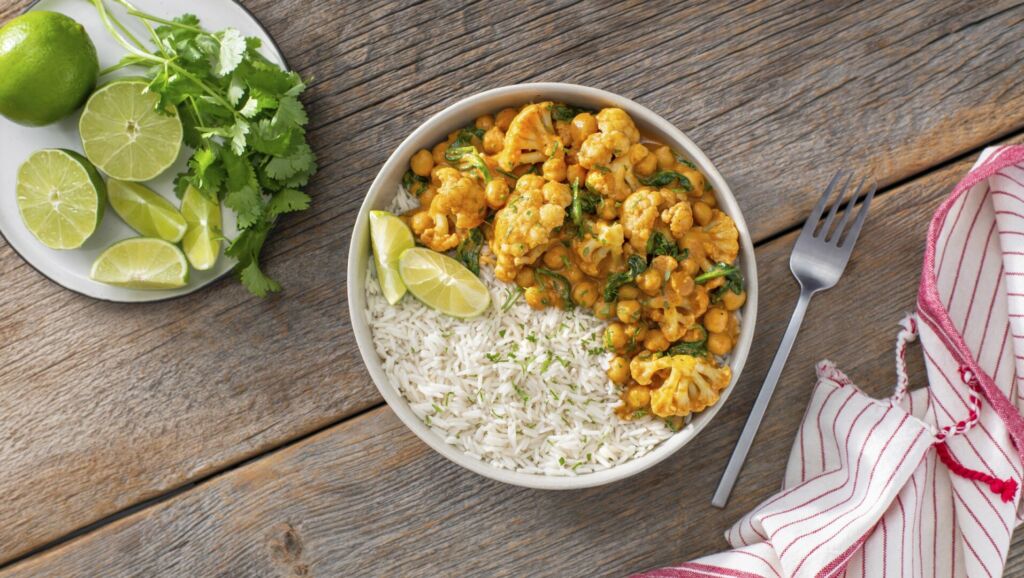 In this Spicy Indian Shrimp recipe, it is used as a sauce to coat the shrimp within the skillet to help infuse it with flavor.
But, it can also be a tasty seasoning for meat or fish that then will be mixed with a sauce, one example is our Chicken Tagine Skillet.
Skillet dishes are quick to prepare so they are an incredible opportunity to have a delightful meal on any weeknight. And, Success® Rice is the perfect base for skillet recipes with turmeric as it can be infused with flavor like in this Turmeric Fried Rice, or it can serve as a side dish to absorb all of the flavor. Not to mention, it takes only 10 minutes with our convenient Boil-in-Bag rice.
Blending Tip: Nowadays you can easily buy pre-prepared spice mixtures such as curry powder or garam masala, which is always a time saver. However, if you're looking to gain confidence with the qualities of each spice — its texture, smell, color, and how it mixes with others — we recommend you experiment and mix turmeric and other spices on your own!
Flavorful Ingredient
Given the previous inspiration, now it's time to get in the kitchen and start your own creation! There are no limits when it comes to the use of turmeric in the kitchen.
Start with this Salmon Rice Bowl with Turmeric Yogurt Sauce and learn how turmeric can be used for more than just simply cooking with heat. It can also be mixed with other fresh ingredients that complement its flavors!
Challenge yourself and make turmeric your secret ingredient for an exquisite meal to be remembered. Whether it is in a soup or a skillet dish, or maybe as a flavorful ingredient, drink, even if in a dessert. Don't hesitate to explore and be astonished by how it elevates your dishes. And, if you want an even better result, make sure you're always using high-quality ingredients like Success® Rice. For more interesting kitchen tips and recipe ideas like this Spanish rice recipe, check out our website.