With such a wide-variety of foods available nowadays, many might think that eating a vegan or vegetarian meal is limiting. But, in fact, it can be quite the opposite. While there are plenty of incredible meals made with meat, when you branch out to experience cooking with plant-based ingredients such as nuts, seeds, legumes and soy-based foods like tempeh, you'll find there is a whole world of taste to be enjoyed.
Whether you choose to eat vegan, vegetarian or normally eat everything and are looking for more Meatless Monday meals, at Success® Rice, we challenge you to try some of these tips and recipe ideas. Using our rice and quinoa, you can savor meals made with a new combination of ingredients that are loaded with all kinds of benefits.
Differences Between Vegetarian and Vegan Diet
With all kinds of names thrown around like pescatarian or lacto-vegetarian, it might get a little confusing trying to remember the difference between them all. In fact, you might even find yourself wondering what is a flexitarian? Don't worry, we'll help you break it down.
First, vegetarian eating refers to a diet of plant-based foods like fruits, vegetables, grains, pulses, nuts and seeds that may also include animal-derived products like dairy, eggs, fish or sometimes meat, depending on choice or preference. Veganism, however, is considered the strictest variation that chooses to not eat any animal products.
We'll break each type down a bit further.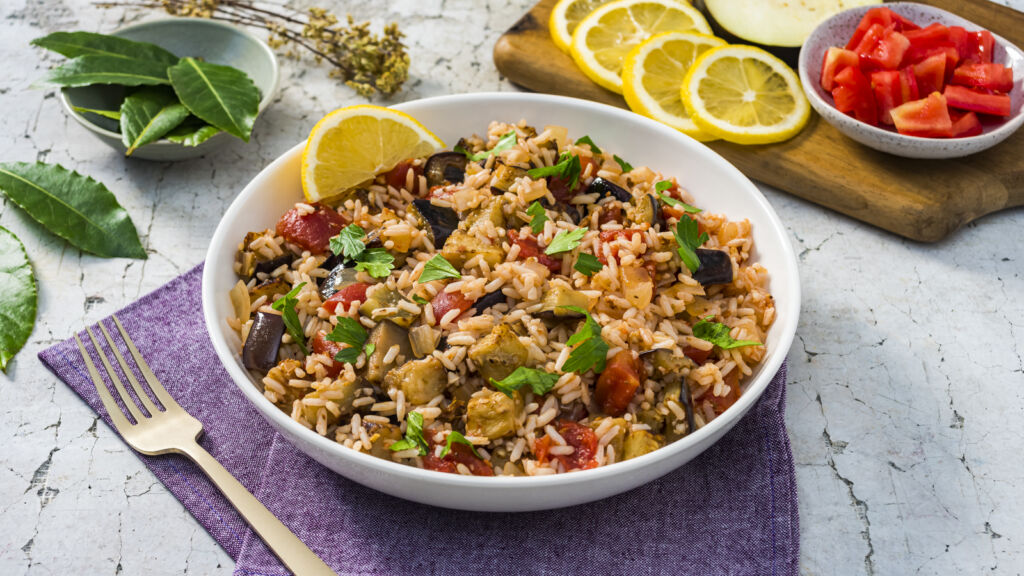 Types of Vegetarian Eating
The choice to eat any of these variations may be for intolerances, personal reasons, ethics, environmentalism or religion, among others.
Flexitarian: This is a "flexible" diet of eggs and dairy that may also include small amounts of meat, poultry, fish and seafood. This is similar to a Plant-Based Diet as both may or may not include meat, but differ in its quantity and regularity.
Pescatarian: Including eggs, dairy, fish and seafood, this diet avoids all other animal-based products like poultry, beef or pork.
Ovo-vegetarian: Coming from the Latin word for egg, an "ovo" vegetarian eats eggs, but avoids all other animal-based products.
Lacto-vegetarians: Also originating from Latin, "lacto" includes milk products like cheese, but avoids all other animal-based products.
Vegan: As stated above, veganism chooses to eliminate any animal-derived products even including honey, gelatin and more.
Cooking Tips and Recipes
While there may be many categories, the most important factor is that you're enjoying quality and great tasting ingredients and meals. We'll show you a few tips to keep your meals substantial and balanced while cutting out a bit of the animal protein.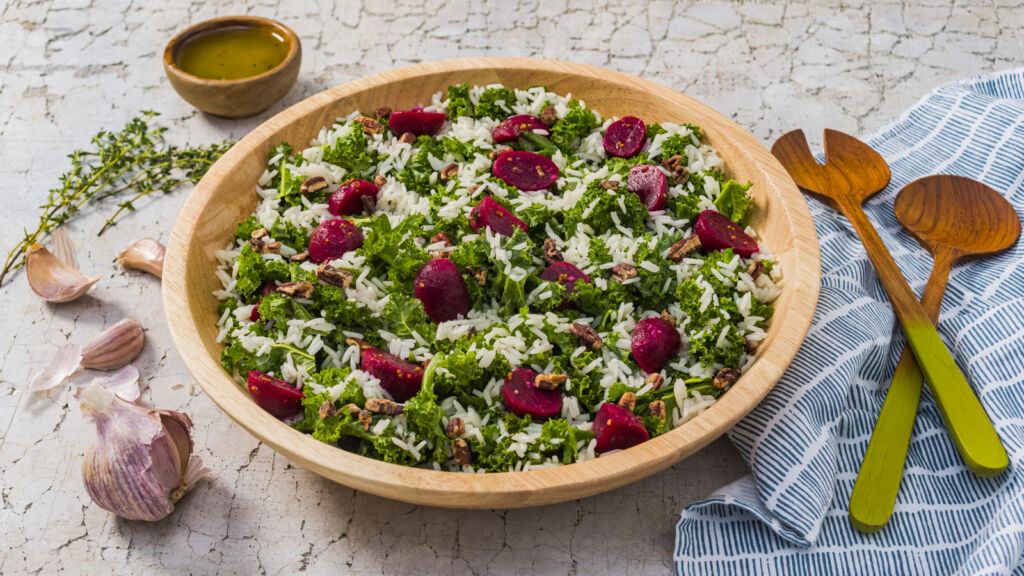 1. Combine Different Fruits and Vegetables Throughout the Week
Did you know that fruits and vegetables contain protein too? That's right, even if the amount is small, there are certain fruits and vegetables that can still help keep you satisfied in combination with quinoa or grains like rice.
Try incorporating vegetables like broccoli, spinach, kale, beets, asparagus, artichokes, potatoes, sweet potatoes and Brussels sprouts. Skip the average lettuce salad with this filling Rice and Vegetables Salad made with beets, kale and jasmine rice all drizzled in a cider dressing. There are other vegetables like eggplant and mushrooms which are preferred on account of their meatier texture.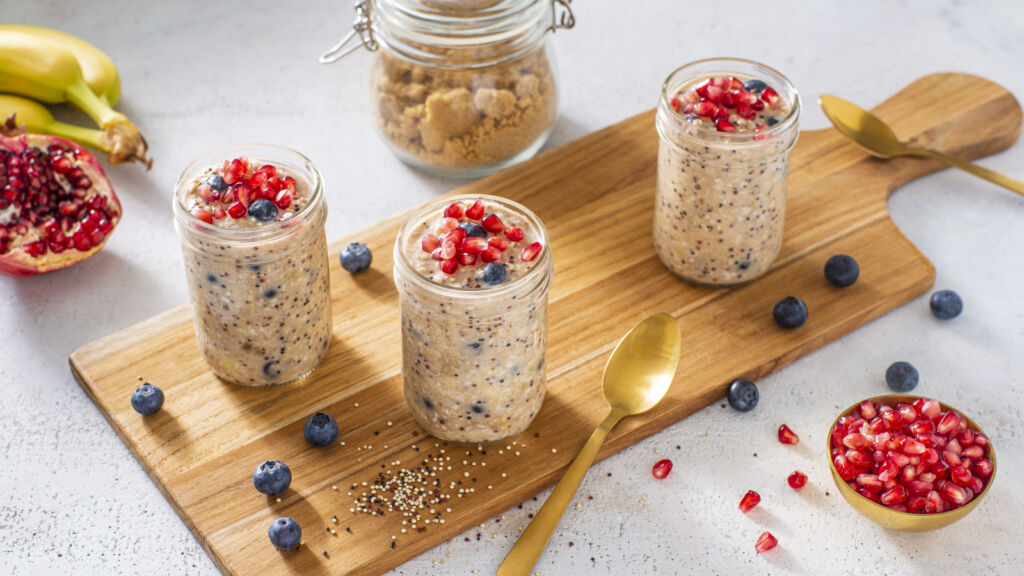 Use a bit of fruit to top this Overnight Oat and Quinoa Breakfast. Start with nectarines, jackfruit, kiwi, apricots, berries, bananas and oranges which naturally have just a little more protein.
Using Milk: To make your overnight oats, there are many plant-based alternative milk products that can enhance the taste and value of your breakfast like almond milk, soy milk or coconut milk.
2. Build Meals With a Rice and Quinoa Base
Plant-based, Gluten Free and filling, nothing beats a hearty base of your favorite rice or quinoa! If you're worried about not feeling full when you make a vegan or vegetarian meal, no problem, just add one of these options: for something whole grain use brown rice or protein-packed quinoa and for something traditional, use white rice. Lastly, for an aromatic addition try Jasmine or Basmati.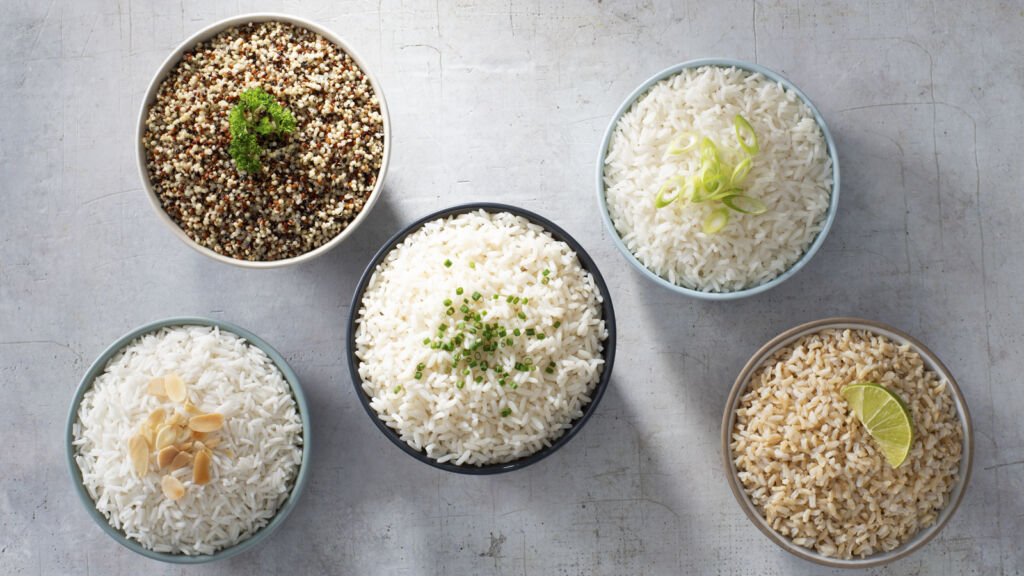 Start simply by layering them into your rice bowls, tossing a helping into your salad or a wrap. Then, try delicious recipes any meal of the day like these Fall-inspired Baked Vegetarian Taquitos filled with Success® Brown Rice, greens, black beans, pumpkin purée and taco seasoning. Or, a tasty Creamy Coconut Tropical Quinoa Bowl for breakfast or snack.
3. Add Beans, Seeds and Legumes
Another wonderful plant-based addition to your plate can be in the form of nuts, seeds and legumes! Their abundant nature makes them budget-friendly and can offer a subtle meaty texture. A few of our favorites for meals include edamame, lentils, chickpeas and most varieties of beans, hempseed, green peas, chia seeds, pumpkins seeds and don't forget, this includes natural nut butters!
These ingredients can work wonders as binding agents loaded with nutrients or stand-ins to offer a subtle meaty texture. Just try them out in these vegetarian or vegan versions of some classic dishes:
Vegetarian Jambalaya: This meat-free version of the Louisiana classic lacks none of the original flavor using black eyed peas for a hearty touch. Starting with the "holy trinity" of onion, celery and bell pepper simmered with Success® White Rice all simmered in tomatoes and Cajun seasoning.
Mushroom Quinoa Chili: With lentils, mushrooms and poblano peppers, this chili recipe is protein packed with Success® Tri-Color Quinoa and chili powder for that spicy kick.
Vegan Meatloaf: A hearty and satisfying blend of lentils, Success® Brown Rice, walnuts, flax meal, oats, vegetables and herbs. With barbecue and soy sauces on top, this loaf's got enough umami taste to impress any crowd!
4. Discover Vegetarian Meat Alternatives
Nowadays, there are always new and delicious meat-free alternatives to include on your plate made with increasingly more beneficial plant-based ingredients. Supplementing animal-proteins is not only simple, it can sometimes be even tastier. Try any of these options: tempeh, seitan, canned or fresh jackfruit, tofu or other sausage/burger/meatball/chicken alternatives made with quality ingredients.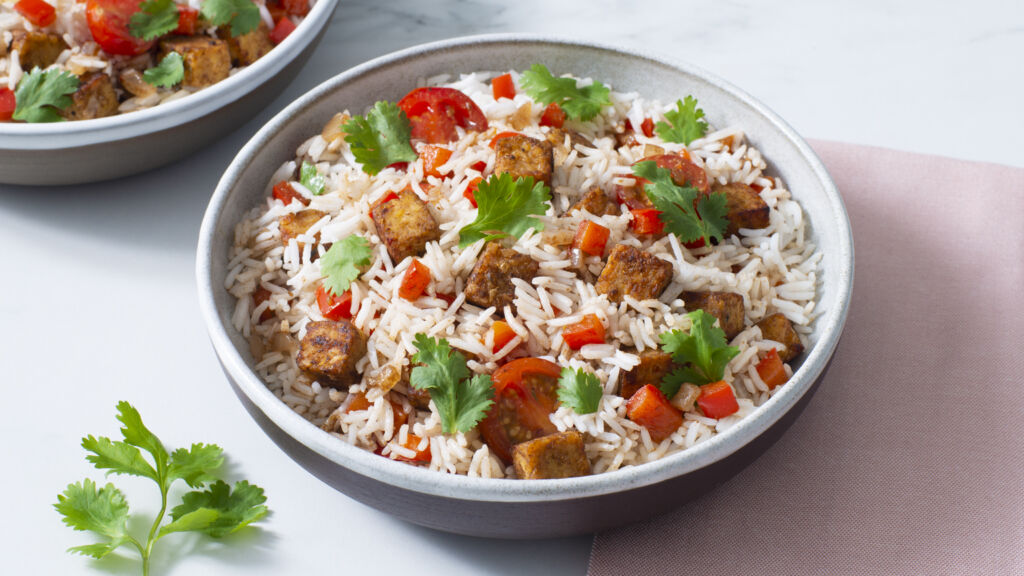 What is the Difference Between Tofu, Tempeh and Seitan?
While both are soy products, tempeh and tofu can be utilized in different ways. Tempeh offers a chewy, meaty texture that can be sautéed well with other ingredients and tofu is a bit more tender, likened to the texture of cheese. Both work wonderfully when cooked with additional bold seasonings like this recipe for Jerk Tempeh Rice with Jerk seasoning or a Sesame Tofu Stir Fry with stir-fry sauce, ginger, sesame oil and more.
Seitan, on the other hand, is wheat gluten made from wheat flour. This is great for getting that same chewy texture of sliced beef or even ground meat with a nice taste!
Benefits of Using Jackfruit Meat
If you prefer to not eat soy or gluten, jackfruit is another option. This fruit has a meatier texture that many use in place of shredded meats like in this BBQ Jackfruit Burrito Bowl.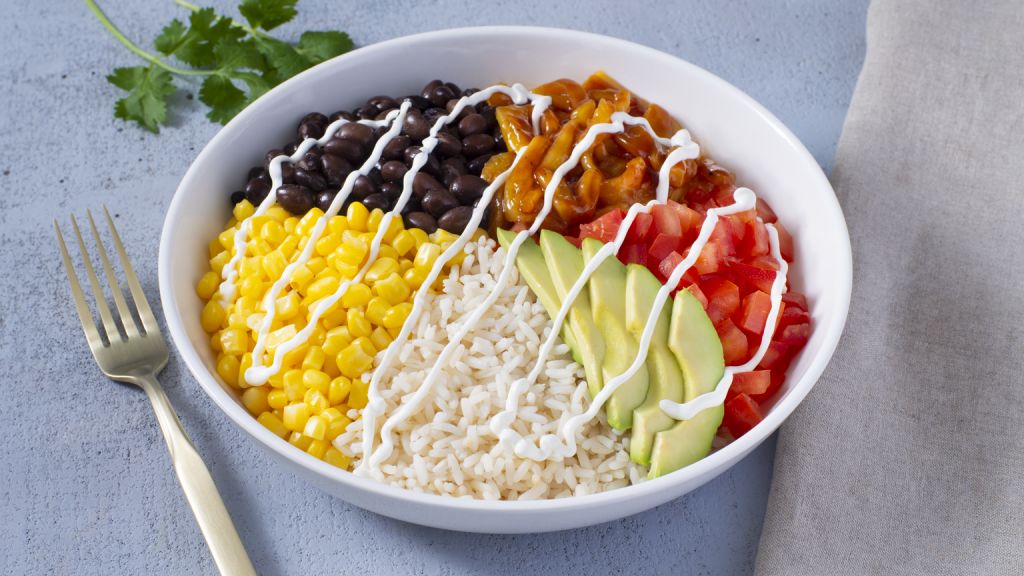 BONUS: Vegetarian-Friendly Dishes Around the Globe
As a bonus, we're including these incredible recipes that are made meat free! If you're ready to break your routine, try one of these today using loads of vegetables, legumes and more.
Peru
Another common plant-based meat substitute is hearts of palm, which is a vegetable harvested from the inner core and growing bud of certain palm trees. This Hearts of Palm "Ceviche" with Yuzu Mayonnaise recipe is a seafood-free take on the classic Peruvian dish. Serve over fragrant jasmine rice for a complete meal!
India
The Indian subcontinent is famously known for a wealth of delicious seasonings, vegetables and legumes for vegetarian meals.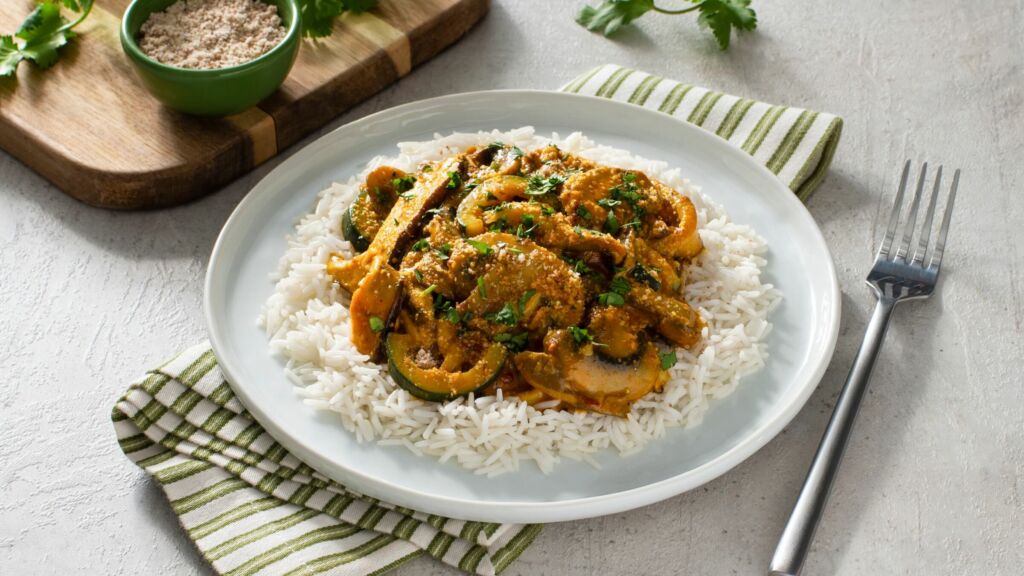 Learn the ins and outs of cooking with different types of curry and try your hand at a tasty Mushroom Korma atop fluffy Basmati Rice. Or, a luxurious Curry Cauliflower Buddha Rice Bowl for a vegetarian and dairy-free take on traditional butter chicken.
Greece
Using a blend of Greek flavor, this One-Pot Eggplant and Rice Bowl is an incredible way to add texture and flavor to your meal without meat! Try with Success® White Rice, herbs and tomatoes. Top with feta cheese and Kalamata olives if desired!
Vietnam
Inspired by common flavors found in this East Asian country, these fresh Vietnamese Spring Rolls are loaded with vegetables like carrots, cucumbers along with mint and cilantro!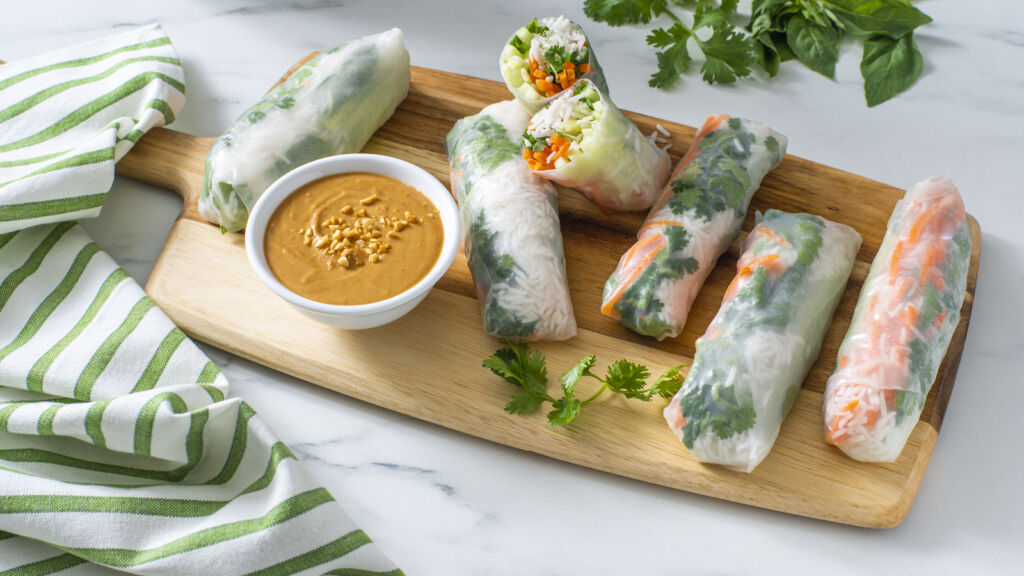 Israel
Originating in Eastern Europe traditional potato pancake-like latkes are made vegetarian however, they can also be made with other legumes or starches such as rice! Try your hand at making your own spiced with Tex-Mex flavors, vegetables and Basmati Rice with these fusion Zucchini Rice Latkes.
Looking for a different dinner idea? Mix it up tonight with our: shrimp stiry fry rice.
No matter what ingredients you choose, delicious meals start and end with Success® Rice and Quinoa!