What better way to spend the weekend than a fabulous brunch at home? It's a great way to get your friends and family together and enjoy wonderful food. Brunch is usually served as a late breakfast or an early lunch –plenty of time for you to get some extra Z's. With the amazing combinations of sweet and savory, it's no wonder that brunch has become such a popular concept over the years. Get inspired with our recipes and let us guide you in preparing the perfect brunch!
Before we dive into those recipes, here are a few tips to make sure your brunch is moving in the right direction.
Brunch Tips for Hosts:
Make sure you ask your guests beforehand if anyone has any allergies or food sensitivity. 
Prepare as much as you can the night prior. Lay out the flatware, napkins, glasses, mugs, and plates. 
Provide a wide selection of food so that your visitors have an assortment of options. 
Serve egg dishes that can be prepared ahead of time. Frittatas and quiches are both egg-cellent options. 
To avoid a major mess of splatter on the stovetop or counters, cook large quantities of breakfast meat, such as bacon or ham, in the oven.
Have a colorful fruit tray or decorations to add visual harmony to the table. 
Now that you have some tips to make your brunch the best it can possibly be, let's find some inspiration by exploring some Success® Rice recipes.
Breakfast Bites to Prep Ahead
Why not make miniature sized omelets ahead? Many of our easy to prepare bites are made with only a few ingredients and ready in on a jif, making them as effortless as they are delicious. These Ham, Cheese and Zucchini Breakfast Cups are the perfect item to get those tastebuds ignited. The best part? You can prepare them when you have extra time and save them for later. Prepare them the night before (or even weeks before) and eat a treat when you're ready! After they've cooled down, these cups can be stored in the fridge for up to one week. Why not make a double batch and store them in the freezer for up to 3 months?
Freezing Tips
It's essential that the muffins/bites are cooled before storing them in the freezer. This is to preserve the fluffy texture. 
After the muffins/bites have cooled, place them (in a single layer) on a baking sheet for around 30 minutes in the freezer until you see that they are frozen solid. 
Once the muffins/bites are frozen solid, place them in airtight freezer bags,  removing any extra air. To reduce freezer burn and dryness, double bag your muffins.
Label your muffin bag with tape or a permanent marker. 
Thaw before serving or pop them in the microwave for those extra hectic mornings. 
Kids Hack:  Surprise! Kids can be messy. Try offering them a transportable, neat treat like these Cheesy Quinoa Bites. Perfect for small hands-they can eat and run, as they surely have a busy agenda. Packed with delicious cheddar cheese, fresh broccoli and our Success® Tri-Color Quinoa, the kids will be running back for more.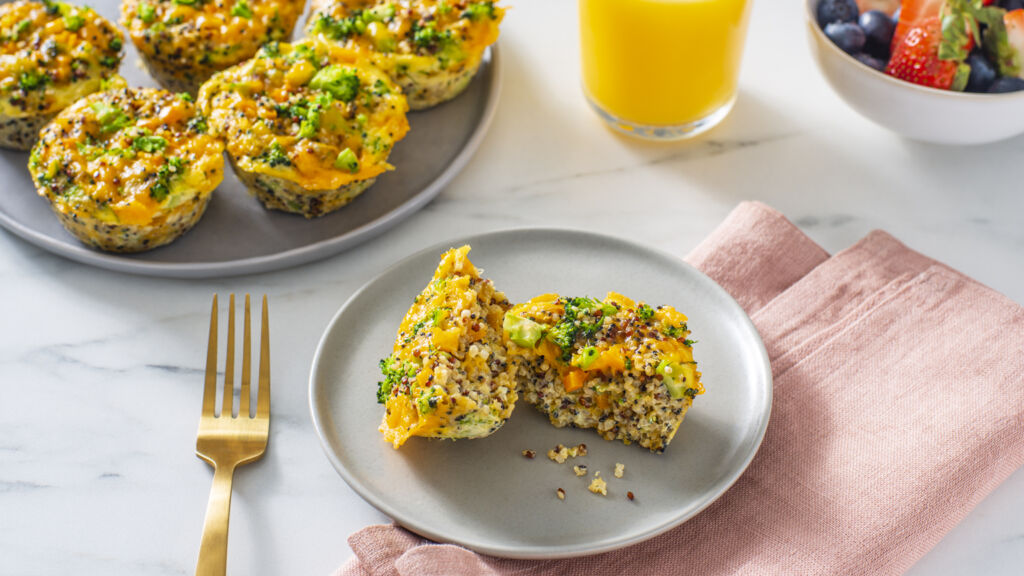 Let's take a look at some other tasty options to offer your guests.
Customized Bowls
Customized breakfast bowls are a great option to be able to adapt to your guests preferences. You can also prepare ahead of time so you can have extra time to spend with friends.
Tips for Breakfast Bowl Assembly
Prep your ingredients: Have your grain base ready, prepare any fruits or vegetables ahead of time and you can even keep scrambled eggs in the fridge for up to 3 days! Have some proteins to offer and toppings handy.
Offering bacon or sausage is an excellent idea to add to any breakfast bowl. Prepare in a skillet, chop and set aside. It's now prepared until needed.
Get creative with the vegetables you offer and choose fresh, seasonal produce. 
Toppings like avocado, salsa and hummus are among the most popular for your guests, oh, and don't forget the homemade guacamole! 
For a savory breakfast option that includes eggs, serve up our Southwest Breakfast Bowl. It is Tex-Mex inspired and your guests will be presently surprised by the extra added kick! Made with white rice, black beans, corn, queso fresco, avocado and more, they won't be able to get enough. Serve with corn chips and voila!-perfection is served.
If your guests are looking for something on the heartier side, a frittata or shakshuka are good options.
One-Pan Plan
It's possible that you are constantly washing dirty pans if you often have eggs for breakfast. Make our Spinach and Quinoa Frittata for your Sunday brunch and enjoy (what is left of it) all week long. This breakfast is the epitome of simplicity because there is only one pan to clean.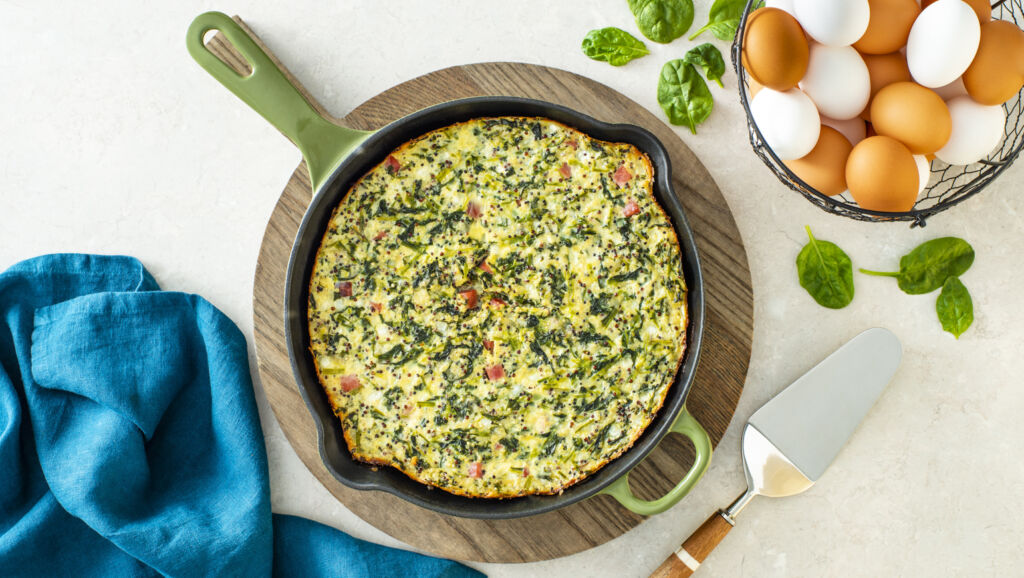 Frittatas are always a fun and colorful addition to any table and this one is no exception. While making a frittata make sure you whip the eggs together forcefully to help bring about a more custard-like texture. Also, don't forget to cook both sides! The combinations of tastes and textures are out of this world and feel free to offer extra toppings like avocado or hot sauce. A delicious and hearty option – your guests are sure to be pleased (and full). 
A fantastic vegetarian option is this Green Shakshuka with Quinoa. A delectable finishing touch is added with feta cheese and freshly chopped cilantro, while hearty brussels sprouts and leafy kale offer a variety of nutrients. Still got that hot sauce handy? If you want some extra oomph, drizzle away. 
Meat Lovers
Meat lovers? No problem! These Rice Cakes with Goat Cheese and Bacon are any bacon lover's dream. The salty, crispy deliciousness brings these rice cakes to a whole new level of deliciousness.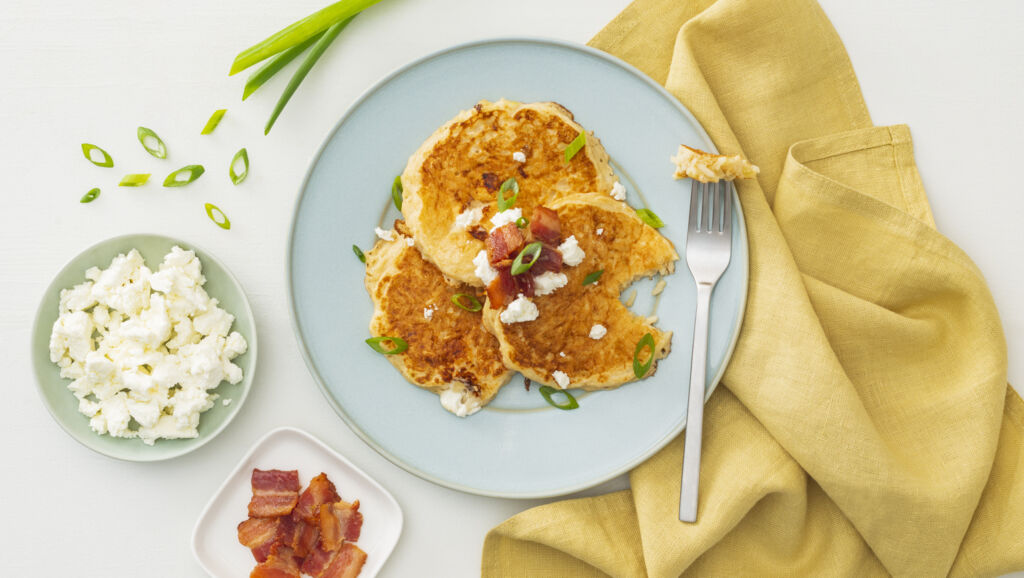 Get Perfectly-Cooked Bacon, Everytime
Stove: If using an electric range, warm for a couple of minutes before adding the bacon slices to the skillet. The key to cooking bacon flawlessly is to recognize the precise pan-frying time. We advise cooking it for about 10 minutes over medium heat, or until light brown. Turn bacon slices regularly. Reduce heat a bit if the bacon browns too soon. Dry thoroughly with paper towels.
Oven: When you need to cook more than six strips of bacon or need to clear some room off your stove top, cooking bacon in the oven works wonderfully. It requires less attention since it doesn't need to be turned constantly during cooking. 400 degrees Fahrenheit should be set for the oven. Put bacon slices side by side on a rack in a shallow baking dish with sides that have been coated with foil. Bake for about 20 minutes. Dry completely with paper towels.
Microwave: Put the bacon slices on a dish covered with paper towels or a rack that can be used in a microwave. Use a paper towel to cover. Bacon should be rearranged and microwaved at 100% power (high) until desired doneness. Allow 1½ to 2 minutes for two slices, 2½ to 3 minutes for four slices, and 3½ to 4 minutes for six slices.
Storage
Pieces can be stacked between sheets of parchment paper. You can choose one slice, or as many as you need, by stacking the paper like an accordion. The bacon stack should be put in a freezer bag and frozen for up to a month.
As the brunch winds down your guests cannot leave without satisfying their sweeter side.
Ending on a Sweet Note
You will win your guests over with the ̈wow ̈ factor if you make them Raspberry Rice Pudding Brulee. This dish is similar to a traditional crème brûlée, but instead of custard, it calls for rice pudding. An ideal simple substitute for custards, this brulee will amaze your dinner guests since custards can be very difficult to make effectively. This specific recipe calls for raspberries, but feel free to use whatever berries you have on hand.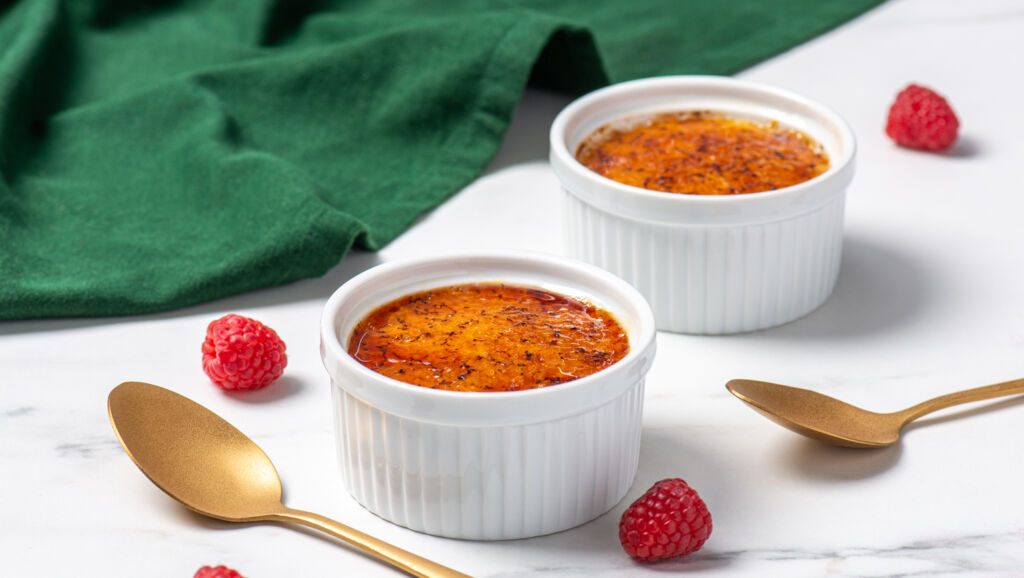 You will be hosting the greatest brunch event yet from beginning to end with these recipe ideas with Success® Rice.