Whether you're planning a staycation at home, recreating some of your favorite recipes from a past trip, or hosting a tropical dinner party, there are plenty of good excuses to add a bit of vibrant color and taste to your meals. Using Success® Rice, we'll show you how to prepare both sweet and savory dishes inspired by tropical flavors from the Caribbean to Hawaii, all the way to South America and Asia.
Using Tropical Ingredients
There are a variety of different ways that we can use tropical ingredients to add flavor to our foods, for example:
To start, try mixing in fruits like pomegranate, mango, papaya and avocado (yes, avocado is a fruit!) for added flavor.
You can also infuse rice or quinoa with flavor from coconut water or coconut milk.
There are plenty of citrus sauces that can be made with tropical ingredients like pineapple juice, lime and jalapeno peppers to really add flavor to your dishes.
Try interesting cooking techniques that are well suited for preparing a tropical recipe. For example, curing shrimp and seafood in citrus for ceviche.
Now that we've taken a look at some ways you can incorporate traditional tropical ingredients, let's take a look at the flavors commonly associated with tropical food and, best of all, recipe inspiration!
Savory Tropical Flavors
Hawaiian Flavors
This Shrimp Stir-Fry is made with Success® Brown Rice along with a store-bought Hawaiian marinade and pineapple chunks. To make the flavors in this recipe really pop, try using fresh vegetables instead of frozen. For best results, be sure to use a cooking oil with a high smoke point. For more information about smoke points, take a look at our Chef Tips.
These protein-packed Aloha Quinoa Power Balls are loaded with tropical Hawaiian Flavors like coconut and pineapple and work perfectly as an on-the-go snack that will keep you feeling fueled. You can roll these power balls in shredded cashews, coconut or almonds to really add to the flavor.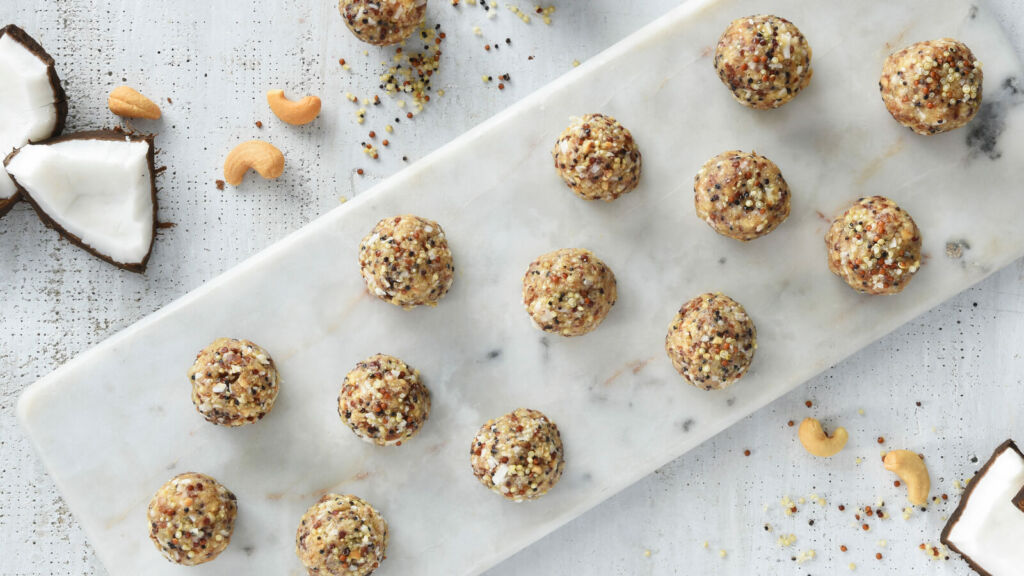 Caribbean Sauces & Toppings
Using some Caribbean sauces and toppings can be an excellent way of adding in tropical flavors to your cooking. For example this restaurant-quality Coconut Shrimp Rice Recipe is made with a marmalade sauce to offer a sweet yet savory flavor. This recipe calls for Success® Jasmine Rice, however feel free to use basmati instead if you prefer a fluffier texture.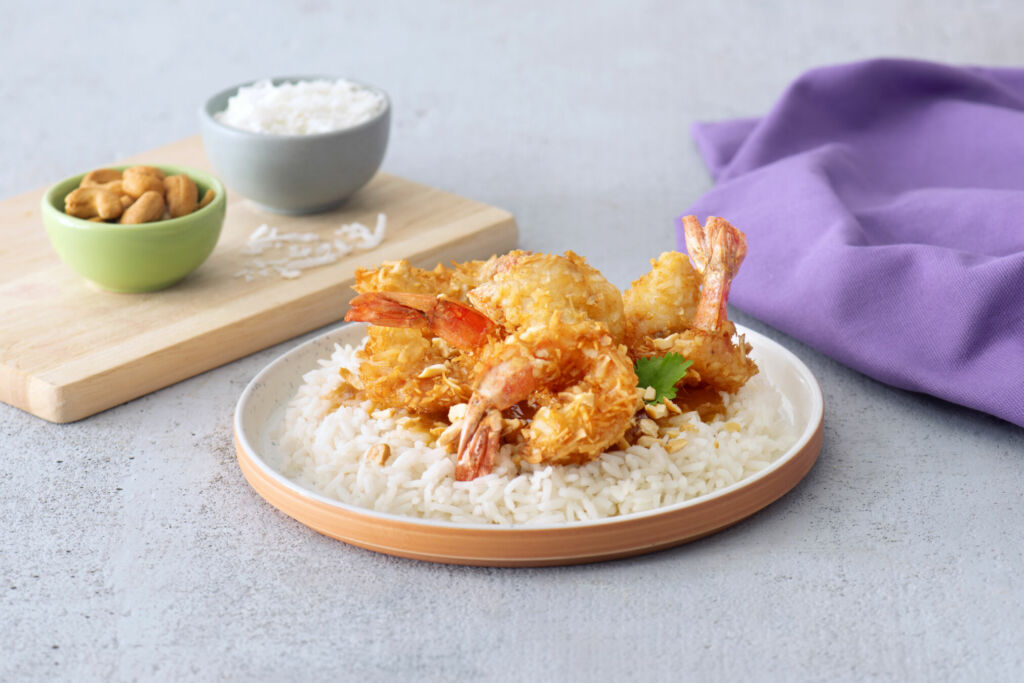 These Cuban Shrimp and Rice Tacos are packed with citrus and herb flavors and made with classic mojo sauce. In addition to the mojo sauce, feel free to serve these tacos with a variety of other toppings like salsa, guacamole or sour cream.
For a sweet and creamy Caribbean inspired dish, try this Mango Coconut Rice recipe made with coconut milk and Success® Basmati Rice. If you want to turn up the spice, try adding in some sliced chilis or jalapeno.
Learn how to make a sweet and tangy coconut dressing with this South Seas Salad recipe. This vibrant colorful salad is made with a variety of different tropical ingredients like shrimp, avocado and mango.
A Taste of Latin America
For a seafood take on a classic Latin American delicacy, learn how to make this fruity Hearts of Palm Ceviche With Yuzu Mayonnaise with Success® Jasmine Rice. Add some cilantro to really compliment the tropical flavors of this dish.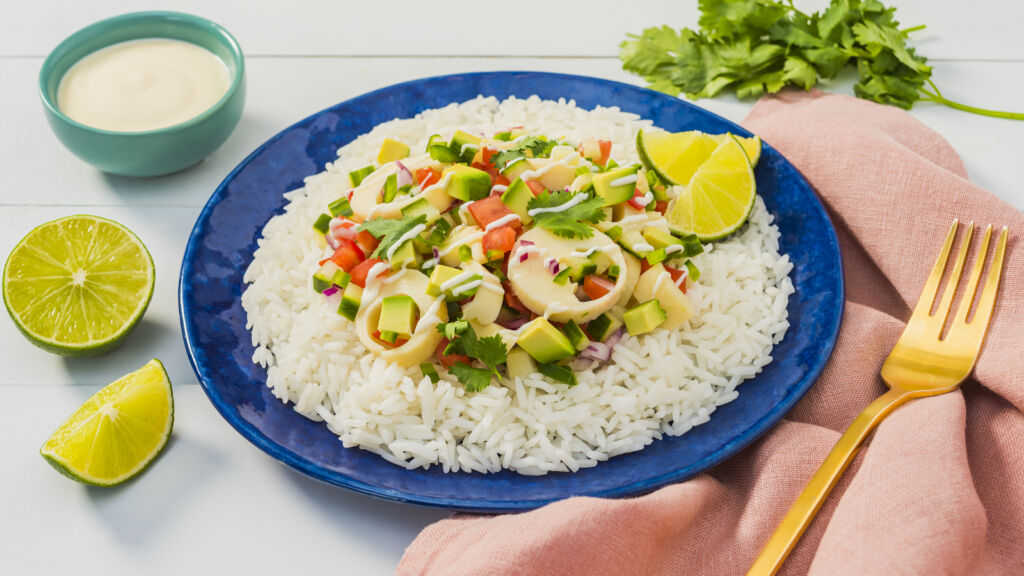 Asian-inspired Combinations
For an Asian tropical recipe that uses mango, check out this Lime-Ginger Shrimp Fried Rice. The great thing about this recipe is that it is so versatile, if you don't have Chinese bok choy in the pantry, feel free to use another vegetable like broccoli or green beans instead.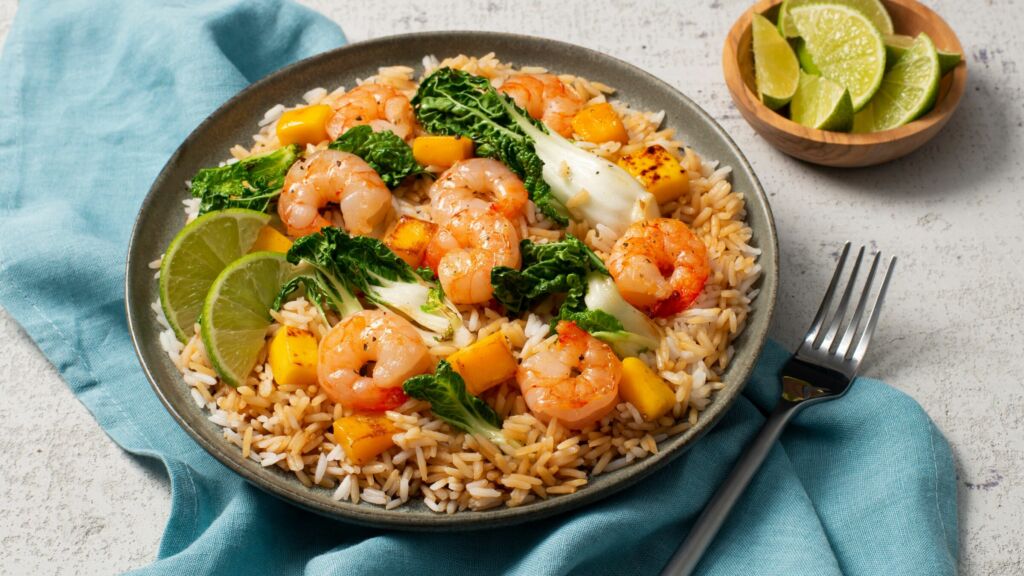 Fans of Indian style cuisine will love this easy-to-prepare Mango Chicken and Rice, a tropical blend of sweet and sour flavors. Spice lovers have the option of using a hotter variety of mango chutney for an added kick. If you don't have any cilantro in the pantry, try using a substitute like mint or dill instead.
Made with aromatic Success® Jasmine Rice along with sweet exotic fruit and chili peppers, this Pineapple and Shrimp Thai Fried Rice is packed with flavor!
Sweet Tropical Desserts
It's not just savory meals that taste great with tropical flavors. Here we have some ideas for sweet treats which utilize these flavors as well.
For a sweet and tasty Thai dessert, try this Sweet Jasmine and Rice made with coconut milk and mango along with Success® Jasmine Rice. For best results, try and find a ripe mango, however you can also use frozen mangoes if you want to save on time. On the other hand, you can also switch out the mango for any other tropical fruit of your choice!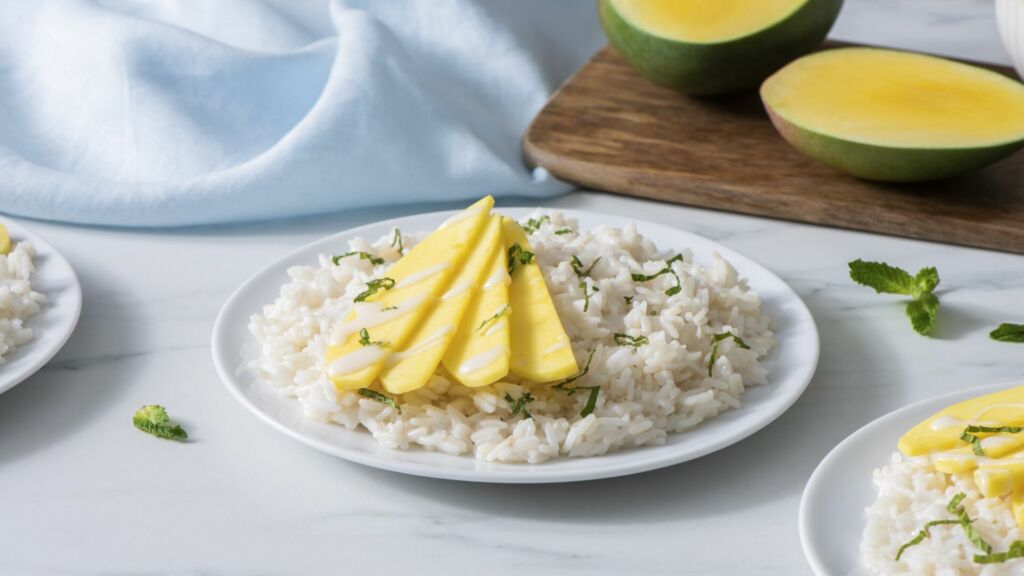 For a winning combination of two classic desserts, try this Frozen Coconut Rice Pudding Ice Cream recipe with Success® Jasmine Rice. You can choose to either have this dessert in a bowl, or freeze it into ice pops!
This tropical Polynesian Rice Dessert made with coconut flakes and yogurt requires little to no effort to prepare. A perfect refreshing dessert for a hot summer's day!
For a tropical twist on a classic dessert, try this Hawaiian Rice Pudding made with tropical fruits and heavy cream!
For more recipes using both exotic and traditional ingredients with rice and quinoa like Spanish rice, stay tuned to Success® Rice.