Woks at the ready, it's stir fry time! When it comes to versatility, it's hard to beat a stir fry. Few dishes adapt to your pantry ingredients as well as they do. Whether you're cooking with your favorite meat, or preparing meals for vegans and vegetarians, you can be sure to find stir fry lunch and dinner ideas for every taste. So, settle in and prepare to take a journey through the wonderful world of woks and stir fries!
Stir Fry Tips: How to Season Your Wok
First up, if you're starting off on your stir fry adventure it's important to know how to season your wok. Seasoning, in this case, doesn't refer to the process of adding herbs and spices in order to enhance flavor, it actually refers to a time-old Asian culinary tradition that allows for optimal results when cooking with woks. This process is used for cast iron and carbon steel woks. For woks made with other materials, it's important to consult the manufacturers' instructions before you use them as some may not need seasoning prior to use. 
Scrub: Both cast iron and carbon steel woks are lined with an anti-rust film to protect them while they are on the shelf. Using a metal scourer and a little detergent, scrub the wok well in order to remove this layer.
Burn: Put your wok on high heat and watch as the color takes on a rainbow aspect. Tilt and roll so that color spreads throughout the interior surface until the inside of your wok takes on a dark gray sheen.
Cool: Leave your wok to cool for approximately 30 minutes.
Oil: Add sunflower or vegetable oil and allow it to spread throughout the surface of the wok.
Smoke: Put your wok on high heat once more and allow to smoke, tilting and rolling so that all of the oil is burnt off the surface.
Stir Fry Ingredients
Now that your wok is ready to go, let's take a look at some of the best ingredients to use in your stir fry.
Seafood
A seafood stir fry gives you the opportunity to infuse your meals with the irresistible flavors of the sea. Popular ingredients for such dishes include: shrimp, scallops, squid and crab.
Meat
Stir fry meals are also a popular choice among meat-lovers, as the addition of meat brings extra flavor and texture to the dish. When adding chicken, it's good to cut the meat into strips so it melds with the vegetables. Likewise, beef, lamb and duck also pair well with stir fry vegetables when they are chopped into slender strips rather than larger chunks.
Crunchy Vegetables
Although you can be as creative as you like when gathering ingredients for your stir fries, it's best to include some chunky vegetables that will add that signature stir fry crunch. Here are a few of the best:
Broccoli
Carrot
Green beans
Peppers (green, red, yellow)
Baby corn
Asparagus
Zucchini
Mushrooms
Adding mushrooms to stir fries is another great way to add flavor and texture. Among the best mushrooms to add to a stir fry are:
Seafood Stir Fries
If you're craving flavors of the sea, then a seafood stir fry is a great way to go. This Crab Stir Fry, made with crunchy broccoli, crab and fragrant Success® Jasmine Rice, is a meal that's sure to satisfy those seafood cravings.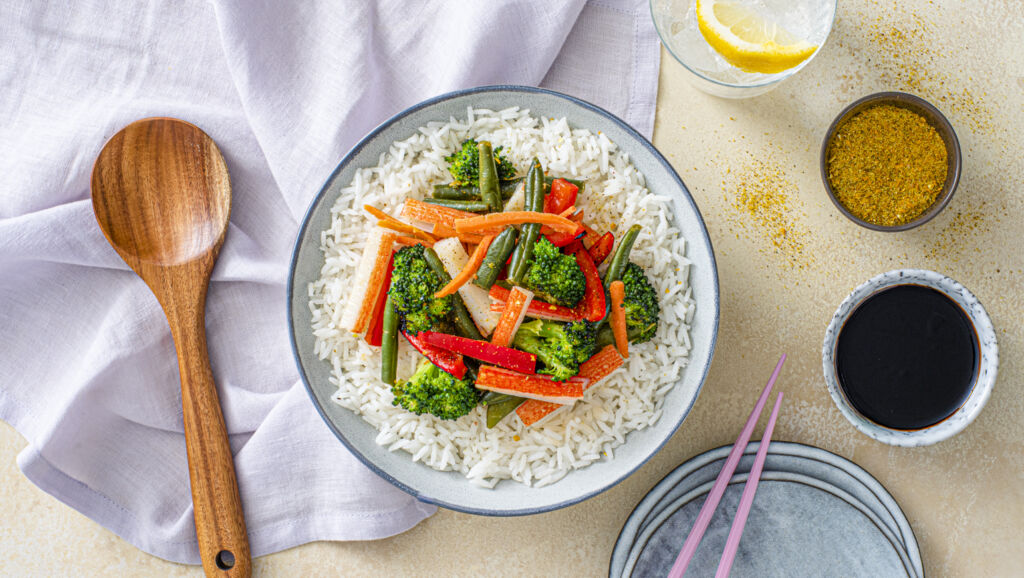 Alternatively, if shrimp is on the menu, why not try your hand at this Shrimp and Chinese Vegetable Stir Fry, and bask in the authentic flavors of Asia, from whence our beloved stir fry originates. For more meal inspiration along these lines, check out our Asian-Inspired Recipes!
Tropical Stir Fry with a Twist
If you're looking to surprise and impress your loved ones with your wok skills, then this Hawaiian Shrimp Stir Fry might be just the trick. You'll love how the refreshing flavor of shrimp blends with the juicy pineapple chunks and Hawaiian marinade, culminating in a meal that's not only delicious but also memorable! Don't be surprised if it becomes a family favorite!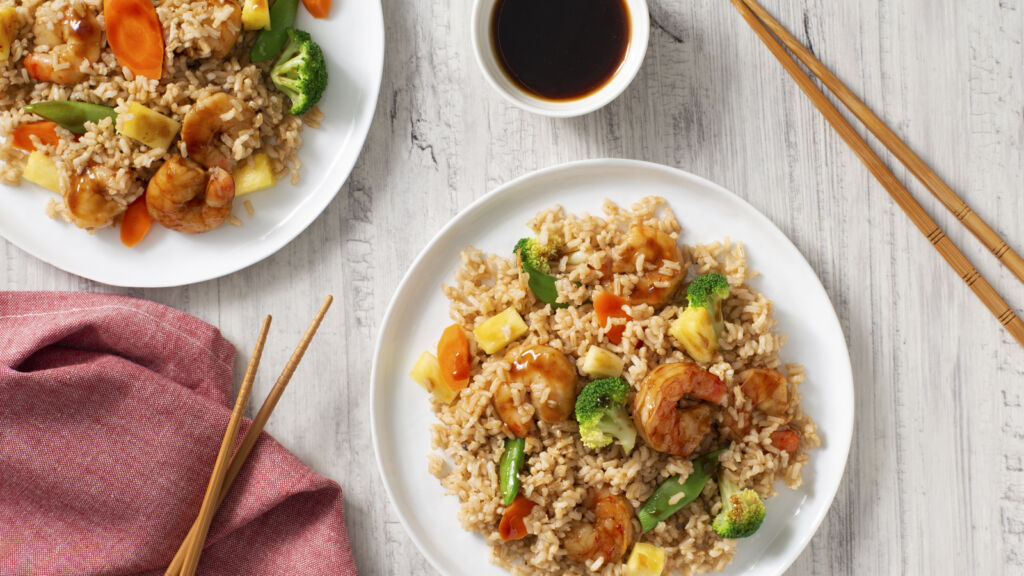 Stir Fry Recipes with Meat
For those who like their stir fries with an extra savory kick, adding meat is a great way to go. As already outlined, beef, duck and lamb are widely used in meat-based stir fry recipes, but perhaps the most popular meat of all to add is chicken. Succulent and flavorful, chicken will allow your stir fry to soar to new heights, as this recipe for Chicken Zucchini Stir Fry demonstrates!
What is the Best Rice for Stir Fry?
Although there is no steadfast rule as to which rice to use in stir fries, long grain varieties, in particular basmati and jasmine, are generally considered the best. Long grain rice grains tend to hold their individual form when cooked, and, once added to the meal, bring texture and fragrance to every bite. Both Success® Basmati and Jasmine are perfect options to complement any stir fry recipe. Ready in 10 minutes, they are a quick and easy way to elevate your stir fry meal.
Delicious Stir Fry Sauces
Finally, to add the finishing touches to your stir fry, it's good to have a sauce in mind. Here a few examples to get you started:
Soy Sauce: When preparing a stir fry, soy sauce is a popular choice and is perhaps the signature ingredient of most popular stir fry recipes.
Chili: If you're looking to add a spicy kick to your dish, then a little chili sauce is the way to go.
Teriyaki: Sweet and savory, teriyaki sauce adds a smooth texture to stir fries which can help meld the flavors together even more.
Sesame oil: Sometimes less is more. Known for its rich, earthy flavor, sesame oil is great for binding the flavors of your ingredients.
Stir Fry Dinner Party
Now that you've got a handle on all things stir fry related, why not organize a gathering in your home with friends and family? Stir fries are great for feeding large numbers, as they require relatively little clean up and can be easily placed in the center of the dining table for all your diners to help themselves. Find out the preferences of your diners beforehand so that you'll know whether to go for a seafood, meat or vegetarian-based recipe. Whatever recipe you choose, your stir fry skills will make you the talk of the table at your next dinner party. Just be ready to share the recipe with everyone afterward!