It's not just the great weather and beautiful beaches that keep travelers from all over the world flocking to the Mediterranean. It's also known the world over for having one of the best cuisines in the world. Favoring more natural and fresh ingredients, Mediterranean recipes are perfect if you are looking to include more vegetables in your meals or looking to cut down on processed foods.
Here we have some of our favorite Mediterranean-style recipes that can be made using Success® Rice and Quinoa. But before we begin, let's take a look at what foods we can add to our meals to give them more of a Mediterranean flavor.
What Foods are Part of Mediterranean Cooking?
Mediterranean cuisine is as colorful as it is varied. So what exactly makes a recipe more Mediterranean? The key is an emphasis on fresh ingredients with minimal processed foods. So, if you want to add flavor to your cooking, be sure to have your pantry stocked with the following types of ingredients.
Vegetables – peppers, eggplant, tomatoes, cucumber, beets, cauliflower, peas, green beans.
Fruits – oranges, lemons, apples, avocado, zucchini, watermelon
Grains and Legumes – Rice, quinoa, chickpeas
Lean Proteins – Turkey, chicken, mussels, shrimp, salmon
Fats – olive oil, olives, avocado, nuts like almonds and walnuts, pesto sauce
Now that we have our ingredients, let's take a look at some of our favorite Mediterranean recipes.
Fruit and Vegetable Forward Recipes
Fresh fruits and vegetables make up a big part of a Mediterranean diet. Recipes like this Crispy Eggplant and Tomato Rice Bowl made with Success® Basmati Rice are a great vegetarian option for meatless Mondays. If you want to add a touch of decadence, try adding in some Mozzarella or Burrata Cheese.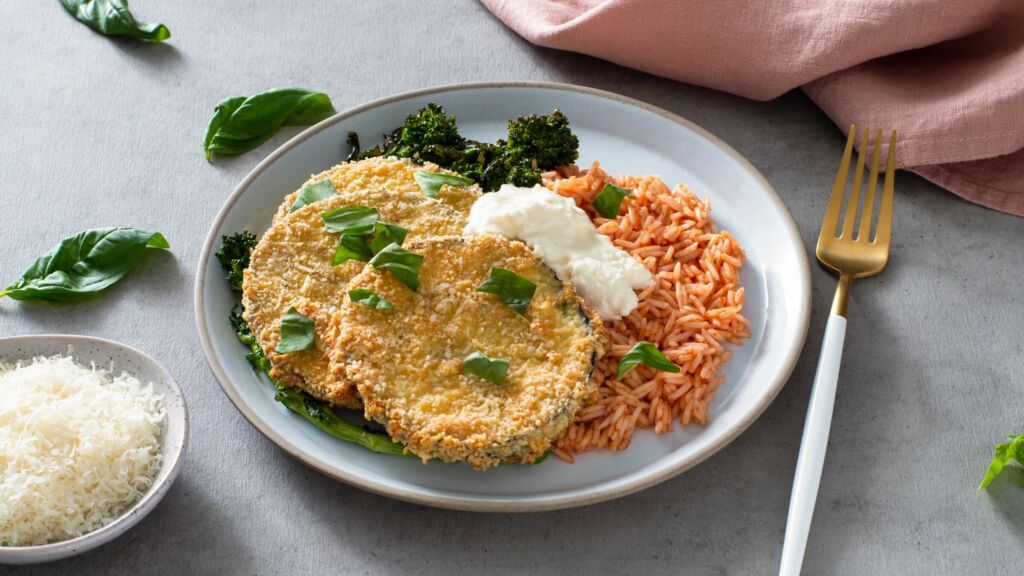 If you are still craving a nice Mediterranean eggplant dish, try making this One-Pot Greek Eggplant With Rice Bowl. As always, for best results try to use a ripe eggplant along with fresh herbs and spices when making this recipe to really bring out its flavor.
For another dish that's loaded with veggies, check out this Mediterranean Rice Bowl With Zucchini Fritters dish made with cucumber, tomatoes and feta cheese. While this recipe does call for hummus, feel free to swap it out with another Mediterranean alternative like Greek tzatziki sauce. For best results, you'll want to squeeze as much water as you can out of your zucchinis before crisping them.
Mediterranean Rice Salads
This Quinoa Tabouli recipe with Success® Tri-Color Quinoa provides a quick way to make a Mediterranean salad. Feel free to add your own ingredients like lettuce, green olives or chickpeas to this versatile quinoa salad.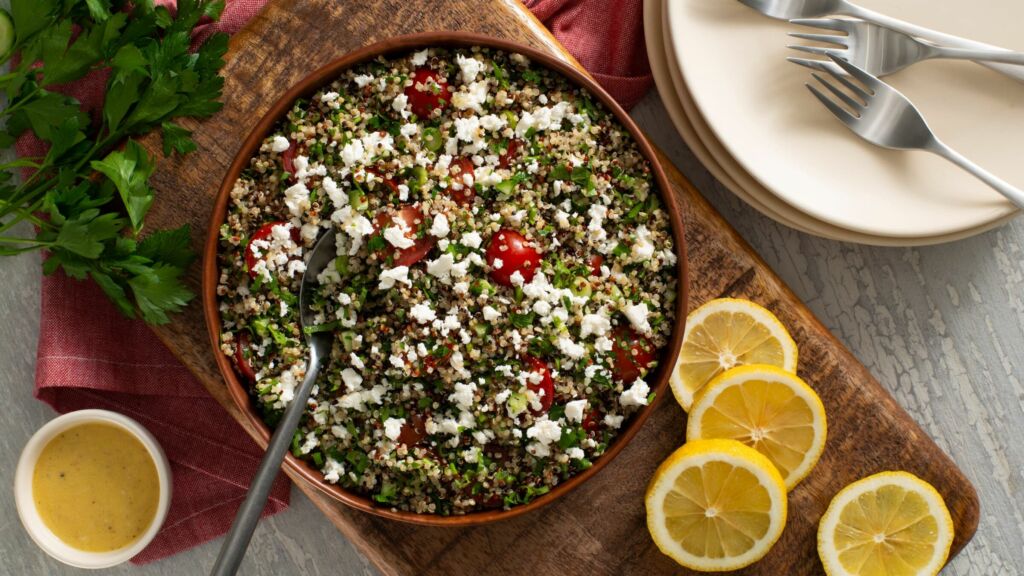 If it's a fruity Mediterranean rice salad you're after, check out this Greek Beet and Watermelon Rice Salad made with Success® Jasmine Rice and a simple dressing. Although this recipe calls for capers, this salad also tastes great with olives.
For a quick yet filling Greek-inspired salad with plenty of grains and loaded with feta cheese and olives, learn how to make this Greek Chicken and Rice Salad. To avoid getting those wilted lettuce leaves, try waiting to combine them with the dressing right before serving.
Meals with Hearty Grains and Legumes
Hearty grains and legumes also make up a big part of the typical Mediterranean diet. For example, this refreshing Crunchy Cauliflower Quinoa can be enjoyed at home or on the go. Although this is a vegetarian dish, feel free to add in some chicken for a bit more protein.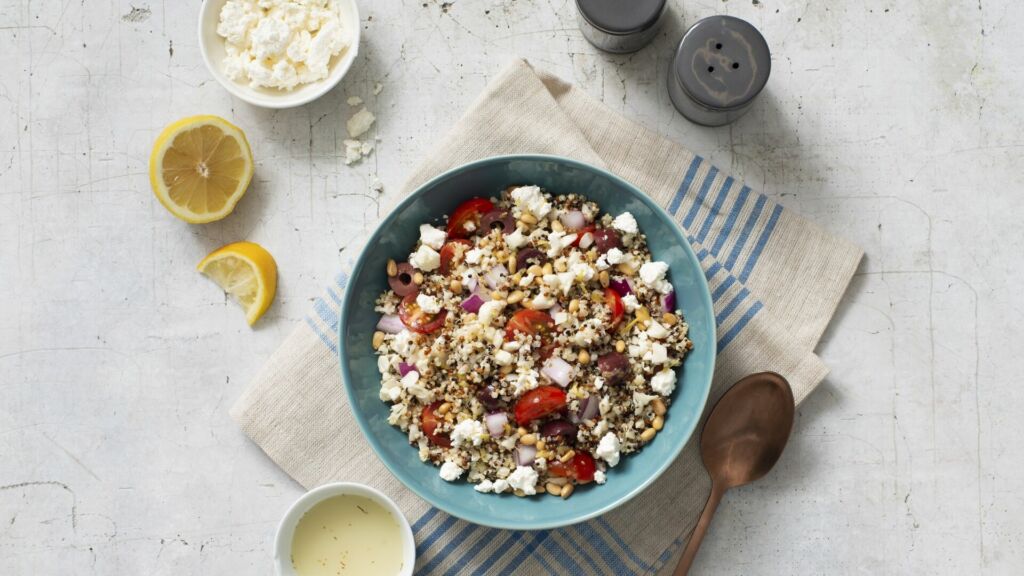 For a Mediterranean classic dipping sauce that works great in the summer, learn how to make this Creamy Golden Beet Hummus With Toasted Quinoa. You can make this hummus with either za'atar seasoning, or with a substitute like cajun seasoning or paprika if you want to turn the heat up. Serve your hummus alongside fresh vegetables or pita bread for a delicious snack.
These Mediterranean Chicken and Rice Pita Bowls are made with fluffy Success® White Rice. These microwaveable pita bowls work great as a hearty lunch or dinner or also if you are entertaining guests at a BBQ or other event.
Eating Lean Proteins
If you are craving a Mediterranean style meal but packing a bit more protein, then take a look at this Eggplant, Turkey and Rice Casserole made with Success® White Rice. For best results try adding a pinch of salt to the eggplant before cooking it to release some of the moisture . This simple Mediterranean dish can be enjoyed all year round.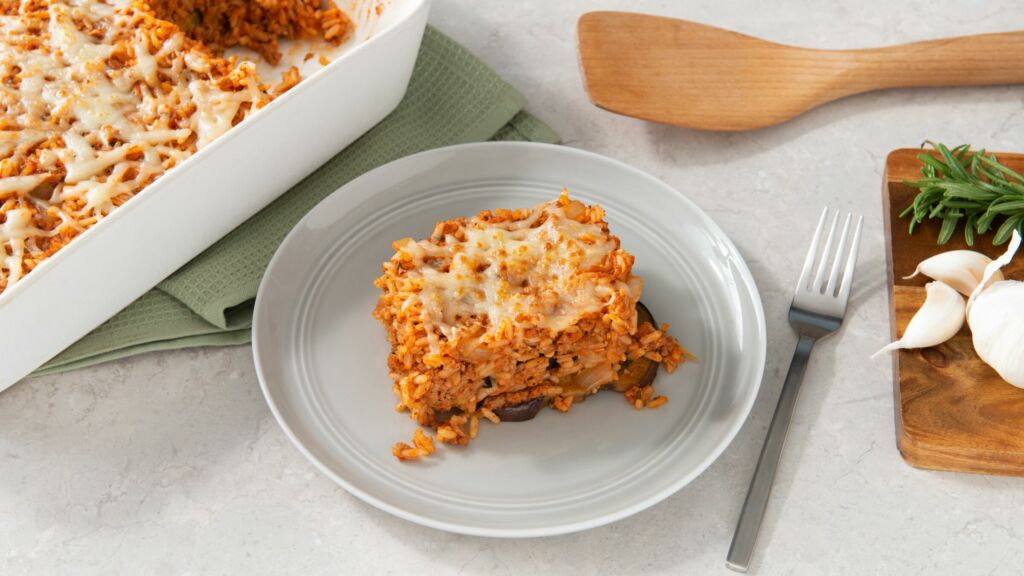 The Seafood Paella is a Mediterranean classic, and for good reason. Use Success® White Rice to absorb all of these delicious flavors in this simple recipe. To get that authentic crispy quality you'll want to turn the heat up high for the last 2 minutes of cooking. The great thing about paella is that it's so versatile. Try mixing in whatever vegetables or proteins you have in your pantry.
For a summer Mediterranean dish which is loaded with protein, try this Tuscan Salmon Panzanella with ciabatta bread. Although this dish calls for salmon, feel free to replace it with whatever protein you want like tuna or chicken.
Filling Fats
These Mediterranean dishes which feature filling fats like pesto, olive oil and olives will leave you feeling full for longer.
Pesto
If you're feeling extra adventurous, try making your own pesto instead of buying it ready-made from the store. Simply combine parsley, basil, parmesan, pine nuts, garlic and pepper in a food processor!
Now that we have our homemade pesto, let's take a look at some more recipes.
First up, learn how to make this Italian Creamy Pesto Chicken and Rice made with Success® White Rice . If you want something with more of an aromatic flavor, then check out this simple recipe for Aromatic Pesto Rice which works well as a side dish or as a main dish. Remember there's no such thing as too much parmesan, so feel free to add in some more after cooking.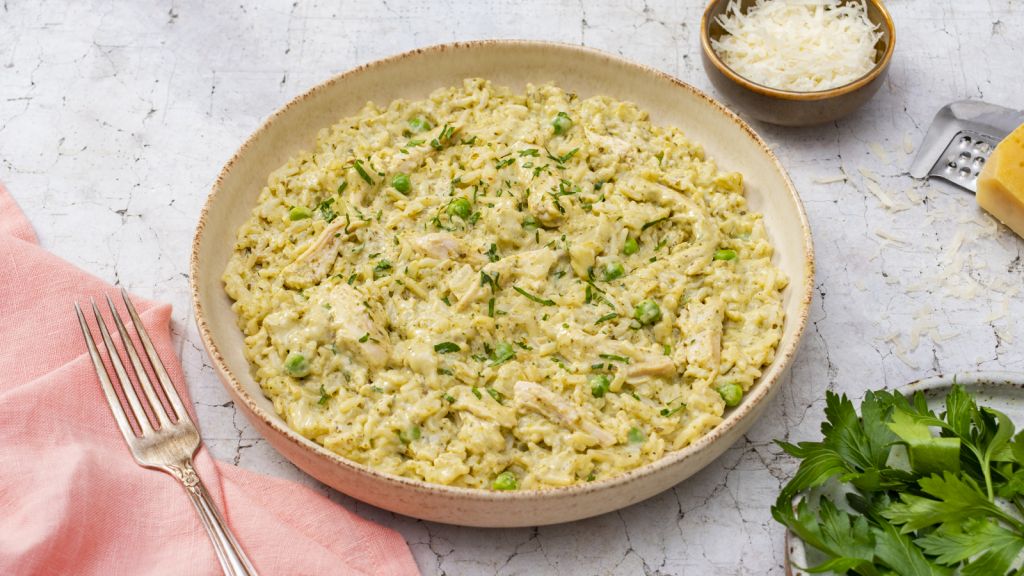 Extra Virgin Olive Oil
Extra virgin olive oil is an integral part of getting that authentic Mediterranean flavor. The main difference between extra virgin olive oil and standard olive oil is that the former is more natural due to its lack of preservatives meaning that it lends itself particularly well to Mediterranean cuisine.
Olives
To get a more authentic Mediterranean flavor, you'll want to use olives that are actually found in the region like black, green and kalamata olives. For a good example of a Mediterranean dish that uses plenty of olives, check out this Chicken Quinoa Salad With Olive Gremolata with Success® Tri-Color Quinoa. Gremolata makes a great Mediterranean style dressing for salads with its citrusy flavors.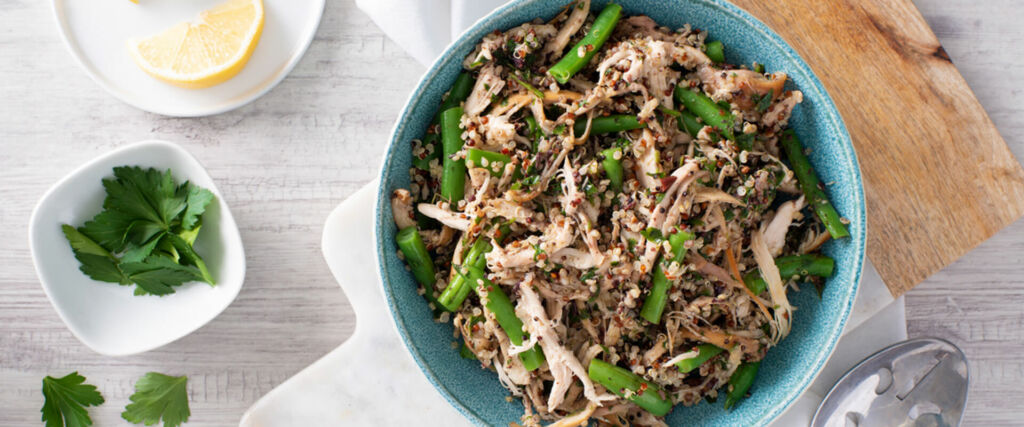 Stay up to date with Success® Rice for even more international recipes and kitchen tips like how to make Spanish rice.