Whether you're looking for new seafood dishes or simply want to beef up your meatless recipe repertoire, you're in the right place! Seafood packs plenty of protein and is usually quite simple to prepare. In fact, we've got a whole lot of tasty ways to cook with seafood.
Bite-sized and bursting with flavor, one of our favorites is shrimp. It stands out as it cooks quickly and effortlessly, plus, it's easy to portion out. It absorbs all the flavors of a dish, so it's no surprise that shrimp is a global sensation.
From a Spanish rice recipe to South American ceviche, the plate possibilities are endless! So why not explore new cooking methods while sampling international dishes? As we show you our favorite ways to prepare shrimp, you'll see just how versatile this seafood ingredient can be. Whether you want a quick weeknight meal or a perfect party dish, we've compiled delicious recipes with shrimp for every occasion.
Shrimp 101
Before delving into recipes, we want to set you up for success by helping you to choose the very best shrimp and which to add to your table.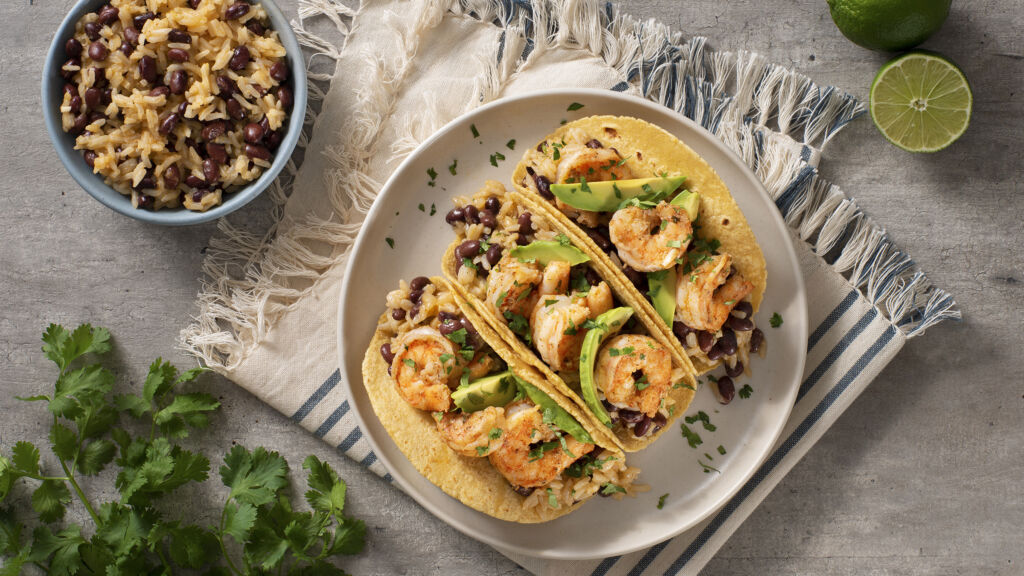 Is Fresh or Frozen Shrimp Better?
There's no right or wrong answer – there are advantages to both fresh and frozen shrimp. Choose the option that best suits your lifestyle!
When Fresh is Best
Fresh is often considered more flavorful but it requires planning as it should be consumed within 1-2 days of purchase – the sooner, the better. Also, keep in mind that you'll likely have extra prep work including shelling and deveining.
Freshness Note: Unless you live near a coastal city, the "fresh" shrimp you find at grocery stores has most likely been frozen and thawed in order to stay good during transport. So, buying from a reputable fishmonger or frozen might be a fresher option as you can never tell how long it has been defrosting.
Frozen Shrimp
It may seem counterintuitive that frozen food may be better than fresh but thanks to modern technology, this is often the case. Frozen food allows you to stock up and defrost at your convenience – with the exact portion you need.
Freshness Note: Choose packages labeled IQF as these shrimp are individually frozen quickly after they are caught so there is minimal flavor loss. Also, as you can choose among unshelled, tail-on, tail-off or completely cleaned shrimp options, you control how much time you spend doing prep work.
No matter whether you choose fresh or frozen, you can rest assured that your meal will be a success when using one of our recipes!
Difference Between Shrimp and Prawns
Don't let seafood semantics intimidate you. Though prawns are thought to be bigger, it's not a hard and fast rule. Despite anatomical differences, "shrimp" and "prawns" are terms that are frequently used interchangeably on restaurant menus – so don't hesitate to use them both in recipes!
How To Cook Shrimp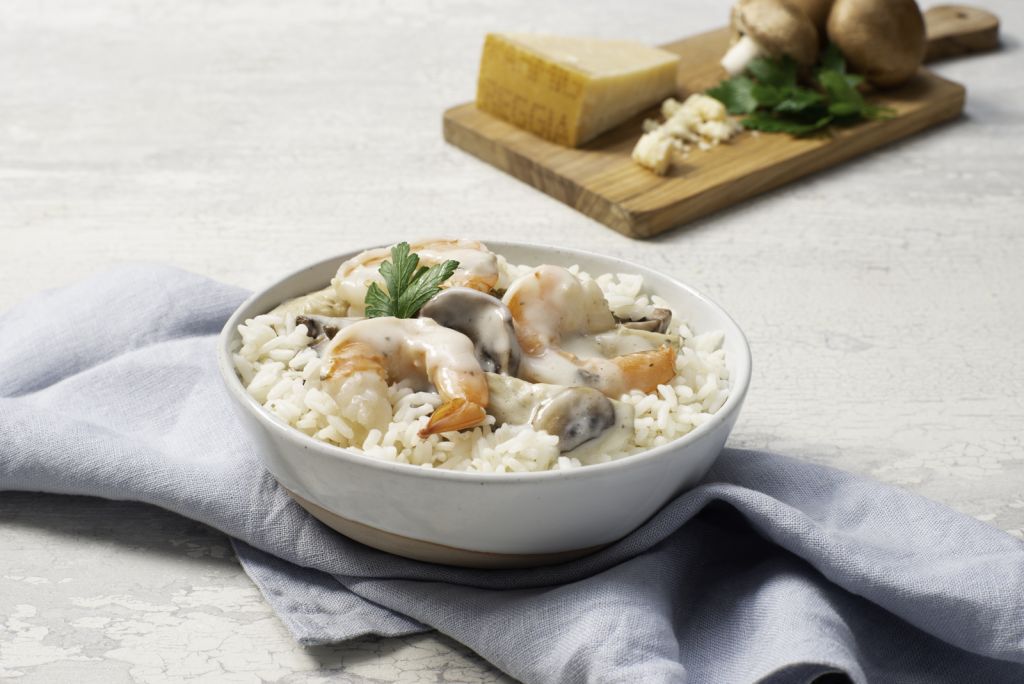 Shrimp is a great protein because it cooks so quickly, but this also means it's prone to overcooking. Luckily, as long as you keep your eyes on the prize, you'll get that tender – rather than rubbery – texture you're looking for! The translucent gray shrimp takes on an opaque pink color when it's ready. When it starts to curl, you're dangerously close to chewy crustaceans! Need a little help? Let's delve into some simple ways to cook shrimp
# 1 Grilled Shrimp
For a subtle smoked flavor, fire up your grill (or grill pan) to get a nice char on your crustaceans. Want a flavor boost? Brush on some marinade! Even a simple blend of olive oil, salt, pepper and a splash of lemon will make a world of difference.
If you want bolder flavor, whip up some aromatic chimichurri; in fact, we walk you through the ins-and-outs of the sauce in our Chimichurri Shrimp recipe. This dish doubles down on the Argentinian herb sauce – it's both a marinade and a topping! This zesty plate can be served at a summer BBQ or at your next dinner party – just make sure you make enough for everyone – it isn't just irresistible to pescatarian guests!
How to Grill Shrimp Skewers
Simplify grilling with skewers! Find the biggest shrimp you can and pierce them with metal or wood skewers. While you can grill them with shells, you'll get more flavor if you peel them and brush on some marinade. Lay the skewers on a medium heat grill until shrimp has a nice pink hue before flipping – about 2 and a half or 3 minutes per side. You don't want tough shrimp, so keep your eye on the grill to avoid overcooking.
#2 Baked
It may take a little bit longer, but baking generally yields sweeter and softer shrimp. Plus, a sheet pan can hold large quantities of shrimp; if you're hosting a get-together, this may be the ideal method. Pull your favorite casseroles or skillets out of the oven 5-7 minutes early and top with shrimp – once they're opaque, you're good to go.
For a crunchy treat like our Coconut Shrimp over Rice with Marmalade-Mustard Sauce, simply line battered shrimp on a tray for 5-6 minutes; look for that light golden brown crispy coat!
#3 Pan-fried
First things first, make sure to dry the shrimp. If you don't thoroughly pat them dry, you'll end up steaming – rather than searing – the shrimp. Warm the pan for a couple minutes before adding the oil. Once it glistens, it's time to add the shrimp. It's best to avoid overlapping: a single layer ensures an even cook. To get a good brown, let them cook for 2 minutes before flipping them.
Because of how quickly shrimp cooks, it is often tossed in the pan in the last few minutes. However, this is not a hard and fast rule. As this Shrimp Alfredo with Rice demonstrates, precooked or thinly sliced ingredients just need a minute or two to cook.
#4 Simmered
Though simmering only takes a couple minutes, it's enough time for the shrimp to get nice and juicy while absorbing all the flavors in the pan. When you notice that the shrimp is starting to curl, it's time to do the doneness test. Cut one open to see if the middle is pink, if it's still translucent you still have a minute or two.
A beloved Veracruz plate, Arroz a la Tumbado, is bursting with flavor. Our quick and easy recipe shows you how to simmer the shrimp in a puréed sauce with cilantro and lemon juice.
#5 Stewed
While shrimp stews, or slowly simmers, it absorbs all the flavors of the rich sauce, and because it's completely immersed in a broth, it stays moist and tender. What better way to start stewing than preparing a Cajun and Creole dish? After all, Louisiana cuisine is known for slow simmered seafood dishes like jambalaya or gumbo. When you stir a New Orleans Gumbo, check the color and curl of the crustacean as it stews: you want that signature pink, opaque hue but tight curls indicate that the shrimp has been overcooked.
Simple Recipe Ideas With Shrimp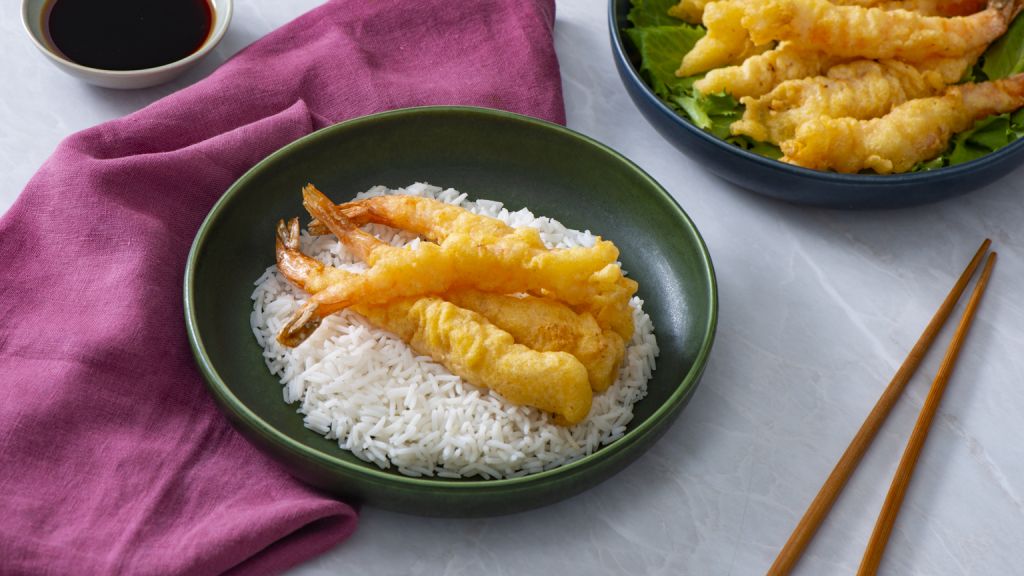 Now that you know a couple of ways to cook your crustaceans, it's time to head to the kitchen. We'll take you through some of our favorite shrimp plates.
Asian Shrimp Tempura
Get that crunch you're craving with a tasty Shrimp Tempura Dinner Bowl. Whip up this crispy Japanese-inspired rice bowl in just 30 minutes!
Garlicky Shrimp Scampi
With crisp, citrus notes from white wine and lemon juice and the fresh aromatics from fresh parsley, Garlic Butter Shrimp Scampi is the light yet satisfying meal you've been craving. You'll be plating zesty garlic shrimp overtop a bed of fragrant Basmati Rice in no time!
Shrimp Fried Rice
Why order takeout when you can prepare meals like Shrimply Fried Rice in just 20 minutes? What's more, this meal is made with ingredients you probably already have in your kitchen. Craving more veggies? This Easy Shrimp Fried Rice is packed with even more fresh vegetables!
Tasty Shrimp Tacos
Perfect pan frying with these zesty Cuban Shrimp & Rice Tacos. You don't need a reason to whip up some tasty tacos but that's not to say that Taco Tuesday or Cinco de Mayo wouldn't be a great excuse.
Shrimp Stir Fry
Both fried rice and stir fry give you an opportunity to get creative, clean out your fridge, and reinvent rice leftovers. After all, why toss the onion half or the single carrot in the vegetable crisper drawer when you could add more flavor profiles and textures in a stir fry? The best part is that leftovers are not only acceptable but preferred! In fact, if you have chilled grains you have a leg up and can skip to step 3 in this savory Shrimp and Chinese Vegetable Stir-Fry.
If you are not craving any of these dishes, don't be afraid to get creative!
After all, Success® Rice takes the guesswork out preparing grains so you can spend time getting creative in the kitchen or perfecting a new cooking technique. Once you toss the Boil-in-Bag in boiling water and set the timer, you can rest assured that you'll get perfect rice, every time!