It's November which can only mean one thing, Thanksgiving is right around the corner! It's a time to gather with loved ones and reminisce about old times, eat amazing food and reflect on all the things that one has to be thankful for throughout the year. Apart from Thanksgiving, which is the fourth Thursday of every November, Friendsgiving has recently become a popular celebration. If Thanksgiving is for family, then Friendsgiving is an occasion to enjoy incredible food, laughter and joy with all the other people in your life that mean something to you. Success® Rice has all the recipes and tips to help you create lasting Friendsgiving memories for a lifetime.
Essential Steps for Planning a Friendsgiving Feast
Planning a Friendsgiving gathering involves several necessary steps to ensure a successful and enjoyable celebration with your friends. From setting the perfect date to accommodating dietary restrictions, delegating dishes to providing entertainment, each step is an important one. Success® Rice offers you some key elements to consider:
Choosing the Perfect Date and Communicating with Guests – The greatest thing  about Friendsgiving is that there is more flexibility on choosing a date that suits everyone's schedule. Once you've chosen a date, be sure to let everyone know. Group chats are a great way to pass on the relevant info and build excitement! 
Creating a Guest List – Make a list of all the friends you want to invite to your Friendsgiving feast. This will help you keep track of who's coming and plan your menu accordingly. 
Catering to Dietary Restrictions and Preferences – Before you plan the menu, make sure to ask about any dietary restrictions or preferences your guests may have.
Delegating Dish Contributions – Friendsgiving is all about participation!  Ask your friends to contribute specific dishes or beverages. Creating a shared document or using a potluck-style sign-up sheet can help organize who will bring what. This not only distributes the workload but also allows everyone to showcase their culinary skills and contributes to a diverse and delicious spread. 
Consider Adding Fun Activities and Games –From Thanksgiving trivia to board games or even a friendly cooking competition, these activities will have everyone laughing!
Don't Forget the Decorations – Transform your home into a warm and welcoming environment by decorating with fall and Thanksgiving themed elements. Use fall colors, leaf garlands, pumpkins, and cozy lighting to create a festive ambiance that enhances the overall dining experience.
Music – Selecting a suitable playlist that sets the right mood is essential for creating an enjoyable atmosphere. Consider incorporating a mix of holiday-themed melodies, background instrumental music, and popular hits that appeal to your guests' tastes.  
Now onto what Success® Rice is really passionate about… the food!
Planning the Perfect Friendsgiving Menu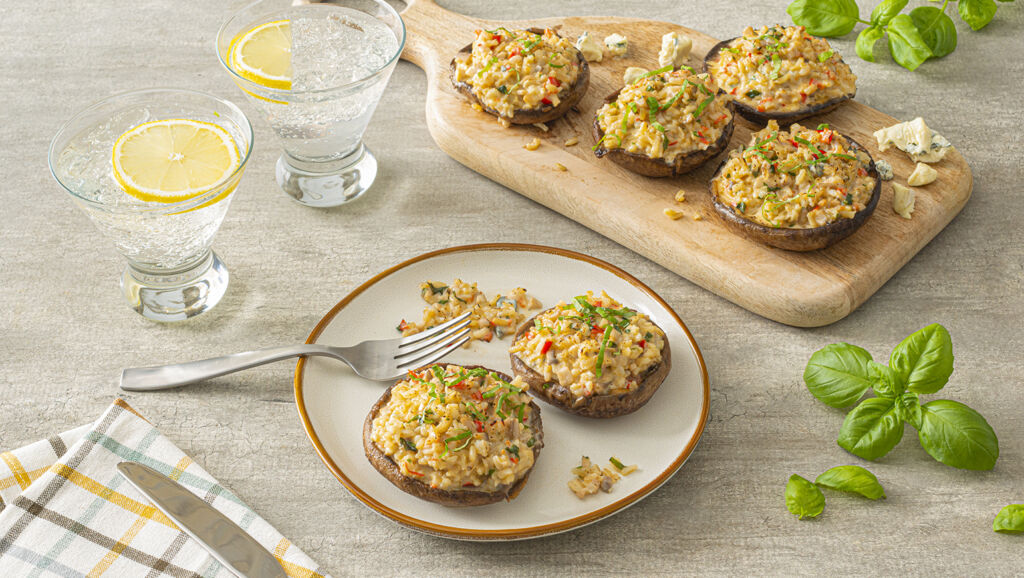 When it comes to hosting a memorable Friendsgiving celebration, one of the key elements is planning a mouthwatering menu. From delicious main dishes to irresistible side dishes and indulgent desserts, your menu can impress your guests and create an interesting and alternative dining experience to traditional Thanksgiving gatherings. Let's explore the essential components of a perfect Friendsgiving menu and how you can make your menu stand out.
Appetizers to Start the Show
As your friends arrive and start to mingle, have our delicious Blue Cheese Stuffed Mushrooms ready to pass around the room. They will surely have arrived with an appetite! These tasty morsels are packed with velvety stuffing and yummy mushrooms. Grab one before you pass it around because they will go quickly.
Delicious Main Dishes for Friendsgiving
While a classic roasted turkey is often the go-to choice, consider offering alternative main dish options to cater to different dietary preferences. Options like succulent roasted chicken or a savory glazed pork are easier to make and can be a delightful change of pace. It never hurts to have vegan or vegetarian options as well.
Mouthwatering Side Dishes for Friendsgiving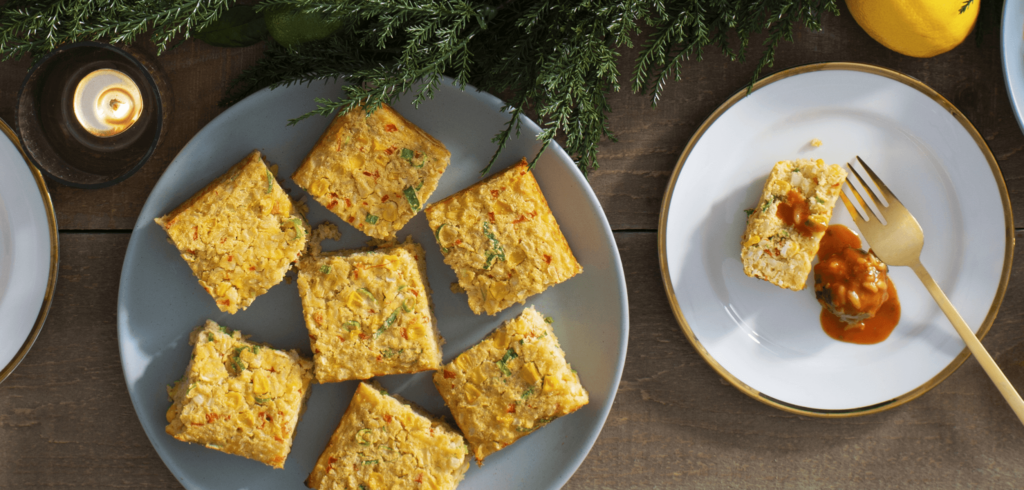 Accompanying the main dish, a variety of mouthwatering side dishes can elevate your Friendsgiving menu. Yummy casseroles, festive cornbread, and stuffing are all favorites. Try our delicious Apple Walnut Stuffing which will complement any holiday table. This hearty stuffing is made with tangy apple, aromatic herbs and our Success® Brown Rice. No Friendsgiving meal would be complete without delicious cornbread. Our Festive Cornbread takes things to a whole new level with a spicy kick.
Also, Success® Rice offers you a few casserole options to have on the table to keep that hunger at bay. Broccoli and Cheese Rice Casserole is made with a delicious combination of white rice, cheddar cheese, cream of mushroom soup and broccoli florets. It's a quick 3 step dish that is beyond easy to prepare. Or try our Quinoa Green Bean Casserole This recipe has all the components of the traditional casserole that you love and beyond! It is made with Success® Tri-Color Quinoa, green beans, cream of mushroom soup, mushrooms, and a little Parmesan cheese.
Indulgent Desserts for Friendsgiving
No Friendsgiving celebration is complete without indulging in scrumptious desserts. Classic options like pumpkin pie, apple pie, or pecan pie are always crowd-pleasers. For a modern twist, consider adding unique desserts like our Cran-Raspberry Quinoa Rice Pudding Trifle. It will be the perfect finale to your Friendsgiving gathering.