Preparing a holiday meal should be fun, not stressful – so let us help you out with the menu this year so you can focus on what matters: getting creative in the kitchen and spending time with friends and family!
This Easter, why not mix in some new dishes to complement those family favorites? After all, with Success® Rice at your side, serving an extra rice side or two is a cinch! You may remember how to eat lighter meals during the winter season, but now let's take a look at how to make a foolproof springtime recipe repertoire.
How to Make Lighter Dishes
If you want to make light yet satisfying meals, follow these simple guidelines:
Seasonal Produce: For the juiciest fruits and the most flavorful vegetables, stock up when they are in season.
Seasonal Herbs: When you sprinkle on fresh herbs, you add a ton of flavor and a refreshing touch without relying on heavy ingredients.
Citrus: There is nothing like citrus to brighten up (both in color and taste!) a dish. Although lemons and oranges finish their season in the spring, other citrus – such as limes – are great year-round.
Grains: Lighter dishes don't mean meals that keep you wanting. Rice makes a hearty base for any dish. With wholesome ingredients like plant-based grains and quinoa, less is more!
Luckily, it's not hard to seamlessly work these ingredients into your meals. In fact, we'll show you just how simple it can be!
Light Side Dish Ideas
Let's jump right into recipes that demonstrate how simple yet filling light spring recipes are!
Fruit and Vegetable Forward Sides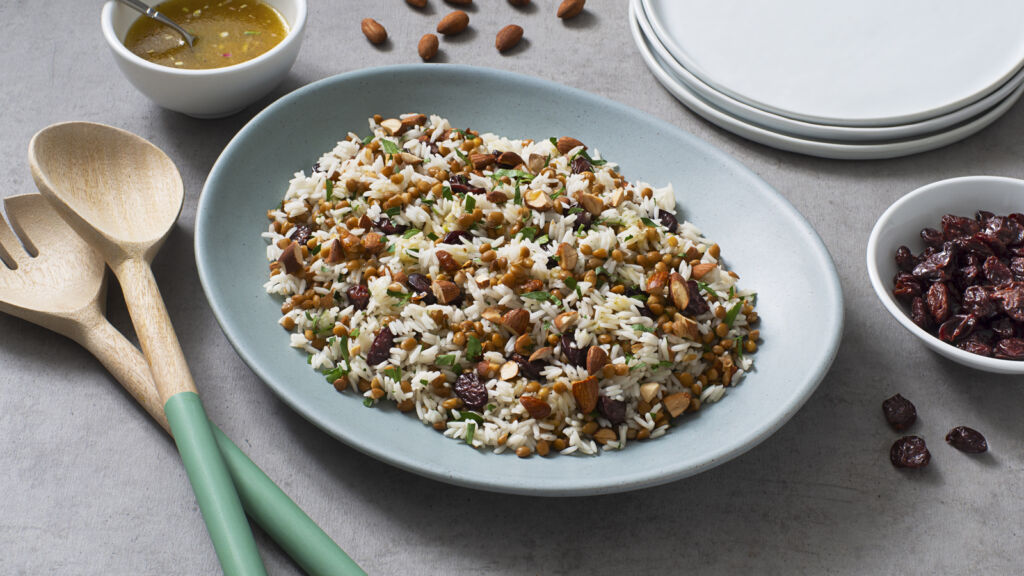 When you pack your plate with plenty of produce, you get the energy you need to get through the day!
Grapes: Sweet and tangy, this Roasted Grape and Feta Salad is packed with peppery arugula, creamy feta cheese, and juicy grapes.
Radishes: Toss radishes into a dish to add a crunchy texture.
Avocados: Tis the season for creamy avocados, so why not put them on full display? Mix things up a bit at your next get-together by preparing handheld Chicken Avocado Salad appetizers!
Keep eating the rainbow by adding any of these other seasonal produce:
Sweet: strawberries, pineapple, carrots
Tart: apricots, mango, rhubarb
Earthy: avocado, artichoke, asparagus, collards
Seasonal Spring Herbs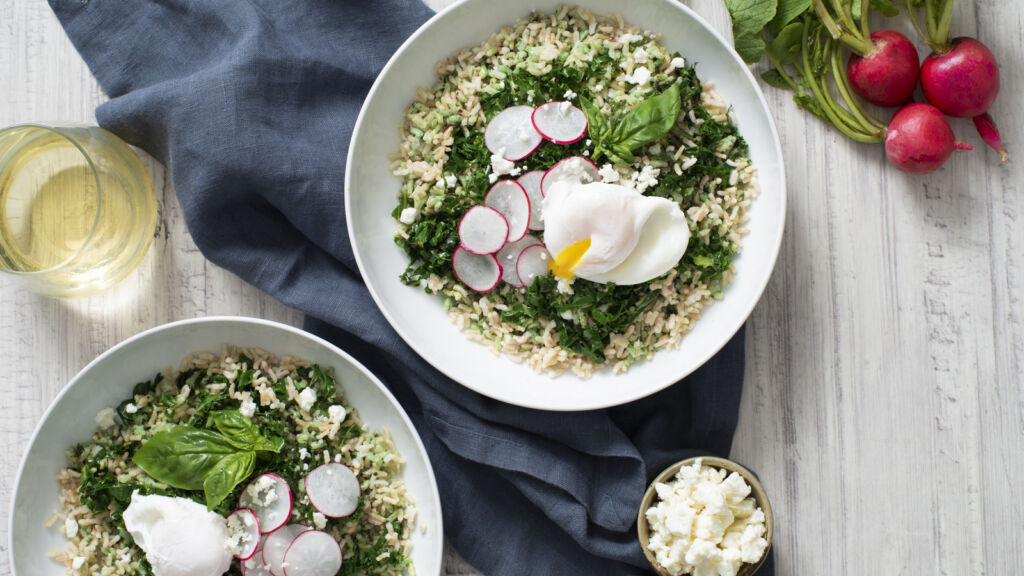 Seasonal herbs will add flavor and freshness to any dish.
Basil: Peppery and aromatic, basil goes well with lamb and turkey. Serve this Arugula Walnut Pesto Rice Bowl as a Sunday supper side. Basil also goes well with berries, so you may want to throw in some strawberries!
Dill: Opt for fresh dill — rather than dried — as it has a much stronger flavor. This earthy herb offers a subtle sweetness that pairs well with potatoes, salads and creamy cheese dishes.
Parsley: This herb is a flavor enhancer; it can be sprinkled on fish, poultry, potatoes, or veggies! Flat-leaf parsley, or Italian parsley, has a robust flavor and smoother texture, in contrast to curly parsley, which has a very strong flavor. Curly parsley is most commonly used for garnish in restaurant-style dishes.
Recipe Tip: Get the crunch you're craving by tossing in some nuts.
A Touch of Citrus Fruits
When you're in the mood for a bright dish, you can't go wrong with a splash of citrus!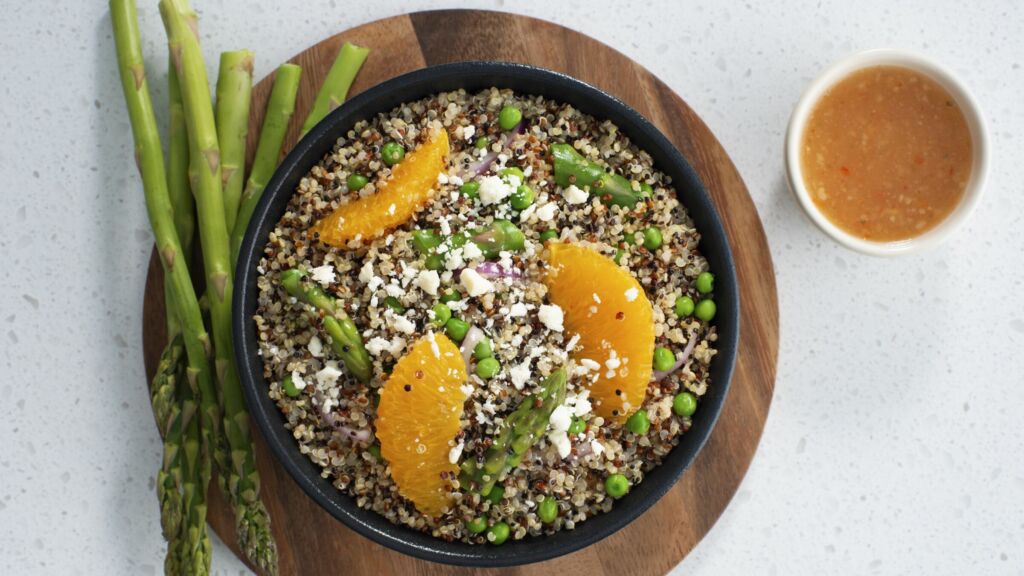 Orange: In fact, get even more zesty flavor by cooking the rice or quinoa in juice rather than water, like in this Asparagus & Orange Quinoa Salad. If you are feeling fancy or want to elevate your Easter menu, build some Quinoa Avocado and Citrus Salad towers – your guests will be amazed!
Lemon: Lemon adds a crisp acidity to your plates. Looking for a creamy but light meal? Simply drizzle some lemon butter sauce on a tasty Asparagus and Rice bowl.
Grapefruit: Unlike other citrus, grapefruit is at its juiciest during spring.
Yuzu: Why not try a new tangy treat? Yuzu is a mix of mandarin and lemon that's native to Japan. Toss it in a fresh citrus marinade for Hearts of Palm "Ceviche" with Yuzu Mayonnaise.
Hearty Plant-Based Rice and Quinoa
When your pantry is stocked with fluffy ​​Success® Rice or nutty Quinoa, you can build meals at the drop of a hat.
For more filling salads, work in some grains or quinoa. The Mediterranean diet is known for being on the lighter side. Mix plant-based options with meat in this Italian-inspired Ham and Cheese Rice Salad. Or, consider adding quinoa – it's packed with protein so why not skip the meat? Go green with a Crunchy Quinoa Spring Salad!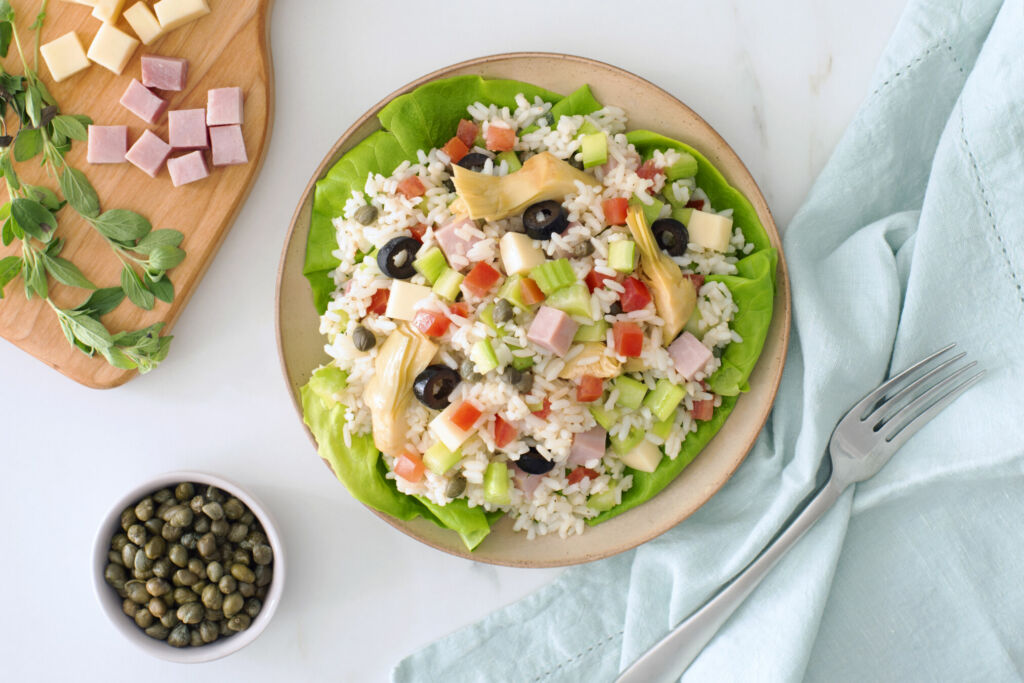 Light Homemade Dressing ideas
Homemade dressings are easier than you think! Whisk up a simple blend of olive oil, lemon juice, Dijon mustard, honey, salt and pepper. It's simple enough to prepare on the spot – like when you toss together our Quinoa, Apricot, and Snap Peas Salad – but delicious enough that you may want to keep a jar handy in the fridge for whenever you're in the mood for a Drool-Worthy Salad!
Or for maximum flavor, opt for a marinade! This Green Bean Rice Amandine contains green beans infused with a bright blend of olive oil, lemon juice, salt and brown sugar.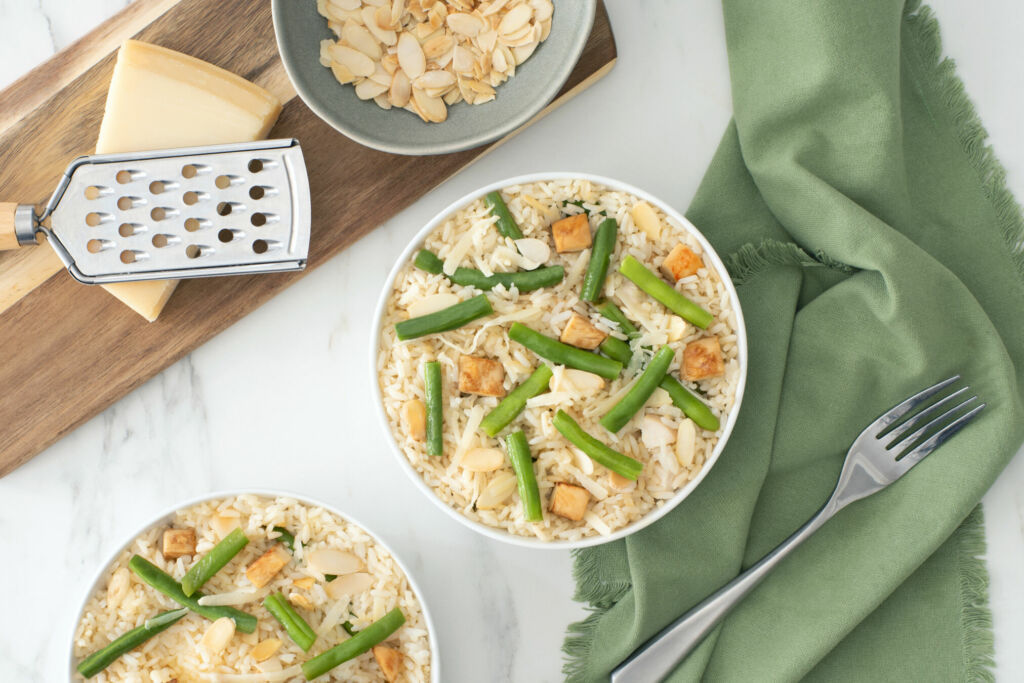 With BBQs and picnics right around the corner, make sure to brush up on how to make delicious dishes with Summer Produce! No matter the season, flavorful and filling meals like this Spanish rice recipe are at your fingertips just as long as your pantry is stocked with Success® Rice.