From recycling to repurposing, going green can take many forms. In fact, despite the adage, it is easy to be green. After all, eliminating waste by reheating leftovers is not only environmentally-friendly but can also be delicious!
When done correctly, reusing rice can be a sustainable practice, and has been for hundreds of years with the hope that it will continue in the future. Let's explore just how simple – and satisfying – it can be!
Reduce Food Waste with Fried Rice
There's no need to order takeout when you're craving classics like Chicken Fried Rice with jasmine rice, or the meat-free Quick Vegetable Fried Rice alternative. The versatility of fried rice allows you to customize fried rice just how you like it, and with a little help from Success® Rice, you'll see just how convenient it can be to use up all kinds of leftovers you've got in the fridge.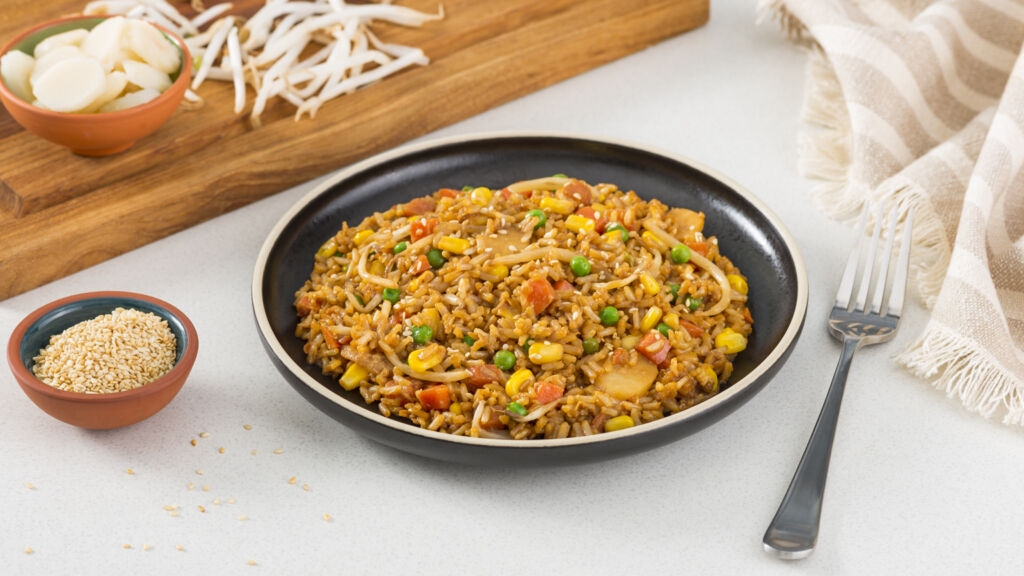 Grab a wok or skillet and let's get going on an incredible meal!
Eat Down Your Fridge
Don't let your greens wither or let those half-full canned goods dry out in your fridge! Remember that long ingredient lists on recipes are simply blueprints – especially with soup and stir-frys. In fact, let your creativity run wild while also taking this opportunity to eat down your fridge and clean out your pantry. Rather than tossing that rubbery carrot, dried-out celery, or half onion in the trash, toss it into a pot!
Note about freshness: While we always advise using up items in your fridge before tossing them out, make sure that you don't use veggies or other goods that are past their expiration date or have gone bad!
Cooking Guide for Your Customized Stir-Fry
As you rummage through your fridge forging for mix-ins, keep in mind that different ingredients – and different cuts – take longer to cook than others. Get the timing just right and you'll end up with ideal textures and tastes that will make your dish unforgettable!
6-10 minutes: Broccoli and carrots
5-7 minutes: Onions, bok choy
3-5 minutes: Bell peppers, bok choy, mushrooms, sugar snap peas, zucchini
1-2 minutes: Bean sprouts, green onions
Use Leftovers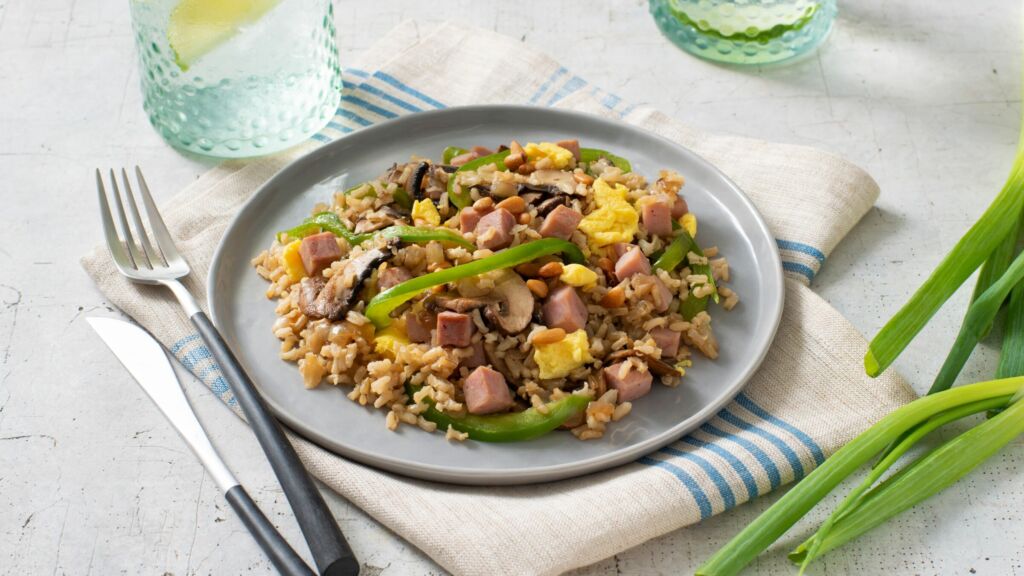 There's no need to eat the same thing day after day when you reinvent those leftovers. Also, when you repurpose last night's dinner, cooking times are much faster.
Leftover Vegetables: There's no sautéing necessary when you toss leftover veggies into a wok – you just need a minute or so to heat them up!
Leftover Rice: Unless properly stored, rice can dry out, but these firm grains are actually ideal for fried rice. Cut cooking time in half for this Fried Rice with Ham and Pine Nuts by opting for last night's rice rather than making a fresh batch and chilling. And the best part? You can use whole grain Success® Brown Rice to prepare fried too in this recipe.
Cooking Tip: Always use chilled rice for fried rice. Firm rice grains will absorb the flavors in the pan and cook up nice and separate, whereas freshly cooked rice might leave you with a delicious but mushier fried rice dish. To make extra, we suggest cooking two bags instead of one and saving some for later!
Learn how you can store rice properly in our tips to cut down on food waste!
Keep Your Pantry and Freezer Stocked
Busy schedules demand quick and easy options, so set yourself up for success with a little Meal Prep. With the right non-perishables on-hand, you could be just minutes away from a balanced meal. Pantry staples are never boring just as long as you have the right recipe!
Another way to reduce waste is to opt for frozen over fresh foods. If you find yourself excited about recipe possibilities while you're grocery shopping but end up tossing spoiled food at the end of the week, frozen food may be your best friend.
Keep some frozen chicken breasts on hand so you can prepare dishes like our Thai Cashew Chicken Fried Rice when hunger strikes.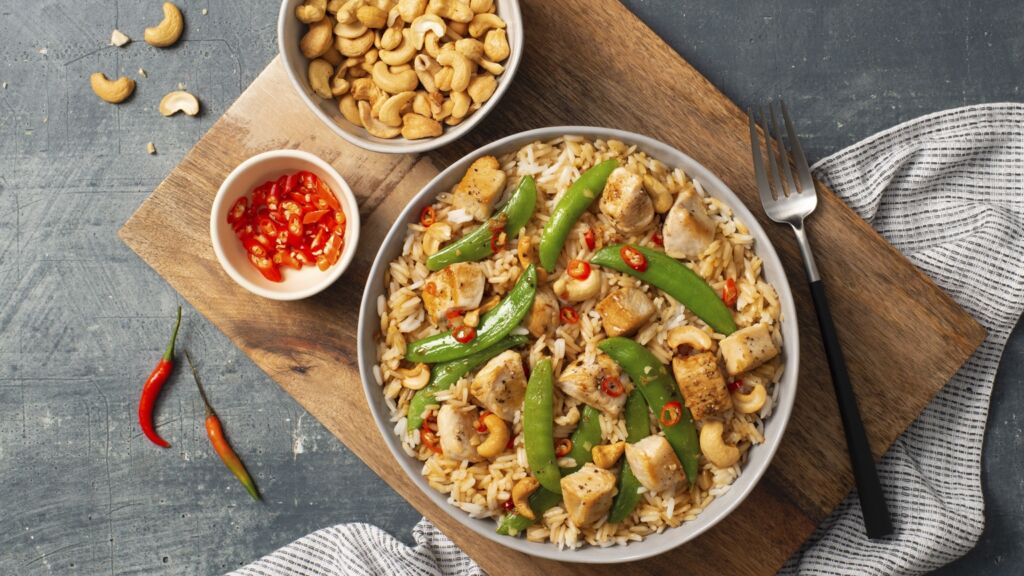 Thanks to cutting edge technology, frozen seafood is just as flavorful as its fresh counterpart! Juicy shrimp and fluffy grains soak up all the flavors in this Easy Shrimp Fried Rice, and it's just as delicious with frozen shellfish; if your guests can't tell, why should you?
Meal Plan with Seasonal Ingredients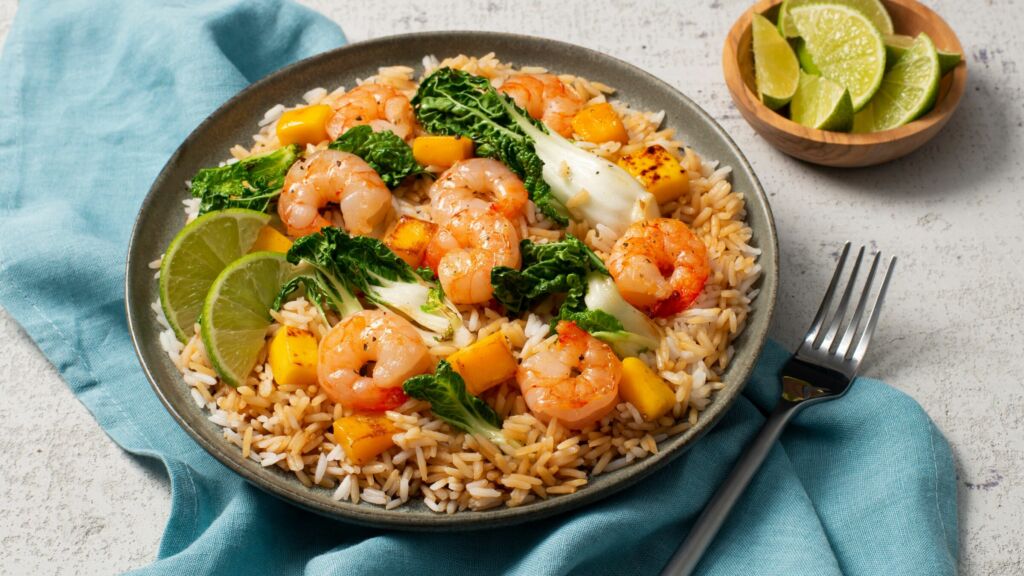 When produce is in season, there is no need to transport goods long distances. If you want fresh fruits and veggies, check out local farmers' markets for seasonal products!
Spring: Strawberries, apricots, and carrots taste the sweetest in spring. Sautéed in a flavorful blend of ginger, lime and soy sauce, this Lime-Ginger Shrimp Fried Rice tastes best when it's topped with juicy spring mangos! If you want to go green, reach for avocados or asparagus.
Summer: From blueberries and raspberries to watermelon and peaches, summer is packed with an array of sweet and juicy offerings. Plus, there are plenty of greens to get you through the day: broccoli, cucumber, zucchini and green beans!
Autumn: Do pumpkin, cranberries, and sweet potatoes ever taste as good as they do on Thanksgiving? Start warming up the wok because we take steak and rice to a new level with wild mushrooms in our Peppercorn Steak and Mushroom Fried Rice! While traditionally made with jasmine rice, this version is prepared with another aromatic variety — Success® Basmati Rice.
Winter: In addition to lemons, oranges, and other citrus, colder temperatures yield leafy kale and crunchy radishes. In fact, many spring side dishes take advantage of the last offerings from winter!
International-Inspired Fried Rice
Switch up the classics with new flavors. While classic combinations of fried rice may be comfort food, it can be quite rewarding to branch out! Who knows? Perhaps it'll be love at first bite!
Prepare some of these dishes that utilize fried rice techniques while incorporating international flavors:
Korean: Kimchi Fried Rice Bowl With Fried Egg made with Success® Basmati Rice, vegetables, kimchi, sesame oil and soy sauce!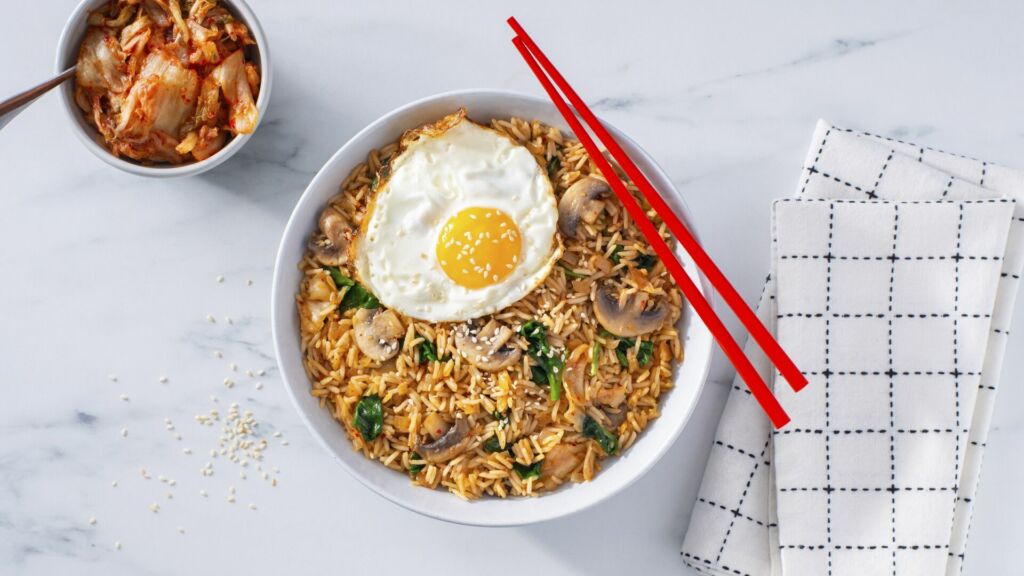 Caribbean: Jerk Chicken Fried Rice using Success® Jasmine Rice, this version is made with shredded chicken, vegetables, prepared jerk marinade, lime juice and soy sauce.
Mediterranean: Paella Fried Rice using traditional Success® White Rice, chorizo, shrimp, seasonings and much more!
What ingredients do you mix into your fried rice? Make sure to follow us on @successrice and send us your favorite fun fried rice recipes or any other meal ideas like this Spanish rice recipe!