It's time to get your 4th of July celebration started! Whether you're hosting a big backyard barbecue or more of a cozy family gathering – regardless of the type of celebration, you will need some delicious food to kick off the festivities! Success® Rice has several options that will have your guests craving more and telling their friends what a great home chef you are. Take a look at some of our best options to fire up that grill!
How to Cook Plant Based Burgers
If you are wondering how to cook recipes like our Ultimate Meatless Burger or the Black Bean, Quinoa and Feta Burgers on the grill, let us guide you and share some helpful tips on the best way to prepare plant based burgers.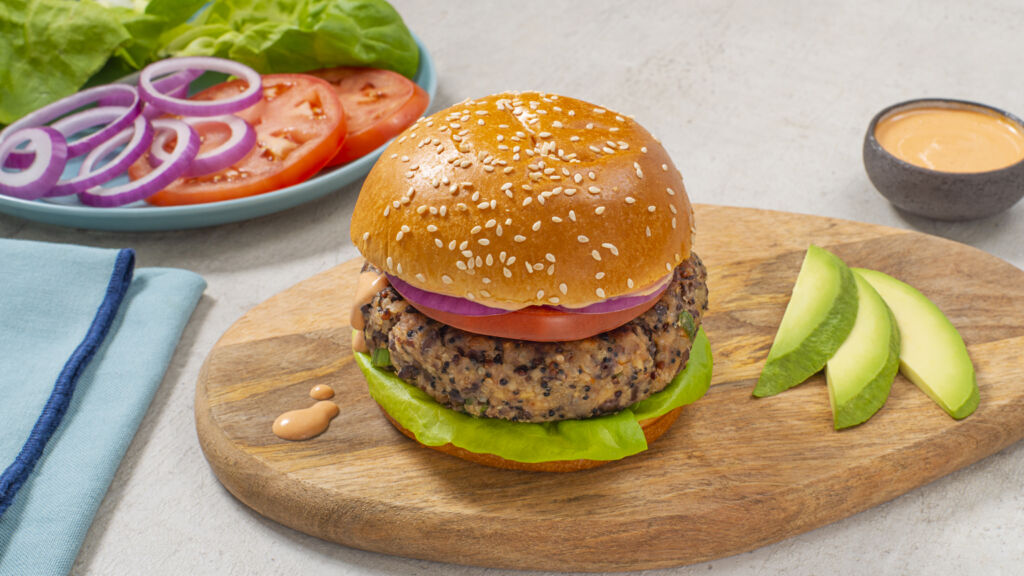 Warm up the Grill: The grates usually need around 15 minutes to become really hot, which is exactly what you need to achieve a good sear on the outside of your plant based burgers.
Make Sure your Uncooked Meat is Room Temp: If you happen to buy your burgers in the frozen section at the supermarket, make sure they are thawed out and room temperature before you pop them on the grill. You do not want to be left with a frozen interior and charred exterior.
Lightly Oil Burgers Before Grilling: The last thing you want to happen is for your beautiful burgers to stick to the grates of the grill. It is possible to directly oil the grates themselves (while the grill is cold) or brush the outside of the meat with some canola oil. You will have no stickage.
Cook on High for a Short Time: You will want to make sure that your grill is hot enough before you start to cook your burgers. You only need a few minutes to cook each side. Cook until slightly brown and change sides.
Avoid Pressing Down on the Meat: It is better to not push down on the burger too hard with your spatula as this causes it to lose the excess oil it contains leaving your burger a lot less juicy.
Even though they aren't traditional burgers, try cooking these Golden Beet and Rice Burger Sliders in the same way. You can serve these sliders over lettuce leaves or you can also use classic slider buns.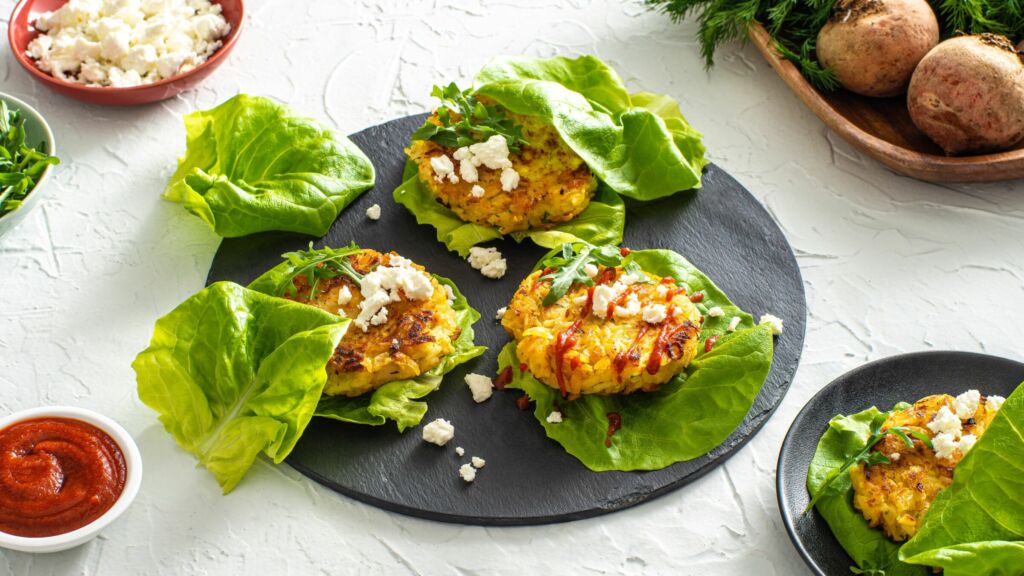 Remember, just because it's meatless, doesn't mean it has to be boring! Find out how to make Meatless Burger Recipes Using Rice and Quinoa with all sorts of tips like the best grain base, vegetables, flavor enhancers and binding agents for your burgers. 
Seafood Options
If you have some pescetarians in the crowd and are looking for a change of pace, these Quinoa Salmon Cakes are another great option. With quinoa, salmon, mayonnaise, eggs, and parsley combined and compacted, this recipe can't be beat! By learning these 6 Tasty Ways to Prepare Seafood, you'll have plenty of ideas to keep you going.
Flags are waving, fireworks are popping and your guests hunger forges on. Paella is always a popular choice and your guests will appreciate this Grilled Summer Quinoa Paella. Filled with chicken, shrimp, chorizo and crispy fresh veggies this colorful dish is the epitome of summer at its finest.
Salad Options
Since you may already have some corn for the party, why not use some of it to prepare a delicious salad? Your guests will love this Mexican Grilled Corn Salad to munch on with their burgers. You will be amazed at how quick and easy it is to make this flavor bursting salad!  This dish is a fun twist on the classic Mexican Street Corn Recipe and is made with Success® Jasmine Rice.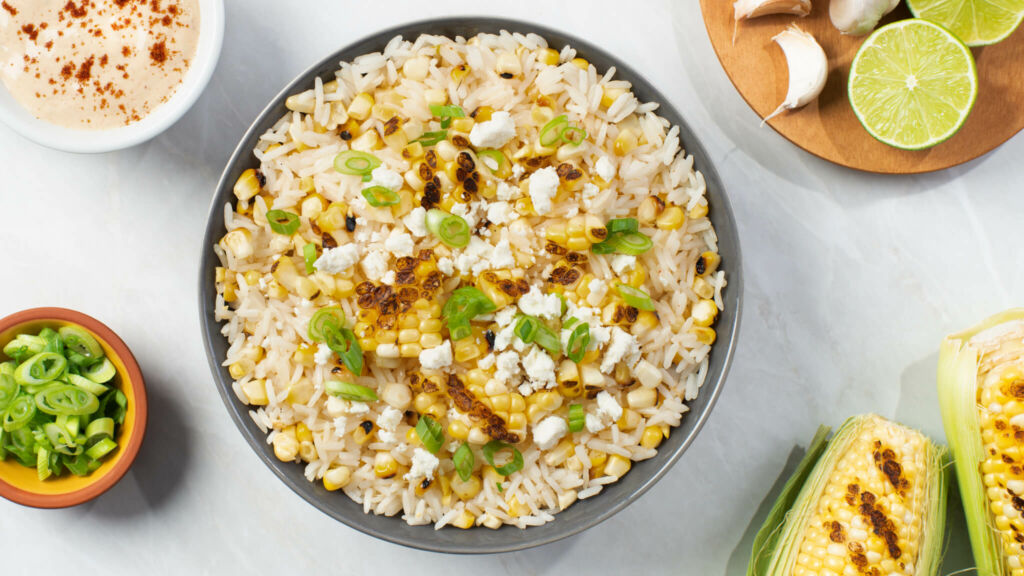 Mocktails? Yes, Please!
The goal of food and drink pairings is to elevate the already amazing experience of eating. The correct beverage can help refresh your palate and enhance the flavors of the components in ways you could have never imagined. Let's take a look at some mocktails that will make your dining experience an unforgettable one.
Watermelon Aqua Fresca
Flavor Pairings: avocado, lemon, lime, red onion, berries, coconut, jalapeño, corn, mint, chili pepper, ginger, poultry, beans, shrimp, salty cheeses, balsamic vinegar.
Ingredients:
-Water or seltzer water
-Watermelon chunks, deseeded and with the rind removed
-Sugar
-Lime juice
Instructions: Start by blending all of the ingredients together until they are liquid and smooth. Then stir in some more water and refrigerate the concoction until you're ready to serve it. Take advantage and use some watermelon slices as a nice decorative touch.
Fizzy Lemonade
Flavor Pairings: mint, basil, cilantro, mango, peach, watermelon, strawberries, lime, savory bacon, goat cheese,mixed greens seafood, and meat dishes.
Ingredients:
-Sugar
-Water
-Lemon Peel and Juice
-Club Soda or Seltzer Water
Instructions: Heat the sugar and water over medium heat until sugar is dissolved, stirring frequently. Stir in lemon peel in steps and bring to a boil. Reduce heat; simmer, uncover for 5 minutes. Cool slightly. Transfer everything to a pitcher. Stir in lemon juice; cover and refrigerate until chilled. Discard lemon strips. Stir in club soda or seltzer water and serve over ice.
Virgin Mary Mocktail
Flavor Pairings: Charcuterie boards that include mild cheeses (mozzarella, cream cheese, or cheddar), salty snacks (pickles or olives), and cured meats (salami or prosciutto). Crispy potatoes, shrimp and steak also go well with a Bloody Mary, making it a great addition to a BBQ!
Ingredients:
-Tomato juice
-Lemon juice
-Worcestershire sauce
-Celery salt
-Pepper
-Hot sauce (tabasco)
Instructions: Combine the tomato juice and lemon juice together along with some ice cubes. Once these ingredients have been mixed together, add in the Worcestershire sauce, celery salt, pepper and hot sauce. Mix well and then serve!
For meal recipe inspiration whatever the occasion, keep up to date with the latest tips and tricks in our Success® Rice kitchen.