Having a few pantry staples on hand can be a real lifesaver if you're in the middle of a recipe and realize you're missing an important ingredient! Learning how to substitute ingredients into your recipes is a useful skill to have and to guide you along the way, we've put together a few of the most common ingredients that you might be out of and what to swap in.
Most of these substitutions are pantry ingredients meaning you can keep them on your shelf and store them until you need them without worrying that they will go bad too quickly.
Substitute Wet Ingredients
Take a look at a few of these wet pantry staple substitutions for when you need a bit of last minute assistance in the kitchen. Jot down a few to keep on hand just in case you need them!
Vinegar
Need to replace acidic vinegar in a recipe? Use fresh or a pre-squeezed bottle of lime juice instead, you can keep it stored in your fridge for whenever you need it.
Milk
Out of milk? Simply swap in powdered milk or canned evaporated milk for the milk you're missing. While your milk jug might expire fairly quickly, evaporated milk and powdered milk have a longer shelf life and as a bonus neither require refrigeration. Use these substitutions in your recipes where milk is needed such as a Creamy Rice Pudding dessert.
Egg
Whether you're missing an egg, trying to adapt a dish like this vegan meatloaf recipe for a vegan diet or looking for a replacement due to an egg allergy, you can simply combine 1 tsp baking soda and 1 tbsp vinegar (both apple cider vinegar and white vinegar will work) together instead. 
This substitution can be used whenever an egg is needed but works best for baked goods like breads and muffins. Try this egg substitute out in these Carrot Muffins made with quinoa.
Broth or Juice
If you're cooking and need to season a soup or want to add flavor to your rice and quinoa dishes by cooking in broth or a mixture of broth and water, but find you're missing broth simply swap out the broth for bouillon cubes. You can also use dried herbs to season the water you're cooking with.
For a sweeter flavor when making a Dessert Apple Crisp swap out the water for apple juice or coconut milk for water when making a creamy bowl of Coconut Tropical Quinoa.
Homemade Broth Tip: Save leftover vegetable ends and extra chicken or beef bones to boil together with herbs and salt for your own homemade broth. Store in the freezer in sealed bags, containers or even ice cube trays to use later.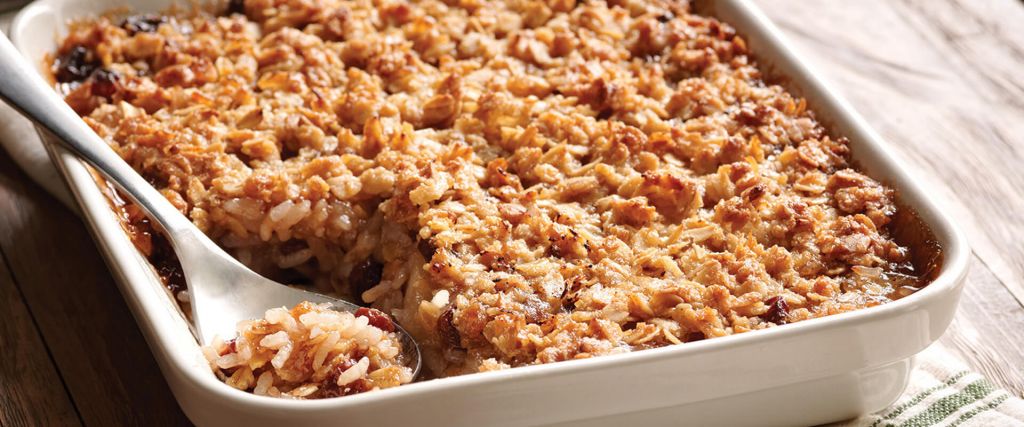 Substitute Dry Ingredients
Keep a few of these handy dry ingredient substitutions in your pantry – you never know when they'll come in handy!
How to Substitute White Sugar
Are you out of sugar or trying to cut back on using granulated white sugar? Use naturally sweet ingredients like honey, maple syrup and dates instead. Check out this recipe for Aloha Quinoa Power Balls made with cashews, Success® Tri-color Quinoa, dates, coconut oil, honey and more for a protein-packed sweet treat made without using white sugar.
Rice Substitutes
If you choose a recipe that calls for white rice but find you only have brown rice on your shelf, no worries. You can simply swap in long grain Success® Brown Rice for classic long grain Success® White Rice, and as a bonus get a bit extra whole grain and fiber in your diet.
Generally, different rice varieties work differently depending on the recipe i.e. long grain rice for fried rice and rice salads or short grain rice for sticky rice. However, if you're craving our Chicken Fried Rice for dinner and don't have Success® Jasmine Rice but our white or brown rice varieties, simply swap them and enjoy.
Also, using Success® Boil-in-Bag Rice makes it easy, as the grains cook up perfectly in just 10 minutes, so you don't have to worry about adjusting the cook time of your recipe depending on the grain variety you choose.
Only have basmati or jasmine rice available? Don't wait for a special occasion to use up these aromatic grains. They can be part of your weekly rotation too!
Herbs and Vegetables
Missing fresh herbs like basil and thyme or vegetables like garlic and onion? Keeping the ground or dried variety on your shelf is a great substitute when you look to find you're missing the fresh kind.
If you're making an Easy Indian Chicken Curry and find you don't have curry paste or fresh ginger, simply swap in the ground variety to ensure it still has great authentic flavor.
Remember that the first rule of cooking is to use what you have on hand. Next time you're missing an ingredient, turn to your pantry and shelves as there will probably be another food you can substitute in. And, if not, you'll probably create a tasty recipe of your own! Fun, right?