There's no denying that pumpkins are quintessential staples of the fall season, whether it be for your favorite Thanksgiving dessert, decorating your home or for spicing up your latte. In fact, these gourds are so beloved that they have their own celebratory day on October 26th, every year!
So, while the majority of pumpkins in the United States tend to be used to make Jack-o-lanterns or other decorations, we'd like to take a deep dive into new ways you can use this versatile ingredient in your weekly meals! We'll help you choose the best one, how to cook and store it, and use every part with a few recipe ideas and fun facts along the way.
Pumpkins: Fruit or Vegetable?
Most would probably say vegetable, but this cultivar of winter squash is technically a fruit, on account of its seeds! It's often associated with other produce like melons or cucumbers, which are also fruit. Interesting, right?
Pumpkin Varieties
While there are many different varieties reaching as far as fifty that come in different shapes, colors and sizes, you're probably most accustomed to sugar pumpkins, autumn gold pumpkins (cucurbita pepo) or smaller baby bear pumpkins for carving.
So, let's get down to selecting the best pumpkin and how you can store it.
How to Choose The Best Pumpkin
No matter if you're at the pumpkin patch or the grocery store, generally all pumpkins are good for carving. But, to tell if your pumpkin is good to eat, first make sure it has no large areas of discoloration. Then, flip it over and gently press on the bottom and on the sides. If it is soft or tender, put that one down, if it is firm, that's fresher. Also, if the stem is more green in color, it means it was picked more recently.
How to Store Pumpkins
The shelf life of pumpkins all depends on how you're going to use them. If you store them whole, keep them in a cool and dark place out of direct heat or sunlight. The thick skin enables them to last for a few months but always store them on their side with the stem down to avoid any moisture buildup! If you want to cook it up for meals, we'll show you how to do that below.
If you've cut your pumpkin in half to use for a recipe and have some leftover and uncooked, the best way to store it is by removing the seeds and wrapping it in plastic wrap or large beeswax wrap! If it's cooked, keep it in an airtight container.
Fall Holiday Favorite
This universal symbol for the fall season actually has quite a bit of history and has been used by different cultures for thousands of years! Since it reaches its peak in the autumn, in the US we tend to make use of it as not only a seasonal but holiday staple.
Halloween
Fun Fact: Jack-o'-Lanterns were an Irish tradition to guide good spirits on All Hallows Eve and keep away bad spirits, based on an old Irish folk tale of a man named "Stingy Jack". Originally, turnips were used with a candle in the middle, but when Irish immigrants arrived in the US, they found pumpkins to be much easier to carve and larger in size.
Thanksgiving
Whether you have a secret family recipe or simply use the one on the side of a can, every delicious Pumpkin Pie Recipe requires pureed pumpkin. This year, why not make your own homemade version? It's a lot simpler than you might think.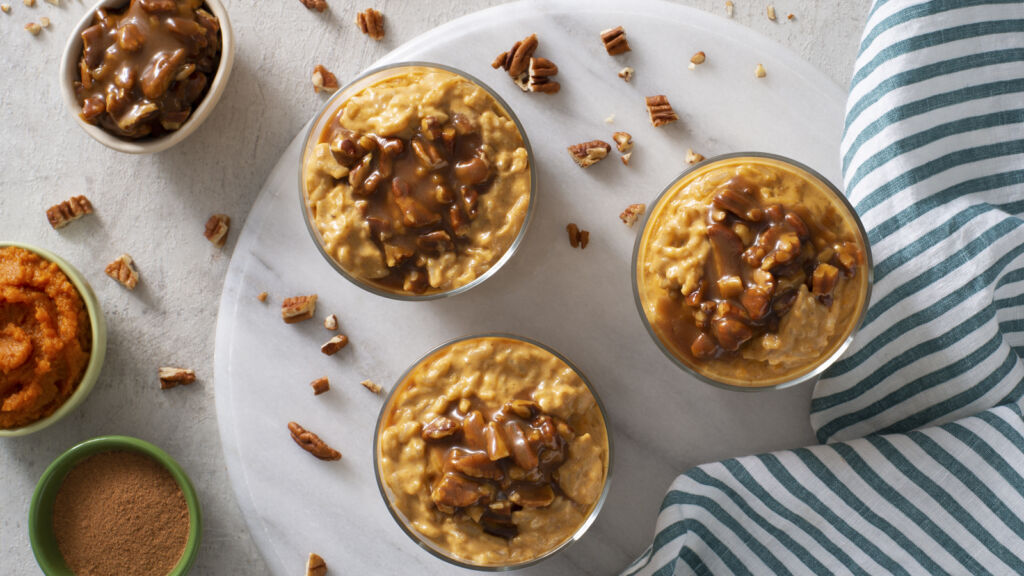 To Make Roasted Pumpkin: Preheat your oven to 400F and start by cutting your pumpkin in half, take out the seeds and peel the skin off. Then chop into 1 inch pieces and toss with a bit of olive oil or coconut oil and a dash of salt. Then, arrange it in a single layer on a parchment-lined baking sheet and roast for 18 to 20 minutes or until golden brown and tender. Wait for it to cool 10 minutes and then puree it with a blender or a potato masher.
Roast It Whole: If you want to roast it whole, simply cut it in half, take out the seeds and roast skin side up for about 45 minutes or until tender. When finished and cooled, simply scoop out the insides and puree, discarding the skin.
If you've got enough pumpkin puree for two recipes, add this Pecan Praline Pumpkin Rice Pudding to the dessert table.
Savory Recipes with Pumpkin
While many fall favorites with pumpkin are sweet dishes, this hearty ingredient makes for a wonderful savory meal. Using your roasted pumpkin, batch cook or meal prep for the week ahead with your favorite variety of Success® Rice or Quinoa. Or, try one of these amazingly delicious meal ideas.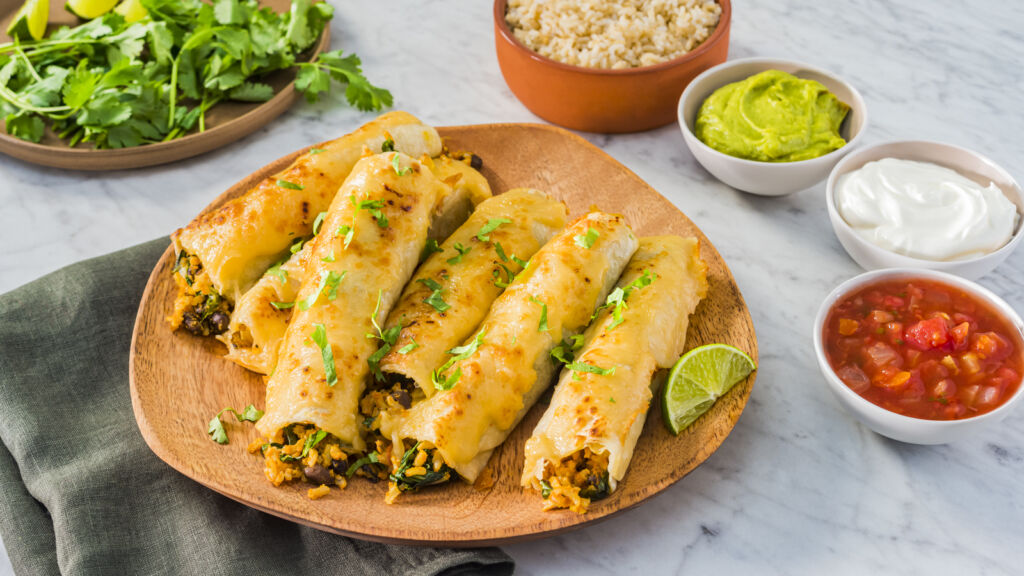 Roasted Autumn Vegetable Rice Bowl: Add chopped pumpkin to this mix of seasonal produce like butternut squash and sweet potatoes roasted in oil, maple syrup, thyme, salt and pepper. Serve over Success® Jasmine Rice and lentils and loads of other customizable flavors!
Vegetarian Pumpkin Chili:Make a filling chili to have on hand when the temperatures start to drop. Combine pumpkin with jalapeño and other seasonings for a kick alongside tomatoes, beans and broth with whole grain Success® Brown Rice.
Creamy Pumpkin Risotto with Sage Butter: This meat free risotto dish is made with Success® White Rice simmered in broth and tossed with oven-roasted pumpkin with butter and sage.
Baked Vegetarian Taquitos: Use your pumpkin purée for more than just desserts. These tasty and meat free taquitos use tortillas filled with whole grain Success® Brown Rice, black beans, pumpkin purée and more for a fall-inspired take on baked tacos! Tip: If you have any thanksgiving leftovers such as turkey you can add it in too, if desired!
Zero Waste Cooking
At Success® Rice, we're always looking for sustainable ways to reduce a bit of waste. And, the good thing about pumpkins is that every part is edible! While you've already got a few recipes to try using the flesh, we'll show you what you can do with everything from the skin to seeds (with the exception of the stem).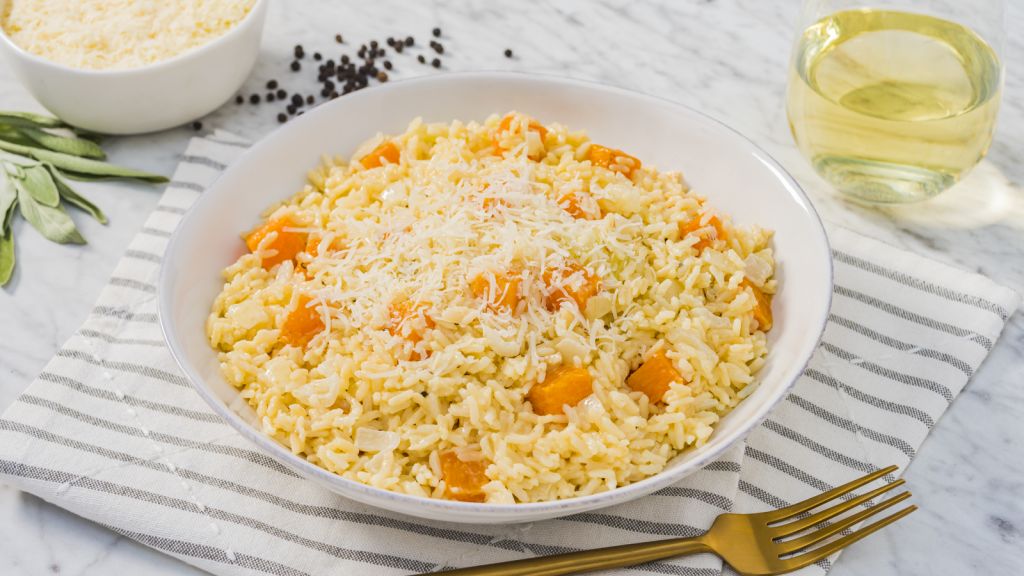 Skin: The one you're most probably scratching your head about is the skin. But, when you roast a pumpkin whole or cut it in two, it is perfectly edible and quite enjoyable. It even has a few benefits. Or, if you peel it off beforehand for a recipe like our chili listed above, you can make pumpkin chips in the oven!
Inside Strings: This is the seedy part that usually gets tossed when you carve pumpkins or even when you bake the seeds. However, you can use this part just like the flesh! Roast it and puree it along with the meatier part, boil it and make it into a pumpkin broth, or simply sautée them like you might spaghetti squash.
Seeds: Roasted seeds are actually quite popular and easy to make. They make great snacks, but also tasty additions to salads, energy bars, rice bowls, bread ingredients or in place of pine nuts for a pesto recipe.
So, how will you make use of your pumpkin? #ShareYourSuccess with us on Instagram by tagging us.
If you are looking for an interesting meal idea try our shrimp stir fry rice recipe.