Delicious, loaded with benefits and a wonderful go-to ingredient in different cuisines around the world, mushrooms are a true culinary wonder of rich umami flavor and meaty texture.
While these fungi are often an overlooked staple in meals, we're taking a moment to give them the spotlight they deserve. No matter which you choose, whether it be a giant portobello, shiitake, porcini, morel or common cremini and button mushroom, there is always something new to add to your cooking experience.
That's why we've chosen our top five favorite ways to cook and enjoy mushrooms, showcase their versatility and just how easy it is to incorporate them into weekly meals. We're also including meal prep friendly recipes to make your life just a bit easier this week. Each recipe is complete with supporting ingredients like your favorite Success® Rice grains, vegetables, proteins and savory sauces.
The Mighty Mushroom
First, to set you up for success, we've put together a small guide to a wide variety of mushrooms. Learn how to choose optimal mushrooms for your meals and get started mindfully pairing and cooking with this meaty ingredient.
How to Choose Them: If you're not sure how to choose which mushrooms are at their optimal moment, make sure that they are firm and plump without soft spots or excessive browning. While the peak season for most mushrooms is fall and early spring, there are plenty of varieties that can be found fresh year round at farmer's markets or supermarkets.
Tip: When the mushroom cap appears more closed off, that indicates a delicate flavor, while a more open cap with exposed gills can indicate richer flavor.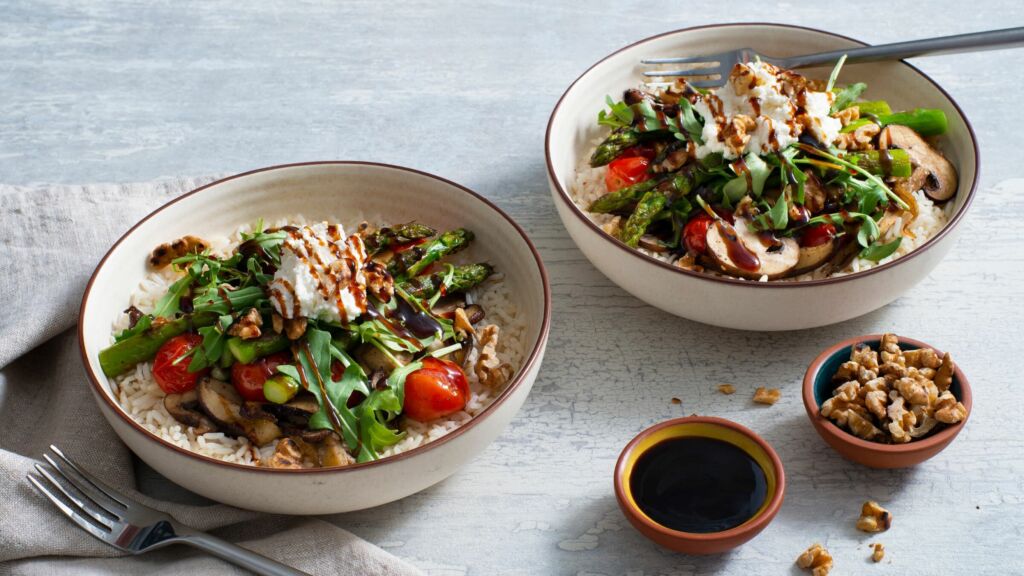 What To Pair With Mushrooms: While they are highly versatile and pair well with a wide variety of flavors, it's important to start simple, so we've put together a list of ingredients that complement mushrooms better than others:
Vegetables: onions, asparagus, garlic, green onions, tomatoes and Brussels sprouts.
Spices and Herbs: thyme, rosemary, chives, oregano and basil.
Sauce and Liquids: pesto, soy sauce, balsamic vinegar, wine, stock or broth, coconut milk, heavy cream, cheese, olive oil or butter.
Proteins: bacon, eggs, beef, chicken, fish and seafood.
Tip: Mushrooms are a great way to add a more meaty texture to both vegetarian and meat dishes. Alongside hearty grains, like rice and quinoa, they make for filling and complete meals.
How To Clean Mushrooms: As mushrooms have a high water content already, most would say not to wash mushrooms, but simply clean off dirt or debris with a brush. However, cooking experts are saying that you can lightly wash them with water for just a minute, but only right before use to prolong their shelf life! Quickly toss them in a bowl of water one minute and pat dry before slicing, or wash them off using a strainer.
5 Meal Prep Friendly Recipe Ideas
To show you just how truly versatile they are, we've put together some of our favorite recipes that can easily be prepped ahead of time. We've included something for everyone with hearty mushrooms and grains to keep you feeling satisfied, no matter if you eat a bit of everything or a more vegetarian or vegan diet.
These 5 inspiring methods to enjoy your mushrooms will make you excited to get in the kitchen exploring with all of your favorite funghi.
Skillet Sautéed
Quite possibly the simplest way to cook mushrooms, you can suatée them in the skillet with anything from olive oil and herbs to an elaborate combination of ingredients like curry paste and other vegetables.
We've taken the skillet a step further and prepared them in an international favorite — Indian Mushroom Korma with Success® Basmati Rice.
Serving Suggestion: For best results, keep the rice separate from the mushroom korma mix and serve right before enjoying. Or pack together in a container to take with you the morning of and heat up together to enjoy.
Find the Full Downloadable Recipe and Ingredient List Here: Mushroom Korma with Basmati Rice
Stuffed Mushrooms
While traditionally stuffed mushrooms might be a dainty finger food, these Mean Green Stuffed Portobellos will keep you feeling energized made with whole grain brown rice, Brussels sprouts, broccoli, coated in pesto and topped with a crispy Parmesan breadcrumb crust.
Serving Suggestion: Prepare your stuffed mushrooms ahead of time and separate into containers to store for meals throughout the week. Enjoy alongside an additional bed of Success® Rice and extra vegetables.
Find the Full Downloadable Recipe and Ingredient List Here: Mean Green Stuffed Portobellos
Mushroom Stew
While they are often used as a hearty meat substitute, mushrooms can also work to enhance the flavor of your dish alongside beef, chicken and loads of other proteins. And, stewing mushrooms in broth is a great way to add an intense and rich flavor to a saucy soup or stew. For an extra boost, use more than one variety!
This Swedish Meatball Stew with cremini mushrooms is perfect for a filling lunch or to have ready to enjoy for a quick and hassle free dinner.
Serving Suggestion: For best results, keep the stew and rice in separate containers until ready to enjoy!
Find the Full Downloadable Recipe and Ingredient List Here: Swedish Meatball Stew Recipe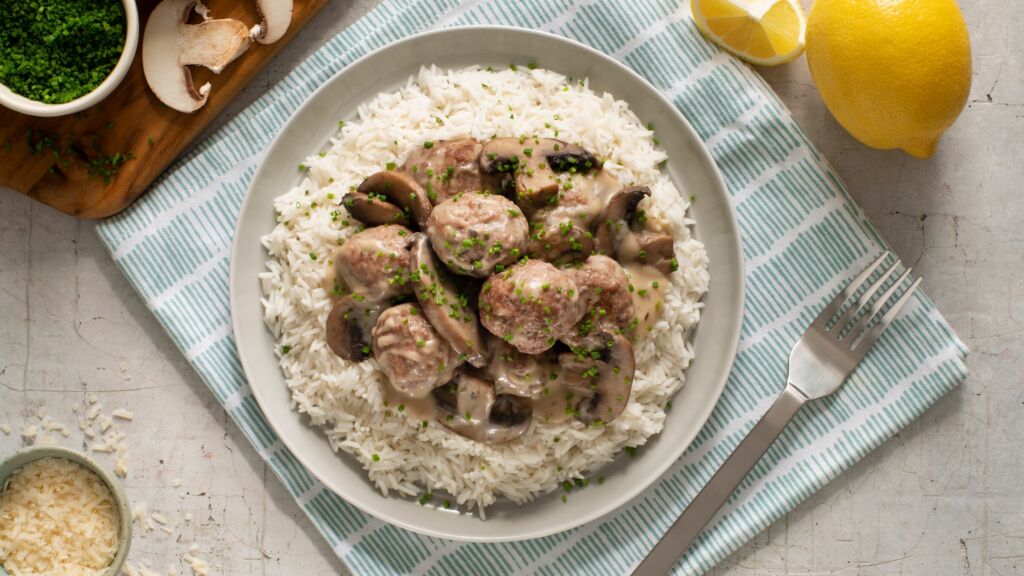 Roasted Mushrooms
The best part about roasting mushrooms is that you don't need to peel them beforehand. Simply wash any dirt or debris and coat well with oil, butter, a balsamic glaze or any additional herbs.
Mushrooms can be roasted alone with a bit of oil, salt and pepper or in a rich combination of other vegetables. Try it in this simple rice bowl topped with a blend of roasted mushrooms, tomatoes and asparagus for a filling and delicious meal. Serve with white rice, leafy arugula, and fresh ricotta, all drizzled with a balsamic reduction.
Serving Suggestion: Divide in four containers to take throughout the week as a meatless meal idea or pair with chicken breast or beef to add extra protein.
Find the Full Downloadable Recipe and Ingredient List Here: Roasted Asparagus and Mushroom Rice Bowl
Hearty Oven-Bakes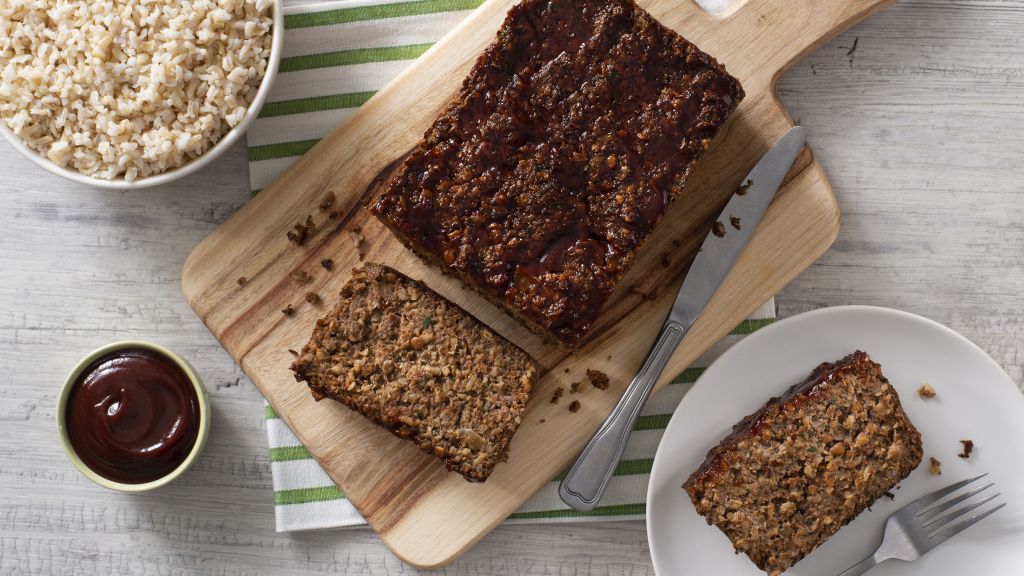 As we previously mentioned, mushrooms are often an incredible meaty ingredient for those who eat plant-based diets. They are perfect for adding an extra hearty touch to oven-baked casseroles or other meals like this vegan BBQ Meatloaf. While it may require a little effort, choose the time that works best for you to prepare, so that you can save your weeknights for relaxing after a busy day. We suggest getting organized and prepared over the weekend, but meal planning is all about making your meals work for you!
Serving Suggestion: For easy meal organization, divide your cooked meatloaf up into separate containers to take on the go for lunch or heat up for a quick and ready to enjoy dinner.
Find the Full Downloadable Recipe and Ingredient List Here: Brown Rice BBQ Meatloaf
No matter what cooking utensils you've got on hand, there is a delicious way to enjoy a wide variety of mushrooms you have available. Which of these recipes will you be making first? Share your plate with us on Instagram by tagging us at @successrice!