Fall might well be the belle of the ball as far as seasons go. The stifling summer heat is gone and the air is crisp and cool. The leaves begin their slow, graceful descent from the trees and the fall harvest beckons. Perhaps no other season offers up such an exquisite array of seasonal vegetables, bringing flavor like no other to our dining tables during this special time of year. That's why Success® Rice wants to help inspire you this fall with irresistible recipes using your favorite fall fruits and vegetables with a few surprises along the way.
Popular Ingredients for the Season
Fall is a season that will bring back many happy memories of family meals in days gone by. Nothing sends us on a trip down memory lane quite as swiftly as an old familiar flavor. So let's look at what ingredients have defined fall cooking for centuries so that you make October a month full of flavor.
Pumpkin
You'll be hard-pressed to find a fruit more synonymous with fall than the beloved pumpkin. Often mistaken for a vegetable, pumpkins are actually classified as fruits due to the fact that they are seed-bearing. Pumpkins are versatile, too. You can add them to soups, or boil them and make a puree. However, perhaps pumpkins are best loved as a fall dessert ingredient, which will be no surprise when you try this delicious Pumpkin Pecan Rice Pudding.
Butternut Squash
Similar to pumpkin, butternut squash has a mild nutty flavor and fleshy pulp and works in a whole host of recipes. If you're looking for a satisfying breakfast, try this Rice and Squash Breakfast Bowl. Packed with fall ingredients, it's the perfect breakfast to start your day as the temperatures begin to drop. Alternatively, if a hearty soup is what you're craving, give this Butternut Squash Soup a try with whole grain Success® Brown Rice.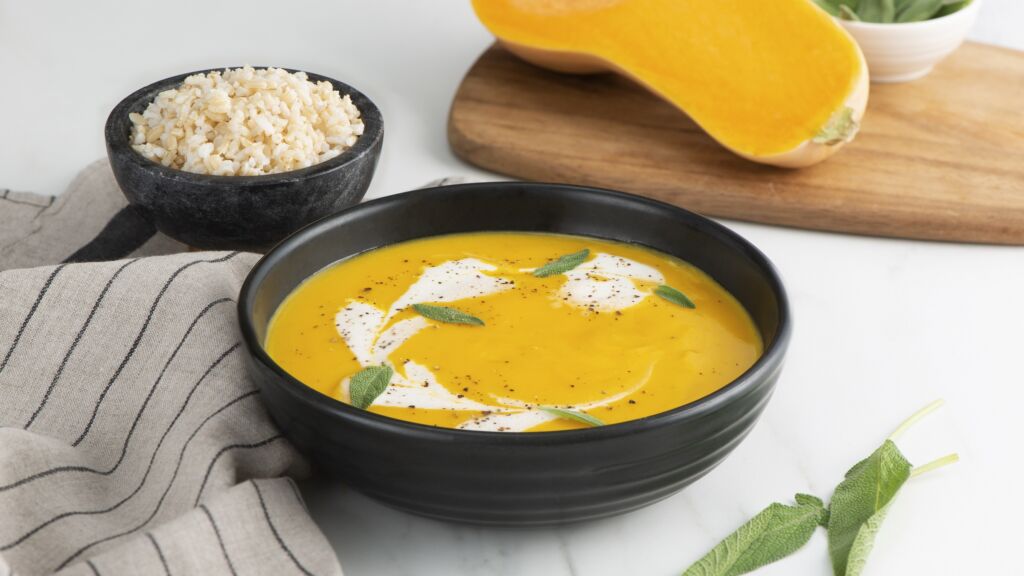 How to Prepare Butternut Squash before Cooking
Wash the squash with hot water, then dry pat it with some paper towel.
Slice off either end of the squash.
Prick holes in squash to soften the skin. This will make it easier to peel.
Cut the squash in half.
For boiling or sautéing, slice and then chop the squash into dice-sized cubes.
Best Ways to Cook Butternut Squash
There are a number of simple ways to prepare butternut squash:
Boil/Steam: Boiling butternut squash is the best way to get the smooth finish you want when making puree or soup.
Roast: In terms of maximizing the flavor of this vegetable, roasting is the way to go.
Tip: Cut the squash in half, take out the seeds and drizzle with olive oil. Season with salt, pepper and whatever herbs and spices tickle your fancy.
Sauté: For a rich flavor with a crunchy finish, sauté your squash for 15 minutes.
Microwave: For a quick and easy way to prepare squash, slice off either end, prick its surface with a fork and stick it in the microwave on high for 15 minutes.
Brussels Sprouts
Fall serves up a number of delicious vegetables that will inspire your meal planning for October, and our beloved Brussels sprouts are a prime example of this. Known for their unique, earthy flavor, Brussels sprouts are a great way to welcome the season. In this recipe for Brussels Sprouts and Ham Rice Gratin, you'll love the savory combination of sprouts paired with succulent ham. Don't be surprised if it becomes a favorite fall recipe among your family!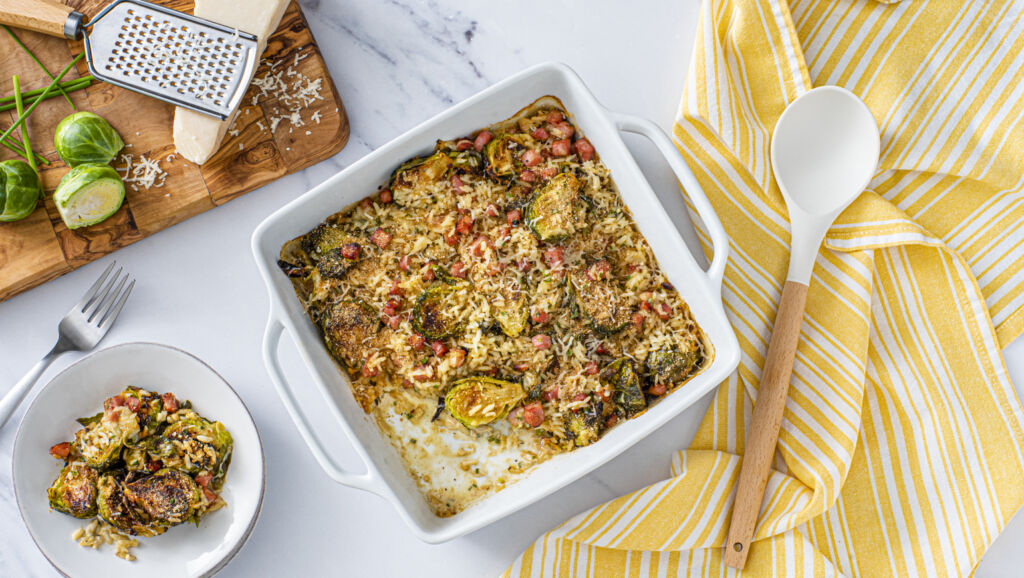 Apple
Another fruit forever synonymous with fall is the humble apple. Apart from being most people's favorite grab-and-go fruit, it's got awesome potential when used in recipes. For a breakfast meal with a difference, this Apple and Brown Rice Cereal is a sweet and wholesome way to start your day.
Exciting Fall Flavor Combinations
Fall is a time of year when we gradually begin taking our lives back indoors and enjoying the cozy environment of our family homes. It's the perfect opportunity to get the family together and experiment with flavors. For a dish that will truly dazzle your loved ones, try this Shiitake Stuffed Acorn Squash. You'll love how the earthy flavors of shiitake mushrooms blend with the smooth and delicious stuffed squash and the satisfying nutty flavors of Success® Tricolor Quinoa.
Likewise, if you enjoy interesting blends of ingredients, this Autumn Vegetable Rice Power Bowl, with its flavorful combination of squash, diced beets, lentils, mixed greens, fresh thyme leaves and fragrant Success® Jasmine Rice, it's the perfect fall recipe for vegetarians and food-lovers in general!
Other Fruits and Vegetables in Season during Fall
For more seasonal inspiration, it's good to familiarize yourself with all the delicious fruits and vegetables that are in season this time of year in order to make the most of your kitchen creativity. Apart from the ones already mentioned, you'll be pleased to know that the following fruits and vegetables are also in season during fall:
Vegetables
Beets
Bell Peppers
Broccoli
Brussels Sprouts
Cabbage
Carrots
Broccoli
Kale
Onion
Celery
Fruits
Blackberries
Raspberries
Cherries
Pears
Pomegranate
Figs
Grapes
Sustainable Practices for Fall Cooking
Not only is fall the perfect moment to reconnect with our culinary roots by cooking with seasonal ingredients, as was the tradition in years gone by, it's also good practice for the environment. Using fresh in-season ingredients that are sourced locally reduces the carbon footprint of our meals and benefits the planet. As well as that, it's important to use products that come in recyclable packaging. At Success® Rice all our products are 100% BPA-free and 100% recyclable.
Celebrate Food this Fall
Make this fall a memorable one. Gather friends and family around and make the most of this elegant season. Celebrate nature and food with seasonal cooking and pass down a tradition to your loved ones that has sustained life for millennia. For more recipe inspiration, kitchen tips and pointers, check out the Success® Rice Blog.