If you're a lover of all things fall and just can't wait for the season to roll around, you might be happy to find out that there is more to enjoying a pumpkin spiced latte than meets the eye. One great way to not only eat better but also help the environment is to eat seasonally!
But, what does eating seasonally actually mean? Put simply, it refers to consuming fruits and vegetables when they're in season. Although nowadays, you can find all kinds of fruits and vegetables all year round, there are certain fruits and vegetables that naturally grow in specific seasons.
Benefits of Eating Seasonally
So you might be thinking, if I can get all kinds of foods year round, why should I try to eat seasonally? We've put together just a few of the top reasons: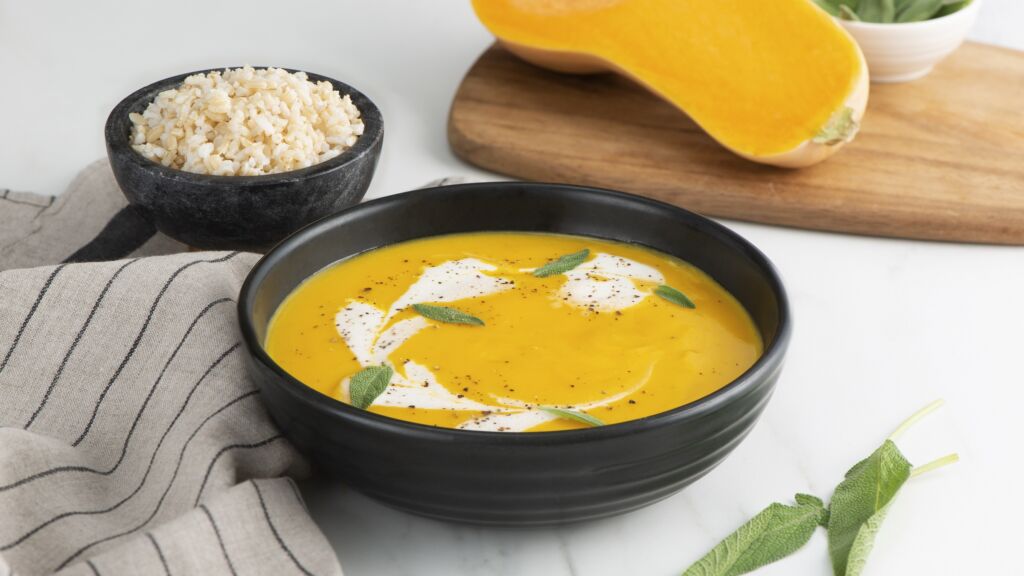 Fresher: If you consume food that is seasonal and local to where you live, it won't have to travel as far or be grown in a greenhouse.
Helps to support local farmers: local produce in turn can be a great opportunity to support the food production in your area at farmer's markets or grocery stores that use local products.
More nutrient dense: Similar to the other points, consuming local produce doesn't have to travel as far and can be picked after it ripens which allows the nutrients to develop.
Tastier: When the nutrients are developed fully, it makes for a richer and better tasting product!
Often less expensive: As certain foods are in season, they may be growing in surplus and the price may be reduced as there is more product to consume and therefore less demand.
Seasonal Fall Vegetables
Check out these seasonal fall vegetables to find where you live and enjoy with tasty recipe inspiration too!
Butternut and Acorn Squash
Although technically fruits given their seeds, squash are cooked just like vegetables and high in potassium and fiber.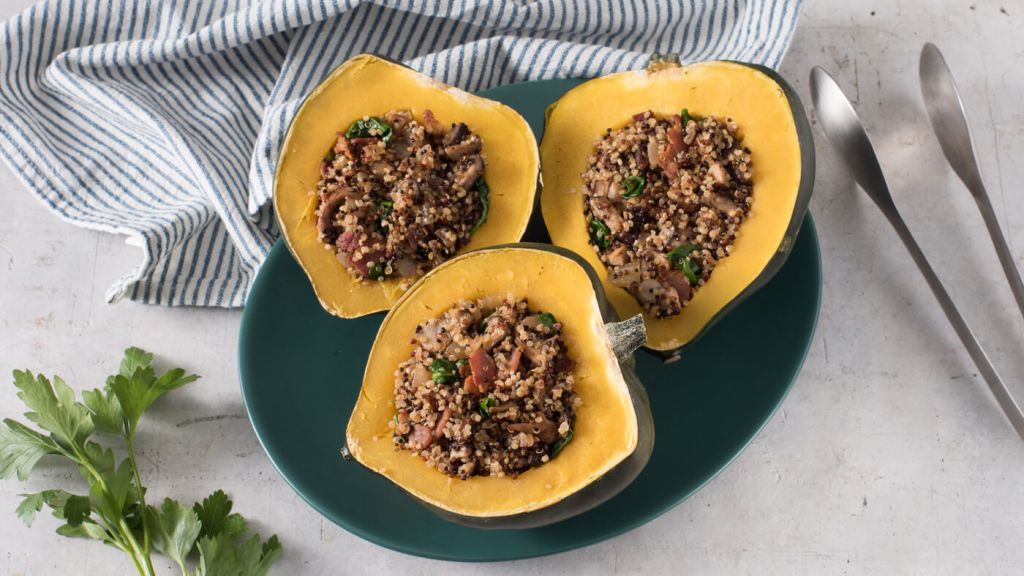 Also, because they come in all different sizes, they make for the perfect tasty vessels to make stuffed vegetables in anything from simple zucchini boats to these Shiitake Mushroom Stuffed Acorn Squash filled with all kinds of flavors like bacon, spinach, protein packed quinoa and seasoning with just a hint of maple syrup to complement the savory acorn squash.
Another delicious way to prepare squash is to blend it with other ingredients for a comforting bowl of soup! This recipe uses butternut squash boiled with broth, sage and sautéed vegetables all blended together for a perfect fall Butternut Squash Soup with Success® Brown Rice. It's creamy, whole grain and so good!
Sweet Potato
Although they may have sweet in their name, these root vegetables are packed with fiber, vitamins and minerals along with natural sugars that make it a wonderful fall addition to your meals! They can also be prepared in a variety of ways just like traditional potatoes, from mashed sweet potatoes and fries to baked casseroles and can even be used in treats like brownies on account of its sweet flavor.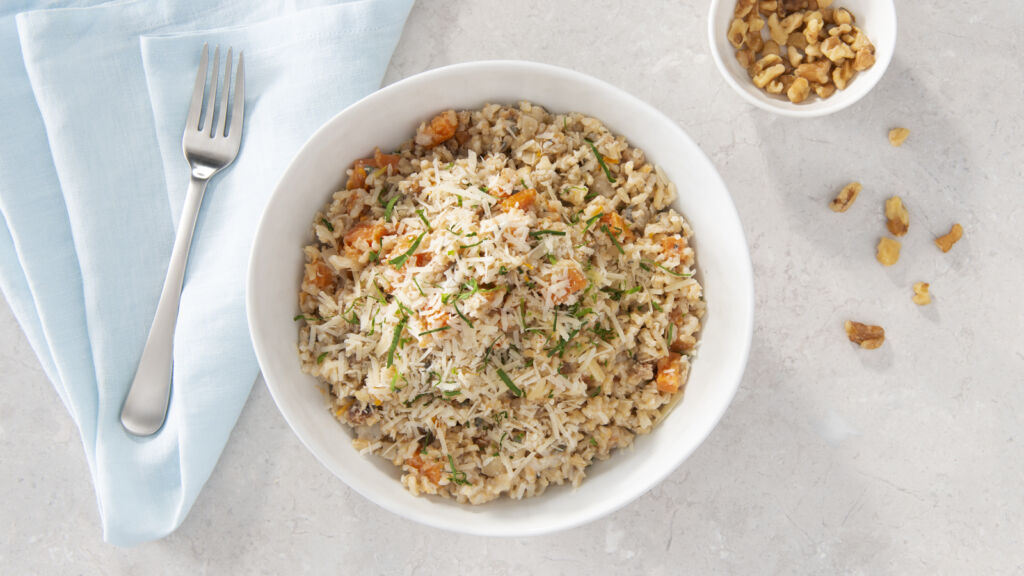 We've decided to make good use of this veggie in a classic Italian comfort food recipe like this savory Sweet Potato & Walnut Risotto made with fresh or frozen sweet potato, so you can even keep this one in your backpocket for a quick and easy weeknight dinner made in just 35 minutes!
Pumpkin
Part of the squash family too, and more than a pie flavor or a Jack-o'-lantern, pumpkins actually make for great hearty and nutrient-packed ingredients in all kinds of foods like breads and muffins, casseroles, or even chili like this one pot Vegetarian Pumpkin and Brown Rice Chili.
It's loaded with all of your favorite chili seasonings, beans, pumpkin and spicy jalapeño for a kick. Pick up one extra pumpkin this season to dice up for your next recipe whether it's a pumpkin pie or a comforting chili!
Brussels Sprouts
Another group of underestimated autumn vegetables are Brussels sprouts. Grown in the fall season, these small but power packed veggies are part of the leafy green family and high in antioxidants. They can be cooked in a variety of ways with simple seasonings or used in delicious baked casserole dishes like this Brussels Sprouts & Ham Rice Gratin.
Veggie Blend!
Not sure which vegetable to start with? Make a blend of all of them in a simple Autumn Vegetable and Rice Power Bowl filled with roasted butternut squash, sweet potatoes, beets and mixed greens served over aromatic Success® Jasmine Rice and topped with pumpkin seeds, goat cheese, lentils and fresh herbs drizzled in balsamic dressing.
Fall Sweet Recipes
Learning how to add fresh ingredients like vegetables and sweet fruits to your dishes is a great way to upgrade the flavor and texture or to try something different in your cooking method! Check out these delicious recipe ideas to get started.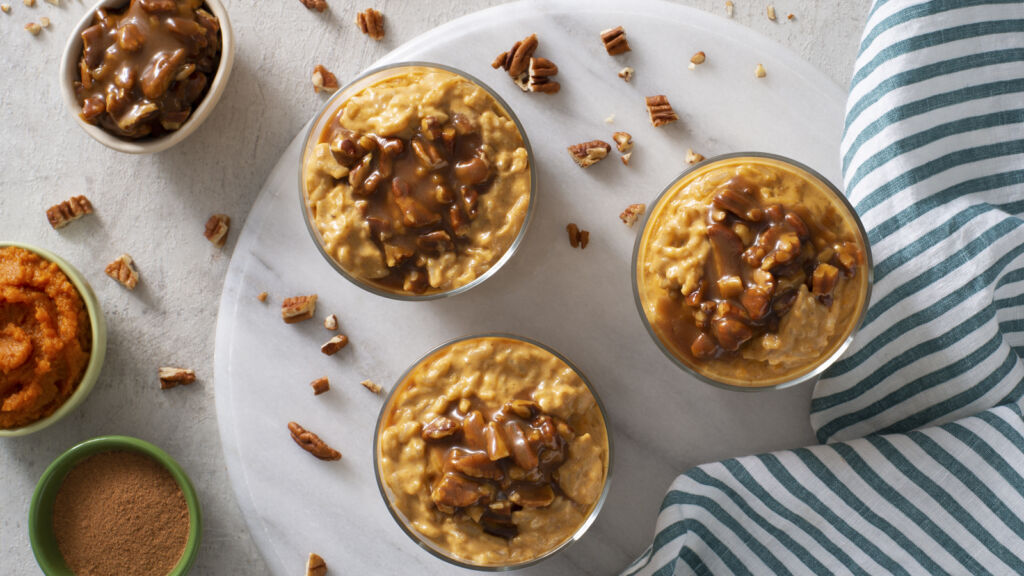 Apple Cinnamon
An iconic fall favorite, apples are naturally sweet and they contain fiber and water to keep you feeling full and satisfied! Whether you top freshly sliced apples with ground cinnamon or blend them together to make homemade applesauce, there is no denying that apples and cinnamon are a match made in heaven.
Enjoy it in classics like an oven-baked Rice Apple Crisp or try something new like this Apple Cinnamon Quinoa for a dish to rival your average breakfast oatmeal or afternoon snack. This tasty recipe is made with Success® Tri-Color Quinoa simmered in apple juice and topped with fresh apples, dried cranberries, brown sugar, maple syrup and cinnamon!
Sweet Treats
Baking or cooking with fruits and vegetables is actually quite simple, and not to mention, if you use them raw and grated or cooked and pureed, they help to make your recipe tasty and keep baked goods moist.
Try using fresh grated carrots in your next carrot cake or Carrot Quinoa Muffins or use a puree of pumpkin either fresh or canned to create a delicious Pecan Praline Pumpkin Rice Pudding with Success® White Rice. Just remember that if you're buying store-bought, canned or preserved, check your recipe carefully to see if you need pure pumpkin or apple without any added spices or if it requires a pie filling. This is to avoid an overly sweet, spiced or watery dish.
There are always simple ways to upgrade your meals using seasonal favorites or to simply incorporate a few more vegetables to take all of your dishes up a notch like in this vegan meatloaf recipe! Make sure to check out more of our recipe tips and meal ideas in The Kitchen.