Spice up your meals with some delicious DIY sauces. Whether you're a fan of spicy, tangy, or creamy flavors, there's a sauce for you. These flavorful condiments will add a burst of deliciousness to every bite and can be whipped up in no time to elevate your rice recipes to a whole new level. From bang bang sauce to sweet and sour, explore different sauce options to suit your palate. Let's dive in and explore the world of sauces for your rice.
Why Make Your Own Sauces?
Homemade Sauces are Convenient, Economical and Fresh
Because you can control the components that go into (and stay out of) them, homemade sauces can also be a more nutritious and less expensive alternative to store-bought sauces in addition to adding a ton of taste. Also, having a few homemade sauce recipes in your locker can make your life a whole lot easier by saving you a trip to the store!
More Plant-Based Foods Can Be Added
You may sneak more wholesome foods into your diet by using sauces. Adding fruit and vegetables for color and sweetness and blending nuts or seeds with water for creaminess.
Sauces Give Meals Versatility
DIY sauces have the ability to completely transform a meal. For instance, you could use the same batch of whole grains, legumes, fruit, and veggies every week and just substitute a different sauce each night of the week!
DIY Sauces are Easy to Make
Sauces can be made quickly and easily with a few simple materials, procedures, and kitchen tools. For a sauce recipe with five stages or less, a blender or mixing bowl is frequently all you need.
Tips for Creating Delicious Sauces for Your Rice
Get Motivated! It may be helpful to have a specific cuisine in mind e.g. Mexican or Italian so you can be mindful of the specific ingredients you may need and have an idea of a possible flavor profile.
Design the Flavor Base: Decide on whether you want sweet, tangy or spicy and go from there. 
Use a Blender: To help create rich and creamy sauces, a blender  is a handy tool to have. Blending ingredients such as cashews, sunflower seeds, chai seeds, flaxseed, tofu or rolled oats is a great way to achieve that desired creamy texture. 
Bring on the Herbs and Spices: Making your own sauces leaves you lots of room to bring out your inner chef and have fun experimenting! Don't be shy with herbs and spices.
Taste Test: Tasting your sauce often is the key to making it perfect.
Sauce Options for Popular Rice Dishes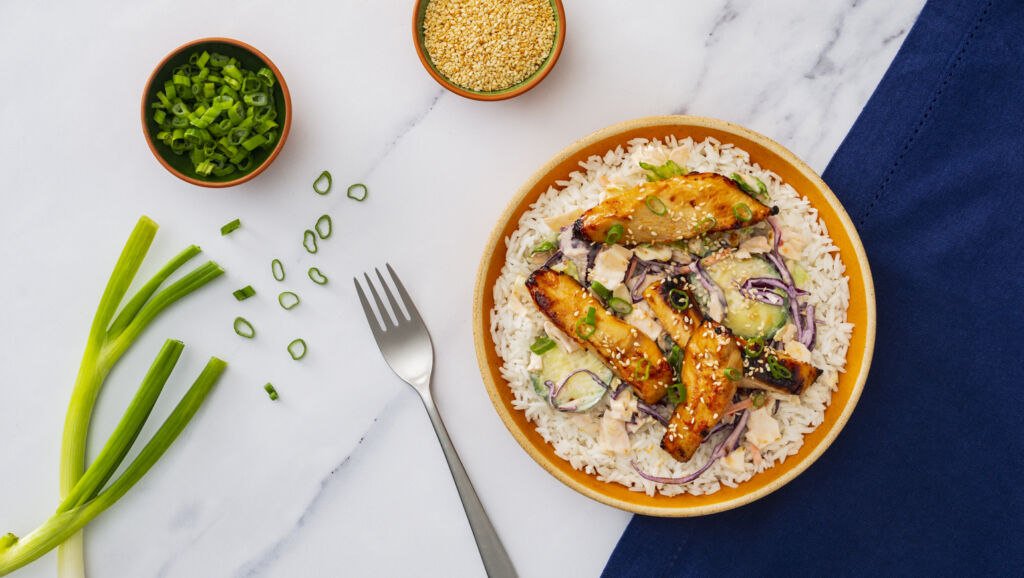 Bang Bang Sauce
Bang bang sauce is a mayo-based sauce with flavors like Thai sweet chili sauce and sriracha that is creamy, sweet, and spicy. Making this sauce is quick and easy and, best of all, it can be kept in the fridge for up to two weeks for storage, so grab it anytime you need something extra for your rice dishes. Try our Air-Fryer Bang Bang Chicken Tenders with Rice if you are in the mood for some bang bang sauce. This recipe is one that the whole family will love! With a total time of only 30 minutes, this dish will soon become a weeknight favorite.
Spicy Peanut Sauce
Cooking with spicy peanut sauce will be right up your alley if you are looking for a bold taste and a little bit of spice. The possibilities are endless with this rich and creamy sauce. Make sure you have some peanut butter, soy sauce, honey, rice vinegar, and sriracha sauce handy. If you are in the mood for a rice bowl then our Buddha Bowl with Spicy Peanut Sauce will be a perfect option. Spicy peanut sauce, tofu, broccoli and Success® White Rice combine to make an easy lunch or dinner you'll absolutely love!
Sriracha Sauce
This sauce is spicy and tangy with just a hint of sweetness. Usually the sauce is derived from five main ingredients such as: ground up red chile peppers, vinegar, garlic powder, salt, and sugar. If you're looking for a recipe to pair with your homemade sriracha, then why not try your hand at this Hawaiian Ahi Tuna Poke Bowl. This simple recipe is great for lunch or dinner since it features fresh tuna that has been marinated, crunchy vegetables, and a spicy vinaigrette. Take a bite out of the Pacific Islands in the comfort of your own home! If you are looking for a different protein, feel free to swap out the tuna for shrimp.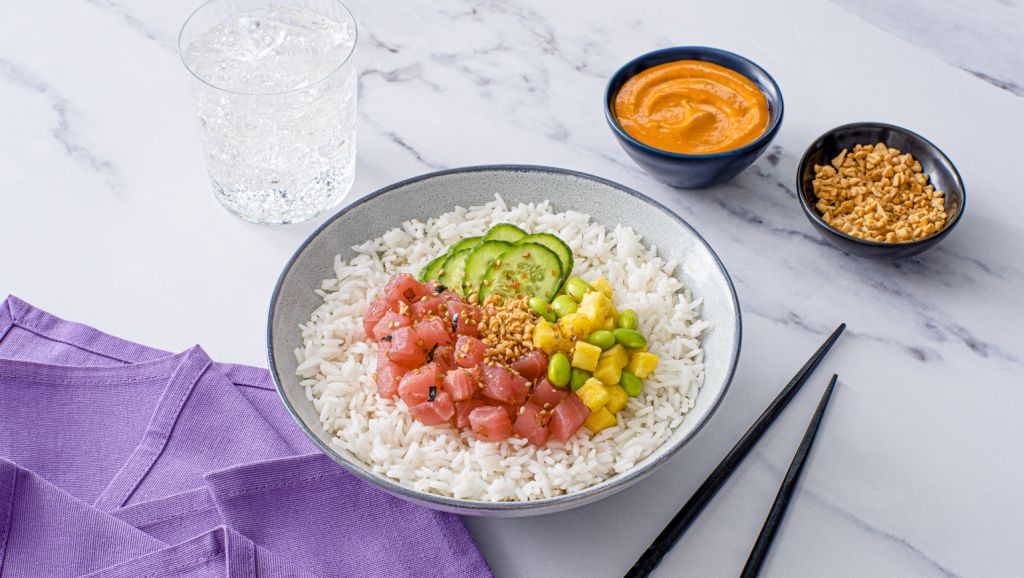 Marmalade Mustard Sauce
This sweet and savory sauce is made with only 3 simple ingredients. All you have to do is whisk marmalade, mustard, and vinegar together in a small saucepan. Heat over medium heat, stirring frequently, until hot; keep warm. Try it in our Coconut Shrimp over Rice with Marmalade-Mustard Sauce. This meal has crunch, sweet and salty ingredients, aromatic rice, and roasted cashews on top. It's straightforward, flavorful, and guaranteed to impress!
Sweet and Sour Sauce
This sauce is a timeless classic that is versatile and tasty, helping you re-invent any rice dish! Usually made with:
Sugar
Water
Vinegar
Soy Sauce
Cornstarch
Ketchup
Having a DIY sweet and sour sauce in your repertoire can be a game-changer for any weeknight meal. Try some in our Sweet and Sour Chicken and Rice recipe with our hassle-free Success® Rice, which makes any dish easier to put together.
Tahini Cesar Dressing
Made with lemon juice, tahini paste, olive oil, Dijon mustard, Worcestershire sauce, garlic, salt and pepper this delicious dressing is tangy and adds some kick, but it's not over the top on the spicy scale. Make some and see for yourself in this Chicken and Quinoa Power Bowl. This bowl is like a ceasar salad with an exciting twist! If you are looking for a vegetarian option, simply omit the chicken.
Unleash your creativity in the kitchen and try mixing and matching different ingredients to find your perfect flavor combination. Whether you prefer a tangy and spicy kick or a rich and creamy undertone, there's a perfect sauce out there for you. Check out our recipe page for more inspiring ideas from Success® Rice.