If you are thinking about changing your lifestyle and becoming vegan, keep the end goal in mind and take your time. You may not be able to go vegan overnight and that is perfectly fine. Such a big lifestyle change may take some time to get used to and also you will need time to determine what works best for you. There are various approaches that can be taken in phases. Luckily, Success® Rice has delicious Vegan recipes that will make that process smooth and enjoyable.
What Vegans Can/Cannot Eat
Being a vegan means adopting a plant-based diet and avoiding all foods that come from animals. Here are some examples of what you can and can't eat.
What You Can Eat:
Fruits and Vegetables
Legumes such as peas, beans, and lentils
Nuts and seeds
Breads, rice, and pasta
Dairy alternatives such as soymilk, coconut milk, and almond milk
Vegetable oils
What You Cannot Eat:
Beef, pork, lamb, and other red meat
Chicken, duck, and other poultry
Fish or shellfish such as crabs, clams, and mussels
Eggs
Cheese, butter
Milk, cream, ice cream, and other dairy products
Mayonnaise (because it includes egg yolks)
Honey
So now we know what a vegan diet involves, how do we get started?
Getting Started with Veganism
Making small changes to your everyday meals is one of the easiest ways to increase the amount of plant-based foods in your diet. You could start by removing meat or dairy one day a week and go from there. Or, you could try changing one meal at a time, having vegan breakfasts during your first week, adding a vegan lunch during week two and so on. You could even try changing one product at a time by swapping cow's milk for almond or soy milk or butter for coconut oil or margarine.
There's a plant-based alternative for almost every type of food you can think of, so you don't have to miss out on any of your favorite foods. If you can focus on making one change at a time the progression of veganism will seem quite natural.
Differences Between Vegetarianism and Veganism
Both veganism and vegetarianism are growing in popularity. However, some people may find the differences between these two diets a little confusing. To clarify: A vegetarian is a person who does not eat meat or fish whereas a vegan is somebody who does not eat meat and fish along with any products that are derived from animals.
So now we know a bit more about what being a vegan entails, here are some recipe ideas!
Classic Vegan Meals
If you are looking for plant based alternatives and have made the switch to Veganism, Success® Rice has several recipe choices that are sure to make the whole family happy. An easy to make rice bowl for a perfect midweek dinner idea is our: Curry Cauliflower Buddha Rice Bowl. This dish is a spin off of the classic Indian-style butter chicken (without the chicken). It is jam packed with spices that will have you dreaming of Indian cuisine.
From India to New Orleans, Success® Rice offers our Vegan Dirty Rice recipe. It is a Vegan take on a New Orleans favorite that includes red peppers, eggplant, vegetable broth and Cajun seasoning. This dish is packed with flavor and a little bit of heat. With its cajun kick and yummy veggies, it will soon be a family favorite.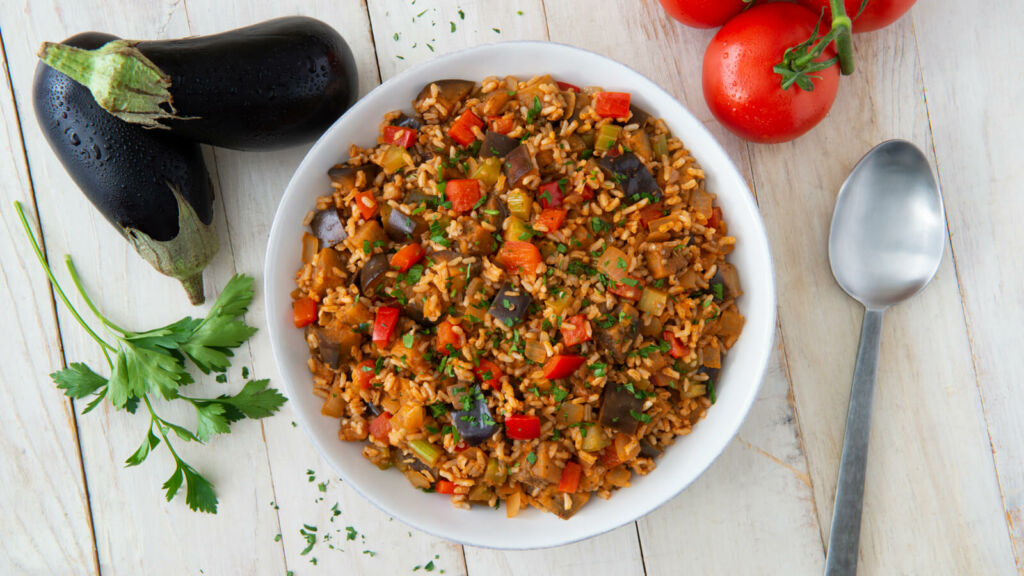 If you are craving a quinoa dish then look no further. This Roasted Golden Beet Carpaccio with Quinoa should hit the spot. Along with their added vibrant flavor and color, beets are so impressive and packed with nutrients! They make a very welcomed addition to any dish.
The heart wants what it wants and sometimes that is a good Tex-Mex meal. With our Vegan Enchiladas you can enjoy all the Tex-Mex flavors you love with rice, beans, corn, vegan cheese, spinach and red enchilada sauce.
Meat Substitutes
It is easy to recreate your favorite childhood recipes with a plant-based twist. Vegan meat substitutes have come a long way over the years and the options are endless.
Who doesn't love a good burger once in a while? This Black Bean Quinoa and Feta Burger made with quinoa, black beans, walnuts and feta will make any BBQ a success. This fun and flavorful meal is irresistible.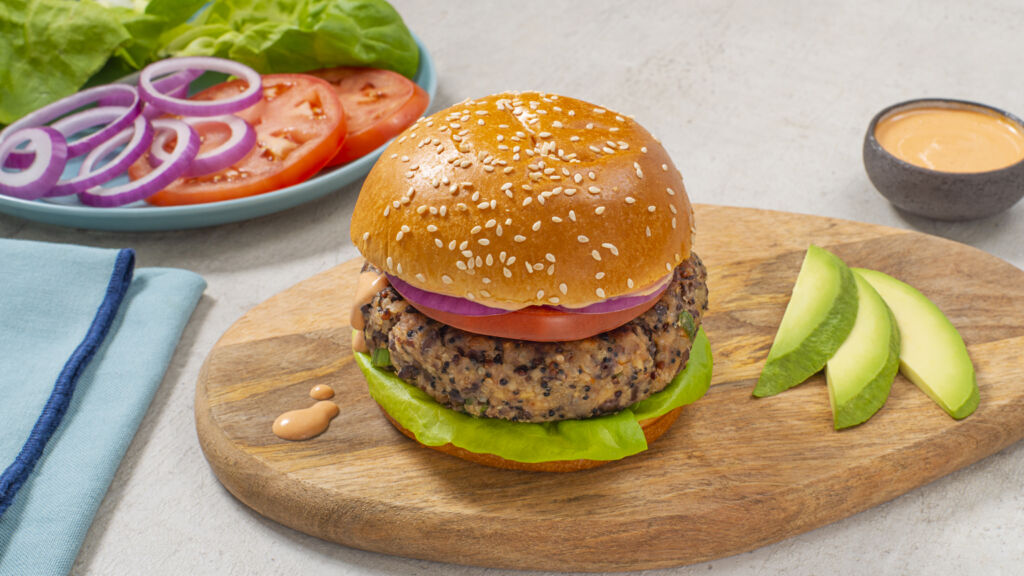 Another childhood favorite is surely your mother's meatloaf recipe. Just because you have decided to go vegan does not mean you still cannot enjoy a hearty meatloaf. One taste of our Vegan Brown Rice BBQ Meatloaf will instantly take you back to the good old days. Made with lentils, mushrooms and much more, this filling dish satisfies all of your 'meat lover' needs.
Tempeh is another delicious meatless option. Made from soybeans, it has a chewy texture and a dense consistency which makes it a great substitute for ground beef. An ideal recipe to give Tempeh a try is our: Jerk Tempeh Rice. This recipe uses an authentic Jamaican jerk seasoning to give the dish a strong, tangy taste. The dish is sweet and spicy with hints of cinnamon.
Stir-Fry Options
Rustle up a vegan stir-fry for a quick and easy dinner. Save your money on take-out and make an unforgettable meal at home. This Sesame Tofu Stir Fry is hassle free and includes peas, carrots and red bell peppers. In just 20 minutes you will have entered stir-fry heaven.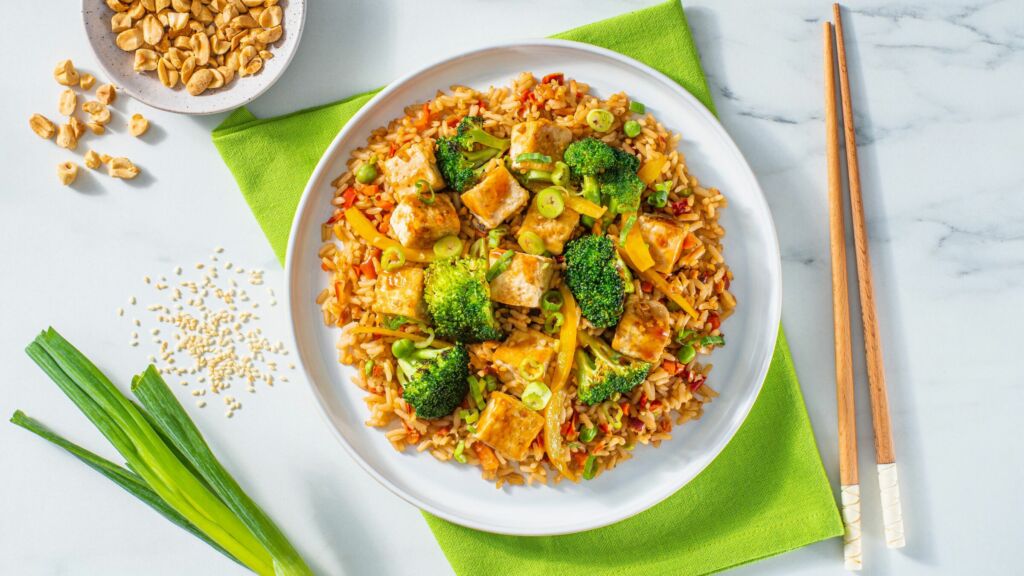 For an alternative stir-fry recipe try this Brussel Sprouts Stir Fry. It has a taste that the whole family will love. Topped with a zesty homemade dressing, this stir-fry is fresh and delightful.
Vegan Desserts
Once you have enjoyed one of the Success® Rice classic vegan recipes, do not forget to enjoy a mouthwatering dessert. These vegan desserts are here to prove that you don't need butter, eggs, or cream to create something that's sweet, rich, and decadent.
Once you stock your pantry with a few simple ingredients, making knockout vegan desserts couldn't be easier. Keep coconut oil on hand to take the place of butter, start reaching for ground flaxseed instead of eggs, and invest in a bottle of pure maple syrup. You might be surprised to find that you don't miss the dairy or eggs one bit.
Start out with these No Bake Peanut Butter Quinoa Cookies. Made with coconut, chopped peanuts and rolled oats, they are chewy nutty deliciousness. These no bake hassle free cookies only have a prep time of 20 minutes and are easy to make as well as store.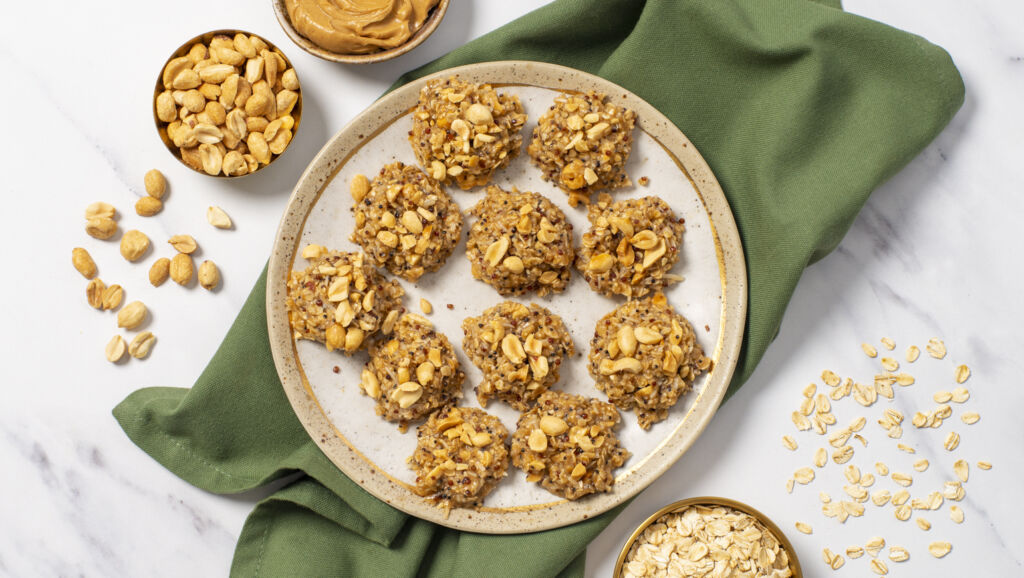 Do you have an Instant Pot and want to get creative with your desserts? Step out of the box and make this fun Instant Pot Strawberries and Cream Rice Pudding. This velvety rice pudding is sure to please your family and guests and they will soon be asking for seconds. Made with fresh strawberries and yummy spices like cinnamon and nutmeg it is quite literally the perfect dessert.
For more recipe inspiration stay tuned to Success® Rice.