Whether you prefer something sweet or savory, starting your morning with a hearty and wholesome meal can really make or break the success of your day. To do that, we've put together our favorite options using Success® Brown Rice or Tri-Color Quinoa with a combination of other tasty ingredients!
Using either of these whole grain options, your meal has added protein, fiber and nutrients that will keep you feeling full and fueled throughout the day. So, if you're looking for new ways you can improve your habits, meals or any goal, getting a tasty breakfast can make a huge difference. We've got everything from make-ahead options for your weekly meal plan all the way to brunch ideas to share.
Easy Make-Ahead Ideas
If you love the idea of getting a great breakfast in the morning, but you know life gets hectic, prepare your food ahead of time. It's no secret that organizing your meals and meal prepping make life a whole lot easier if you're trying to make changes with what you eat.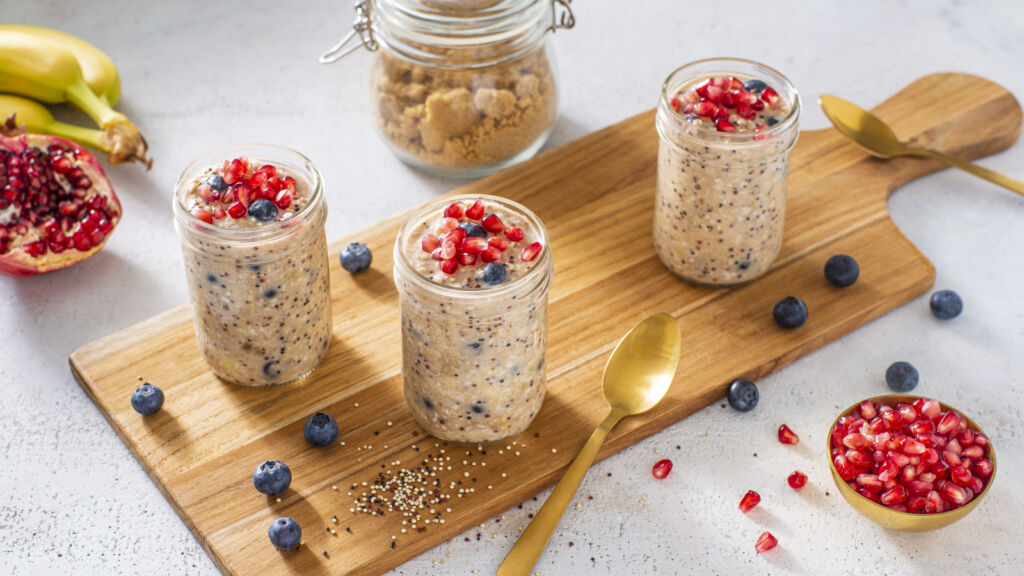 Using whole grain brown rice or quinoa, prepare any of these options below the night before or prepare them on Sunday morning to enjoy during the week ahead:
Warm and Indulgent
Prefer something warm and comforting first thing in the morning? Try a sweet breakfast porridge. This recipe for Creamy Coconut Tropical Quinoa is both dairy-free and Gluten Free. Prepare your quinoa using coconut milk and see our recipe video for just how simple it is:
Or, try a naturally sweetened option like this Almond and Date Breakfast Porridge with brown rice cooked in almond milk with dates and bananas! Top with berries, almonds and remaining dates.
Did you know? Whole grains like brown rice and quinoa can also be added to baked goods for extra protein! Try these indulgent Carrot Quinoa Muffins topped with your favorite cream cheese frosting and you'll see what we mean.
Ideas For Hosting Breakfast or Brunch
Looking for some incredible breakfast or brunch ideas to host people on a special occasion? The key is finding options that are easily shared! Use one or all of these recipe ideas made with filling brown rice and quinoa.
Swap out the bread in these whole grain Avocado "Toast" Rice Cakes and top with whatever you choose. We've given them a southwest twist with avocado, pico de gallo, feta cheese and cilantro, however you can get creative with salmon, everything bagel seasoning mix, cream cheese and more!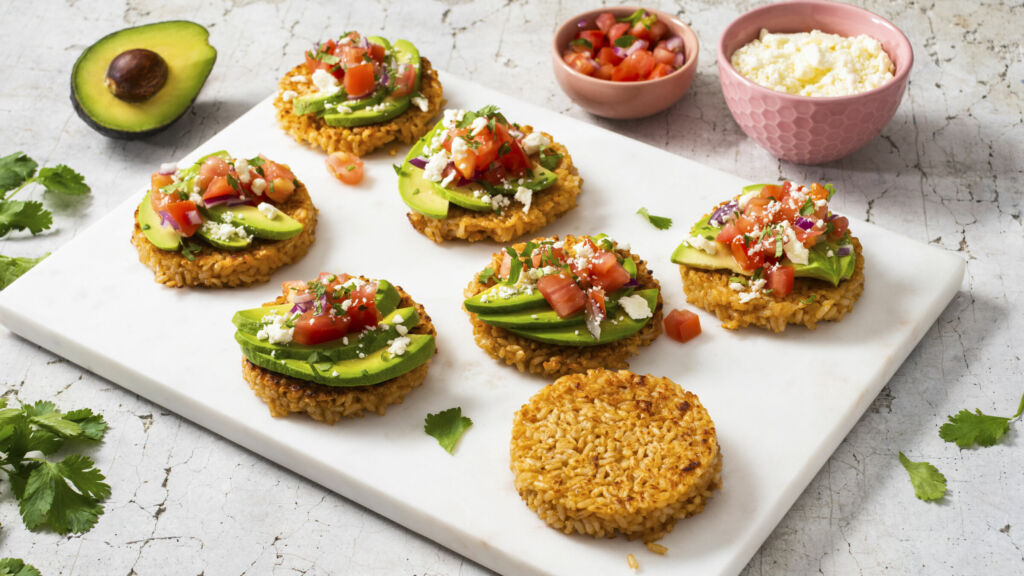 If you enjoy salmon, you'll love this twist on eggs benedict with these Quinoa Cakes topped with poached eggs, smoked salmon and a creole mustard hollandaise sauce. Need help making poached eggs? Learn how with this recipe for a savory Arugula, Walnut and Pesto Rice Bowl with a hearty brown rice base.
Serving Tips: Find even more serving ideas for a buffet or family-style meal in our guide to hosting a brunch.
Egg-citing Recipes
If you simply cannot skip out on eggs in the morning, we've got three egg focused recipe ideas you can prepare anytime.
Add a Green Shakshuka with Quinoa and eggs to your breakfast or brunch menu to share.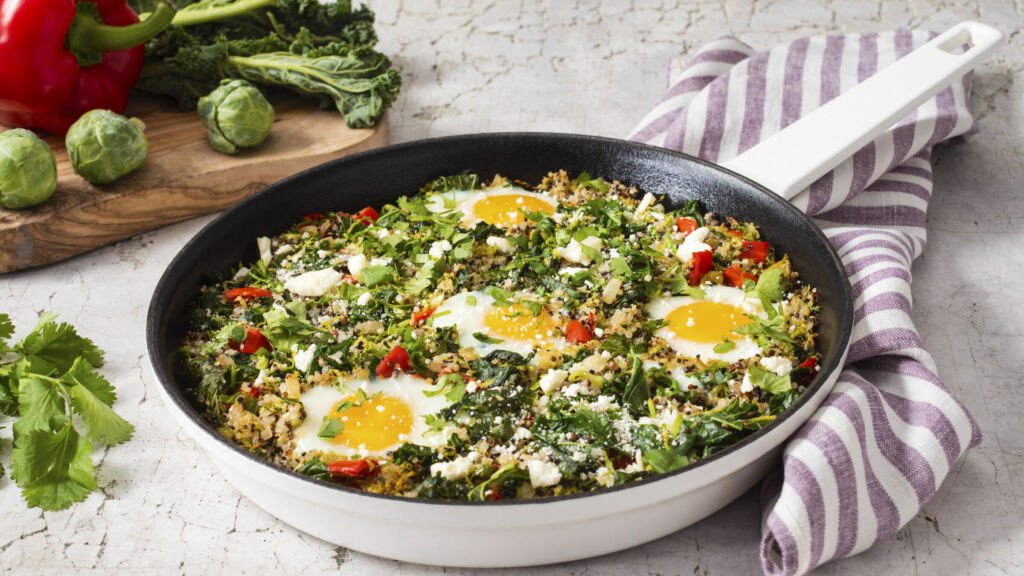 Or, if you prefer something you can prep ahead of time and warm up when you need it, use one of these hearty options like Sausage, Egg and Cheese Muffins or Ham, Cheese and Zucchini Breakfast Cups with a protein punch of tri-color quinoa.
Dinner for Breakfast
Instead of enjoying breakfast for dinner, why not enjoy a dinner for breakfast? Turn your stir fry into a morning Quick Vegetable Fried Rice.
Trendy Tip: To make this into a trendy TikTok-style golden rice recipe, first separate your egg whites and yolks, then combine the uncooked egg yolks with the cooked brown rice and follow recipe instructions as directed cooking the egg whites in step 3.
By whipping up these recipe ideas with Success® Rice and Quinoa, you'll be preparing an incredible meal to start your day on the right foot. Take a look at all kinds of meal options to enjoy throughout the day using the options found in The Kitchen section. Craving seafood? Check out how do you make shrimp fried rice.