Fish and other seafood varieties might often seem hard to cook just right or are reserved for special occasions, but with so many tasty options, there are countless ways to enjoy homemade and flavorful seafood dishes.
Step out of your fish taco comfort zone, and discover under the sea flavors by trying your hand at these different global cuisine recipe variations. If it feels a little intimidating, start off with something simple like these classic Maryland Crab Cakes. And, preparing these international inspired flavors, you can go on a culinary trip every weekend from the comfort of your kitchen to experience new and tasty ways to cook with seafood in your meals. Which destination will be you visiting first?
1. Mediterranean Flavors
Right alongside fresh fruits and vegetables, and olive oil, seafood is a large part of the foundation of Mediterranean cuisine. While staple ingredients vary from one country to the next, a good seafood dish is always on the table at least twice a week – try these delicious plates using Mediterranean ingredients and Success® Tri-Color Quinoa.
Paella with a Twist
It doesn't get any more Mediterranean than a delicious Spanish paella. As this dish is commonly prepared close to the sea, it's ideal for using a wide array of seafood options. Keep it simple by adding in shrimp or level up with mussels, calamari or clams.
No matter what skill level you have in the kitchen, our Grilled Quinoa Paella recipe will show you how easy it is to enjoy this classic Spanish dish right at home. Make it a weekend meal or impress your friends and family at your next get-together.
Video Recipe: Paella with Quinoa
Easy Tomato Panzanella Salad
For a Tuscan-style meal anytime of the week, try this Italian Salmon Panzanella made with freshly sliced tomatoes, herbs, bread and salmon all drizzled in a homemade vinaigrette. Although the recipe calls for cooked fresh salmon, feel free to swap in for more convenient ingredients like canned salmon or tuna.
2. Taste of India
Bring the flavors and aromas of your favorite Indian restaurant to your kitchen. Stock up on a few Indian essential spices and visit your local seafood market to take your taste buds on an adventure to India! For a more authentic experience, try these recipes with Success® Basmati Rice, an aromatic and premium rice variety grown in India and Pakistan.
As Indian dishes tend to have strong and rich curry flavors, this easy Spicy Indian Shrimp is our go-to. Enjoy how the spices blend with fresh tomatoes, cilantro and shrimp, and scoop up as much sauce as needed over a bed of fluffy basmati rice.
For a lighter option, we recommend trying our Curried Baked Fish. This recipe is great with any mild white-fleshed fish fillets like tilapia, flounder, trout or catfish. Note that fresh fish is best eaten on the very same day – season and freeze if you're saving this recipe for a different day.
3. Asian Seafood Ideas
From fried rice to delicious fish rice bowls, Asian-inspired flavors are great in many ways – even using seafood! Keep these recipes on hand when you're craving something filled with umami flavor.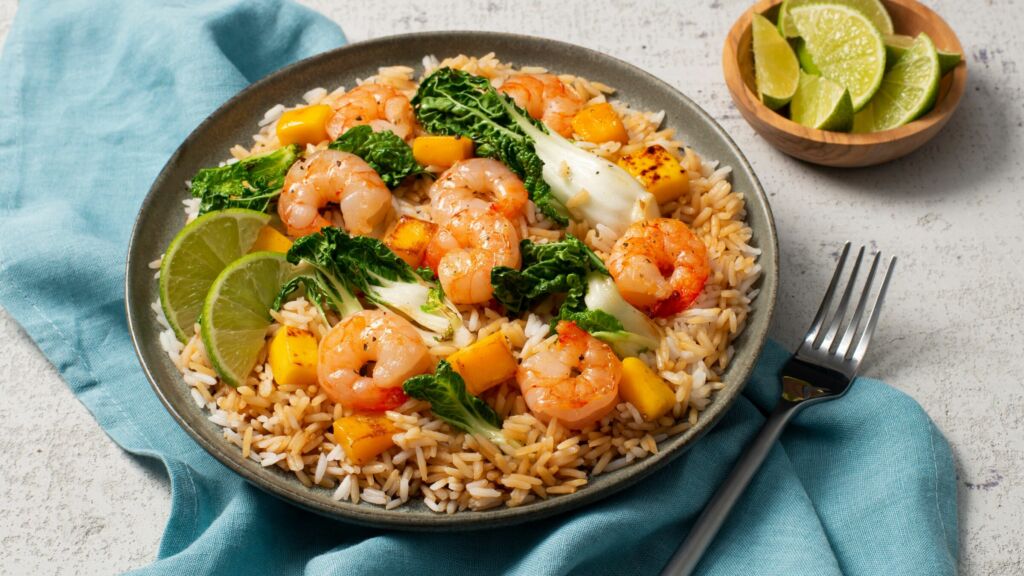 Salmon Power Bowl
For this tasty recipe, the salmon is marinated with hoisin sauce and roasted in the oven until flaky. Toss with edamame, sesame dressing, shredded red cabbage and pickled ginger for an incredible salmon power bowl full of flavor.
If you prefer to cook your salmon in a skillet, make sure to keep the skin on the fillet. One of the keys to cooking this fish to the desired tenderness is to cook it evenly, and with the skin on to prevent burning or dried-out meat leading to more delicious results.
Zesty Fried Rice
Take your average fried rice meal up a notch by sautéing fresh shrimp with authentic Asian ingredients like bok choy and soy sauce in this Lime Ginger Shrimp Fried Rice. For a fun touch, add mango to the mixture and a splash of lemon juice to really bring out all of the flavors. Enjoying seafood was never as tasty as with these recipes!
4. Thai Experience
Bring the Thai food experience to your kitchen with simple ingredients like Jasmine Rice or coconut milk.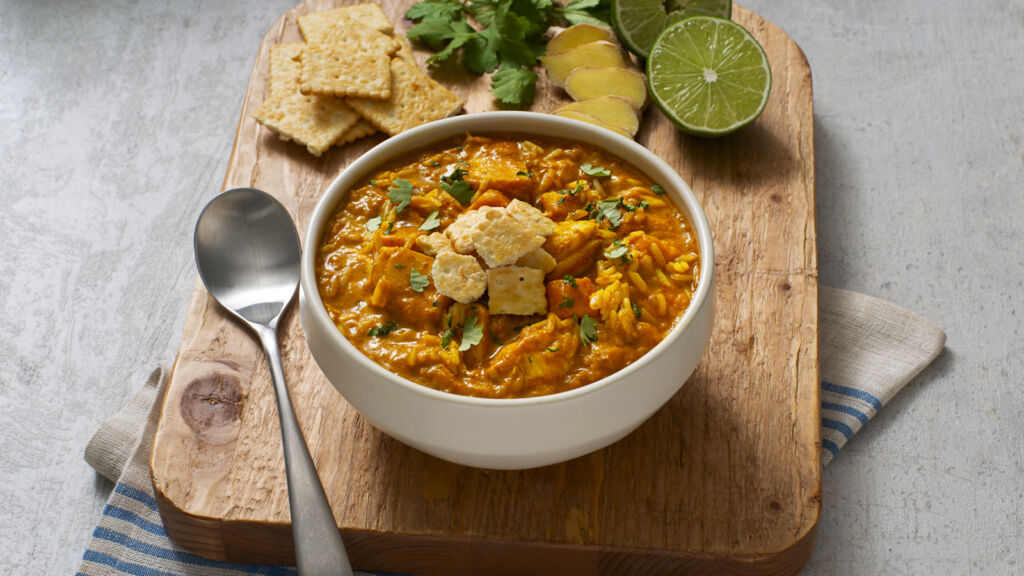 If you're a Thai food lover this Coconut Cod and Rice Chowder is just for you. With a base of aromatic Success® Jasmine Rice, spicy red curry paste, rich coconut milk and cod fillets, you'll be enjoying flavor in every spoonful.
For a more convenient and perfect on-the-go lunch, these Thai Style Wraps with shrimp, are our top-pick ready to enjoy in just 3 simple steps.
5. Creole Flair
Treat yourself to New Orleans style flavors all year round, not just around Mardi Gras! With a savory mixture of seasonings, Creole and Cajun flavors are the perfect match for seafood ingredients.
Cozy up to a warm stew for lunch by whipping up this comforting shrimp and chorizo New Orleans Gumbo with Cajun seasonings, served over a bed of Success® White Rice.
Switch up your average egg breakfast with our delicious take on classic Eggs Benedict: Creole Salmon Benedicts with Quinoa Cakes. After all, who said delicious flavor only had to be enjoyed for lunch or dinner.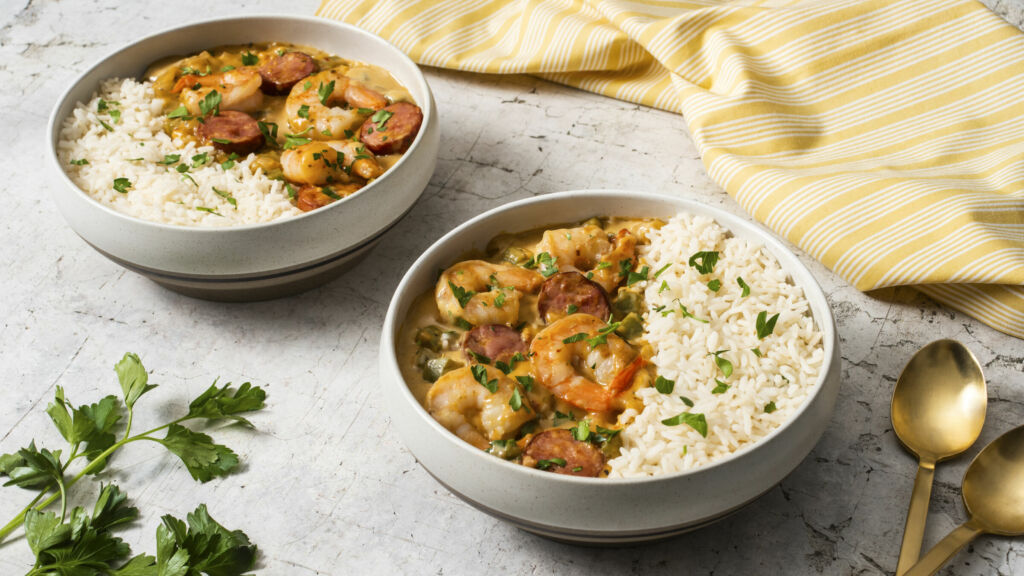 6. Latin Fiesta
No global culinary tour would be complete without passing through Latin American cuisine. Eating shrimp will never get boring again with these easy to make recipes packed with fiesta flavors.
Our first stop is for some chimichurri, a traditional Argentinean zesty and tangy oil and herb sauce that will bring incredible flavors and enhance your meals. Ready to make your own? Try it yourself in this Chimichurri Shrimp and Rice dish.
Rice and beans is also one of the most traditional ingredient combinations in Hispanic food, with the addition of white fish or shrimp, it's the perfect mix for a successful meal. Try it as a taco filling in these Cuban Shrimp Rice Tacos.
Enjoying meals with seafood doesn't have to be complicated or time consuming. With a bit of recipe inspiration, it's easier to explore new flavors in the kitchen, even with ingredients you've never used before like in one of our vegan meatloaf recipes! Trust Success® Rice and Quinoa to help you on your cooking journey and enjoy effortlessly elevated meals every time.