When you need a simple meal with very little cleanup that can feed a crowd or make your weekly meal prep easier, casserole dishes are the ultimate hassle-free recipe idea. Especially when made with hearty ingredients like rice or quinoa, it's the perfect way to get an entire meal with grains, veggies and protein onto your plate without spending hours over the stove. 
So, whether you're a beginner, wanting to try something new or just looking to spruce up your average casserole dish, we've got tips and tricks to help you out for guaranteed success every time. 
Tips To Upgrade Your Casserole Dishes
Follow these 5 tips to making your oven-baked meals the best yet! 
1. Enhance with Grains
Casserole dishes come in all shapes and sizes, but what makes them truly special is their ability to make an entire meal in one dish! And, what better way to make your meals more filling than to add rice or quinoa! 
Try it for yourself in this Chicken and Broccoli Casserole made with protein-packed Success® Tri-Color Quinoa which is not only fiber dense, but also contains all 9 essential amino acids. And, if you're new to using quinoa, make sure to check out our quinoa 101 guide to find out what makes our blend of not just one but three quinoas an essential pantry staple!
Chicken and Rice Casserole with Spinach and Mushrooms
If you've got rice on hand, try a casserole dish with whole grain Success® Brown Rice, vegetables and chicken for a filling meal like this Chicken and Rice Casserole with Spinach and Mushrooms. Like we said, entire meals tossed into one dish all ready in under 30 minutes! 
2. Use Toppings 
Another great way to make your casserole better than average is to add on toppings within the last 5 minutes of baking in the oven including cheese (Parmesan, Cheddar or Mozzarella), breadcrumbs, french fried onions, toasted nuts or other ingredients of choice! 
This Home-Baked Cheesy Chicken and Broccoli Rice Casserole is topped with a crunchy finish of breadcrumbs to contrast the rich and creamy mixture of rice, cheese and tender chicken and broccoli. But, you don't have to use breadcrumbs to make your casserole above average. This Easy Chicken and Rice Casserole Bake is topped with sliced chicken coated in salt, pepper and paprika for an added touch of flavor!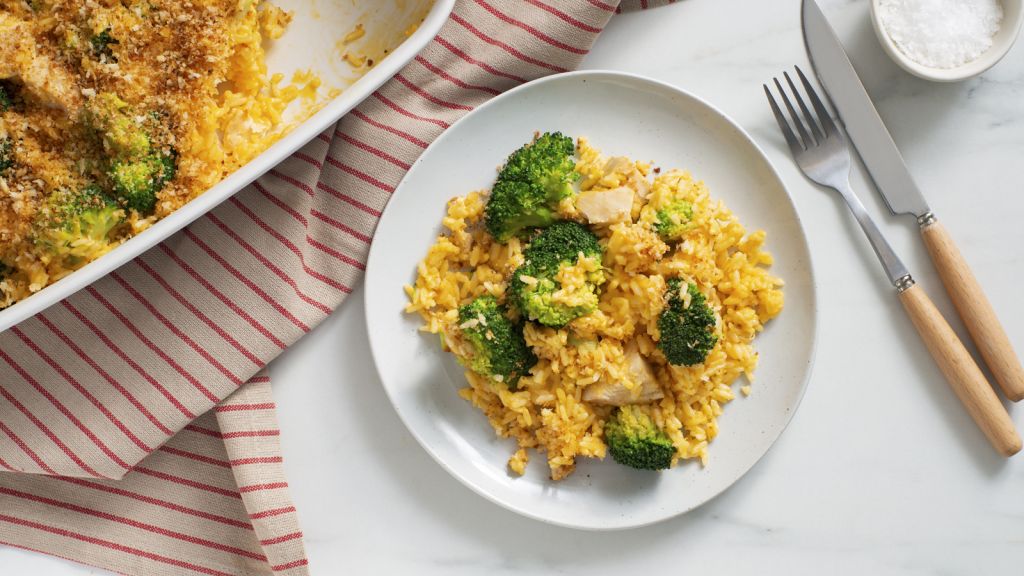 3. Use Precooked Vegetables or Repurpose Leftovers 
Saving time in the kitchen is all about cooking smarter, and one way to do that is by using precooked vegetables or repurposing any leftovers you have on hand. If the vegetables, rice and protein are added precooked or partially cooked, it helps to cut down on the oven cooking time! And, not to mention, using leftovers helps to cut down on unnecessary food waste. 
If you need some help using leftovers, start simple by adding vegetables into a recipe like this Cheesy Chicken and Rice Casserole  which calls for 2 cups of vegetables of choice along with rice and chicken. If using leftover ingredients, simply adjust the cook time until everything is heated through and the cheese is melted on top! 
Choose any of the following options or another favorite:
Zucchini/squash
Green beans 
Peas
Carrots
Celery
Bell pepper
Broccoli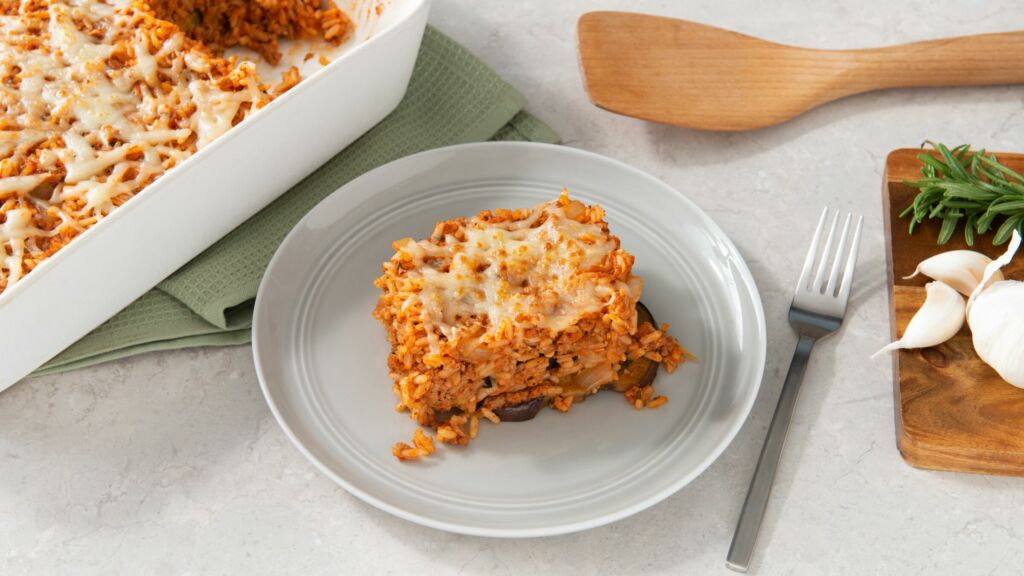 For a few more tasty options, try this Mediterranean Eggplant, Turkey and Rice Casserole made using precooked white rice and sautéed eggplant for a delicious lasagna-like layered casserole baked to perfection after just about 20 minutes in the oven. Or, try it out with a classic like this Quinoa Green Bean Casserole using slightly blanched green beans and sautéed onions and mushrooms along with cooked quinoa for added hearty texture and flavor that all heats together in the oven! 
4. Hide Vegetables For Added Nutrients 
If you have any picky eaters at home or you're trying to incorporate more vegetables into your diet, casseroles are the perfect dish to mask more neutral flavored vegetables. 
Start with delicious and familiar flavors like this Hidden Spinach Quinoa Sloppy Joe Casserole made using a tomato-based sauce with chili powder, ground beef and a combination of rice and quinoa with baby spinach hidden in each bite. Another favorite that is sure to win your family over is this Vegan Brown Rice BBQ Meatloaf. Although not technically a casserole, it is an oven-baked classic that is perfect for filling with plant-based ingredients like beans and rice, nuts, oats and much more topped with barbecue sauce and loaded with umami flavor that your family will be asking for again and again. And, as a bonus, it's completely meat free to add to your meatless Monday menu.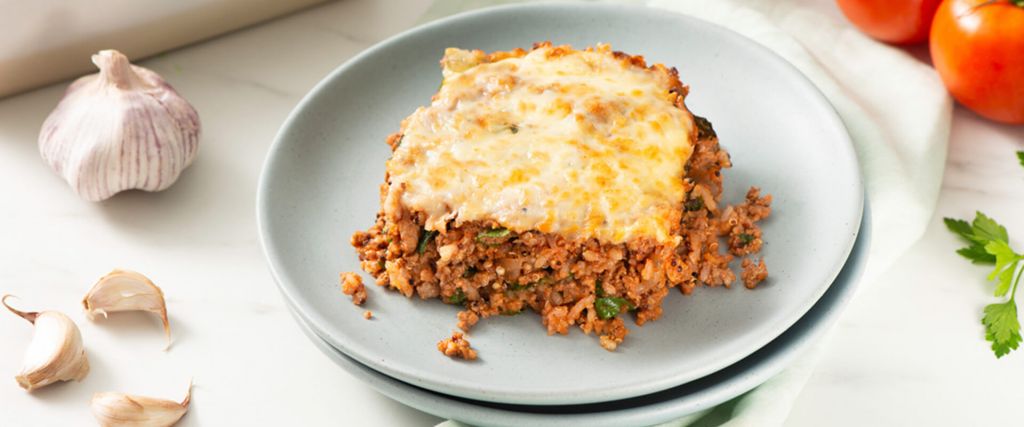 5. Have Fun!
Last but certainly not least, have fun with your dishes! If you often eat chicken and rice, spice things up and make it a Mexican night with Green Chile Chicken Enchiladas or make it a homemade pizza night with mini casserole Quinoa Pizza Bites using muffin tins instead of a casserole dish! 
You don't have to enjoy mini versions just for dinner, switch things up for breakfast and make mini versions of your favorite egg casserole. These Sausage, Egg and Cheese Muffins are great for making a fun morning meal or even for simple meal prep throughout the week. 
You've got success in the bag when you follow these tips and tricks to making mealtime easier and tastier! For more recipe ideas and tips, make sure to meet us in The Kitchen.