When the temperatures spike, the best remedy is something cold to cool you down. Reaching for ice cold water might be refreshing, but when it comes to mealtime, sometimes the last thing you want is a complex meal served warm. And, while enjoying simple BBQ side dishes and grilled foods is fun, it might not be possible to cook outdoors every day.
To set you up for success during the warmer months of the year, we've put together five tips you can put into use with recipe ideas to keep the temperature down at home and combat the heat. If your goal is to turn the oven and stove on as little as possible, the key is convenient Boil-in-Bag Rice and Quinoa, which ensures that lighter meals can still be filling, and each variety cooks up in just 10 minutes!
So, if you're ready to make hassle-free meals, let's dig into these five tips and meal ideas!
Notes For Cooking Less
Like we said, we're using our quick, no measure Boil-in-Bag Rice and Quinoa, but if you want to spend even less time in the kitchen and not turn on the oven or stove daily, jot down these notes to prepare ingredients or meals ahead of time.
Batch Cook: To avoid too much time over the stove, make a large batch of your favorite rice or quinoa variety, vegetables or proteins and save to make light meals throughout the week!
Meal Prep: Just like batch cooking, if you want to spend less time in the kitchen when it's hot, make all of your meals on Sunday morning for the week and store in portioned containers so all you have to do is reheat. Or, choose which meals you want to prepare in advance such as only lunch or only dinner.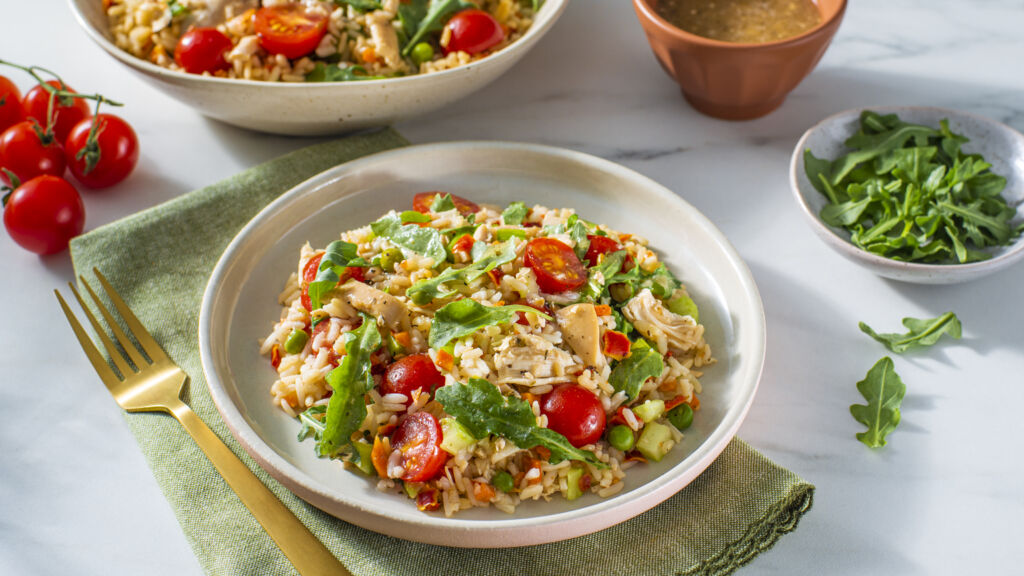 5 Tips and Meal Ideas to Keep Cool
1. Enjoy Water-Rich Foods
With rising temperatures, you tend to lose fluid throughout the day. So stocking up on water-rich foods like fruits and vegetables is a simple way to stay hydrated without always having to carry a water bottle with you.
Some of our favorite hydrating fruits and vegetables include: cantaloupe, watermelon, strawberries, pineapples, oranges and mangos as well as cucumber, lettuce, golden beets, lemon, lime, zucchini, celery and tomatoes.
It's no coincidence these cooling fruits and veggies just happen to have their peak season in the warmer months of the year.
Enjoy these veggie loaded meals: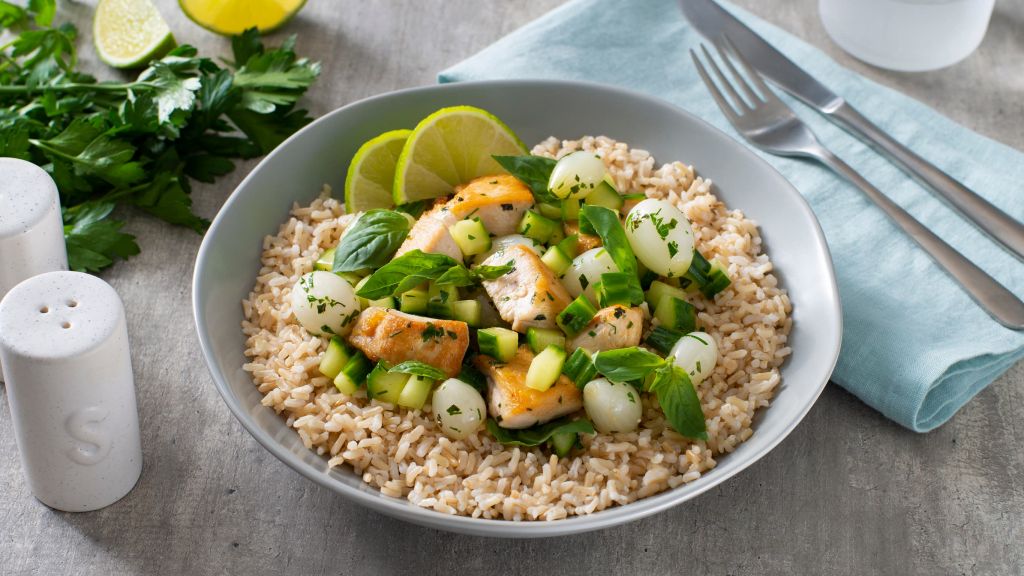 Enjoy these fruit filled meals:
2. Eat Hearty Salads and Grain Bowls
Lighter meals are key to staying cool, but if you're worried about feeling full, Success® Rice has you covered. Using your grain of choice, from traditional options like white or brown rice to aromatic jasmine or even protein-packed quinoa, it can be simple to add a hearty touch to a veggie-packed salad.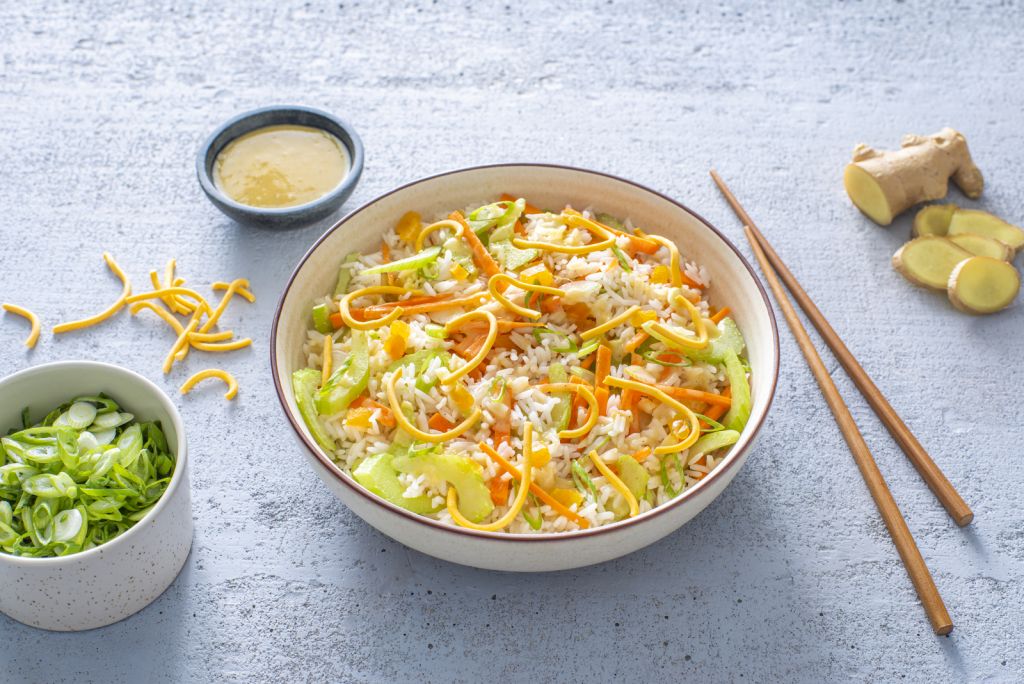 Starting with a flavorful Asian Rice Salad made with fragrant Success® Jasmine Rice, all you need to do is cook your rice and toss together with additional water-rich vegetables like carrots, celery, apricots and green onions drizzled with a store-bought dressing. Make a refreshing meal that serves four people in under 20 minutes!
If you like the sound of a refreshing and simple dish, take a look at these 10 Drool-Worthy Salad Recipes!
3. Incorporate Hummus
Just like eating water-rich fruits and vegetables, there are certain versatile and filling foods that are hydrating, like hummus.
Perfect for preparing ahead of time and storing for a simple and refreshing meal any time of day, this Creamy Golden Beet Hummus made with golden beets, Greek yogurt and Tri-Color Quinoa.
Enjoy as a snack with veggie sticks, or make it a meal with hard boiled eggs, cooked rotisserie chicken, pita bread and whatever you choose. It can also double as an ingredient for a hearty summer salad like this Mediterranean Rice Bowl with Zucchini Fritters which uses a base of whole grain Success® Brown Rice.
4. Beef Up Meals With Lean Protein
One way to fill up without feeling heavy afterward is to enjoy lighter and more lean proteins like fish or vegetarian alternatives that are high in protein like quinoa, jackfruit or tofu.
Fish
Salmon Panzanella: A light blend of tomatoes with fresh flaky salmon, homemade croutons, herbs and Tri-Color Quinoa.
Quinoa Salmon Cakes: Fresh salmon is combined with quinoa, mayo, eggs and salt for light patties alongside a mango salsa.
White Fish Tacos: This lighter take on the classic version uses poached white fish layered with corn, avocado and pickled red onions with an adobo sour cream sauce.
Canned Tuna and Jasmine Rice Salad: For a light and simple meal, use canned fish like tuna or salmon along with lettuce, red onion, olives and your favorite vinaigrette.
For more seasfood options try our how to make shrimp fried rice.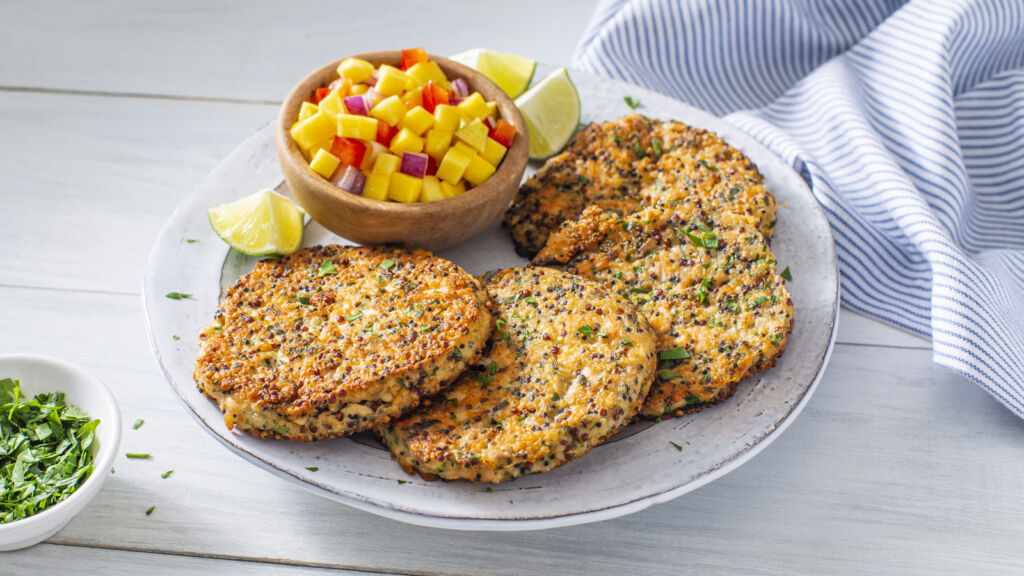 Vegetarian/Vegan Alternatives
Jackfruit Burrito Bowl: This vegan meal is loaded with plant-based protein from rice and beans and jackfruit in a barbecue sauce.
Sesame Tofu Stir Fry: This quick stir fry is a meat-free meal made with tofu, vegetables and white rice you can make ahead of time and have ready for a meal in the evening!
5. Make Ice Cream
Summer and ice cream just seem to work perfectly together. Make a large batch of this no-churn Frozen Coconut Rice Pudding Ice Cream to have whenever the craving hits!
If you love the sound of that, but are looking for something dairy-free? These almond milk Overnight Quinoa Oats are the next best thing made with fresh fruit and bananas!
Don't let the summer heat stop you from enjoying delicious meals! Let Success® Rice help you get the satisfying dishes you crave even when the temperature rises. Did you make any of these? Let us know on Instagram or Facebook and #ShareYourSuccess.