Summertime is a great time of year for sunshine, vacation and enjoying some quality time outdoors with friends and family. But, it also brings summer heat which often leaves us reaching for more refreshing foods.
Summer salads are the perfect solution, both fresh and quick to make! And whether you're an experienced salad maker or you're not sure how to start, we've got a few tips and recipe ideas for all of your next weekly meals or BBQ cookout and picnic sides.
How to Make Filling and Delicious Summer Salads
Summer salads don't have to consist solely of store-bought bag lettuce and little else. With the right ingredients, salads can be exciting, filling and satisfying. We suggest you do two things to give your dish a bit of oomph and flavor:
1. Make it hearty
Add in grains like rice or protein-packed quinoa. Both are naturally Gluten Free and will give your salad just the hearty touch you need to keep you satisfied. You can also cook in advance, chill and store in the fridge until ready to mix into your salad. For even more flavor, infuse your grains when cooking with broth, spices or sweet juice.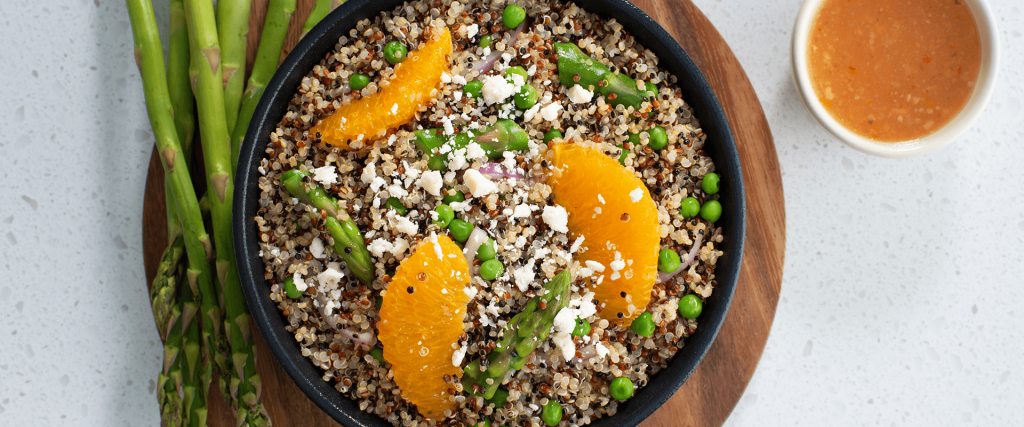 2. Dress it up
Your salad will also need a delicious and flavorful dressing, whether it be homemade or store-bought for additional flavor. Go beyond olive oil and vinegar to give your salad a really special taste.
Pro Tip: Make a double or triple batch of your favorite homemade dressing to keep on hand in the fridge for all of your weekly salads so all you need to do is shake or stir it up and pour it on! If you're taking your salad on the go, remember to keep in a separate, sealed container until ready to enjoy.
Summer Salad Tips
Now onto the good stuff! We've compiled our favorite tips so you can learn how to mix and match salad ingredients to make your own salads!
1. Use Fresh Summer Vegetables
Luckily, the summer is also synonymous with growing fresh vegetables at home or going to buy them at fresh farmer's markets. Put those veggies to good use and try out these recipes!
Garden Rice Salad
This Garden Rice Salad is made with fresh cucumber, cherry tomatoes and sliced green onion mixed with whole grain brown rice, and drizzled with an irresistible homemade Asian-inspired vinaigrette. So, you can see why this salad can leave an impression.
Stuffed Garden Tomatoes
If you're looking for recipes to use up those tomatoes, try out these Garden Stuffed Tomatoes filled with a salad of white rice, mushrooms, zucchini, carrots, and green onions and a simple homemade dressing for a refreshing bite.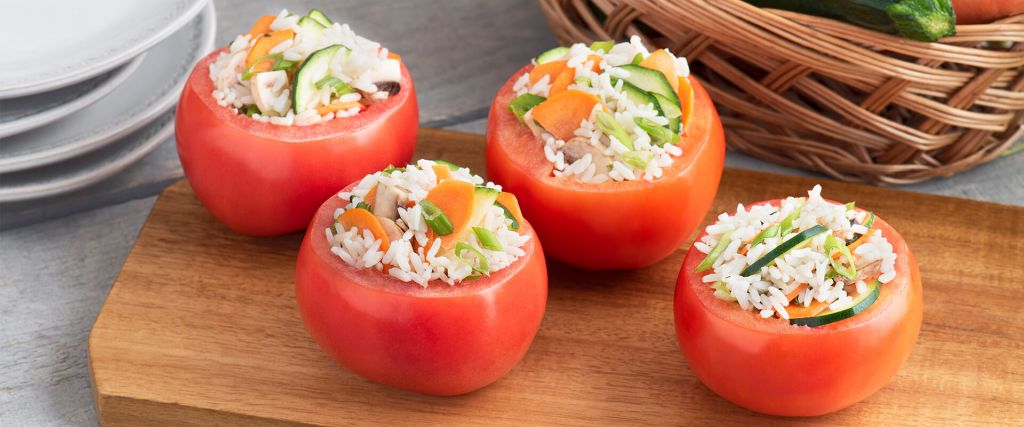 Not the average salad, right? Stuffed vegetables count as salads too, and are a fun way to get your daily veggies while enjoying a light meal.
Sweet Corn and Rice Salad
Sweet corn and summer go hand in hand and this Corn and Rice Salad does not disappoint! Made with a refreshing mix of corn, freshly chopped basil, tomatoes, red and green onion and fragrant basmati rice topped in a zesty vinaigrette!
2. Top with Extra Protein
Adding protein to your salads is a surefire way to make sure you stay energized and full while enjoying a lighter meal. Although quinoa contains 8 grams of protein per cup used, adding on extra protein will give your dish flavor as well as additional benefits! There are many options for which proteins to add that can even include plant-based options:
Chicken: One of the easiest go-to proteins for salads is chicken because of the many ways you can season it and slice it. For a quick meal option, you can even use tender rotisserie chicken. It also complements a wide variety of vegetables and dressings like you might find in this delicious Chicken, Quinoa and Green Bean Salad topped with a homemade olive gremolata.
Blue Fish: Another simple addition are blue fish such as canned tuna or salmon. Aside from packing protein, they have healthy omega-3 fats, vitamins and minerals. Make sure to try out this Tuscan Salmon Panzanella salad for a taste of Italy in summer with cherry tomatoes, freshly chopped basil and Ciabatta.
Beans: Of course, protein can also be found in many plant-based products like beans. Make sure to try this Quinoa Burrito Salad Bowl for a vegetarian Taco Tuesday meal to enjoy topped with all of your favorites like crisp lettuce, red cabbage, black beans, sweet corn, pico de gallo, guacamole and cheese!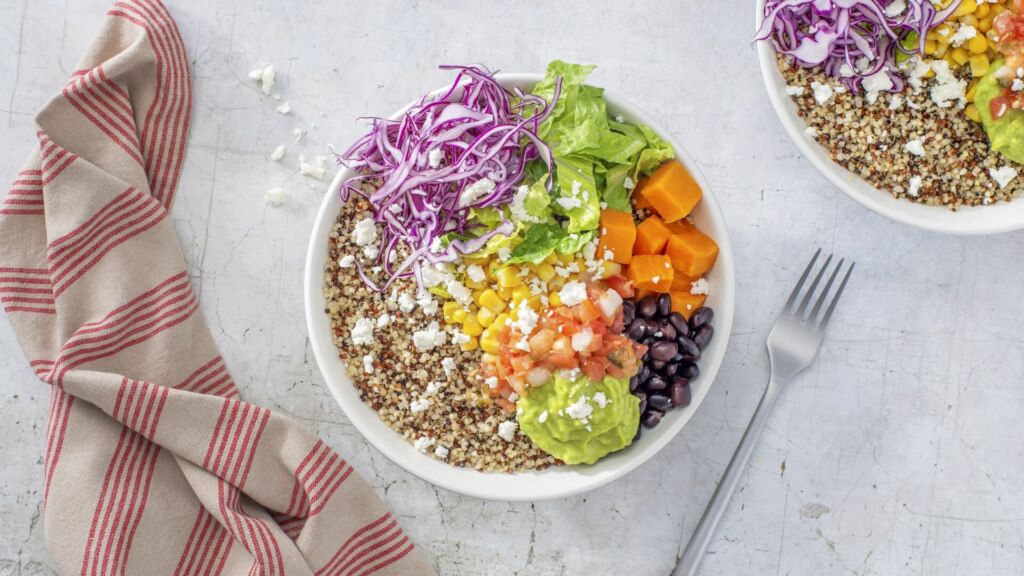 3. Add Fruit
Believe it or not, fruit is also a great addition to refreshing salads. Apart from adding a sweet touch, they can make for a delicious contrast of flavor and texture!
Some great fresh fruits that work well in salads and savory dishes include pears, apples, peaches and mandarin oranges wedges. Try it out today in this Asparagus and Orange Quinoa Salad for a tangy touch with crisp asparagus.
If you're not a fan of adding in juicy fresh fruit, you can also toss in dried fruit like raisins, dates, figs, mango or apricots. In fact, using dried fruit with nuts makes for a new texture and taste in every bite! This Quinoa Salad with Apricots and Snap Peas also contains salty pistachios, leafy arugula and herbs with fluffy quinoa drizzled in a honey mustard dressing for a party of flavors you're going to want to try!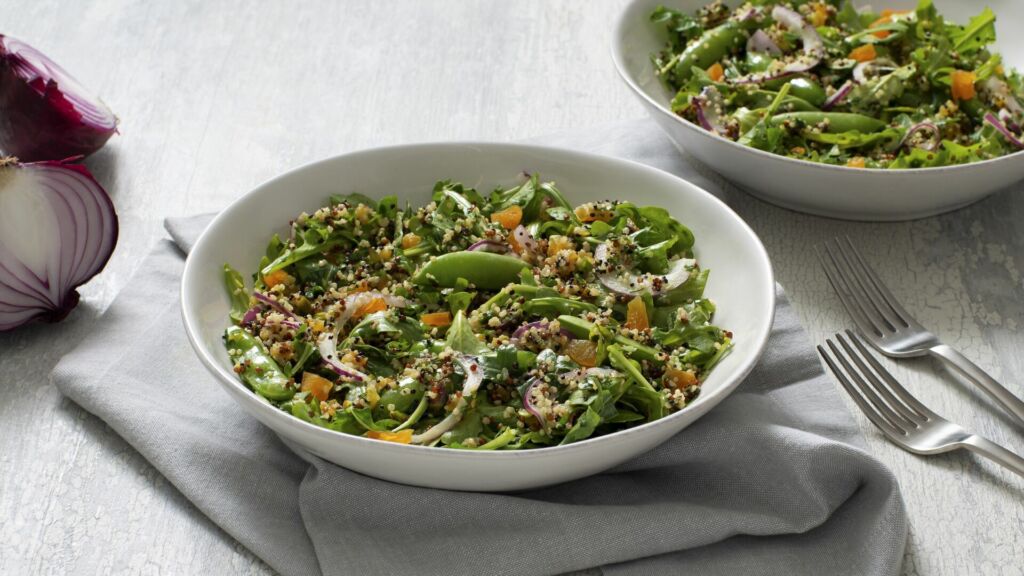 4. Use a Delicious Homemade Dressing
Never underestimate the power of a delicious dressing for your salad. Feel free to use your favorite store-bought variety or try one of these homemade recipes!
Green Goddess Dressing
Take a break from your typical vinaigrette and pair this refreshing, energizing, and flavor-packed Easy Green Goddess Summer Salad with Success® Tri-Color Quinoa with and a homemade green dressing.
How to make Green Goddess Dressing: blend all ingredients until smooth.
Ingredients (4 servings)
1 ripe avocado, halved, pitted and peeled
¼ cup plain Greek yogurt
¼ cup prepared basil pesto
2 tbsp lime juice
½ tsp each salt and pepper
Tahini Caesar Dressing
Try a creamy homemade tahini caesar dressing in this hearty recipe! Our Chicken and Quinoa Power Bowl is an upgraded version of your favorite Caesar salad made with a base of Tri-Color Quinoa, crisp kale, chickpeas, sliced avocado and chicken.
How to make Tahini Caesar Dressing: whisk together tahini paste and lemon juice until smooth. Whisk in oil, Worcestershire sauce, mustard, garlic, salt, and pepper until blended.
Ingredients (4 servings)
2 tbsp tahini paste
¼ cup lemon juice
2 tbsp olive oil
1 tbsp Worcestershire sauce
1 tbsp Dijon mustard
2 cloves garlic, minced
½ tsp salt
¼ tsp pepper
Now that you have a wide selection of summer salads ready to make, it might be hard to decide! So, make life easier and start with Success® Rice or Quinoa to give your dish a hearty base that will keep you feeling full and satisfied, and add on your favorite ingredients from there.
For more great tasting recipes, check our website for meal ideas like this vegan meatloaf.