If you're considering joining the global movement to eat less meat and move your diet toward more plant-based foods, you've come to the right place! For some it might be hard to imagine weekly meals that aren't created around chicken breasts, pork chops or flank steaks. And, if you're still a bit in the dark about what the whole Meatless Monday initiative is about, not to worry — we've got you covered too.
What is Meatless Monday?
Meatless Monday began as a movement to encourage people to eat less meat products like beef, chicken, turkey, fish, etc. at least one day a week. This is due to the impact its production has on the environment. And, while eating meat or not is a personal choice, it's pretty simple to skip once a week and a great excuse to get more grains, veggies, legumes and fruits on your plate! While there are infinite possibilities for cooking with Success® Rice and Quinoa, we've got plenty of plant-based meals that you can use as a starting point in the kitchen. And, you might also want to learn a bit of fact vs fiction about eating a plant-based diet.
At first, it might sound a bit overwhelming to jump right in and cut out meat for an entire day. But with a little preparation and using our tips, we'll help you get on the right track. Let's make Mondays something to look forward to!
Meatless Monday Tips
Take a look at our helpful tips to get you started enjoying delicious plant-based meals on Mondays, or any other day of the week for that matter.
1. Plan Out Your Meals
The best way to not get overwhelmed with a new habit, like eating meat free meals on weekdays, is to get organized and create a plan of action. The beauty of meatless Monday is that they occur on Monday for a fresh new start to the week and you have the weekend to prepare your meals or go grocery shopping.
We suggest you plan the day out starting with what you'll eat for breakfast, lunch and dinner.
Breakfast Ideas
Avocado Toast Rice Cakes: Have some fun with your breakfast and enjoy these homemade brown rice cakes topped with avocado, feta, and pico de gallo.
Rice and Squash Breakfast Bowl: This morning rice bowl will get you going, made with a base of aromatic basmati rice, sweet roasted butternut squash and a poached egg on top.
Lunch Ideas
Dinner Ideas
Vegetarian Jambalaya: This meat free version of Jambalaya makes it easy to enjoy your favorite Louisiana Cajun flavors and celebrate Meatless Monday around Mardi Gras or any other time of year.
Vegan Brown Rice BBQ Meatloaf: If you have a few picky eaters at home, why not make plant-based versions of your favorite dinners like this vegan meatloaf coated in delicious barbecue sauce.
2. Use Tasty Flavors
If you're not sure how to switch up your weekly meals, try seeking out new flavors with international dishes or by combining unlikely sweet and savory ingredients.
International Flavors
Many global cuisines include naturally vegetarian dishes like this Middle-Eastern inspired Green Shakshuka with Quinoa or an Indian Curry Cauliflower Buddha Rice Bowl.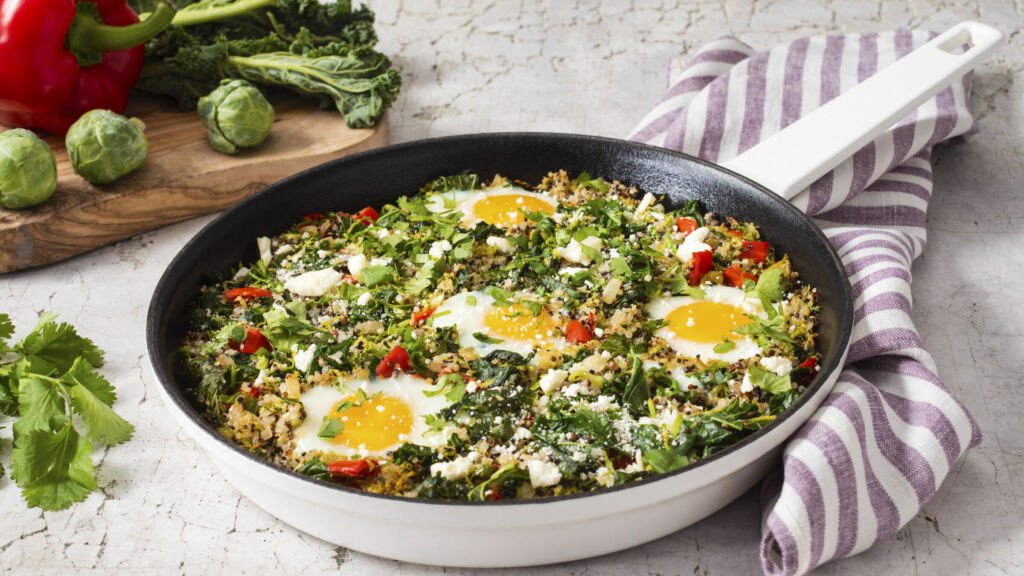 Combine Salty/Savory and Sweet
Use meatless Monday as an opportunity to step out of your salad comfort zone by trying this Roasted Grape and Feta Salad. Red grapes are roasted in a balsamic vinaigrette and combined with leafy arugula, fluffy white rice, tangy feta cheese, and roasted almonds for a salty crunch.
3. Pile On the Vegetables
For some, Monday is a fresh new start after an indulgent weekend and a great opportunity to get your week going on the right foot by loading up on nutrient-dense vegetables! It's not necessary that you always eat meat free inclusively on Monday, but it's a great start.
The beauty of making bowls like this Quinoa Burrito Salad Bowl is that you can simply make them your own by personalizing the vegetables you use. Use lettuce, red cabbage, black beans, sweet corn, pico de gallo, guacamole and cheese or swap in other vegetables like kale, sweet potato, tomatoes and much more.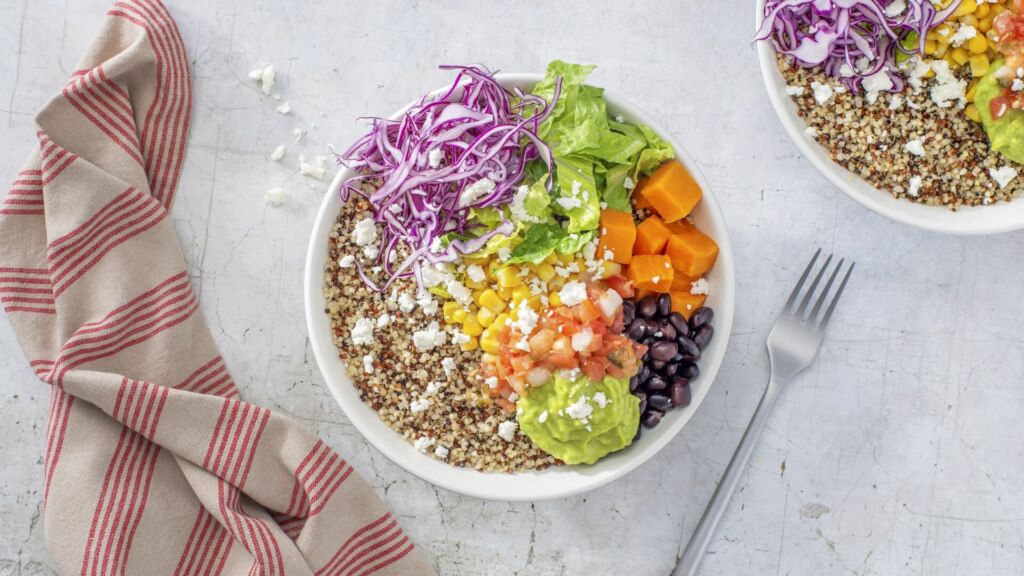 If you feel you're getting a bit tired of salads and bowls, stuff your favorite vegetables with a delicious and hearty filling! These Garden Stuffed Tomatoes are a great way to enjoy all of your favorite fresh salad vegetables and hearty grains, but with a tasty new spin. Want more ideas? Take a look at our quick guide to stuffed vegetables!
4. Combine Hearty Rice and Beans
Many people who eat a vegan and vegetarian lifestyle use beans and rice quite often as they create a complete protein when used together! Perfect for keeping you feeling full and satisfied without meat.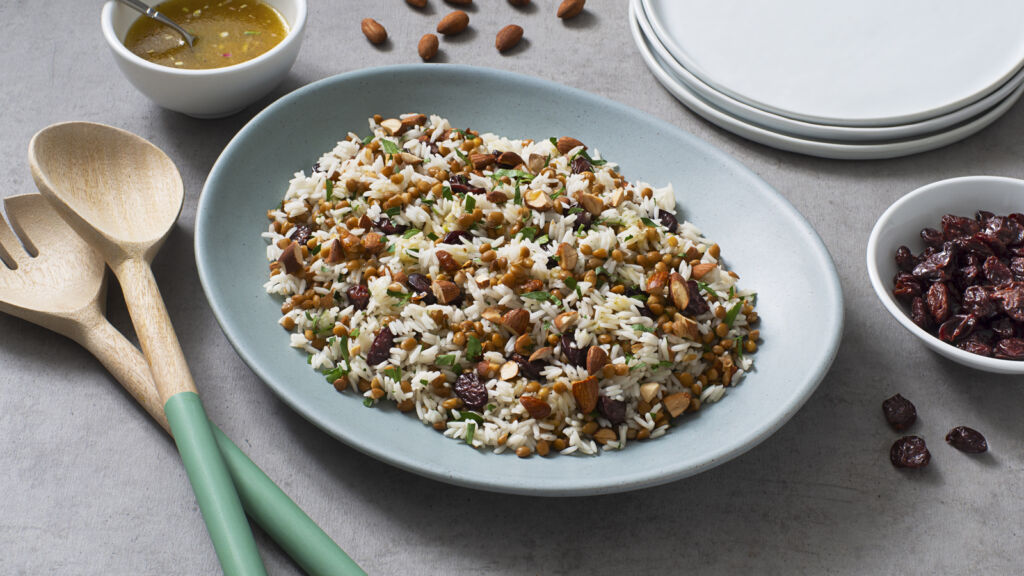 Try out a combination of lentils and Success® Jasmine Rice in a Rice and Lentil Sour Cherry Salad with almonds, parsley and a quick homemade dressing.
This Middle Eastern Rice and Smashed Chickpea Bowl combines Success® Basmati Rice with smashed chickpeas instead of hummus with grape tomatoes, cucumbers and fresh mint.
With a box of Success® Rice or Quinoa, the options are endless for meat free meals on Monday, or any day of the week! Take a look at more tasty inspiration in our recipe selection.