Hosting the perfect dinner party or social event can be tricky, especially if you are not sure which food and drink to serve. And, even though we've shared some of our favorite appetizers and snacks, we're taking it one step further by letting you in on our best food and drink pairings to really wow your guests.
And, the best part is that we're offering non-alcoholic versions for everyone, however you can choose to spruce them up as you wish. So, let's get started exploring some of our favorite drinks and food options to pair them with using Success® Rice and Quinoa.
Which Food and Drinks go Together?
A good food and drink pairing can really elevate a dinner party or social event. Traditional pairings can be made across all food and drink types. When making these pairings there are some general rules we can follow. For example if you are serving red meat and want to pair it with a non-alcoholic beverage, you might want to consider a soft drink like coca cola as the acidity will cut through any fat. On the other hand, if you are serving a white meat dish, a fruit juice will enhance the flavor while also neutralizing your palate from higher salt levels.
With so many different food and drink combinations to choose from, we thought we would show you some of our favorites.
Tacos with Watermelon Aqua Fresca
To begin with, try serving a nice taco platter with a watermelon aqua fresca as the savory flavor of the tacos contrasts very nicely with the sweetness of the watermelon. For a more interesting take on a typical taco dish, try this Taco Platter With Grilled Lime-Jalapeño Steak and Spicy Rice and Beans.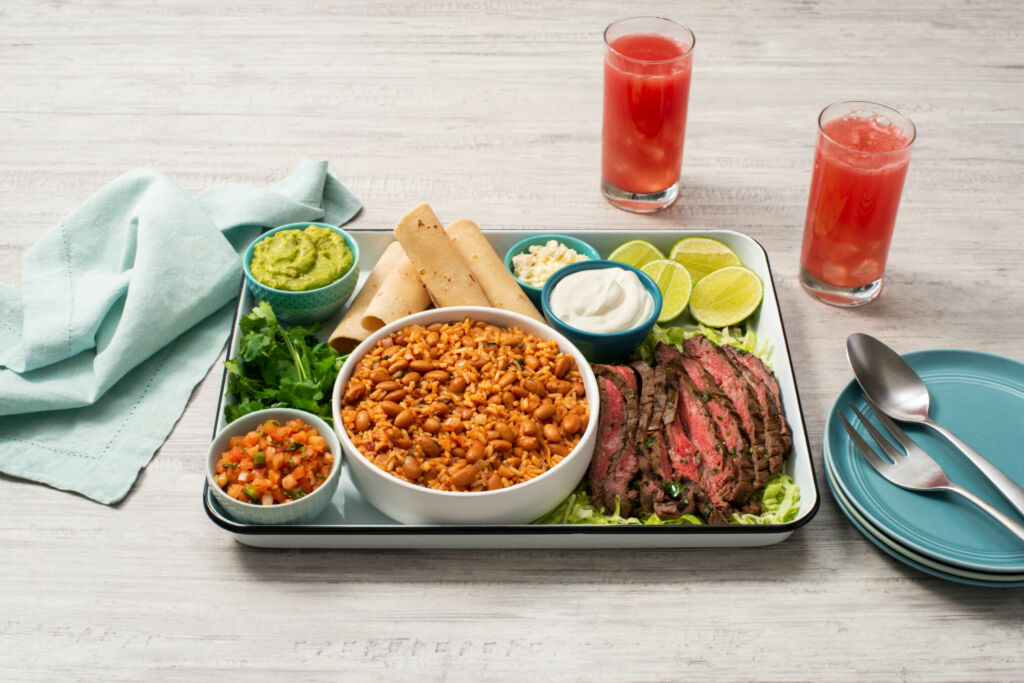 On the other hand if you are entertaining pescatarians, then maybe these flavorful Cuban Shrimp and Rice Tacos. This recipe only uses a few ingredients and takes 20 minutes to prepare, so perfect for if you need to rustle up something quick for your guests. To really turn the flavor up, try garnishing with pickled red onion.
Alternatively if your guests are a bit more flexible with their diet, these Flexitarian Tacos are also perfect for entertaining friends or family of all ages.
Now that we have our tacos sorted, let's take a look at how to make a simple watermelon aqua fresca.
First we'll need:
Water or seltzer water
Watermelon chunks, deseeded and with the rind removed.
Sugar
Lime juice
You'll want to begin by liquidizing these ingredients together in a blender. Once you have a smooth mixture, pass it through a strainer to remove any solids. Finally, add some more water into the mixture and leave to chill until you are ready to serve it.
If you are serving guests, you may want to add watermelon slices as a decorative touch!
Spanish Paella With Non-Alcoholic Sangria
You can create a Mediterranean medley of flavors by serving a Spanish Seafood Paella or a Spanish rice recipe alongside a non-alcoholic sangria drink. The great thing about paella is that it can be enjoyed year round and there are plenty of variations if you enjoy being creative, for example this Spanish-Asian fused Paella Fried Rice. By using ingredients like paprika and saffron we can really add to the authenticity of these dishes.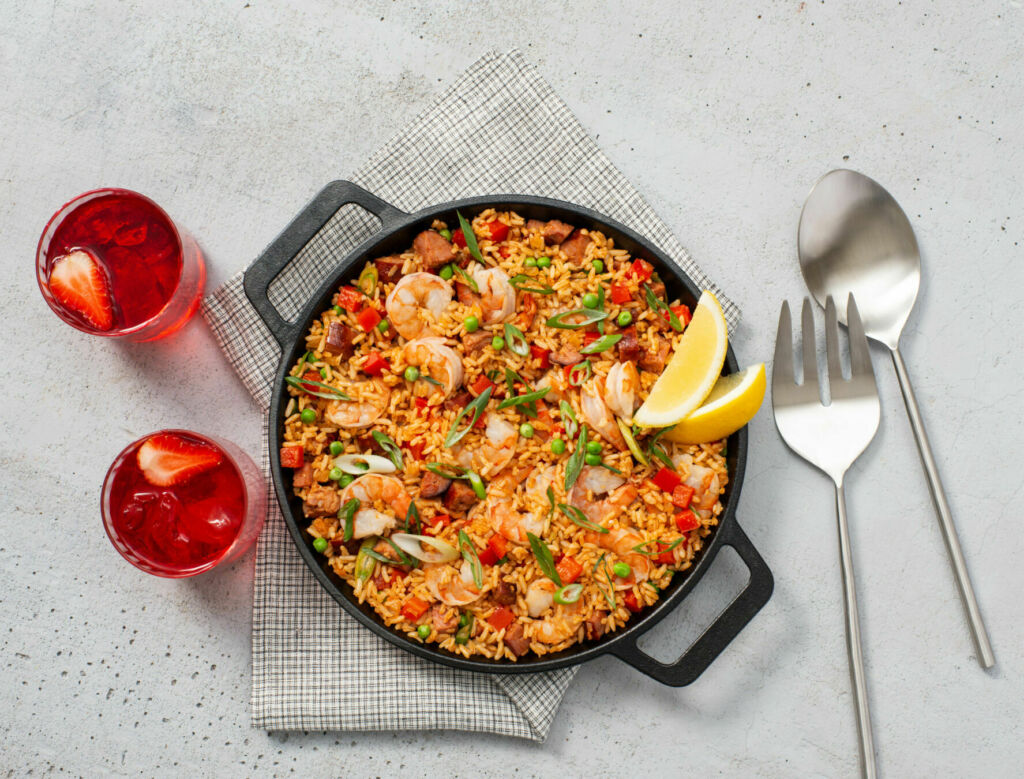 Once you have your paella ready, it's time to prepare the drinks.To make a family-friendly sangria we need to have the following ingredients.
Plenty of fruit, for example: apples, oranges, peaches and lemons.
A selection of fruit juices. Be creative: grape juice, apple juice, orange juice etc.
Your favorite variety of seltzer water for a fizzy twist!
The first thing to do is to cut up your fruit and place it in a pitcher. Once the fruit has been added, you can add in your juices adjusting to suit your tastes. Mix the whole thing together and leave it in the fridge for around an hour. Before serving, add in a few cups of carbonated water and mix together.
Tomato Based Dishes With Virgin Mary Mocktail
It stands to reason that a tomato based meal would pair exceptionally well with a tomato based drink like a virgin mary mocktail.
There are no shortage of tomato based meals we can prepare, for example these Italian Spinach Rice Balls.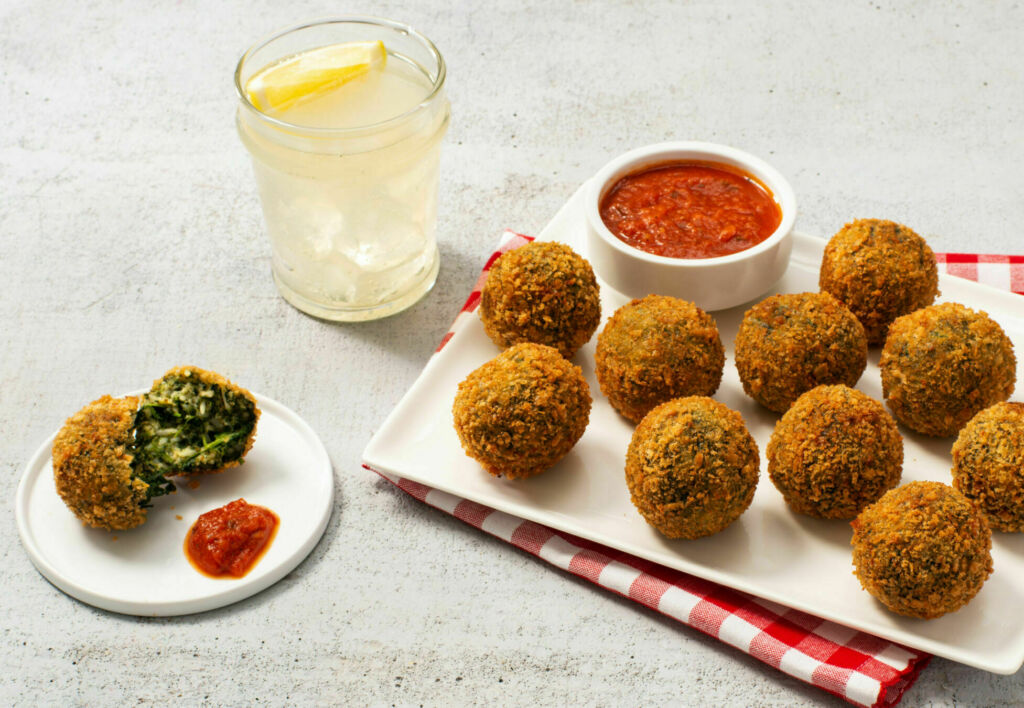 For another tomato-heavy Italian meal that pairs excellently with a virgin mary, learn how to cook this easily-made Rice Crust Pizza. What's great about this dish is that it's gluten free, so perfect for any celiac guests. Pizza also works whether you are serving vegetarians or meat eaters as you can customize your toppings however you want.
To make our alcohol-free bloody mary, we'll need the following ingredients:
Tomato juice
Lemon juice
Worcester sauce
Celery salt
Pepper
Hot sauce (tabasco, cholula)
Combine the tomato juice and lemon juice together along with some ice cubes. Once these ingredients have been mixed together, add in the Worcester sauce, celery salt, pepper and hot sauce. Mix well and then serve!
Another drink that pairs exceptionally well with these rice balls is a fizzy lemonade. To prepare you'll need the following ingredients:
Fizzy Lemonade:
-Sugar
-Water
-Lemon Peel and Juice
-Club Soda or Seltzer Water
How to Make: Heat the sugar and water over medium heat until sugar is dissolved, stirring frequently. Stir in lemon peel stips and bring to a boil. Reduce heat; simmer, uncovered, for 5 minutes. Cool slightly. Transfer everything to a pitcher. Stir in lemon juice; cover and refrigerate until chilled. Discard lemon strips. Stir in club soda or seltzer water and serve over ice.
Flavor Infused Coffee for Dessert
Food and drink pairings don't have to be before or during the meal only, you can also create something delicious for an after meal treat as well!
One of our absolute favorites is this Bananas Foster-style Hawaiian Rice Pudding paired with an indulgent vanilla or orange flavored coffee drink! Use a creamer or choice or flavor infused oil in your coffee for a hint of more flavor.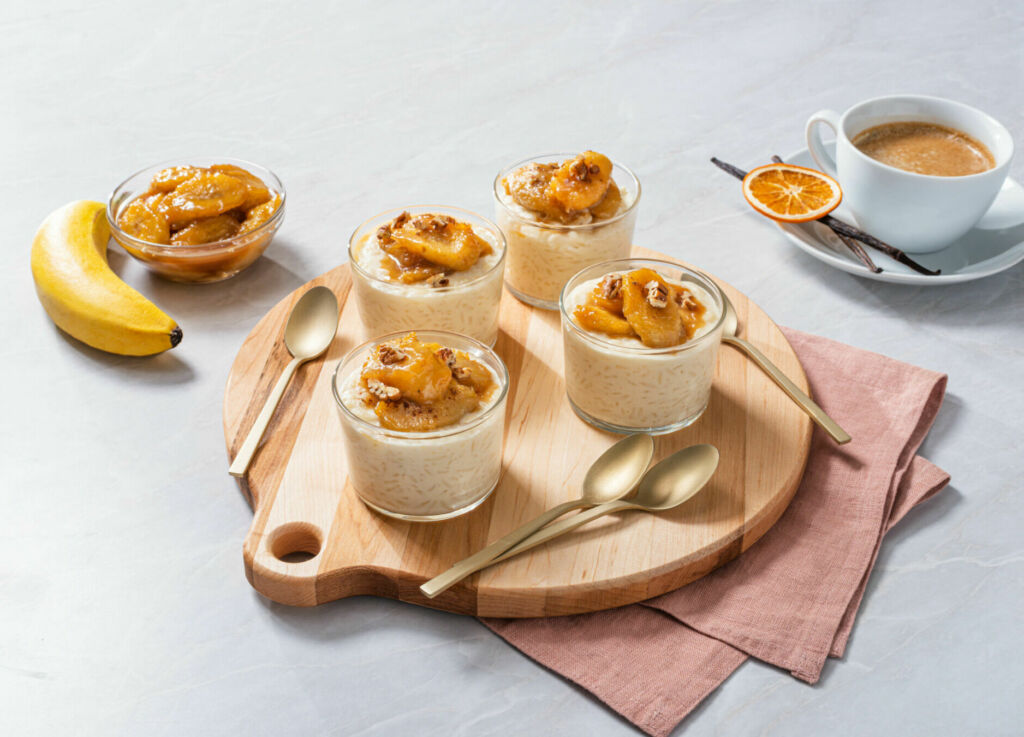 Find everything you need with Success® Rice from a weekday meal to tips for entertaining guests! Explore more in our Kitchen section.