There are many silver linings to working at home. Saving those hours stuck in traffic during the commute, being able to wear the clothes you choose, and even enjoying a homemade meal.
If you're new to working from home or maybe if you've been working part time at the office and part-time at home, it's rather common to struggle with finding a routine to not skip meals or work through lunchtime altogether. For some, cooking lunch was never even on the task list because they had a cafeteria at the office, or had a 5 minute lunch between meetings or events – which brings us to the conclusion that, for some, cooking a quality meal while working from home can be difficult.
Lunch At Home Mindset
So, one important step is to first get into the lunchtime mindset. Think about your lunch break as a pit stop to fuel your body – you need quality energy to keep functioning, right? By whipping up a good meal, you're guaranteeing yourself more energy to continue crossing out those items on your pending list and keeping those afternoon hours as productive as the morning ones.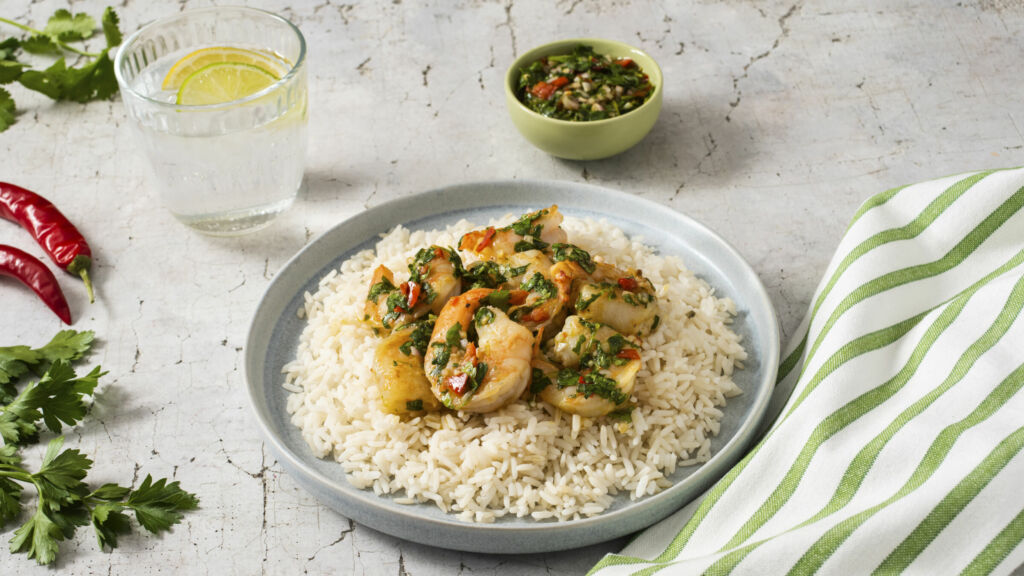 To make it a little less of a challenge, we at Success® Rice have put together a list of 10 recipes using our quality rice and quinoa products that make great meals, plus a few tips that will help reduce stress when cooking.
Great Recipes if Working From Home
Before we jump into our tasty recipe suggestions, here's what all of them have in common and what makes them perfect for juggling everything that a home office routine implies:
Cooking Time: Straight from the kitchen to your table, all of these recipes take less than 30 minutes to prepare.
Ingredient List: Most of these dishes are made with ingredients you likely have in your pantry. If you're not as good with stocking up your kitchen with food, the ingredients in these recipes will help you build a list of those products you should always have on hand – starting with convenient Success® Boil-in-Bag Rice and Quinoa products, for perfectly cooked grains with minimal effort.
Storage: Cook food that can be stored either in the fridge or freezer to enjoy later. Many of these recipes yield four servings, so they are perfect for feeding the family or saving for another meal if you're on your own. Having food ready to eat will help you stick to a schedule and prevent unnecessary snacking as well!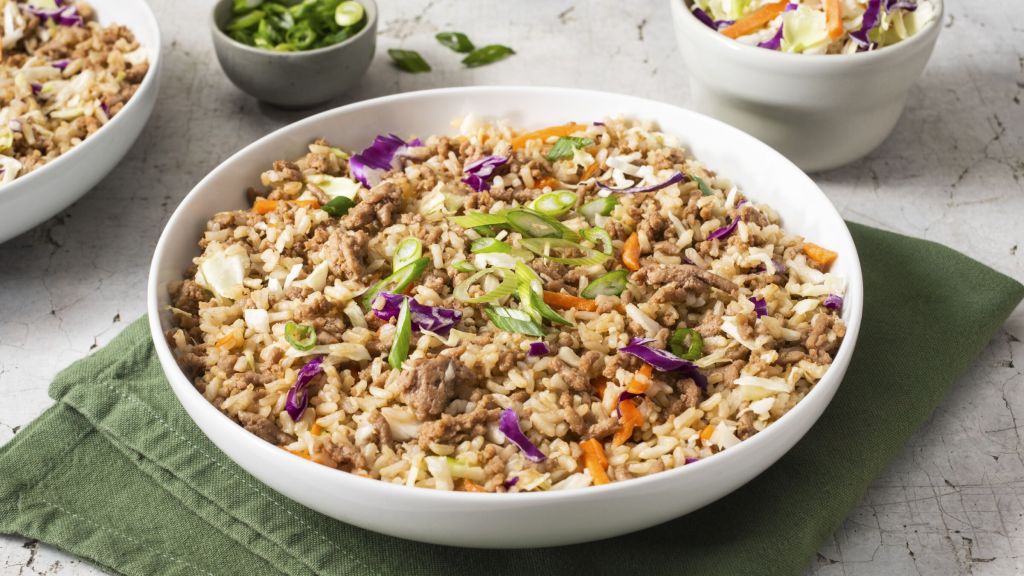 Lunch Classics
If you have chicken breasts, canned tuna, and rice, then you have the base for these successful lunches. If you're all in for the classics, the first two recipes in this list will surely become part of your weekly rotation!
SERVES: 4
TOTAL TIME: 20 mins
You're 20 minutes away from enjoying an elevated and restaurant-style Herbed Chicken from the comfort of your home. Make your rice base a little tastier by cooking Success® Boil-in-Bag in chicken broth instead of water. This simple tip won't add any stress to your cooking but will add tons of flavor to your lunch. And the best part? You won't have to wait in line at the bistro next to your office building.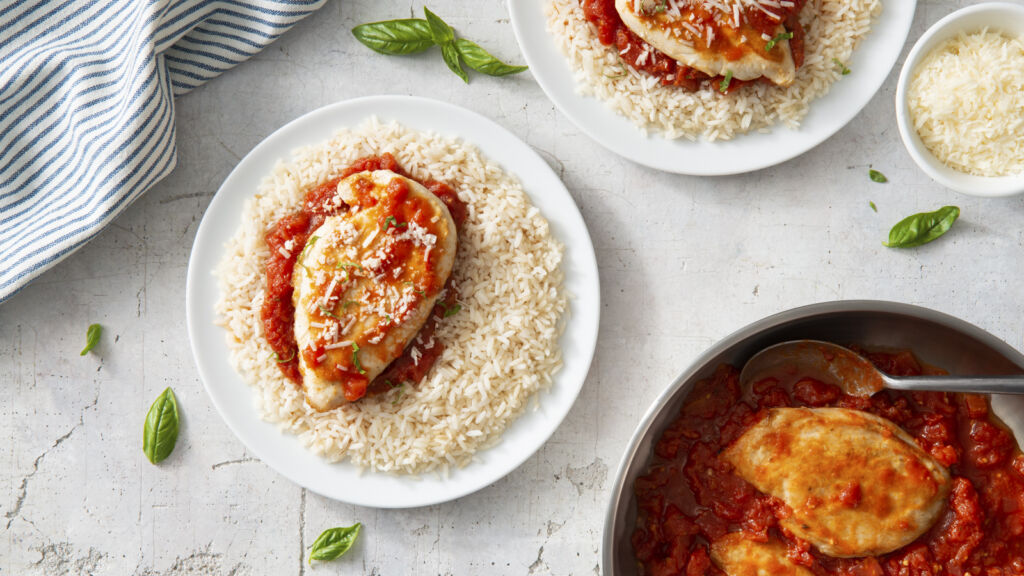 SERVES: 4
TOTAL TIME: 25 mins
If you like to plan out and prep your lunch in advance, tuna salad is a simple and great staple. Amp up the classic salad by seasoning canned tuna with sriracha sauce, mayonnaise, green onions, and celery. Serve over a quinoa base and garnish with avocado, diced tomatoes and shredded cabbage for a meal that has everything you need to get back to managing your email inbox.
Salads
Skip boring salads and go for flavorful and wholesome meals instead that have more than just leafy greens and dressing. We guarantee the flavors of these recipes will brighten any stressful and hectic workday.
SERVES: 4
TOTAL TIME: 25 mins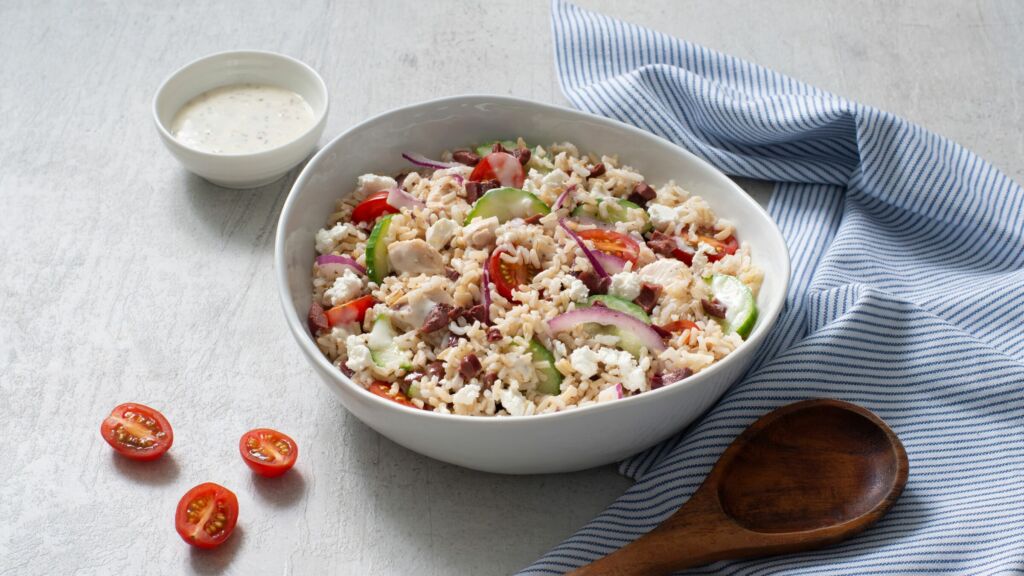 Defrost a few chicken breasts overnight or put that leftover chicken to good use by combining it with Kalamata olives, feta cheese, Mediterranean-inspired vegetables like cucumber, tomatoes and red onion, and Caesar salad dressing. The addition of Success® White Rice, will make this Greek Chicken and Rice Salad a delicious and filling meal.
Pro Tip: To make the most out of your lunch hours, chop up a batch of vegetables during the weekend and have them ready to cook or enjoy during the week.
SERVES: 3-4
TOTAL TIME: 15 mins
This Garden Rice Salad is also great for repurposing those pre-chopped veggies into a new and effortless lunch option.
Try this recipe with whole grain brown rice and enjoy how its nutty flavor pairs with the toasted sesame seeds on top. Substitute creamy dressings for a light vinaigrette of soy sauce and rice wine vinegar to switch up the flavors.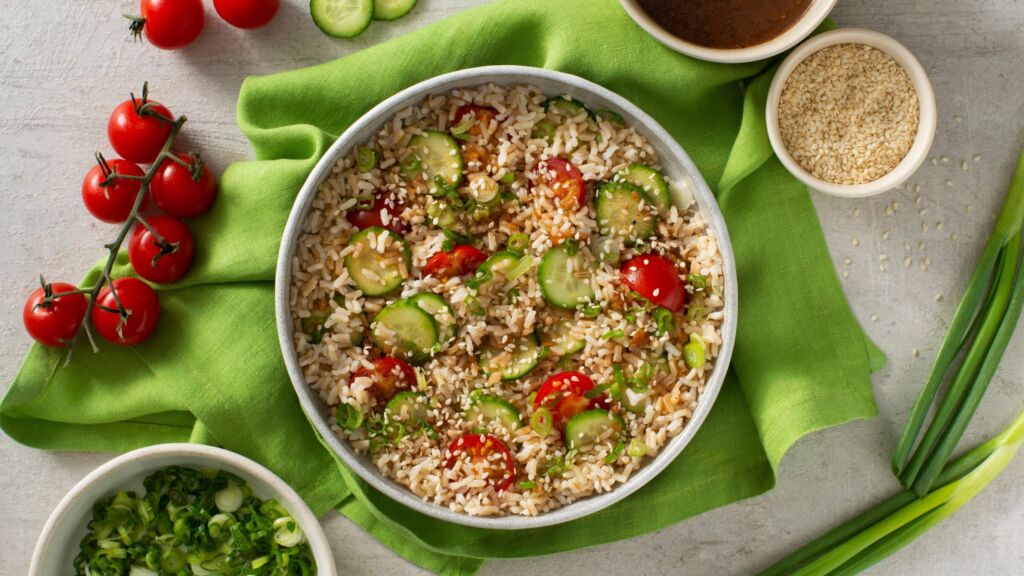 Meals in a Bowl
There's no easier meal option than whipping up a rice bowl. Get inspired by these recipes and feel free to replace any ingredient you don't have on hand – learn more about ingredient substitutions to have on hand by visiting our quick guide.
Did we mention these recipes also make great on-the-go meals?
SERVES: 4
TOTAL TIME: 15 mins
If you're not sure what to do with that can of chickpeas in your pantry, this recipe is about to become a life changer! Also called garbanzo beans, they are a protein-packed ingredient that make a filling vegetarian meal when paired with rice or quinoa.
Combine with fresh mint, Greek yogurt, chopped fresh veggies, and Success® Basmati Rice to add Middle Eastern flavors to your average weekday lunch.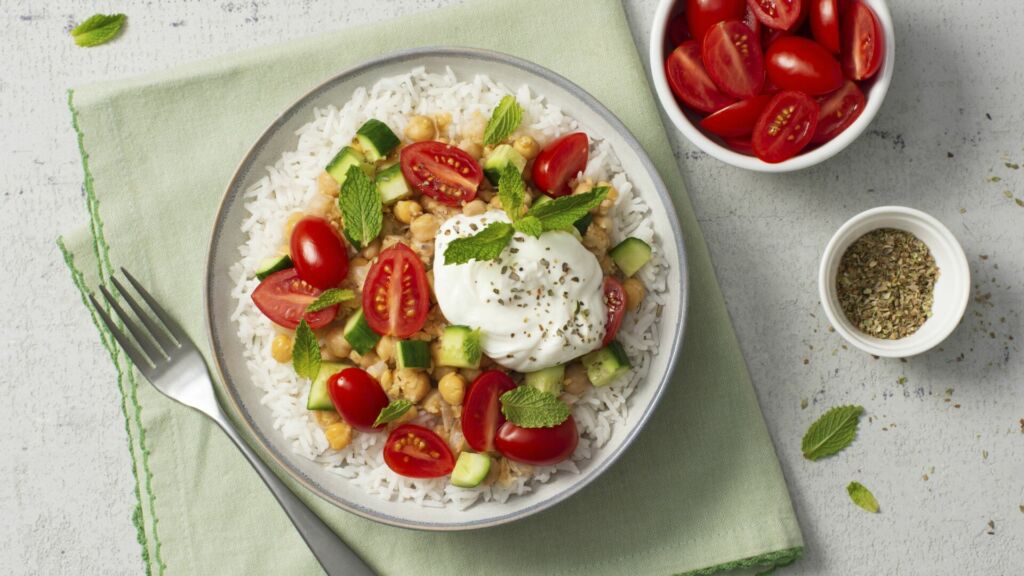 SERVES: 4
TOTAL TIME: 25 mins
This flavorful salad is served over Success® Tri-Color Quinoa and topped with a poached egg to keep you satisfied until the very end of your last meeting. For a recipe shortcut, go with store-bought pesto instead of the homemade version.
SERVES: 4-6
TOTAL TIME: 25 mins
Make a vegetarian Buddha bowl for lunch in simply 25 minutes by following this easy recipe – the perfect meal for those who are looking for more plant-based alternatives. Eating meat-free shouldn't be time-consuming!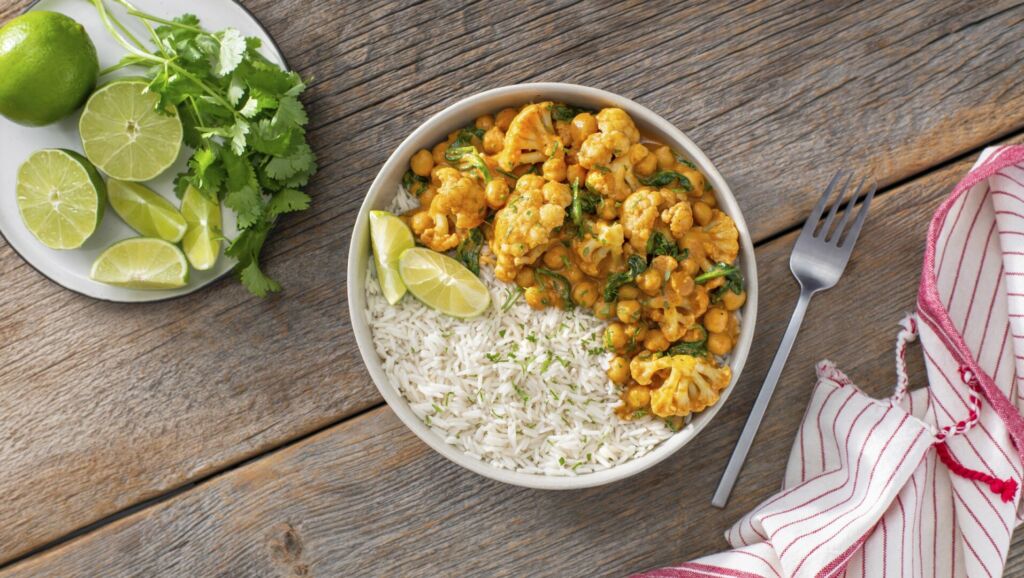 SERVES: 4
TOTAL TIME: 30 mins
With this takeout inspired lunch, you can enjoy delicious flavors when you've got little time to spare. And, although our rice cooks conveniently quick, this dish can even be made with leftover Success® Brown Rice or rice that you've batch cooked previously to cut down on the cook time.
Fun Lunch Break
SERVES: 12
TOTAL TIME: 30 mins
If you have your hands full during your lunch hour, make your lunch in advance to have ready to heat and eat before jumping onto the next meeting – these Asian Rice cups are just that! Packed with your favorite fried rice flavors, make a batch of these muffins and enjoy on the busiest days.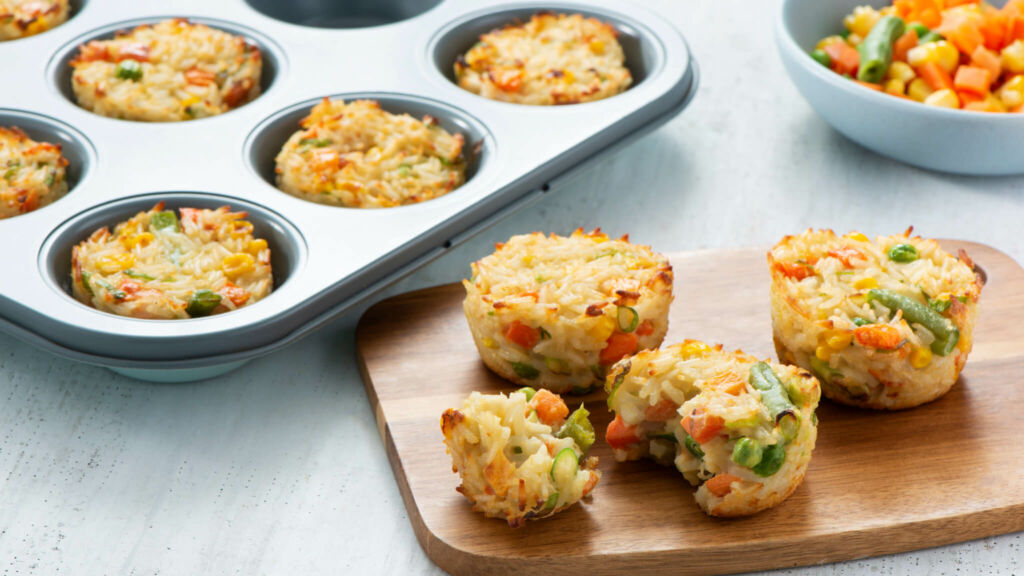 SERVES: 4
TOTAL TIME: 30 mins
Another quick and fun dish to switch things up for lunch is this Chimichurri and Shrimp Rice. Add a bit of Argentinean flair to your meal by preparing a simple herb and oil chimichurri sauce while you cook your convenient Boil-in-Bag Success® White Rice. Toss together with freshly cooked shrimp to enjoy a meal in just 4 simple steps!
Want a few more ideas to make for dinner or dessert? Take a look at our recipe selection to find everything you're looking for like this easy vegan meatloaf recipe made with quality Success® Rice and Quinoa.