More than a simple side dish, a salad can be an extraordinary way to experiment with vegetables, fruits and a wide variety of ingredients with contrasting tastes and textures. Whether you're looking to showcase that vibrant, in-season produce like bright red tomatoes and greens or a colorful mix of root vegetables, there are plenty of great salad recipes to choose from.
And, with the help of our Success® Rice and Quinoa, making a show-stopping and satisfying salad is easier than ever. Add a touch of fluffy White Rice, an aromatic variety like Jasmine or Basmati Rice, whole grain Brown Rice, or a blend of Tri-Color Quinoa.
Make every dish an epic event on its own with our top 10 drool-worthy salad recipes with dressing ideas! Use this meal inspiration to get creative for your next get-together, potluck dinner or outdoor BBQ picnic.
Elements of a Great Salad 
Have you ever wondered what makes a great salad? Put these 4 simple elements into use in order to create an amazing salad every time:
Use Quality Produce: Salads don't always have to include lettuce! Keep things interesting by using a wide variety of fresh, canned or pickled veggies, fruits or toss in sautéed frozen veggies. If you want to add in leafy greens, switch it up by using arugula, romaine lettuce, crunchy kale, spinach, butter lettuce or a spring mix.
Drizzle With a Simple Salad Dressing: Learn how to make your own 2-5 ingredient salad dressing with pantry staples (recipes below) or use a quality store-bought variety for a punch of flavor.
Add a Hearty Touch: Adding grains like rice and quinoa makes your salad more filling and gives it a more appealing look!
Mix in Contrasting Textures: Make sure to balance taste and texture. Keep a mixture of crunchy components like raw veggies or nuts and soft additions like cheese or fruit.
Design Tip: Make your own Instagram-worthy meal by cutting your ingredients into aesthetically pleasing shapes. Use a grater, spiralizer, pealer or think outside the box for more fun cutting styles.
10 Amazing Salads 
Save these salad recipes to bring to potluck dinners, lunches or serve for dinner with family and friends!
Updated Classics
While there is always room for classic flavors, we've given these traditional combinations a modern makeover.
Chicken Salad
Filled with tender cooked chicken, a dollop of mayo and zesty lemon, this Chicken Avocado Salad is served right in the avocado shell! We've substituted part of the mayo for creamy avocado, added a bit of heat with sriracha and whole grain Success® Brown Rice. It's a fun, colorful option with a kick!
Egg Salad
For a stunning summer side dish or a delicious sandwich filling, this California Creamy Rice Salad is light and refreshing. Made with a base of classic egg salad, we've included white rice grains for a dish that will keep you satisfied for hours.
Waldorf Salad
For something on the sweeter side, this Waldorf Salad has a creamy combination of fruit, nuts and whole grain brown rice. Using crisp apples, creamy Greek yogurt, chewy raisins and fluffy rice, this salad has it all!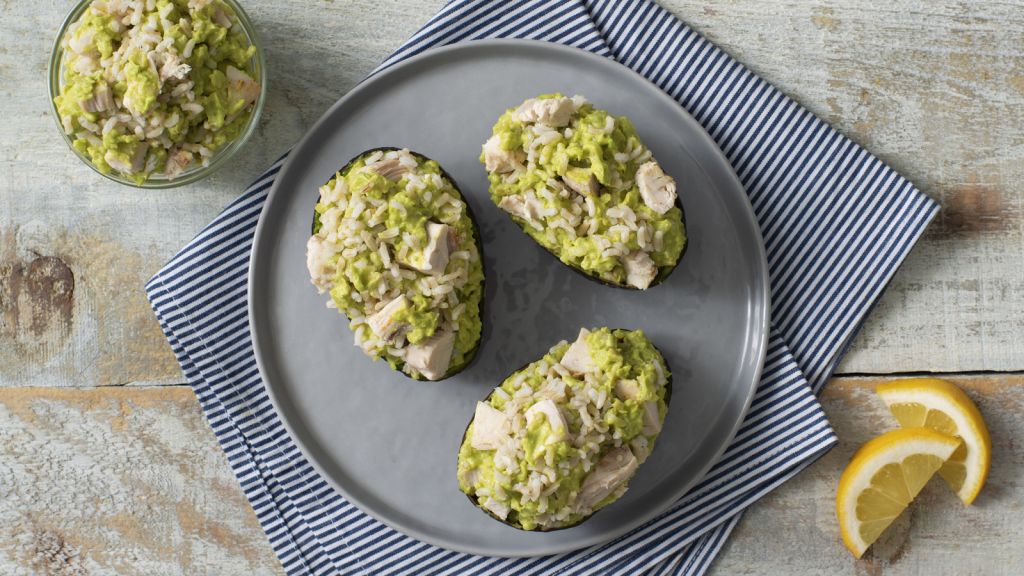 Fruit and Veggie Forward
Try these incredible blends of fruits and vegetables and a complementary salad dressing that pairs well and perfectly marries the flavors together.
Greek Beet and Watermelon
Looking for new and interesting salad recipe ideas? Use watermelon! Prepare this Greek Beet and Watermelon Rice Salad for a mix of sweet fruit, tangy feta cheese, refreshing mint, crunchy, earthy beets and nuts, and chilled fluffy rice for a winning combination.
Simple Salad Dressing: Whisk together oil, lemon juice, salt and pepper.
Roasted Grape and Feta
Speaking of adding fruit to salads, roasting it in the oven tends to offer deeper flavors like in this Roasted Grape and Feta Salad. Perfect for meatless Monday, this salad has sweet grapes and salty feta cheese balanced with a balsamic tang all served over a bed of Success® White Rice.
Balsamic Vinaigrette: While this recipe uses a store-bought variety, if you'd like to make a homemade version, whisk 1 part balsamic vinegar with 3 parts olive oil and a dash of salt and pepper to taste. For an even simpler option, skip prepared dressing and simply drizzle over a bit of olive oil and balsamic vinegar!
Green Goddess Summer Salad
This vegetarian Green Goddess Summer Salad is refreshing, energizing and flavor-packed with Success® Tri-Color Quinoa. With fresh vegetables, pecans and a blend of three quinoas, what really steals the show is the incredibly easy and tasty salad dressing.
Green Goddess Salad Dressing: Purée together avocado, basil pesto, plain Greek yogurt, lime juice, salt and pepper.
Kale Power Salad with almonds and cranberries
Filling and energizing this Kale and Quinoa Power Salad is loaded with veggies, nuts, cranberries, quinoa and chicken. To make it meatless, swap in tofu, tempeh or chickpeas! Toss together in minutes and drizzle with a tasty homemade honey mustard style dressing.
Honey Mustard Style Dressing: Whisk together olive oil, lemon juice, Dijon mustard, lemon zest, garlic, honey, salt and pepper.
International Inspired
Switch up your average salad by getting creative with international flavors! Swap in herbs, cheeses, hummus or different types of vegetables from around the world. Start with these three foolproof salad options.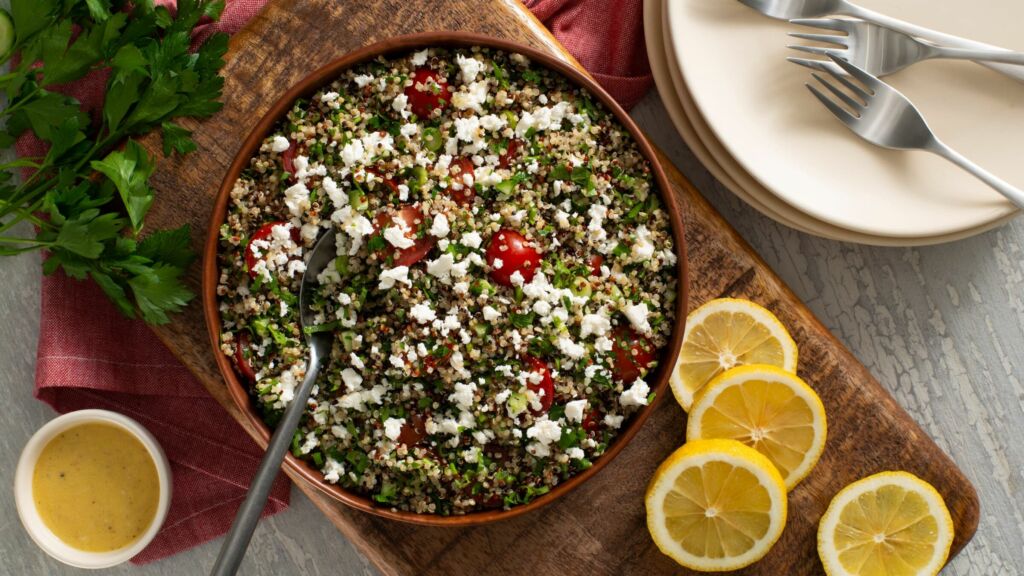 Tabouli
This Mediterranean-inspired Quinoa Tabouli salad uses a mix of herbs like parsley and mint alongside vegetables, feta cheese and quinoa for a refreshing yet hearty salad. Completely meat free, if you're looking for more protein, try adding in chickpeas or shredded rotisserie chicken.
Greek Chicken and Rice
Using a combination of Greek flavors like Kalamata olives, crumbled feta, cucumber and tomato, this Chicken and Rice Salad is a feast of flavors mixed with hearty Success® White Rice or Jasmine Rice for an extra aromatic touch.
Mexican Elote – Grilled Street Corn
For a taste of street food in a veggie-salad this Mexican Grilled Corn Salad is loaded with seasoned grilled corn cut off the cob with a zesty lime crema and Success® Jasmine Rice. To make it a fun Latin-inspired meal, serve alongside this incredibly vibrant Quinoa Burrito Salad Bowl.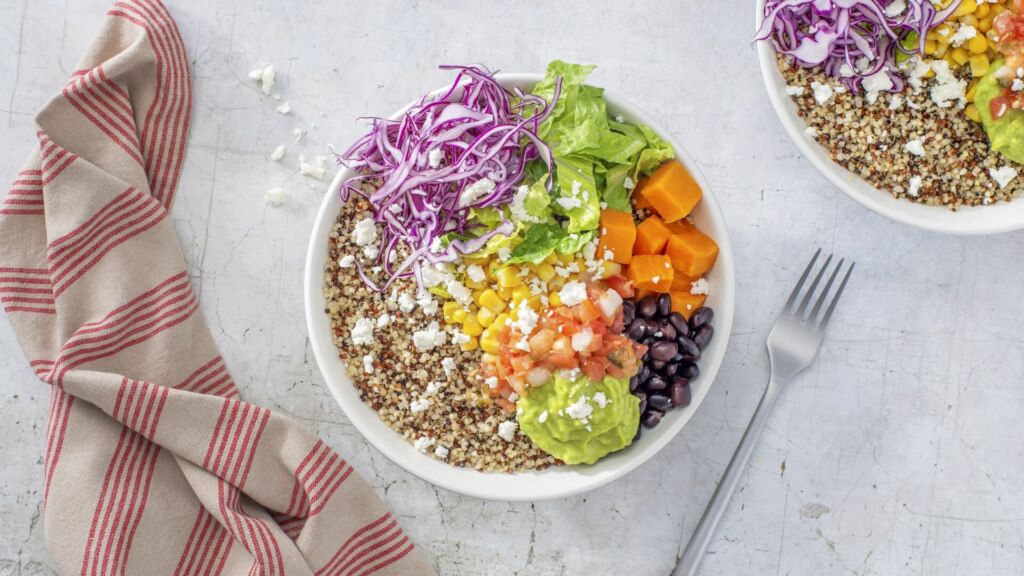 With all of these tasty and vibrant combinations, you'll be looking at salads in a whole new light! Start any dish with convenient Success® Rice and Quinoa, a few vegetables, a simple dressing and build your own tasty salad from there. If you are looking for some seafood recipes to spice things up try our shrimp recipes with rice. Did you make any of these delicious rice or quinoa salads? Let us know by tagging @SuccessRice on Instagram or Facebook. #ShareYourSuccess