On November 15, we celebrate National Recycling Day: a day in which we can all try to work together and initiate real change. By making simple changes in our lives, we can make the world a little more sustainable. Similar to other eco-friendly events such as World Food Day, National Recycling Day can be a day when we all pledge to do our part to make the world a better place for future generations. 
In this guide, you'll see how Success® Rice is doing its part to protect the planet and discover some environmentally-friendly kitchen techniques and recipes.
What Success® Rice is Doing for the Environment
Success® Rice is not only committed to providing great quality rice products to our clients, but also to doing our part for the environment. In fact, all Success® Rice packaging is 100% recyclable: we're doing our part, so you can too! 
You can find more information about our commitment to sustainability here.
Let's jump in and discover different ways we can all do our part at home by following simple sustainable kitchen practices.
Sustainable Cooking Methods
Cooking doesn't need to be wasteful or harmful to the environment. There are plenty of ways we can save food while cutting down on waste. Here are some of our favorite sustainable cooking tips:
Reusing Leftover Food
Learning how to efficiently reuse leftover food is a great way to avoid waste. You'd be surprised at some of the amazing meals that you can make using leftover food.
For example, this Cheesy Italian Leftover Rice Bake made with Success® White Rice is a creamy treat. The cheesier the better! Feel free to toss in any other varieties you have laying about in the fridge along with the ricotta and shredded cheese featured in this recipe.
One Pot Meals
Cooking more one pot meals is a great way of conserving water, gas and electricity as there will be less washing up and you'll only need to turn on one burner. You'd be surprised about what you can achieve with just one pot.
One of our favorite one pot recipes is this Mediterranean-style One-Pot Greek Eggplant With Rice Bowl made with Success® White Rice. If you have any leftover feta cheese, feel free to sprinkle some on top for a tasty finishing touch.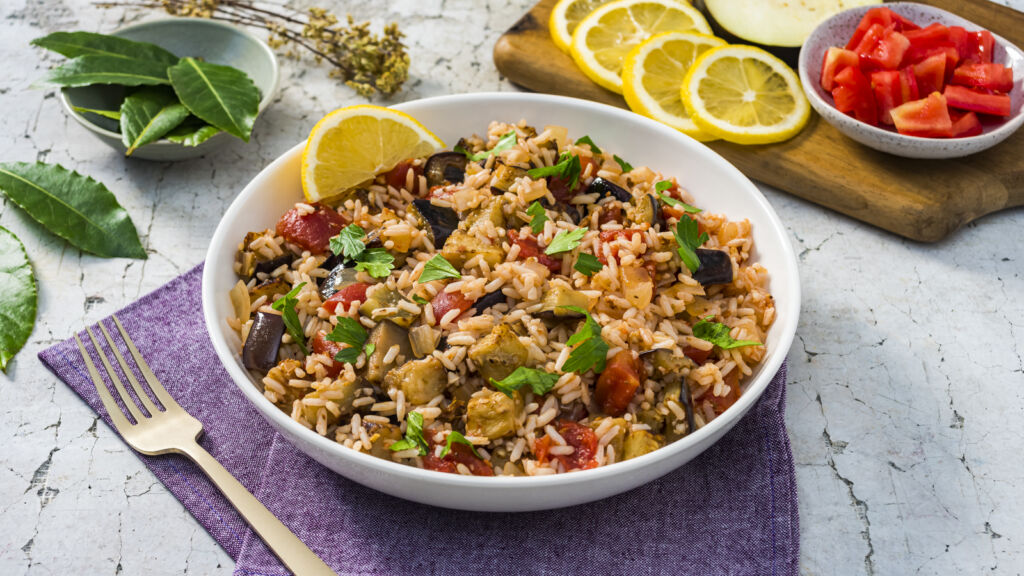 Shopping Tip: When selecting your eggplant at the supermarket, be sure to make sure your eggplant is good for cooking. A ripe eggplant should be soft to the touch, if you squeeze it it should leave an imprint. The body of the eggplant should also have a dark purple color and a vibrant green root.
Additionally, there's this tasty Zero Waste Moroccan Spice Rice & Lentil Pilaf With Quick Pickled Preserved Lemon. If you're feeling creative, you can even try making your own homemade Moroccan spice!
Homemade Moroccan Spice – In a bowl, mix together ground cumin, smoked paprika, ground coriander, ground turmeric, ground allspice, ground cloves, ground ginger, ground cinnamon, salt and pepper.
Invest in a handy ovenproof pan so you can make delicious skillet meals on the stovetop, in the oven, or both! To reduce the energy consumed while heating this casserole in the oven, make sure not to open the door until it's finished cooking. You can also try turning off the oven 5 minutes before the casserole is done as the residual heat should be enough to finish the job. See for yourself when you take this spicy One-Pot Mexican Rice Casserole served with Success® White Rice from the burner to the oven to the tabletop!  
Composting Food at Home
Even when food falls to the wayside, there's still a chance to keep it from ending up in a landfill. Instead of throwing out any food that has gone bad, use it to make compost for your garden.
There are a few different ways of composting your food, however perhaps the two most popular at the moment are the bokashi composting system and worm composting.
Bokashi Composting
Normally a bokashi composting system uses a special container along with a special bran. When you mix in this bran, it ferments kitchen waste into a liquid which then can be used as compost for your plants. Any time you add organic waste to your bins, add some of the bran and leave it to sit. There's not much more really to it than that – eventually you'll have your compost liquid which you can mix into your garden soil. 
Worm Composting
Worm composting may sound a bit gross but it's an excellent way of sourcing vermicompost, which can be fed to plants and dug into your soil. Worm composting involves feeding the worms in the garden your organic kitchen waste then subsequently collecting the vermicompost they produce.
From buying products with recyclable packaging to reducing food waste, there are plenty of ways we can all do our part to make this planet a little greener. For more cooking tips and tricks, stay up to date with Success® Rice.