Try to add more vegetables into your weekly meals. A great way to do that is to incorporate leafy greens into your weekly meal prep. They make great additions to soups, rice salads, stews and stir fries! The best part is that when cooked with other flavorful ingredients, they often have a more subtle flavor.
We'll show you what leafy greens you can add to your dishes along with some delicious recipes you can make using Success® Rice, along with meal prep tips!
What are Leafy Greens?
Leafy greens are just that, they are edible green leaves you can cook with that are most often found as kale, arugula, collard greens, bok choy, spinach, Swiss chard and more lettuce leaves. Leafy greens are perfect for adding in a touch of texture, subtle taste and boost your daily vegetable intake without you noticing!
How to Store Leafy Greens
Whether you've bought them from the store or grown them fresh from your garden, our first suggestion is to make sure they are first washed. To help them stay crispy and wilt less, wrap them in a paper towel.
You can put them into a container or a sealed bag and refrigerate them. By properly storing your leafy greens, you will help them last a lot longer and get the best flavor out of them.
How to Prepare Leafy Greens
After having rinsed and dried your greens, start by chopping off any stems when preparing them for cooking. Discard the stems or compost them. Then, depending on your desired recipe, you'll add them in at different times.
Keep in mind that leafy greens wilt quickly when heat is added, so we suggest waiting until the very last steps of your recipe to add them in. Or, you can choose greens with a bit more flavor such as arugula and toss them into a rice salad or lay them down first as a bed for your meal.
If you're looking for specific recipes to get cooking, look no further. We've got all kinds of recipe ideas that you can from stuffed mushrooms to fried rice that incorporate greens!
Rice Recipes with Leafy Greens
Each of these recipes can be made in bulk and enjoyed throughout the week.
Snacks
For a convenient snack that you can put in your work lunchbox, try these Kale Pesto Stuffed Mushrooms made with Success® Brown Rice. To make the pesto, you will need to blend together some kale, walnuts and basil. If you are following a vegan diet, you can use dairy-free cheese instead.
Storage Suggestion: When storing these stuffed mushrooms, keep them in a sealed container in the fridge. To keep the cheese fresh, keep it separate from the mushroom cups and add it in when you are ready to eat them.
Casseroles
Making casseroles is a great way of meal prepping for the week. They can normally be prepared with minimal fuss and don't take too long to cook in the oven.
If you're in the mood for spinach, try this veggie loaded Chicken and Rice Casserole With Spinach and Mushrooms made with Success® Brown Rice. If you're preparing this dish for your kids or fussy eaters, try adding in some extra cheese to make the leafy greens more appealing to them.
Alternatively, this Hidden Spinach Quinoa Sloppy Joe Casserole makes a perfect mid-week dinner and can be cooked in the oven in just 15 minutes. If you want to make this dish totally vegetarian, try replacing the meat with canned beans instead.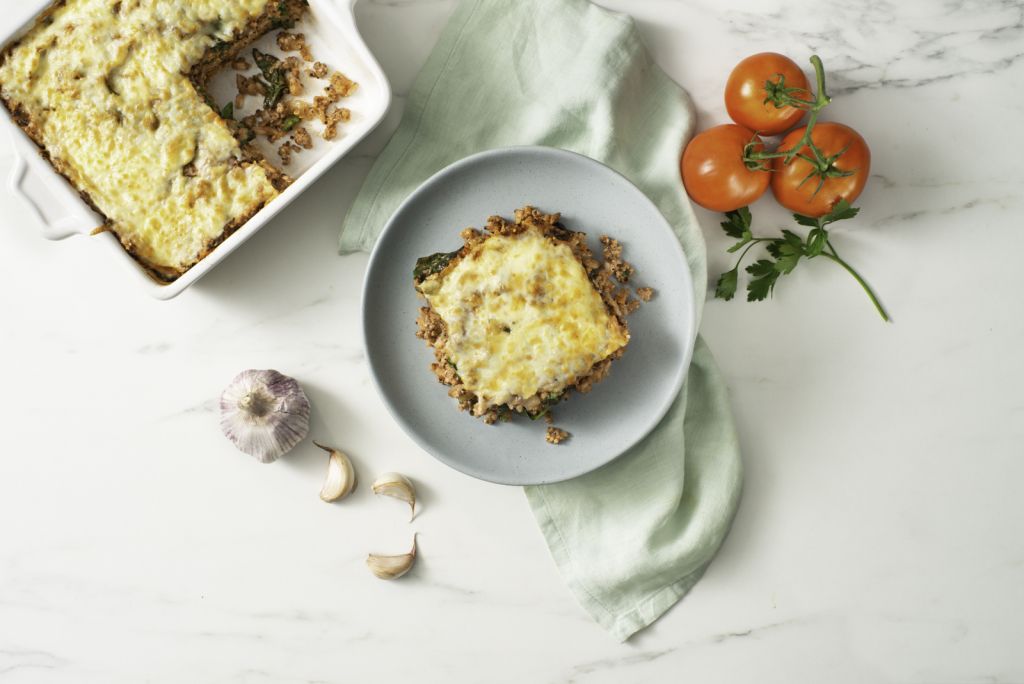 Storage Suggestion: If you are planning on storing your casseroles for longer than 3-4 days, we recommend you divide them up into individual portions and freezing them in bags.
Salads
There are countless ways that you can use leafy greens in salads, for example in this Beet, Kale, and Jasmine Rice Salad With Cider Dressing made with Success® Jasmine Rice. The cider dressing pairs perfectly with the kale leaves as it softens the leaves. This one is particularly great for meal prepping for the week as the kale leaves will soak up the flavors of the dressing overnight. If you want to make this recipe into a full meal, try adding in a protein like some chicken.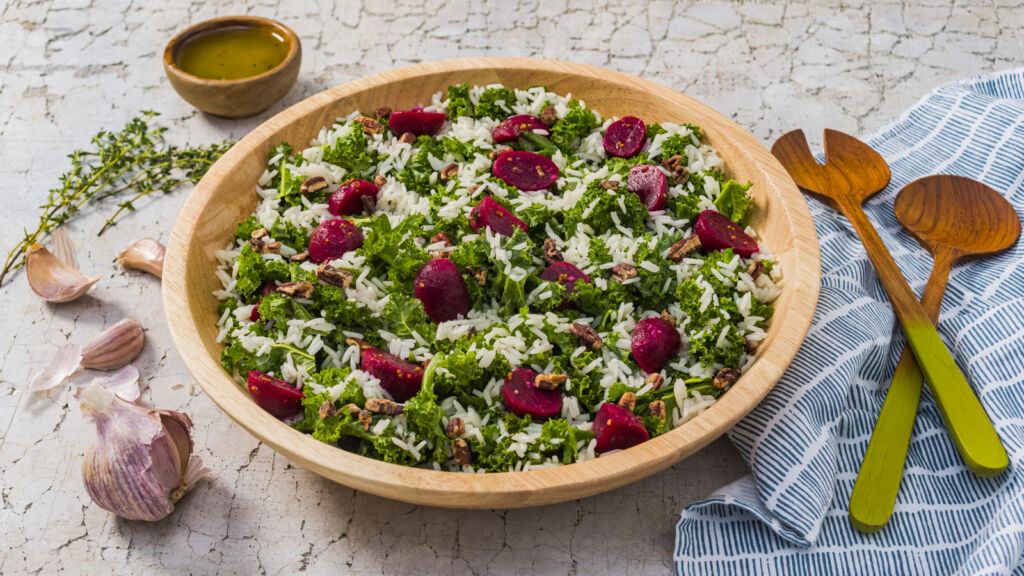 Why not also try this Kale and Quinoa Salad With Chicken made with Success® Tri-Color Quinoa. This recipe can be ready in just 20 minutes, so perfect for quick meal prep. For a vegetarian alternative, try using chickpeas instead of chicken.
Storage Suggestion: When storing your salads, keep the dressing separately and drizzle it over when you are ready to serve.
Rice Bowls
If you like Vietnamese cuisine, you'll love this Vegetarian Pho Dinner Rice Bowl made with bok choy. If you want to keep this dish vegetarian but include something with more of a 'meaty' flavor, try using plant-based meat strips instead of tofu.
Fried Rice Dishes
For a fried rice recipe made with bok choy you can enjoy all week long, try making this Lime-Ginger Shrimp Fried Rice with Success® Jasmine Rice. This recipe is a great one to experiment with other leafy greens. Feel free to chuck in some broccoli and green beans in addition to the bok choy.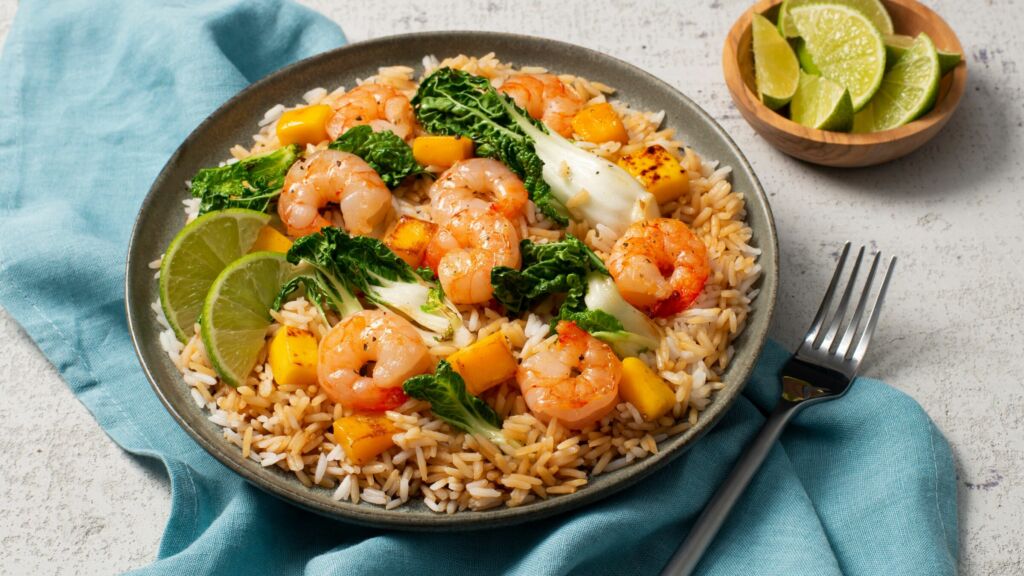 Tip: Try deep frying your shrimp with their shells still on for added flavor.
This Turmeric Fried Rice With Greens made with Success® White Rice is another fried rice dish that's loaded with leafy greens. If you have any collard greens in the kitchen, they will also go very well with this dish.
Storage Suggestion: Store your rice separately from any toppings in an air-tight container and add them together when you are ready to serve them.
Fueling Food
Dishes like this Crustless Quinoa and Kale Quiche recipe made with Success® Tri-Color Quinoa are great for keeping you fueled throughout the day.
Storage Suggestion: Wrap your quiche tightly in plastic or store it in an airtight container in the fridge. If you are planning on storing it for a long time, put it in the freezer.
For a hearty stew-like recipe, this Green Shakshuka With Quinoa with Success® Tri-Color Quinoa is packed with leafy greens and works for breakfast, lunch or dinner. If you like a bit of spice, add in some red chili flakes.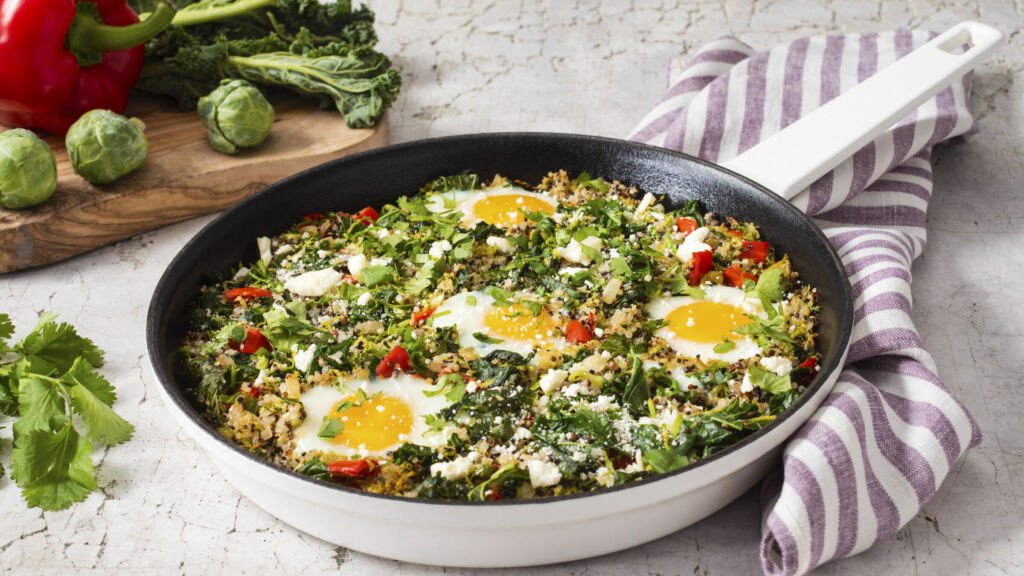 Storage Suggestion: For stew-like recipes, store them in a thick air-tight container in the fridge. Alternatively stews can normally keep in the freezer for up to 3 months.
Curries
Fans of curries will love this plant-based Vegetarian Curry With Spinach, Tomato and Chickpeas made with aromatic Success® Basmati Rice. This dish works perfectly as a midweek dinner as not only does it taste great, but it also can be ready in no time at all.
Storage Suggestion: Curry can normally be kept in an air-tight container in the fridge for up to 3 days.
For more kitchen tips and simple rice recipes, stay up to date with Success® Rice.