Some say that September is the new January, and that fall brings with it a fresh start, even if it's just to the academic year. Summer tends to offer a bit of freedom when it comes to meal time and routines on account of vacations, no school for kids and staying up later. So, after August, it might be a bit hard to get back into a routine for both adults and kids.
That's why at Success® Rice, we've compiled four ways to make getting back into routine easier with dinners that you can put together in just 30 minutes or less! Stay ahead of the game when your schedule starts to build up with quick and convenient meals that taste great.
How to Make Convenient Weeknight Dinners
Use these four tips to make your back to routine schedule smoother than ever.
#1 Meal Prep to Stay Organized
One of the biggest tips to make your schedule a little easier is to get organized by planning your meals out for the week and prepping some of them. If you're new to this idea, first take a look at our tips to ace meal prep.
Chicken and rice dinners are always a family-friendly option, use pantry staples to prepare this Bistro Herbed Chicken and Rice recipe, or a creamier option like this Parmesan Chicken and Rice recipe. Cook the rice on the side and serve either chicken mixture on top when ready to eat.
You might also prefer batch cooking, which refers to preparing a variety of ingredients in advance to mix and match together at mealtime. Rice salads, wrap fillings and bowls are perfect for this method as everyone can personalize it how they like. Try these recipe ideas for batch cooking, simply combine the ingredients when you're ready to eat.
Quinoa Burrito Salad Bowl: This vegetarian bowl is wonderfully customizable to all kinds of burrito vegetables and toppings. Start with a base of Success® Tri-Color Quinoa and use all of your favorites like corn, black beans, guacamole and an assortment of colorful vegetables.
Chimichurri Shrimp and Rice: The best part about this recipe is the simple homemade chimichurri sauce. Make in advance to pour over the other ingredients like cooked shrimp and Success® White Rice. If you enjoy shrimp another option is our: How to make shrimp fried rice.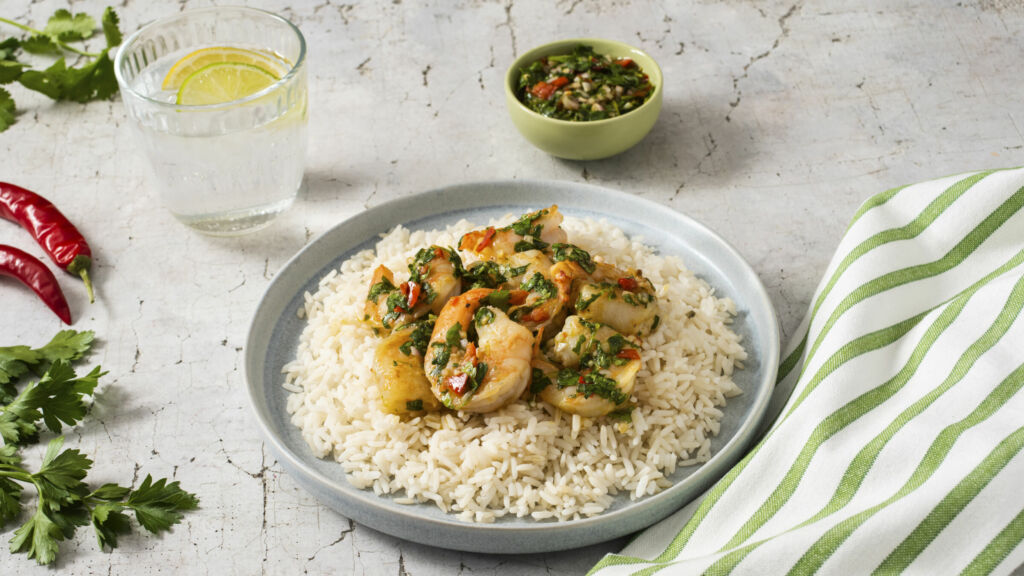 If you need some help on how to store food once it is prepared, take a look at these tips to save food and cut down on waste.
#2 Try Freezer-Friendly Meals
When you get organized and make a plan, you can also prepare and freeze meals in advance for a hassle-free dinner that only requires reheating. First, before your start, we suggest you take a look at our 6 dos and don'ts for freezing food for best meal results!
Then, dig in to some of these tasty freezer-friendly recipe ideas:
Beef and Quinoa Meatballs: Make your own homemade meatballs and freeze raw or cook them fully without the tomato sauce. When ready to enjoy, bake in the oven or reheat with sauce to enjoy with rice, in a sandwich or on their own with vegetables.
Chicken and Pesto Stuffed Peppers: Stuffed peppers are the ultimate freezer food that keep well and can be frozen cooked or uncooked. Top with cheese and enjoy!
Tip: Even if you don't have a full frozen meal, it's always helpful to keep frozen vegetables, fruits or meats on hand. Freeze them yourself or purchase them pre-frozen.
# 3 Repurpose Leftovers Into Something Tasty
When your schedule gets hectic, it's always a good idea to have a recipe on hand that transforms leftovers, or what you have on hand, into something tasty, and more importantly, quick.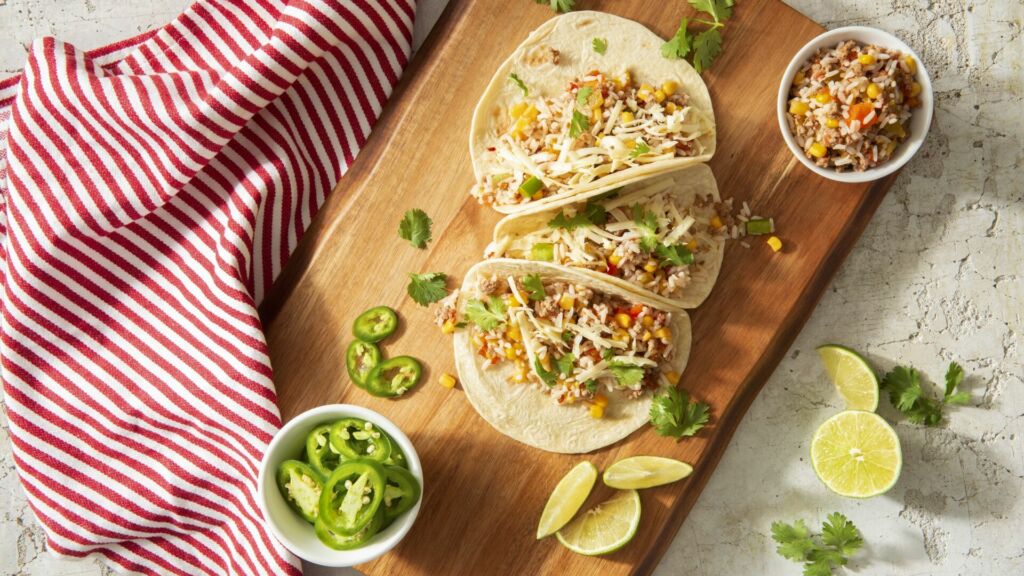 Wraps, burritos or tacos are a perfect option. Try these simple Mexican Taco Wraps with ground beef, corn, canned tomatoes, vegetables and cheese. Or, these Fish Tacos can also be made with a variety of vegetables, frozen white fish or tuna fish. If you don't have sour cream or adobo sauce, simply swap in plain yogurt and hot sauce.
No tortillas? Make your filling into a taco bowl or swap out the tex-mex flavors for something Asian like this recipe for Egg Rolls in a Bowl. Using a base of your favorite Success® Rice or Quinoa, soy sauce infused pork, a sautéed assortment of veggies, sesame oil and sweet chili sauce, you've got a simple meal ready. If you don't have wonton crisps, simply leave them out or crush up some tortilla chips for added crunch.
# 4 Stick to One-Pot and One-Skillet Meals
When in doubt, one-pan or one-pot meals make for simpler cleanup and a hassle-free meal in no time.
Use an Instant Pot or other pressure cooker for this one-pot Red Curry Chicken and Rice Soup or use your batch cooked rice and make this Red Lentil Sweet Potato Soup into a one-pot meal.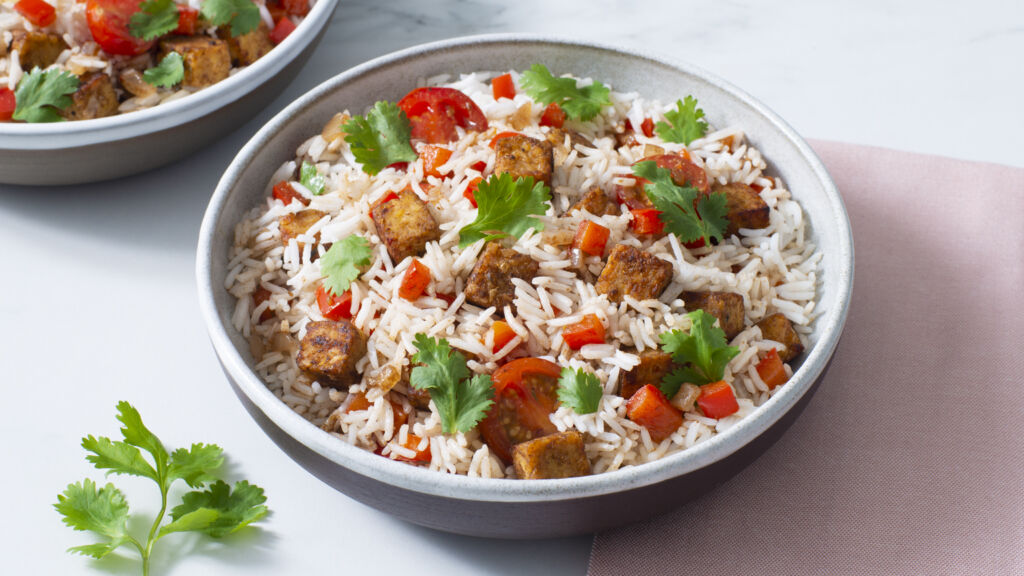 If you prefer a skillet meal try this meat free Jerk Tempeh Rice or a fun restaurant-style Shrimp Fried Rice dish.
BONUS: Oven-Baked Options (45 min or more)
All of these recipe ideas can be prepped in 30 minutes or less and frozen for later, or tossed into the oven. They might require a bit more cook time, but with a bit of planning, they are well worth it for a simple dinner!
Casserole: This versatile Cheesy Chicken and Rice Casserole calls for a mixture of veggies perfect for using up any leftovers.
Sheet Pan Meal: Toss everything onto one sheet pan for this convenient Autumn Vegetable and Rice Power Bowl recipe.
Meatloaf: A dinnertime classic, our Successful Meatloaf is freezer-friendly and tastes amazing made with lean ground beef, meatloaf seasoning and fluffy white rice. If you want a meat-free version try this Vegan Brown Rice BBQ Meatloaf. Optional: bake in individual muffin tins for easier prep and less reheat time. Just make sure the internal temp reaches 165˚F to ensure doneness.
Don't let a busy schedule stand in the way of a quality meal. With these back to routine cooking methods with Success® Rice, you'll be ready for whatever life throws at you.